28 July 2020

NEW SEASON SET FOR OCTOBER START
The National League have outlined their plans for the new season to kick-off on Saturday 3 October, with the National League North beginning with the FA Cup Second Qualifying Round on that day. The season is set to run until Saturday 29 May 2021. If approved by the FA, the end of season play-off's will take place during June 2021. Chester are now expected to start pre-season training towards the end of August.

The National League statement reads:

"National League Season 2020/21
Further to a meeting of the National League Board last Friday, the Board has determined the following:
| | |
| --- | --- |
| • | The scheduled start date of the 2020/21 Season is Saturday, 3 October 2020. |
| • | 46 league fixtures will be scheduled in the National Division, and either 42 or 40 league fixtures will be scheduled in the North and South Divisions. |
| • | The North and South Divisions will commence the season with The FA Cup Second Qualifying Round on Saturday 3 October. |
| • | The final league match of the normal season is scheduled for Saturday 29 May 2021. |
| • | The end of season play-off's are scheduled to take place in June 2021. |
Please note the season end date and the scheduling of the play-off's in June is subject to FA approval.
It is expected that the season will commence with spectators present, at a significantly reduced stadium capacity."
---
27 July 2020

PRE-SEASON
Chester will travel to Trafford for a pre-season match on Saturday 22 August, kick-off 15.00hrs. The game at Shawe View will be played behind closed doors.
---
22 July 2020

ON THE BORDERLINE UPDATE PAGES
Those who like to keep their copies of '125 Years On The Borderline' updated can download Chas Sumner's final stats pages from the link below. Pages are in PDF format.

• On The Borderline updates

---
20 July 2020

PLAY-OFF HOPES ENDED AT ALTRINCHAM
Despite staging a brave second half fight back, Chester were knocked out of the play-off's 3-2 at Altrincham yesterday. Already goal down after 34 minutes as Josh Hancock's long-range shot flew under the arms of Louis Gray.

The Blues started the second period well forcing three quick corners, but the match hinged on 53 minutes when referee David McNamara awarded the home side a penalty for a foul on Dan Mooney by John Johnston and also sent-off the former Altrnicham player.

Elliott Durrell converted the spot-kick to double the lead, and six minutes later, the former-Blue added a third beating Gray from a narrow angle.

Despite being down to ten men the Blues fought back and substitute Anthony Dudley did well to set up George Glendon who pulled a goal back on 63 minutes. Matty Waters saw a fine curling free-kick just miss the top left corner as Chester continued to press.

With 11 minutes remaining Matty Hughes headed home a superb Waters cross to make it 3-2. Chester pressed for the equaliser, but despite seven minutes of added time couldn't find the net again.

Blues joint boss Anthony Johnson, who was sent-off towards the end of the match for kicking a bottle onto the pitch, said: "At the time I thought it (the penalty) was a disgrace and I think it even more so now that I've seen it back. Anybody that disagrees with me they've got to be blind, that's how I see it."
"I'll be honest, I put a tweet out a couple of weeks ago when I saw who was reffing the game and it was one of those that was being sick because there is always that element of decision making in games where he plays a part and we've seen it again today."
"But it wasn't just that. I've watched one of their players back heel the ball out for a goal kick and he gives a corner. I've watched one of their players kick one of our players when he was on the floor and I think he gave them a free kick. It's not like I'm just talking about the goal that changed our season."

"I don't want to sound bitter because they are a good side and a we have a lot of respect for Altrincham and the management team, they are a good team, them. It's clear that decision changed the game."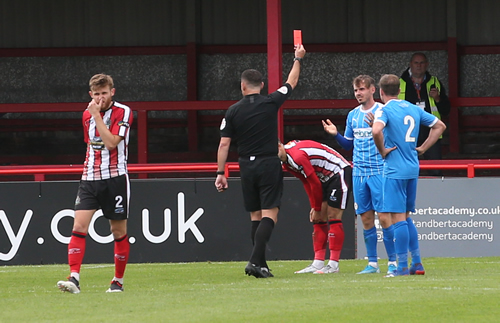 Picture © Rick Matthews
•
More photos
---
19 July 2020

JERRY IRELAND 1938-2020
Chester FC are sorry to learn of the passing of former player Jerry Ireland who died recently after a long illness. A local man, Jerry remained a part-time player throughout his Chester career and made 40 Football League appearances for the club, scoring 8 goals, between 1957 and 1962.

• Obituary

---
16 July 2020

STREAMING PRICES REVEALED
Pricing to watch the end of season play-off's has been revealed. Single matches prior to the North and South play-off final's will be priced at £5.99, while each final will cost £6.99 to purchase. Supporters can buy all ten games for £14.99, while a package including the two play-off final's, which are both due to take place on Saturday 1st August, has been priced at £9.99.


•
Buy Altrincham v Chester here
•
Buy all matches here
---
13 July 2020

PLAY-OFF MATCHES TO HAVE LIVE STREAMING
All of the National League North and South play-off matches are to be available to view live with download streaming in partnership with BT Sport and Sportradar. Details of how to access the stream will be released in a day or two. As a result, Chester's match at Altrincham will now kick-off on Sunday a little earlier at 13.30hrs.
---
GOALKEEPERS AVAILABLE
Both Louis Gray and Jon Worsnop are available to play in the end of season play-off at Altrincham on Sunday. Like the rest of the squad Gray and Worsnop will play for free after agreeing to donate their contractual entitlements back to the football club for the play-offs. Gray signed on loan from Carlisle towards the end of last season and it's been confirmed his registration was made before the cut-off date.
---
11 July 2020

PLAYERS RESUME TRAINING
The Chester players are now back in training preparing for the play-off match at Altrincham. The first round of COVID-19 testing took place for 26 players and staff on Tuesday 7 July, and the results show that fortunately all tested negative.
---
BOOST THE BUDGET
The club have announced that £109,578 has so far been raised after four weeks of the campaign.
•
Full details of the scheme on the Chester FC website here
---
4 July 2020

BOOST THE BUDGET TARGET BEATEN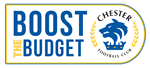 A truly magnificent effort from supporters, staff, players and sponsors has seen them raise an incredible £100,257 in just three weeks reaching the £100,000 target set with four weeks still left running on the Boost The Budget scheme.

Chairman of City Fans United Andy Morris said: "When we set the Boost the Budget goal of £100,000 many supporters of the Club, and those outside the Club, may have thought we were being overly ambitious. They didn't factor in the incredible generosity and feeling of togetherness that our Club has with our local community."

"Reaching this target, alongside all the other fantastic work to raise funds, has shown the entire football community that fan ownership can be a viable model at this level even during the most difficult of times and everyone associated with the Club and City should be proud of this achievement."
There's also more great news with the #inittogesther campaign raising funds for the play-off's. In the opening 24 hours, the campaign has raised £8,597 from 345 supporters' contributions to reach 57% of the £15,000 target set.
---
DATE'S CONFIRMED
The Eliminator Round Match A (Quarter Final) match between Altrincham and Chester will take place on Sunday 19 July, kick-off 15.00hrs. At the same time Match B will take place between Brackley Town and Gateshead. The matches will include a one minute drinks break midway through each half. There will be no extra-time, the game will go straight to penalties if it is tied after 90 minutes.

Should Chester progress they will travel to York City in the semi-final on Saturday 25 July, kick-off 15.00hrs.
---
2 July 2020

IN IT TOGETHER
In an effort to raise funds for the forthcoming play-off campaign Chester have set up the #inittogether initiative. The club are expecting the costs to participate to reach £30,000 should the Blues make it to the final
.

There are three pledge points, though supporters can contribute a donation of any amount should they wish to do so.

If you pledge £25.00 you can be a Face in the Crowd and have your own cut-out placed in the Gary Talbot Stand throughout the play-offs. You will have access to a play-off special digital match programme, a personal message of thanks from managers Bernard Morley and Anthony Johnson, who will also sign your cut-out before it's returned to you.
Or you can pledge £10.00 or £15.00 in place of your usual match ticket and take your 'virtual' seat in the stand or spot on the Harry McNally terrace. You will have access to a play-off special digital match programme and a personal message of thanks from Bernard Morley and Anthony Johnson.
Pledge £5.00 in place of your usual pre-game pint in the Blues Bar and half-time pie. Everyone who pledges will have their name printed in the special digital match programme.
Chester are due to play away at Altrincham in the quarter-final on the weekend of 18/19 July.

• You can make your pledge at www.crowdfunder.co.uk/chester-fc-in-it-together

---
BOOST THE BUDGET
The club have announced that a fantastic £93,272 of the £100,000 target has been raised after just over two weeks of the campaign.
•
Full details of the scheme on the Chester FC website here
---