30 March 2020

COMMUNITY TRUST REACHING OUT
The football club, in conjunction with the Chester FC Community Trust, has put together a support package for the local community during the coronavirus outbreak. The plan is to connect with supporters, volunteers and vulnerable residents.

The Club and the Community Trust have been contacting older CFU members as well as volunteers and season ticket holders in this time of social isolation. The initiative is open to anyone in the local Chester area in need of help and support and is NOT just aimed at Chester supporters.

If you or someone you know would like to register, please email community@chesterfc.com or telephone 07512 355396.

The club would also welcome help from supporters who could volunteer some home time each week to help. If you feel you would lend your support please contact the Community Trust Chief Executive jim.green@chesterfc.com

• More details on official club website
---
16 March 2020

NATIONAL LEAGUE SUSPEND MATCHES
Due to the coronavirus pandemic all football in the National League has been suspended until at least 3 April. The league have issued the following statement today.

"At its Board Meeting on Friday, The National League decided to use its best endeavours to keep its season going in the face of unprecedented adversity
However, with the current coronavirus (COVID-19) reaching global pandemic levels it has to accept that the situation is now out of its own control.
In the knowledge of the government measures now announced including not to support sporting events with emergency services workers it is clearly not practical for its fixtures to be fulfilled in the immediate future.
In those circumstances and in line with The Football Association and the Professional Game, at a Board Meeting today, The National League has decided that its competition is now suspended until at least 3rd April 2020.
The National League will continue to monitor the situation, but trusts that its loyal clubs, fans, players, officials, staff, volunteers and sponsors will accept that it has had no other choice but to reach this decision.
It wishes everybody connected with the competition and indeed the whole country a safe passage through these turbulent times."

Meanwhile all training and fixtures involving the Academy and Women's team's have also been suspended until further notice.
---
AWAY KIT 2020/2021
Congratulations to 12-year-old Junior Blue Sam Curtis whose winning away kit design was chosen to be worn by the club for next season. The green and white design is shown below.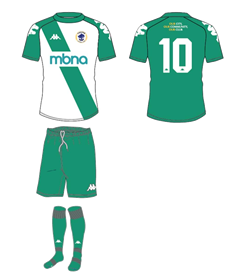 Image © Chester FC
---
13 March 2020

MATCH OFF
Tomorrow's home game against Boston United has been postponed over concerns over the coronavirus.

The club have issued the following statement: "Chester Football Club can confirm that tomorrow's scheduled fixture at home to Boston United has now been postponed."
"Earlier today, the National League announced that this weekend's fixtures in their three divisions would proceed. We fully respect the extremely difficult choice that they had to make and understand their reasons for doing so. However, considering our local circumstances, we have taken the decision to postpone our fixture."
"Supporter, volunteer, player and staff safety is absolutely paramount to us - especially those in the 'at-risk' groups who are most vulnerable."
---
12 March 2020

YOUTH TEAM REACH FINAL
A crowd of 268 saw goals from Tom Ruffer and Regan Rubin give the Chester U19 side a 2-0 semi-final victory over Luton Town Cedars in the National League Alliance Cup on Wednesday night. The Blues now face Eastleigh Academy in the final which will be played at Walsall FC. The date is still to be announced. The young Blues lifted the trophy two years ago when they beat FC Halifax Town 2-0 at the same venue.

Chester: Schofield, Harrison (Turner 80), Burke, Woodburn, Molyneux, Hampson, Ruffer, Hughes, Crilly, Rubin (Sutton 88), Goodwin. Subs not used: Atton, Bell, Edwards.
Luton Town Cedars: Daniels, Baker, Scott, Creary, Summers, Muyembe, Stirling, Percy, Ball, Sellers West, Sheridan. Subs: Collins, Gray, Kapadia, King, Munchineripi.
---
ALTRINCHAM TICKETS
The league game at Altrincham on Saturday 21 March has been made all-ticket for Chester supporters. Tickets can only be purchased from Altrincham direct at https://www.altrinchamfc.com/club/tickets Prices are: Adults £14.00, Concessions (65 and over or Students) £11.00, Juniors (12-16 years) £5.00, Children (Under 12) £1.00.
---
9 March 2020

GATESHEAD DATE
The rearranged home league game against Gateshead will now take place on Tuesday 7 April, kick-off 19.45hrs.
---
LACKLUSTRE BLUES BEATEN AT BRADFORD
Chester dropped to sixth place in the league following Saturday's hugely disappointing 2-1 defeat at bottom of the table Bradford (Park Avenue). The home side, who had just three victories all season opened the scoring four minutes before half-time through

Tom Clare who scrambled the ball home from close range despite protests of a foul from the Blues. Six minutes after the re-start Chester were level as defender Matty Waters scored direct from a corner. The equaliser seemed to spur the home side on and Oli Johnson headed the second goal on 67 minutes. Chester failed to create anything of note with substitute Akwasi Asante blasting a decent opportunity over the bar with 12 minutes remaining.

Joint manager Bernard Morley said after the shock defeat: "I've said to the lads in there, there is only so far you can go and only so many excuses you can make. We've turned up with a 20-man squad, fully fit, and had to leave three or four players out. We've got it wrong, me and Jonno, ultimately, have got it wrong."
"We put a team of players out there where if we win we are great managers if we lose we are poor. That's the nature of the beast. Did we get the squad right? Clearly not. Did we pick a side that wanted to win more than they did? No we didn't and ultimately that lies with me and Jonno."

"Do I think we are good enough to make the play-offs? Playing like that then no."
"We are hybrid, we should be fitter and we should be stronger but we're not, so that lies with me and Jonno. You often run off emotions when you do interviews but I'm bitterly disappointed with what I've seen today. But we have a job to do and a job to finish."
Chester must look to bounce back after the defeat and they have that opportunity on Saturday when they welcome third placed Boston United, kick-off 15.00hrs.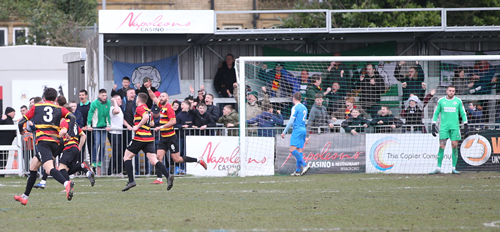 Picture © Rick Matthews
---
6 March 2020

GRIFFITHS OUT ON LOAN
Goalkeeper Russell Griffiths has joined AFC Telford United on loan until the end of the season. Chester will have a 24hr call back on the player.

Picture © Rick Matthews
---
4 March 2020

CHESHIRE SENIOR CUP
A first half penalty from Danny Elliott was enough to give Chester a narrow 1-0 victory over Tranmere Rovers in the quarter-final of the Cheshire Senior Cup. The Blues now have a home semi-final against Hyde United on Tuesday 31 March, kick-off 19.45hrs.
---
SEMI DATE FOR YOUTH TEAM
Following their 3-0 home victory over Rugby Town last month, the youth team have been drawn at home to Luton Town Cedars in the semi-final of the National League Alliance League Cup. The game will take place at Chester on Wednesday 11 March, kick-off 19.30hrs.
---