30 June 2020

CLUB CONFIRMS ITS PLAY-OFF INTENTIONS

After long and careful thought the club board have decided unanimously last night to partake in the end of season play-off's. This has been made possible thanks to the players who will donate their contractual entitlements back to the Club to enable Chester to take part. Participation comes at a great cost as players and staff will need to partake in Covid-19 testing throughout.

Joint manager Anthony Johnson told The Chronicle: "I know me and Bernard say we build teams on spirit but we don't say it just to curry favour or create some nice headlines for you, we say it because it's true."
"We never forced these lads to make this kind of decision, it was something that they decided as a group and we were very clear that we are only doing it if we are all in, if one person said no then it wasn't happening, there'd be no black sheep here."
"Within two minutes everyone was on board because what matters to these boys is success and seeing something through. They are proud to wear the shirt and they want to finish what they started."
"When we look at signing players one of the biggest things we focus on is character and what they are like as people. I think you can see what type of people we have here now and whatever happens I couldn't be prouder of them."
The football club will in the next few days be launching #InItTogether to raise funds specifically for the play-offs. They will invite supporters to contribute the equivalent of a match ticket towards the costs of the play-off campaign, this could £30,000 depending on the team's progress.

Taking part in the play-off's requires the club to appoint a Covid Officer and Medical Officer and both must be approved by both the Safety Advisory Group and the National League. The Club are also required to develop a viable Covid testing process for all players and coaching staff in order to participate.

Chester are due to play away at Altrincham in the quarter-final on the weekend of 18/19 July.

---
BOOST THE BUDGET
The club have announced that £86,604 of the £100,000 target has been raised after just over two weeks of the initiative.
---
24 June 2020

YOUTH TEAM HANDED TITLE
The Chester U19 side have been declared National League Alliance Academy North Division champions after the season was decided on an unweighted points-per-game basis.

When the season was ended, Chester were in fifth place but were unbeaten and were only four points behind leaders York City with five games in-hand, they had also just reached a National Cup final.

Academy coach Calum McIntyre said: "This was unbelievable news to receive this morning and I am ecstatic for the lads. It is a superb achievement and one that must be celebrated even in the unique circumstances in which the boys have been crowned champions."
"It was absolutely right to curtail the season given the coronavirus pandemic and I was so proud of the manner in which the boys accepted the realisation that the season was likely to be null and voided."
"This must have been crushing for them given they were enjoying an unbeaten campaign and had just reached a National Cup final which to be fair, the competition would still like to play. When you look at the fixtures, we had travelled to all of the top four away from home and won three of those games and had barely played a home game for one reason or another."
"This is first season that this level of football has existed and it has been a real test for everyone. The standard of football has been immense but equally, the commitment from everyone involved has been huge."
"Those away trips to Hartlepool and Solihull are demanding for both players and staff but this group kept at it week after week and they deserve this recognition. I am at risk of becoming a broken record – but I am exceptionally proud of them and I am so, so pleased that they have something to show for a season that they worked so hard throughout."
"Last minute goals at Guiseley and Solihull and as good a performance as I've ever seen from a Chester side away at Fylde have been recognised and I am delighted for the boys. This is a small bit of good news in a season that has ended early for so many clubs and teams and I am determined that the lads are recognised and enjoy this. I am so proud of them."

---
20 June 2020

BOOST THE BUDGET
The club have announced that £57,455 of the £100,000 target has been raised from 335 pledges in the first week of the Boost The Budget scheme. The pledges include many of the first team squad who have signed up to the fundraising initiative.

• Full details of the scheme on the Chester FC website here
---
19 June 2020

MCINTYRE JOINS RUNCORN
Calum McIntyre has been appointed the first team manager of Northern Premier League Division One North West side Runcorn Linnets. He will combine that job with his current position as Head of Academy at Chester. His assistant at Runcorn will be ex-Blues defender Colin Woodthorpe.

Picture © Rick Matthews

---
18 June 2020

SENIOR CONTRACT FOR GOODWIN
Will Goodwin has signed his first senior contract with the club. The 18-year-old forward was captain of the youth team last season and made his first team debut as a substitute in the FA Trophy defeat at Royston Town in January.

Joint manager Anthony Johnson said of Goodwin: "Will just keeps pushing boundaries that we set for him. He's never looked overawed in any senior situation, actually the opposite really, and we hope over the next two or three years he has an explosive start to his career. He's been involved in some matchday squads this season and has been training full time with the first team since the start of the year."

"Will is a big, powerful, direct and quick striker – actually similar to Lloyd Marsh-Hughes in that respect. He is also a composed figure in front of goal. You put all that together with the build of the lad at the age of 18 and his potential is scary."
---
SEASON FINALLY CONCLUDED ON POINTS PER GAME BASIS
Following a vote by all member Clubs, and subject to FA Council approval, the Vanarama National League, Vanarama National League North and Vanarama National League South seasons 2019/20 will be concluded with final league tables compiled on an "Unweighted Points Per Game" basis. As a result of this Chester will move up one place to to sixth position in the final table.
A statement from the National League reads: "The outcome is Barrow AFC are champions of the Vanarama National League, King's Lynn Town are champions of Vanarama National League North and Wealdstone are champions of Vanarama National League South.
The end of season Play-Offs will now proceed with the Clubs that qualify, subject to the competition rules and the applicable government guidance on the phased return of elite sport.
The number of Clubs to be relegated from the Vanarama National League will be determined so as to maintain a National Division of 24 Clubs after any relegation from EFL League Two, promotion to EFL League Two and promotion from the National League North and National League South divisions. There shall be no relegation from Vanarama National League North and Vanarama National League South."
Chief Executive Officer Michael Tattersall commented: "I congratulate each of our champions Clubs on their successful campaigns. The enforced curtailment of our season does nothing to discredit the quality of the football played and I am pleased that our Clubs have overwhelmingly supported the award of their titles. We can now also look towards the completion of end of season Play-Offs."


Notes

National League Clubs were asked to support an Ordinary Resolution to conclude the season with final leagues tables compiled on an "Unweighted Points Per Game" basis. The resolution received the support of a significant majority of member Clubs in each division.
"Unweighted Points Per Game" is defined as: The method for calculating the final points total of each Club in the Division concerned, calculated in accordance with the following formula, rounding the final points total up to three decimal places:
PT * LMS = Final Points Total
___
CM
Where "PT" means a Club's points total in the 2019/20 Season at the point when the Competition was suspended on 16 March 2020.
Where "CM" means the number of Competition Matches a Club has played in the 2019/20 Season at the point the Competition was suspended on 16 March 2020.
Where "LMS" means the number of Competition Matches originally scheduled to be played by each Club in the 2019/20 Season, being (a) 46 for National League Clubs; and (b) 42 for National League North and National League South Clubs.
Worked Example:
Club A is in National League North and has played 32 Competition Matches and has a points total of 43 points. Applying the formula, Club A's final points tally will be:
43* 42 = 56.438
__
32

• Final adjusted 2019/20 league table
---
15 June 2020

FUND OFF TO A GREAT START
The club have announced that £26,389 of the £100,000 target has been raised from 107 pledges in the first few days of the Boost The Budget scheme. A club statement said: "We are delighted that our dedicated fans have backed the scheme with such enthusiasm so far. The Chester FC Boost the Budget fundraiser will give certainty to our management team as they prepare for next season in a very uncertain time."

---
13 June 2020

BOOST THE BUDGET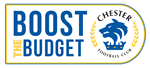 The football club have launched a Boost The Budget fundraising scheme in an effort to raise £100,000 towards next season's first team playing budget by 31 July.

Joint Managers Anthony Johnson and Bernard Morley said: "Boost the Budget is a critical scheme for Chester FC and we hope our incredible supporters firstly back us with the much needed funds and secondly take advantage of an exciting reward scheme that is in place."
"This 100k target isn't just about bringing players in, it's about us progressing as a club within our hybrid model. These funds allow us to stay in the training system we have been working towards over the past two years since we arrived at the Deva."
Contribution's can be either a one-off payment or a monthly direct debit through a five tier scheme which offer different rewards.
The five tiers are: Our City, Our Community, Our Club, Club Hero, and Club Legend.
Our City
Everyone contributing £5 per month (or one-off £60 donation) and above will be entered into three draws to win one-off fan experiences.
Our Community
For £10 per month (or one-off £120 donation) and above you will help our Community Trust distribute matchday tickets to local youngsters and get a special '10 Years' Chester FC pin badge.
Our Club
For £20 per month (or one-off £240 donation) and above, will help the club enormously and so fans can choose special rewards like appearing in the annual squad photo, or buying a brick for a special 10 years of Chester FC commemoration wall.
Club Hero

You can be a Club Hero for £50 per month (or one-off £600 donation) and above, gaining the first tickets to next season's End of Season Awards.


Club Legend

For £100 per month (or one-off £1,200 donation) and above, we will invite you to a special Boost the Budget meal with the managers.

• Full details of the scheme on the Chester FC website here
---
12 June 2020
GRIFFITHS JOINS AFC TELFORD
Goalkeeper Russell Griffiths has left Chester to join fellow National League North side AFC Telford United on a one year deal. Griffiths made 39+0 appearances for the Blues last season. He joined the Bucks Head outfit on loan in early March after losing his place in the Blues starting X1.

Picture © Rick Matthews

---
9 June 2020

BOARD ISSUE UPDATE
The football club have issued a comprehensive update on where the club currently stands in regards the Covid-19 pandemic and what is being done to safeguard the future of the club. There is also news of a new fundraising Scheme being set up to help raise funds for the playing squad whenever the new 2020/21 season gets underway.

• CFU Board statement
---
5 June 2020
ASANTE JOINS GLOUCESTER CITY
Striker Akwasi Asante has left Chester to join fellow National League North side Gloucester City. In his time with the Blues Asante made 34+7 appearances scoring 28 goals winning him the Golden Boot award last season.

Asante joined Chester initially on loan from Tamworth in November 2018. He scored a perfect hat-trick on his debut in the 3-1 home win against Darlington. He signed for the Blues early in January 2019 despite being sidelined with a knee injury that dogged him on and off over the new few months.

Last season he scored 18 goals in 20+5 league appearances that included another hat-trick in the 3-1 victory at AFC Telford in September.

Asante now teams up with Gloucester manager James Rowe who used to coach him as a 17-year-old at Birmingham City.

Picture © Rick Matthews
---