---
Saturday 26 April
Chester 2 Salisbury City 2

Conference Premier
Attendance: 3,588 Half Time 1-1
Booked: -.

Chester: Chapman, Kay, Linwood (Mahon 45), Brown, McIntyre, L.Turner, Jarrett, Bond, Menagh (Seddon 45), Rooney, Carlton (Hobson 78). Subs not used: Danby, Ashworth.
Salisbury City: Chapman, Kay, Linwood (Mahon 45), Brown, McIntyre, Turner, Jarrett, Bond, Menagh (Seddon 45), Rooney, Carlton (Hobson 78). Subs: Danby, Ashworth.
Referee: Adrian Holmes (Castleford).



Chester were relegated to the Conference North after a dramatic end to their final home game of the season. The Blues leading with four minutes remaining conceded an equaliser at the same time Hereford United grabbed a winner at Aldershot Town to send Chester down on goal difference.
Both Matty Brown and Michael Kay returned from suspension and took to the starting line-up at the expense of Andy Griffin and the injured George Horan. With their future in the conference hanging on the result Chester made a nervy start in front of of the BT Sport cameras.
Paul Linwood made a great block to deny Theo Lewis in the opening minutes as Salisbury settled quicker, Aaron Chapman did well to hold onto White's powerful shot and Elliot Frear saw an effort sail high over the bar after the Blues defence failed to clear a throw-in.
Chester began to up the tempo and on 12 minutes muster a couple of chances as Danny Carlton first pulled a shot wide then missed his kick entirely after a Rooney free-kick had found its way through to the striker.
Minutes later Chester took the lead as Jason Jarrett shot from the right, the ball was heading across goal but Carlton got his foot to it and diverted it into the bottom corner to give Will Puddy no chance in the goal and spark jubilant scenes in the home terrace behind the goal.
Carlton sent Jamie Menagh through on goal but Puddy moved from his line quickly to clear from the edge of the box.
Eight minutes before the break Salisbury equalised as Stuart Sinclair's left wing corner was headed home by the unmarked Charlie Sherringham.
The goal sparked the visitors who took control for the rest of the half. Chapman made a smart block to deny Lewis' powerful drive at the near post and Sherringham headed over after again being left unmarked at the back post.
A double substitution at the break saw Gareth Seddon and Craig Mahon replace Linwood and Meenagh but Salisbury continued to dominate as they had done since drawing level.
Despite being on the back foot the Blues took the lead on 58 minutes with an outstanding effort as Jarrett's pass to Rooney on the edge of the box led to the the midfielder curing a 20-yarder past Puddy into the bottom corner.
Chester came close to adding a third in the dying minutes as Seddon found the side netting after Puddy had tipped another Rooney effort onto the bar.
With just four minutes remaining Chester conceded a soft second goal as a poor clearance from Brown saw Kevin Amankwah cross to the back post, his effort was knocked across goal by Frear for Jamie White to head into the empty net to almost complete silence in the ground.
The misery was compounded with the almost simultaneous news that Hereford had taken the lead at Aldershot. Four minutes of added time saw Chester push for the winner but they only had a half volley from Seddon that was comfortably saved by Puddy to show for their efforts.
A stunned silence greeted the final whistle as the reality of those last dramatic four minutes finally began to sink in.
Rate Chester's performance
---
Monday 21 April
Cambridge United 0 Chester 1

Conference Premier
Attendance: 3,521 (306 Chester) Half Time 0-1
Booked: Linwood, Jarrett, McIntyre.

Cambridge United: Norris, Tait (Chambers 57), Taylor, Champion, Miller, Coulson, Hughes, Berry (Dunk 46), Pugh, Elliott (Barnes-Homer 58), Chadwick. Subs not used: Roberts, Bonner.
Chester: Chapman, Griffin (Mahon 68), McIntyre, Bond, Horan (Ashworth 25), Linwood, L.Turner, Jarrett, Carlton (Hobson 83), Rooney, Menagh. Subs not used: Danby, Lindfield.
Referee: Jason Whiteley (Leeds).



A Danny Carlton goal brings a fantastic win for Chester who will guarantee Conference Premier safety with home a win over Salisbury City on Saturday.
Manager Steve Burr was forced into one change from the side that drew with Wrexham on Saturday as Gareth Seddon missed out with a broken toe, Jamie Menagh taking his place in the starting line-up.
Carlton had the first effort of the match forcing a save from Will Norris in the home goal after he'd flicked on a John Rooney corner. Aaron Chapman was also involved in the opening exchanges saving well from Luke Chadwick who should have done better from six yards out with a free header.
On twelve minutes the Blues took the lead as Menagh sent a cross field pass to Lewis Turner over on the right, his first time cross into the box looped over Norris to Carlton ghosting in at the back post to head home from three yards out.
Burr was forced into a change with captain George Horan struggling with an ankle problem and being replaced by Luke Ashworth after 25 minutes. Twice Chapman had to rush out to collect long through balls as Cambridge looked to split the Chester defence.
Cambridge came close to drawing level just after the half hour as Andy Pugh's right wing cross was met by Tom Elliott who steered the ball wide from ten yards out.
Paul Linwood headed wide from a Rooney free kick, though the linesman's flag was raised for offside. Chester's rearguard were holding firm as the home side became more frustrated in their failure to break through.
Ten minutes after the break a Menagh cross was met by Carlton but the striker couldn't keep his effort on target. The home side made two substitutions bringing on Ashley Chambers and Matthew Barnes-Homer as they looked to get level but Chester remained patient and continued to create chances themselves, urged on by their vociferous following of over 300.
Carlton raced through beating the offside trap only to see his shot deflected to safety and Rooney set Andy Bond free only for the midfielder to shoot over with just Norris to beat from 20 yards out. Rooney also saw a curling free-kick zip just past the post.
Andy Griffin was forced off with a hamstring injury with 22 minutes remaining. A superb block by Linwood prevented a Barnes-Homer effort from finding the target as Chadwick sent the loose ball wide. The Chester defence was coming under more and more pressure as the game went on.
Chapman was commanding his area well and came to gather crosses on several occasions. As stoppage time approached he was forced into a vital save as Chambers beat Turner to a loose ball, rounded Chapman but before he could fire the ball home the big shot-stopped clawed the ball away from his feet and preserve the three precious points.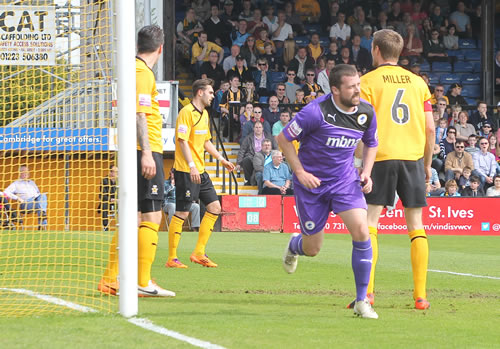 Picture © Rick Matthews (Chester Leader)

• Table after this match | More pictures
Rate Chester's performance
---
Saturday 19 April
Chester 0 Wrexham 0

Conference Premier
Attendance: 4,326 (1,180 Wrexham) Half Time 0-0
Booked: L.Turner, Griffin, Carlton.

Chester: Chapman, Griffin, Horan (Ashworth 63), Linwood, McIntyre, L.Turner (Menagh 87), Bond (Mahon 71), Jarrett, Rooney, Seddon, Carlton. Subs not used: Danby, Hobson.
Wrexham: Mayebi, Ashton, Livesey, Clarke, Bishop, Keates, Hunt, Bailey-Jones, Anyinsah (Reid 63), Artell, Carrington. Subs not used: Wright, Williams, Tomassen, Evans.
Referee: Darren Handley (Bolton).


We followed the crocodile of supporters' coaches down from the A55 along Sealand Road and towards the Deva Stadium. The police escort was heavy – vans before and in front, motorbike outriders too. Foot patrols in high visibility jackets lined the footpath as we crossed the brook next to Blacon. The police helicopter circled over the stadium. As we approached the ground two officers interviewed a fan in a Wrexham shirt who had somehow escaped the hermetically sealed bubble.
It was a surreal atmosphere as we parked up and walked to the ground – like a glimpse of a totalitarian state – but it made for a fairly relaxed environment too. We were all frisked for flares. "I thought they went out in the 'seventies" joked one wag in the queue behind the Harry Mac. As the police officer on duty rummaged through my lunch box, he hoped that I wouldn't throw my apple towards the pitch.
Inside the noise was intense as the kick off approached. Despite all the security at least a couple of smoke bombs were released – one sounding like a mortar near the away end and another emitting blue smoke in the North Stand. The players emerged from the tunnel to a persistent roar. This was an eagerly anticipated derby – six seasons in the making and eight months since the return fixture in which City claimed their first points of the season and the bragging rights with a fine 2-0 victory. Now the Blues needed to win desperately to preserve their hard-won Conference status – the Reds need for points was less pressing but pride remained and they came seeking revenge.
As the game started a pattern of play emerged and it was that there was no pattern – neither side giving quarter to the other, misplaced passes, strong tackles. The first flash point emerged in the tenth minute when Anyinsah clattered into McIntyre as he was clearing the ball. The home fans bayed for a red card but referee Darren Handley produced only yellow. Wrexham's new manager Kevin Wilkin said afterwards that it was "never a sending off" but when he had visited as manager of Nuneaton a few weeks ago his team had benefited from Jarrett's dismissal at a similar stage in the game for a not dissimilar challenge. Where was Ben Toner when you needed him? To be fair to Wilkin he commented at the time that he thought the red card was harsh.
The match proceeded attritionally. Chances were as rare as rubies. Turner threatened as he cut in from the right. At the other end Chapman dealt with Keates' shot from outside the box and later saved Ashton's effort under the bar. Chester had the lion's share of possession in the first half and had a solid look about them. George Horan had made a surprise and inspirational appearance at centre half after recovering from an operation. Bond and Jarrett were robust in the middle of the park.
After the break City continued to press but struggled to find a cutting edge. Carlton and Seddon were a handful for the visitors' defence but did not have the pace to get behind them often. Rooney's free kick was parried by Mayebi but the rebound came too quickly for Turner who couldn't control it before it rebounded away. The best chance of breaking the deadlock fell again to Rooney whose crisp shot from the edge of the box was met at full stretch by Mayebi.
Horan limped off after an hour to be replaced by Ashworth and Mahon came on instead of Bond. Wrexham though, finished the stronger. Blues fans breathed a sigh of relief when a deflected shot ended up in Chapman's arms. As the game wore on both sides seemed to be settling for not losing and the raucous atmosphere dipped a little.
The stalemate was ultimately disappointing – especially for City who are now vulnerable to being caught by rivals in the battle to avoid relegation. This was Holy Saturday after all – the day in between crucifixion and resurrection. For the Blues this was a betwixt and between result – they must travel to Cambridge on Monday knowing that they need to get something from the game in order to be masters of their own destiny.
Colin Mansley



Picture © Rick Matthews (Chester Leader)

• Table after this match | More pictures
Rate Chester's performance
---
Saturday 12 April
Grimsby Town 2 Chester 1

Conference Premier
Attendance: 4,174 (239 Chester) Half Time 1-0
Booked: Hobson, Kay, Jarrett.

Grimsby Town: McKeown, Hatton, Pearson, Boyce, McLaughlin, Rodman (Winfarrah 88), Kerr, Disley, Neilson, Tounkara (Cook 69), Jennings (Thanoj 80). Subs not used: McDonald, Hannah.
Chester: Chapman, Griffin, Ashworth, Kay, McIntyre, L.Turner (Caton 45), Bond (Seddon 65), Jarrett, Mahon, Rooney, Hobson (Carlton 56). Subs not used: Danby, Linwood.
Referee: Richard Wigglesworth (Doncaster).
Manager Steve Burr made two changes to the side that scraped home against Hyde last week. Andy Griffin and Luke Ashworth came in for the suspended Matty Brown and Gareth Seddon, who started on the bench.
Grimsby, playing their fourth game in a week and looking to cement a play-off spot, pushed from the off with Scott Kerr firing a shot just over the bar after five minutes following good quick work from Scott Neilson. Goalkeeper Aaron Chapman was forced into a save moments later as Alex Rodman shot from 15 yards when well placed to open the scoring.

It came as no surprise when the Mariners took the lead on 17 minutes as a quick build up involving Neilson and Rodman allowed Oumare Tounkara to shoot from 12 yards with his effort deflecting past Chapman.
A minute later Chester, and their 239 supporters, thought they'd equalised when Craig Hobson found the net but his effort was ruled out for offside.
Just after the half hour a foul by Jason Jarrett on Tounkara in the penalty area saw the Blues concede a penalty. Up stepped Neilson but Chapman made a great save from the spot-kick diving low to keep the ball out.
Chester's only chances of note came late in the opening period as Hobson shot over from 25 yards and Jarrett saw an effort blocked by Craig Disley.
James Caton replaced Lewis Turner at the break as Jennings twice went close for the home side forcing a save from Chapman with the second effort. Ten minutes after the restart Seddon replaced Andy Bond and Chester began to look more of a threat. Craig Mahon saw a well struck effort deflected round the post by the Shaun Pearson on 75 minutes.
John Rooney saw an effort partially saved by the underworked James McKeown in the home goal, the ball fell to Seddon who fired over.
Five minutes from time Grimsby added a second goal through Andy Cook who slotted home from close range following a fine run to the goal line by Neilson.
Chester grabbed a consolation goal in stoppage time as Caton's left wing cross deceived everyone to go over McKeown and in off the far post.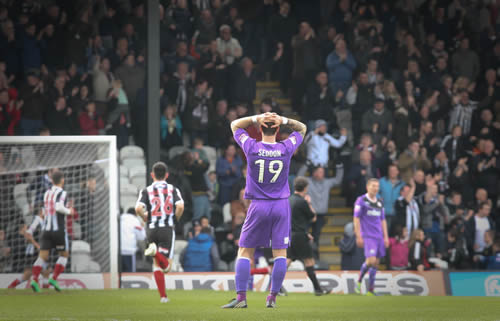 Picture © Rick Matthews (Chester Leader)
• Table after this match | More pictures
Rate Chester's performance
---
Saturday 5 April
Chester 3 Hyde 2

Conference Premier
Attendance: 2,228 Half Time 2-0
Booked: Kay, Rooney, Mahon, McIntyre, Sent-off: Brown.

Chester: Chapman, L.Turner, Brown, Kay, McIntyre, Rooney, Bond, Jarrett, Mahon (Linwood 78), Hobson (Menagh 85), Seddon (Griffin 64). Subs not used: Danby, Peers.
Hyde: Kettings, Brizell, Blakeman, Haining (Thornton 75), McQuade, Tomsett, Clark, Brown, Thurston (Day 88), Walker, Hughes. Subs not used: Fitzgerald, Pollard, Kirby.
Referee: Ben Toner (Darwen).

City held on to win a vital three points but they certainly made it hard for themselves.
It had all seemed so comfortable when Hobson nodded in Rooney's corner to make it 3-0 after fifty minutes. When Blakeman reduced the arrears for the visitors with a well-placed free kick from the right hand edge of the penalty area, his goal was greeted with polite applause by many home fans – so sure of the points did they feel.
Shortly after this, however, it all began to go pear-shaped. First Kay was pulled up for a free kick on the half way line and referee Toner prepared to show him the yellow card (harshly in my opinion). Before he could get it out of his pocket Matt Brown got involved in an altercation and threw the ball in an opponent's face. Toner reached for his other pocket and produced the red card for the Spireite loanee. Who knows why he did it – there seemed little animosity in the match up to this point.
Moments later Blakeman was lining up another direct free kick on the edge of the box and proceeded to bend it into the opposite corner of the net to his first effort. So twenty-six minutes plus added time of agony were assured as City's ten men tried to hold on to the lead.
Play became even more error-strewn as nerves jangled both on and off the pitch.New signing Adam Griffin was introduced to the defence and Seddon withdrawn as the Blues had to readjust. Jarrett had a golden chance to ease the pressure but couldn't control the ball with the goal at his mercy. At the other end the long-haired Walker glanced a header wide when it looked easier to score. In injury time Chapman caught and then dropped the ball on the edge of the area and in the scramble that ensued, Hyde somehow failed to score. City survived – just.
In the calmer times of the first half both teams passed up good opportunities to open the scoring. Seddon's tame shot when clean through might have been thee earliest goal ever recorded had it gone in. Hyde's Hughes ghosted in on the right a few minutes later but skied his shot well over the bar from point blank range. Blues forged ahead when Seddon latched on to Brown's long forward pass and lobbed the keeper from the right side of the penalty area – almost but not quite as spectacular as Amalfitano's goal for West Brom against Cardiff last weekend. The Tigers then gifted Chester a second when another Brown long ball towards the box was headed into his own net by Brizell – keeper Kettings having gone AWOL.
Results around the rest of the Conference favoured Chester but with challenging away trips to Grimsby and Cambridge to come they needed a bit of leeway. Blues fans joined the long queues for tickets to the Wrexham game drained of all feeling and wondering how their shredded nerves will cope. Later, in the Blues Bar, referee Toner sipped his drink and gamely justified some of his decision-making to shell-shocked supporters.

Colin Mansley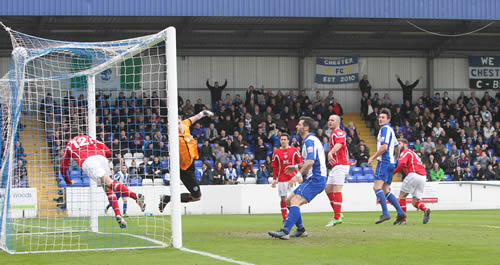 Picture © Rick Matthews (Chester Leader)

• Table after this match | More pictures
Rate Chester's performance
---