---
Saturday 30 April
Alfreton Town 0 Chester 0
National League North
Attendance: 740 Half Time: 0-0
Booked: Weeks.

Alfreton Town: Willis, Clackstone, Preston, Branson (Butterfield 62), Wiley, Smith, Salmon (Ceesay 46), Lund, Rhead, Southwell, Hobson. Subs not used: Reeves, Smith-Eccles, Johnson.
Chester: Stanway, Roberts, Livesey, Grand, Fitzpatrick, Burke, Glendon (Sargent 74), Weeks, Apter, Dackers (Simmonds 74), Stephenson Subs not used: Gray, Williams, Roache.
Referee: Dane McCarrick.

Manager Steve Watson made two changes to the side beaten at home by York City in midweek, Matt Sargent and Matty Williams dropped to the bench to be replaced by Danny Livesey and Rob Apter.

The home side started well with Matt Rhead in the thick of the action twice slipping Dayle Southwell through on goal in the opening five minutes though the Blues defence coped. Wyll Stanway produced a fine save to deny Bailey Hobson from opening the scoring on 20 minutes, tipping over his goal bound bullet of a shot.

As the half wore on Chester came more into the game. George Willis saved a Marcus Dackers effort, and both Darren Stephenson and Declan Weeks saw efforts on goal in the opening half.

Apter fired a shot just wide at the start of the second half following god hold-up play from Darren Stephenson, and straight down the other end Stanway was called into action to tip over a Southwell header.

The remaining chances fell to the home side that saw Dom Smith head over from an inswinging corner, Yusifu Ceesay forced Stanway into a save and Southwell shot wide following a free-kick.

A draw was probably a fair result in the end as Billy Heath's side remain eighth, just a point away from the play-off's.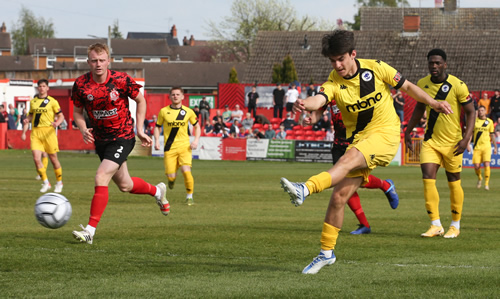 • League table after this match | Match photographs
---
Tuesday 26 April
Chester 0 York City 1
National League North
Attendance: 1,528 Half Time: 0-0
Booked: Grand, Glendon, Dackers.

Chester: Stanway, Roberts, Grand, Weeks, Fitzpatrick, Glendon, Stephenson, Sargent (Simmonds 69), Burke, Williams (Apter 46), Dackers (Roach 79). Subs not used: Gray, Livesey.
York City: Jameson, Dyson, Kouogun, Sanders, Barrow, Wright, McLaughlin, Hancox (Woods 89), Kouhyar, John-Lewis, McKay (Donaldson 61). Subs not used: Campbell, King, Willoughby.
Referee: M.Crusham.

Deva lost to Eboracum in this National League North clash of the two Roman cities. It was a narrow scoreline but that hardly reflected York's dominance in important areas all over the field.

Chester made a couple of changes from Saturday with Marcus Dackers returning from injury and David Fitzpatrick came in the left wing back role as the Blues reverted to three at the back again. Both sides made hesitant starts. Chester seemed to show too much respect to their play-off chasing opponents whilst York's play was scattered with passing errors as they struggled to keep the ball within play.

As York grew into the game, play became concentrated at the Clock End which they were attacking. However, at the Harry Mac End, Stephenson's cross from the left found Matty Williams on a foray forward into the visitors' box. He created a good opportunity to shoot but struck it wide. York, though, continued to apply pressure to the Chester goal. Olly Dyson provided a threat from the right as he sought John-Lewis out with raking crosses. On the left Mckay – who tormented City when playing for Curzon Ashton in the opening fixture was a lurking presence but inflicted less damage tonight. Grand deflected a cross over his own bar for a corner as the pressure mounted.

Chester did have a spell of their own shortly before half time and it culminated with arguably the best chance of the half. Weeks crossed from the right to the far post where Marcus Dackers headed back across goal. Burke seemed sure to side foot the opening goal but Sanders found a way to block his shot amid appeals for handball on the line.

Matty Williams did not re-emerge after the break. It was not clear whether through injury or a tactical decision. In any case Chester changed to four at the back. Apter came on instead to inject a little more pace into the Blues attacking play.

York found the goal they were looking for with just over twenty minutes to go. A hopeful ball over the top down the right saw Kouhyar outpace Grand and knock the ball back from the touchline to John-Lewis who'd found space and scored with ease at the near post. Two former Hereford players had combined to undo the Blues and Kouhyar had already scored at the Deva earlier this season.

A Chester equaliser never looked likely as York closed the game down and appeared quicker and stronger throughout. But they had a scare when Simmons went down in the box late on and a second penalty shout for Chester was waved away by referee Crusham.

Steve Watson admitted afterwards that Chester, on the night, didn't really deserve to win against his former side. But, they might have got something from the game with a little bit more luck.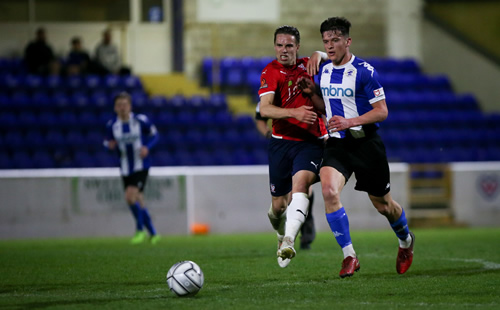 • League table after this match | Match Photographs | Match highlights

---
Saturday 23 April
Chester 1 Farsley Celtic 0
National League North
Attendance: 1,564 Half Time: 1-0
Booked: Weeks, Glendon, Willaims, Simmonds.

Chester: Stanway, Roberts, Grand, Weeks, Glendon, Dudley (Fitzpatrick 68), Stephenson, Sargent (Roache 86), Burke, Williams, Clarke (Simmonds 64). Subs not used: Gray, Apter.
Farsley Celtic: Robson, Turner, Butroid, Clayton, Digie, Gratton (Greaves 78), Syers, Hayhurst, Parkin, Spencer, Mulhern. Subs not used: Trenerry, Ingham, Malumo, Drake.
Referee: R.Holmes.



The Cestrian citizens entertained the denizens of the Citadel in the return fixture from Chester's opening game of the season. Back in August a brace of headed goals from George Waring had rescued a point for City. Today a solitary headed goal from Matty Williams decided the encounter. It was the first time City had won 1-0 in the League this season, thirty-seven games after the opening fixture.

A stiff cross-field breeze and unyielding playing surface made conditions difficult for both sides but the Blues began brightly. Zack Clarke, in for the injured Dackers, nicked the ball from Digie on the right and crossed to the edge of the box. Weeks met it and struck a venomous shot which was turned round the post by Robson. Clarke then spun and shot wide after the ball deflected to him on the edge of the area. City were playing a back three with Grand at the centre of Burke and Williams. Grand's long ball wide, into the wind, was retrieved by Roberts, operating at wing back and he did well to win a corner on the right.

The resulting kick was well-worked. Glendon played it short to Weeks along the goal-line, Weeks turned and crossed to the far post where Grand headed back into the danger area. Williams was on hand to nod Grand's assist at goal and Robson could only parry it into the roof of the net. Blues tried to build on their lead as they picked their way past a well-organised defence which included former City hero Lewis Turner on their right. Roberts' clever back-heeled pass allowed Glendon to cross from the right but Clarke and then Dudley couldn't get a shot away and the chance was gone.

Steve Watson had warned of the threat of Celtic strikers Spencer and Mulhern beforehand and the latter went closest for the visitors with a direct free kick which he clipped narrowly over the bar. Still City played well in possession at times. A brilliant run by Dudley took three defenders out and he made inroads into the box. His pass was blocked but Roberts and Glendon kept the move alive to tee up Weeks. His angled shot was saved by Robson only for Weeks to then cross to the far post where the move broke down. At other times there were plenty of "Up and Under" clearances too. Grand and Digie seemed to be having a competition about who could get the ball over the stand the most times as they indulged in no-nonsense defending. Amongst this, however, Grand launched one long pass forward which met Weeks' blind-side run with pin-point accuracy. Unfortunately the City midfielder could not capitalise with a shot before he was blocked. If it had resulted in a goal then Grand would have won the assist of the season award (If, indeed, there was one) hands down.

As the second half progressed, Celtic continued to defend well and grew increasingly in possession too. Watson freshened things up by replacing Clarke, who seemed to run out of steam, with Simmonds and Dudley with defender Fitzpatrick. Simmonds mesmerised the opposition on Chester's left flank a couple of times but the finishing pass was missing. One shot into the box deflected off Stephenson and was hooked off the line be a defender. As the game drew towards the end Weeks had a shot from distance narrowly wide as City continued to seek the reassurance of a second goal.

The inevitable late equaliser was threatened a couple of times. Mulhern had another direct free kick opportunity which sailed mercifully over. Then in added time a clever reverse ball from Syers found Farsley sub Greaves in for a shot on goal – instinctively beaten away by Stanway. The resulting corner came to nothing and – much to the relief of the nerve-wracked home faithful – City clung on for the slender win.

Arithmetically, the three points ensured City's safety for this season as they cannot now be caught by Guiseley. Though in truth relegation was an unlikely end to a disappointing season, it always feels good to have that particular jeopardy removed from the equation. Although there is more at stake for next Tuesday's opposition (York) than Chester, Steve Watson could be forgiven for wanting to prove a point against his old charges.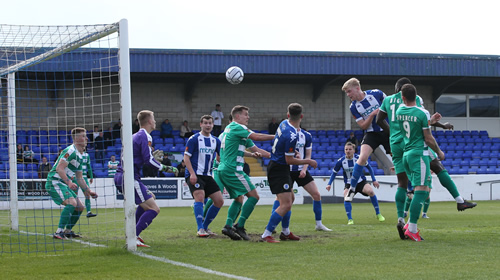 • League table after this match | Match pictures |

---
Monday 18 April
AFC Fylde 3 Chester 1
National League North
Attendance: 1,333 Half Time: 2-0
Booked: Weeks, Glendon, Clarke, Sargent.

AFC Fylde: Jones, Morrison, Davis, Whitmore, Shaw, Tollitt (Conlan 62), Hatfield, Philliskirk, Osborne (Joyce 89), Haughton (Slew 76), Taylor; Subs not used: Obi, Joyce, Dobbie.
Chester: Gray, Roberts, Williams, Burke, Fitzpatrick (Grand 57), Sargent, Weeks, Glendon, Apter (Dudley 57), Dackers (Clarke 57), Stephenson. Subs not used: Stanway, Roache.
Referee: A.Sykes.



Despite a spirited second half performance Chester were beaten 3-1 at AFC Fylde. Chester were forced into one change form the side that drew with Kidderminster Harriers, Kevin Roberts came in to replace the injured Matty Waters.

The game was barely three minutes old when the Coasters opened the scoring with Nick Haughton driving the ball past Louis Gray in the Blues goal. Douglas Taylor almost doubled the lead moments later heading wide from a Fylde corner.

It was half an hour before Chester could muster their first effort with Declan Weeks shooting over after being set up by Marcus Dackers.

The home side doubled their advantage just before half-time as referee Andy Sykes awarded them a penalty following a foul by Darren Stephenson on Sam Osborne. Haughton chipped the spot-kick Panenka style for his second goal of the game.

Rob Apter saw a shot saved by Bobby Jones before ten minutes into the second half it was 3-0 as Taylor had a simple tap-in after Nathan Shaw's cross had deflected to him.

Chester made a triple substitution that paid off immediately as Roberts headed home George Glendon's cross to reduce the arrears.

Glendon saw a free kick sail over the bar and Zack Clarke saw an effort come back off the post as Chester finished the stronger of the two sides, though a Weeks effort saved by Jones was all they had to show for it in the closing stages.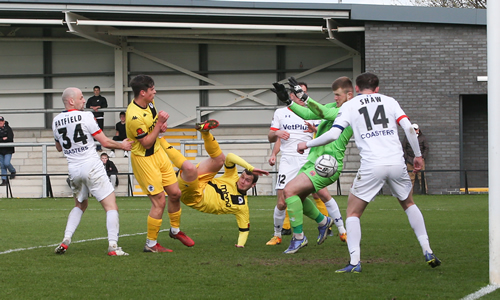 • League table after this match | Match pictures | Match highlights [YouTube]

---
Friday 15 April
Chester 2 Kidderminster Harriers 2
National League North
Attendance: 2,109 Half Time: 0-0
Booked: Williams.

Chester: Gray, Weeks, Fitzpatrick, Glendon, Stephenson, Sargent, Burke, Apter, Williams, Dackers (Clarke 86), Waters (Grand 84). Subs not used: Stanway, Dudley, Roache.
Kidderminster Harriers: Simpson, Penny, Richards, Cameron, Montrose (Moyo 74), Morgan-Smith, Hemmings, Sterling (White 90), Foulkes, Martin, Stenson (Freemantle 66). Subs not used: Lowe, Carrington.
Referee: E.Duckworth.



After a hard fought first half in which Chester and high-flying Kidderminster largely cancelled each other out, the Blues broke through to take control of the game only to cede their advantage later.

City took the lead when the excellent Stephenson headed a long ball from Burke and then beat two Harriers' defenders to his own assist to stroke it into the right hand corner of the goal. It was a moment of pure quality from the winger who had been the main source of danger in the first half too.

Shortly afterwards Chester forged further ahead when Weeks' shot from the edge of the area was parried by Simpson and Glendon was first to the loose ball. As he took it round the keeper to prepare to score he was felled from behind by Cameron. Referee Ed Duckworth pointed immediately to the spot and cautioned the defender. Dackers then put the penalty kick emphatically in the bottom left corner before celebrating with gusto in front of the Harry Mac terraces.

Harriers were rocking now and Blues continued their ascendancy. Glendon and Stephenson combined down the left and created an opening for the skipper. His shot nutmegged a defender but was not enough to beat the dive of Simpson. Kidderminster though, found a way back into the game when Morgan-Smith latched on to a misplaced clearance from Gray and then fired the ball past him to score. As City tried to restore their two-goal cushion, Dackers headed Waters' cross over the bar. The crowd behind the goal were slow to throw the ball back to Simpson and one wag instead chucked one of the many complimentary Easter eggs handed out before the game. Simpson caught it cleanly but did not see the funny side and reported it to the referee.

Waters was injured making a tackle and whilst Chester were down to ten men Kidderminster equalised. Hemmings made the most of Waters' absence and fired a deep cross from the left. It was struck after one bounce by Sterling in space at the far post and found the back of the net via Williams' desperate lunge to clear.

The momentum was with the visitors now after City had seemed well in command. But after Moyo was stretchered off following an injury and Harriers, having used all their subs, were reduced to ten, both sides appeared to settle for the draw.

Most Blues fans would have settled for a point before the game but the context of surrendering a tw0 goal lead made the result a disappointing one in the end. Still there were plenty of positives to take from the performance – not least how well Williams and Burke had done at the heart of defence. This was the first time they had started together.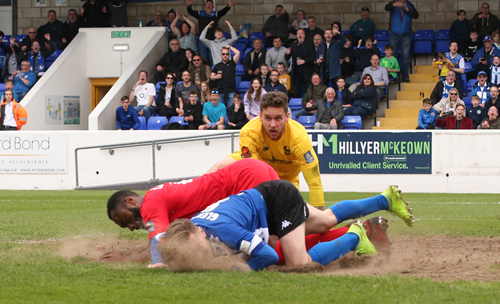 • League table after this match | Match pictures | Match highlights [YouTube]

---
Saturday 9 April
Gateshead 4 Chester 3
National League North
Attendance: 1,314 (78 Chester) Half Time: 2-2
Booked: Weeks, Sargent.

Gateshead: Marschall, Tinkler, Williamson, Storey, Charters (Jacob 60), Hunter, Bailey, Olley, Langstaff, Scott (Ward 80), Campbell (Malley 86). Subs not used: Pani, Montgomery.
Chester: Gray, Waters, Burke, Grand, Fitzpatrick, Sargent (Roache 58), Weeks, Glendon (Simmonds 70), Apter, Dackers (Griffiths 63), Stephenson. Subs not used: Horsfield, Williams.
Referee: J.Mulligan.

Chester suffered their first defeat in five games as they were beaten in this high scoring encounter at the International Stadium. Kevin Roberts missed the game through injury with Rob Apter replacing him in the starting X1.

The Heed, who were beaten at promotion rivals Brackley Town in midweek started well and Taylor Charters shot just wide at the far post from Robbie Tinkler's cross after only two minutes. The home side went close again through Macaulay Langstaff heading a free kick wide when well placed before the deadlock was broken in the 14th minute.
A long clearance from 'keeper Filip Marschall bounced over the Chester rearguard allowing Adam Campbell to race through clear on goal and plant a volley past the exposed Louis Gray. A minute later it was 2-0 as Langstaff crossed for Cedwyn Scott to force the bal home from close range.

Greg Olley and Scott both went close to adding a third before Chester pulled a goal back on 36 minutes as George Glendon cut inside on the left before sending a lobbed cross/shot over Marschall into the far corner. Two minutes before half-time Chester equalised. Declan Weeks flicked a ball through to Darren Stephenson who shot into the far corner to send the sides in level at the break.

Gateshead regained the lead six minutes into the second period with Campbell finding the net again, cutting inside and shooting low past Gray.
Chester were enjoying plenty of possession in the second period with Apter seeing an effort graze the outside of the post, but it was the home side who scored the crucial next goal with six minutes to go as Campbell's cross was headed home at the back post by Olley despite Gray's desperate attempt to claw the ball back off the line.
With the game heading into stoppage time Chester scored a third as Weeks was fouled by Dan Ward in the penalty area. The midfielder picked himself up to send Marschall the wrong way from the spot-kick to complete the scoring on the stroke of full-time.
• League table after this match | Match pictures | Match highlights [YouTube]
---

LATEST NEWS

LOAN SIGNING
Chester have signed 19-year-old left back Lewis Coulton on loan from Preston North End until January.
more »
LAST MATCH

BLUES HELD BY
LATE GOAL
Chester took a two goal lead through Kurt Willoughby and Joe Lynch, but a brace from Alfreton's Tommy Denton, saw the points shared.
more »
CLUB HISTORY

Everything you need to know about the club's history, honours, records and kits. Complete list of fixtures from 1885 and much more.
more »
SUPPORTERS

EXILES BLOG
The Exiles have set up a blog to provide away match information and articles for Blues fans living away from Chester. You can read it here
Exiles » | ISA »