---
Saturday 30 October
Southport 3 Chester 2
National League North
Attendance: 1,253 Half Time: 3-1
Booked: Jolley, Askew.

Southport: Mason, Thame, C.Doyle, Anson, Oliver, J.Doyle, Bainbridge, Hmami (Woods 71), Munro, Archer (Watson 71), Carver. Subs not used: McMillan, Vassallo, Buckley-Ricketts.
Chester: Gray, Roberts, Williams, Cowan, Grand, Askew, Lacey (Stephenson 68), Glendon, Dudley (Oyibo 64), Redshaw (Jolley 63), Waring. Subs not used: Clark, Horsfield.
Referee: B.Wyatt.



It proved to be another defeat on the road for Chester who were beaten by the odd goal in five at Southport. The Sandgrounders took just nine minutes to break the deadlock with Jack Bainbridge slotting the ball past Louis Gray.

Chester's first effort of note came from a Jack Redshaw header that cleared the bar in front of the away following. Former Chester player Jordan Archer had a great chance to double the Port lead breaking through into the box on the right only to see his goal bound shot saved by the outstretched legs of Gray.

Redshaw forced a fine save from Cameron Mason in the home goal with a well struck effort from the right edge of the box as Chester grew into the game more. Eleven minutes before the break Chester drew level having been awarded a penalty following a hand ball by Adam Anson in the box. Anthony Dudley stepped up to confidently stroke home the spot-kick.

Blues were level for just three minutes as Archer headed the home side ahead. Worse was to come as three minutes later Southport extended their lead further as Chester's defence failed to deal with Doug Tharme's long throw leaving Marcus Carver to score the third from close range.

Chester started the second half well and pulled a goal back on 48 minutes with Paddy Lacey scoring against his former club from close range.

George Waring had a good chance to level matters on the hour mark but his header at the back post few wide. In an effort to search for the equaliser Chester made three attacking changes bringing on on-loan striker Charlie Jolley, Jude Oyibo and Darren Stephenson midway through the second half.

Despite the changes Chester failed to create any chances of note in the closing stages with the only effort falling to Josh Askew who shot over in the dying seconds.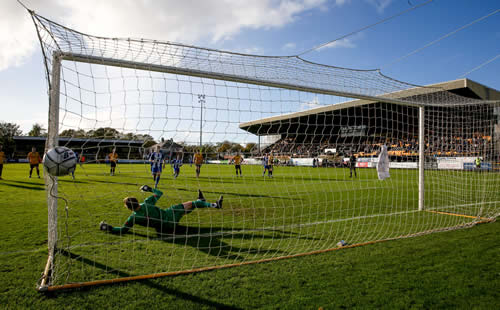 •
League table after this match
| Match pictures
| Watch the highlights [YouTube]

---
Tuesday 26 October
Chester 3 Gloucester City 2
National League North
Attendance: 1,474 Half Time: 1-0
Booked: Williams.

Chester: Gray, Grand, Weeks (Oyibo 23), Cowan, Hardy (Stephenson 66), Glendon, Dudley, Lacey, Williams, Askew, Redshaw (Waring 66). Subs not used: Roberts, Clark.
Gloucester City: Cole, Leadbitter, Galvin, Nugent, Thompson, Robert, O'Sullivan (Tomlinson 64), Dawson, Young, Chambers-Parillon (Noel-Williams 90), Hulbert. Subs not used: Armstrong, Sheaf, Mensah.
Referee: R.Aspinall.



Skipper George Glendon capped a thrilling finale as Chester managed to snatch victory from the jaws of defeat. His sweetly struck shot skimmed into the corner of the net to win the game at the last gasp – the eighth minute of added time. The strike sent Blues fans into stratospheric ecstasy – many disbelieving they could have won a game they looked like losing when Gloucester took the lead with nine minutes of the ninety remaining.

As the game unfolded, there were indications of two sides still struggling to find form and establish themselves this season. Until the previous campaign was abandoned Gloucester had led the way and had started this, one of the favourites for promotion. But, after an emphatic win against York in their second game, they have struggled and parted company with manager Paul Groves. This evening they arrived at Chester in the bottom two, with Lee Mansell in interim charge and one or two new signings in the team – Hulbert, on loan from Bristol Rovers, and Tomlinson on the bench included but star striker Matt McClure was still injured.

Chester, still recovering after the cup defeat to Marske and tough away trips to Kettering and York, also needed a win urgently. They made the brighter start and might have taken the lead when Askew crossed to the far post. Redshaw got on the end of it but his stooping header bounced firmly into the ground and over the crossbar instead of the net.

The Blues had the upper hand territorially, though the Tigers' pressing made efforts to play out from the back fraught with danger as they sought to close down and win the ball back. Jordan Young cut across the edge of the box and curled a shot narrowly over the bar. Chester had to readjust when Declan Weeks became injured and was replaced by Oyibo. Five minutes later they took the lead when awarded a penalty. Dudley was the architect of the move that led to the spot kick as he first won the ball from his opponent then played a neat one-two with Redshaw and passed to the edge of the box where the onrushing Hardy was clipped by Galvin. Dudley finished what he had started and sent Jake Cole the wrong way from the spot to score.

Chester's number ten might have added another to his tally before the break when Cowan's well weighted ball over the top matched Dudley's run but his shot was parried by Cole ad Redshaw was closed down before he could follow-up. The consensus was that it had been a good first half but only a slender lead to show for it.

After the break, the Tigers dominated for considerable spells as Chester seemed to sit too deeply and invite the visitors on. At times the Blues goal led the proverbial charmed life. First Hulbert's lunge guided the ball on to the far post but as it came back to him across the goal he could not respond in time from his prone position and Williams and Grand were able to scramble it clear. Then Chambers-Parillon got through and hammered a left foot shot against the post so hard that it skimmed away for a throw-in on the left.

The Tigers continued to pen Chester back as Blues could not stay tight to their opponents. Galvin's first cross was blocked but his second after the ball was recycled to him was deftly nodded in by Hulbert. The equaliser had been coming.

Blues responded by bringing Stephenson and Waring on for Hardy and Redshaw as they sought to present more of a direct threat to the Tigers. Both sides now strove for the three points. Chambers-Parillon put Hulbert through and he squared to substitute Tomlinson. He looked to have beaten the sprawling Gray to the ball but the Chester keeper did just enough to touch the ball off his toes and the striker lost his balance and put the ball wide with the goal at his mercy. Glendon signified intent as he received the ball from Lacey, ran with it and shot from distance. Cole parried and Waring scooped the rebound over the bar from a narrow angle.

Back at the other end Blues conceded a free kick on the left and Leadbitter got the faintest of touches to nod it past Gray and give the Tigers the lead. If this was deflating for the home fans, the Blues players showed resilience and Oyibo almost equalised shortly afterwards. Latching on to Askew's ball over the top, his tenacity led him to nick the ball past Cole from the acutest of angles. It seemed to be crossing the line but instead hit the far post and a defender was able to clear.

On the left Grand's flicked header from Glendon's corner was deflected narrowly over by Chambers-Parillon. From the next one Grand made no mistake, heading home magnificently. The crowd and the players scented there was more to come – at both ends - as the match entered added time. Though a minimum of six minutes were indicated there were further stoppages when first one Gloucester player was treated and then another lay down seeking it but was given short shrift by the referee, Chester's chance seemed to have gone when Williams' effort at the far post was parried by Cole. Gloucester had a go themselves before Gray launched a long kick to be flicked on by Waring and then Stephenson. Galvin half-cleared but Glendon shot first time and decisively to trigger wild celebrations.

Had the visitors held on to their lead they would have been level on points with Chester. As it is they finished the night bottom of the league. Slender margins can provoke wild fluctuations in results and in the moods of supporters. Those who take the longer term view, while savouring success when it comes, are surely the wisest.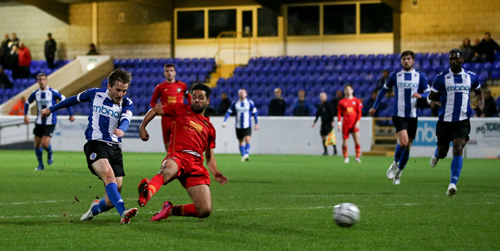 •
League table after this match
| Match pictures |
Watch the highlights [YouTube]
---
Saturday 23 October
York City 1 Chester 0
National League North
Attendance: 3,154 (417 Chester) Half Time: 1-0
Booked: Lacey.

York City: James, Duckworth (Newton 90), Wright, Brown, McLaughlin, Hopper, Woods, Dyson, Donaldson, Willoughby (Heaney 64), Beck. Subs not used: Campbell, Haase, Lancaster.
Chester: Gray, Cowan, Williams, Grand, Askew, Lacey (Waring 81), Glendon, Weeks, Hardy (Oyibo 64), Dudley, Redshaw (Stephenson 71). Subs not used: Clark, Horsfield.
Referee: P.Cooper.



Chester took 417 supporters to their first visit to the LNER Community Stadium but the match ended in disappointment as Mark Beck's goal in the 43rd minute was enough to give the Minstermen all three points.

James Hardy replaced the suspended Kevin Roberts in an otherwise unchanged starting X1 from the side that drew at Kettering Town a couple of weeks ago. The home started quickly and almost took a second minute lead when Beck's on-target header from an Olly Dyson corner corner was cleared the the Blues defence.

Another Dyson corner five minutes later saw Clayton Donaldson's effort cleared off the line as the home side pressed for an early advantage. Chester weathered the early pressure and started to exert some of their own. Simon Grand couldn't quite steer a Dan Cowan effort towards goal and George Glendon saw an effort sail just wide.

Perhaps the best chance fell to Declan Weeks who found the side netting after great approach play from Anthony Dudley who worked his way past three defenders before crossing for the midfielder.

Jack Redshaw, playing against his former club, saw a long range effort tipped round the post by Pete Jameson in the home goal.

With three minutes of the half remaining, and against the run of play, York broke the deadlock as Michael Duckworth's right wing cross was headed home at the far post by Beck.

Donaldson almost added a second early in the second half heading just wide of Louis Gray's post, before Jameson at the other end pulled off a great save to deny Glendon.

Donaldson was in the action again as his attempted lob of Gray saw his effort go over the bar. Chester brought on Jude Oyibo and Darren Stephenson in an effort to find an equaliser but the best effort they could muster in the closing stages was a Stephenson effort that flew wide with five minutes to go.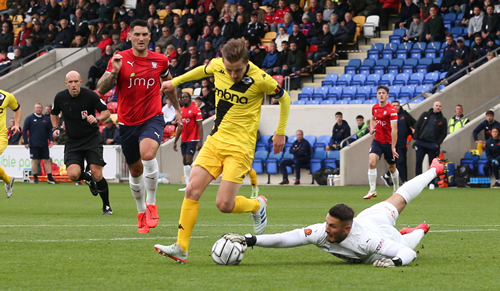 • League table after this match | Match pictures |
Watch the highlights [YouTube]

---
Tuesday 19 October
Chester 0 Stockport County 1
Cheshire Senior Cup Round 1
Attendance: 385 Half Time: 0-0
Booked: -.

Chester: Gray, Roberts, Weeks, Livesey, Hardy, Dudley, Stephenson, Clark (Glendon 65), Burke, Oyibo (Clarke 60), Redshaw. Subs not used: Waring, Horsfield, Heywood.
Stockport County: Hinchcliffe, Walker, Rydel, Hogan, Fish, Pye, Raikhy, Barclay, Quigley, Collar, Reid. Subs not used: Statham, Edwards, Holding, Earl, Alli.
Referee: T.Kirk.

Chester were beaten 1-0 at home by Stockport County in the first round of the Cheshire senior Cup. Jack Redshaw could have given the Blues a first half lead but his the post from the penalty spot, the kick awarded after a foul on Jude Oyibo. The only goal of the game came from substitute Millenic Alli on 60 minutes.

---
Saturday 9 October
Kettering Town 0 Chester 0
National League North
Attendance: 1,014 Half Time: 0-0
Booked: Williams, Weeks, Roberts.
Sent-off (second yellow): Roberts.

Kettering Town: Smith, Barrett, Brown, Ward, Johnson, C.Smith, Powell (Stones 65), Ofosu (Crawford 87), Perry, Stohrer (Sherif 85), Neal. Subs not used: Sheriff, Sharpe.
Chester: Gray, Roberts, Williams, Cowan, Grand, Askew, Lacey, Weeks (Waring 71), Glendon, Dudley (Oyibo 79), Redshaw. Subs not used: Livesey, Hardy, Clark.
Referee: R.Holmes.



Chester emerged with a point to show from a scrappy encounter, featuring two red cards, at Kettering's Latimer Park ground.
There were three changes to the Blues' line-up after the disappointing midweek FA Cup exit to Marske United. Cup-tied loanee Jack Redshaw was playing up front, with Simon Grand and Matty Williams also in the starting eleven.
It was a glorious Autumn afternoon and there was a hint in the air of the ground's proximity to a huge Weetabix factory. But while the attendance of 1,014 was boosted by the lack of top flight football for international weekend, it was not a game which showcased non-league football.
Although a couple of poor corners were taken by both sides in the opening spell, more than half an hour passed before either team had any realistic chance of scoring.
One of the supporters of Kettering - who have currently scored the most FA Cup goals in its history and are still in the hat after their midweek replay win against Leamington - told us to look out for Callum Powell, who has found the net 12 times this season. He was in the thick of a couple of chances on the half hour mark, but Louis Gray held onto his deflected shot.
Soon after Chester had their own opportunity when George Glendon attempted a strike from distance. But it was a straight forward save for Kettering goalkeeper Jackson Smith.
The Poppies thought they came close to opening the scoring a few minutes later when Alex Brown hit the crossbar following a pass from 15-stone striker Kyle Perry. But the flag was put up for offside.
Much-travelled Perry appealed for a penalty before half-time when he tumbled in the box. The referee dismissed his claims and then booked him for dissent.
Chester's most enterprising player in the first half was Redshaw, who looked comfortable with the ball at this feet. He took aim after a Declan Weeks' corner at the start of the second half, but his header sailed over the bar.
Soon after Perry, who must regularly eat three Weetabix to keep up his bulk, was sent off for a foul on Grand. The frontman protested the decision to no avail, and had a good-natured spat with a handful of Chester fans as he trudged off for an early bath.
In truth, you wouldn't know the home side were down to ten men as the game went on. The closest they came not long after the sending-off was a free-kick which fell to Redshaw, but his shot was blocked and kicked away for a corner.
At the other end, Dan Cowan kept the Blues in the game with two good tackles to stop Claudio Ofosu and Lamine Sherif. The match got increasingly scrappy towards full-time, with Kevin Roberts sent off on the 87th minute for a second yellow card.
Chester did have a good chance in the final stages of the match, with a melee in the box leading to the ball being cleared off the goal-line and Redshaw then heading wide. But in truth a draw was a fair result and there was some relief it was a better performance than the midweek FA Cup replay.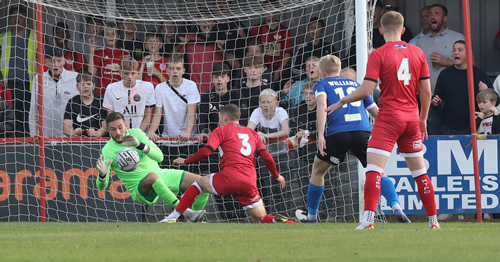 • League table after this match | Match pictures |
Watch the highlights [YouTube]
---
Tuesday 5 October
Chester 0 Marske United 4
FA Cup Third Qualifying Round Replay
Attendance: 1,138 Half Time: 0-1
Booked: Livesey.

Chester: Gray, Roberts (Horsfield 80), Weeks, Livesey, Cowan, Hardy (Waring 57), Glendon, Dudley, Lacey (Oyibo 68), Marsh-Hughes, Askew. Subs not used: Grand, Clark, Williams, Lowe.
Marske United: Catterick, May, Round, Butterworth, O'Sullivan, Wheatley, Smith, Hopson, Boyes, Tymon, Dicicco. Subs not used: McTiernan, Carling, B.Clark, I.Clark, Williams, Watson.
Referee: E.Duckworth.



If Chester thought they had avoided a banana skin by drawing away at Marske, they tripped over a whole bunch in this replay and ended flat on their faces.

City were their own worst enemy with some atrocious defensive play, albeit under pressure from tenacious and highly motivated visitors. Although they began on the front foot and had the majority of possession and goal-scoring opportunities in a swirling wind, City found themselves a goal down at half time. This came about when Gray threw the ball out quickly to Askew but the move was anticipated by Marske and they swarmed to attack down the right, with Hopson getting behind to cross. Gray could only parry the ball and Boyes stabbed it in from ten yards with City's defence at sixes and sevens.

Despite the setback there was nothing to suggest that the Blues would not be capable of turning the tie around. Weeks, Glendon and Hardy found time on the ball to probe but not create clear cut chances. Marsh-Hughes came closest when he headed Weeks' cross straight at the keeper. Five minutes into the second half, however, more calamitous defending gifted Marske a second goal. Indecision between Gray and Cowan led to Boyes stealing possession and teeing up Dicicchio. The Marske forward had two bites of the cherry, and after his first effort was blocked by Livesey, he was able to score from a prone position with his second.

Still, the drums continued beating, the Harry Mac urged Bern and Jonno's Blue and White Army forward and the faithful believed a comeback was possible. The managers replaced Hardy with Waring and, soon afterwards, Lacey with Oyibo but still City struggled against stubborn defending by the visitors. Dudley dropped deeper, ran and turned cleverly in efforts to engineer scoring opportunities. A couple of half-chances fell his way – he shot over the bar from the edge of the area and then his snatched shot was straight at the keeper.

The Blues' attacking play was blunted as Marske continued to defend their penalty area stoutly. There was simply no room to thread a ball through. They struggled to find width or pace to hurt the visitors who worked unceasingly to deny City room on the ball.

With a quarter of an hour to go City received a boost when O'Sullivan was given a second yellow card for time wasting as he deliberated too long over a throw in. Oyibo's angled cross was flicked towards goal by Livesey but without enough power to trouble the keeper. With Livesey staying up front as a third centre-forward, City's defensive cover was decidedly thin when, in a counter-attack, Round found Hopson on the left with a reverse pass and the latter curled his cross shot past Gray. An unbelievable third goal for the Seasiders. It just remained for Boyes to add a fourth in stoppage time for City's misery to be complete.

Home supporters vented their anger, frustrated by years of lack of success in the cup and the potential revenue lost, on the managers. Jonno seemed as shell-shocked as the fans when he eventually emerged from the dressing room to give a candid and honest interview to the press. Commendably, some Chester fans remained to applaud Marske off the pitch. Theirs was a stunning performance which belied their status two leagues below Chester. That is the beauty and the agony of football. The Seasiders gave Chester a lesson in humility this evening.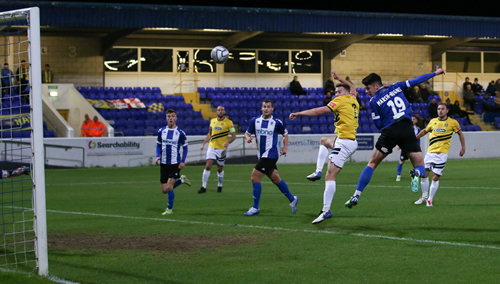 • Match pictures | Watch the highlights
[YouTube]
---
Saturday 2 October
Marske United 0 Chester 0
FA Cup Third Qualifying Round
Attendance: 890 Half Time: 0-0
Booked: Horsfield.

Marske United: Catterick, May, Round, Butterworth, O'Sullivan, Wheatley, Smith, Hopson (McTiernan 37), Boyes, Tymon, Dicicco. Subs not used: B.Clark, Williams, I.Clark, Watson.
Chester: Gray, Weeks, Livesey, Cowan, Hardy (Marsh-Hughes 56), Glendon, Waring, Dudley (Oyibo 86), Horsfield (Roberts 83), Lacey, Askew. Subs not used: Grand, Clark, Williams, Lowe.
Referee: A Williamson.



The two sides must meet again on Tuesday night after a goalless draw in this FA Cup tie.

A lively start saw James Horsfield given a yellow card after just 15 seconds of the start. Marske's main threats came from the long throw of Liam O'Sullivan, something that Chester were aware of and dealt with well throughout the 90 minutes.

Horsfield set george Glendon through, his effort was saved by Ryan Catterick in the home goal with George Waring unable to capitalise on the rebound from close range.

Danny Livesey headed clear as Marske continued to press, a cross from Curtis Round was heading for Adam Boyes in the six yard box before Livesey's timely intervention. There were shouts for a penalty from the home players as the resulting long throw appeared to hit Livesey's hand above his head but referee Williamson, and his assistant, were having none of it.

The bumpy pitch denied Chester a great chance just before the break, Weeks and Waring played a one-two and just before Weeks could shoot the ball bobbled up to deny the midfielder a clean strike.

Marske almost broke the deadlock early in the second period, a Glen Butterworth corner was met by Rio May but John Askew headed clear from the line for Chester.
Louis Gray had to be smart off his line to deny the advancing Boyes and gather his shot.

Paddy Lacey tried an effort from long range that flew wide, but at the other end Boyes should really have opened the scoring as he shot wide from close range after a deflection had fallen kindly for him.

Chester finished strong, Anthony Dudley shot straight a Catterick when he only had the 'keeper to beat. Lacey saw another effort saved by Catterick, but the biggest chance of the game came late on as substitute Lloyd Marsh-Hughes shrugged off a challenge from Andrew May leaving himself one-on-one with Catterick but the young striker somehow fired just wide of the post.


•
Match pictures
| Watch the highlights [YouTube]
---