---
Saturday 26 February
Leamington 3 Chester 0
National League North
Attendance: 611 Half Time: 1-0
Booked: Grand.

Leamington: Hawkins, Meredith, Morley, Clarke (Gittings 74), Morrison, Lane, Turner (Wilding 81), Walker, Mooney, Edwards, Kelly-Evans. Subs not used: Parker, Mace, English.
Chester: Stanway, Horsfield, Williams, Grand, Fitzpatrick, Roberts (Simmonds 46), Weeks, Burke, Glendon (Dackers 46), Apter, Stephenson (Roache 65). Subs not used: Gray, Okagbue.
Referee: Ruebyn Richardo.

Let's be brutal about this one – Chester have never scored at Leamington's isolated New Windmill Ground and it never looked like they would on their third visit.
On paper, Chester's team looked strong with George Glendon and James Horsfield returning, to replace Rowan Roache and George Waring. The travelling fans were also hopeful of a response to the disappointing midweek home defeat to Spennymoor.
Leamington is not an easy place to visit, with its bobbly pitch and the swirling wind making you realise why the nearby Windmill Hill was a perfect spot for a windmill in the 18th century. But that's no excuse for the performance on the day.
Thankfully a few of us started our afternoon with a quick visit to the nearest pub, the Leopards Inn in Bishops Tachbrook – which is more than two miles away. We wondered if our perfect pints of Wye Valley HPA would be the highlight of the day, and indeed they were!
Despite the 3-0 defeat, my Chester man of the match was goalkeeper Will Stanway, and he was called into action almost from the off with Leamington having their first strike while I could still taste the last of my HPA. Although Stanway saved that one, just 15 minutes later a clever move from the Brakes found Dan Turner in space to fire home past Stanway.
Unfortunately that didn't mark much of a Chester response, with the efforts of Rob Apter not making much of an impression without any real support. I'm told there was a Chester shot on target in the first half, but I'm struggling to remember it.
Sadly the second half didn't see any real change, with a Leamington corner in the 50th minute finding the head of unmarked captain Jack Edwards. He headed into the net from the back stick and it already looked like it was game over for for the Blues.
Second half substitutes Okara Simmonds and Marcus Dackers did offer a different perspective, and Dackers had about the game's best chance of a Chester goal. But he had to turn to shoot, and the ball went wide. In truth that seemed to be the result of the only real Chester move of the game.
It was definitely all over on the 77th minute when Kelsey Mooney rode a couple of tackles in the box before hitting a low strike past Stanway. It was then time for the Chester fans to huddle near the exit, ready to make their escape into open countryside when referee Ruebyn Richardo blew the final whistle after three minutes of added play.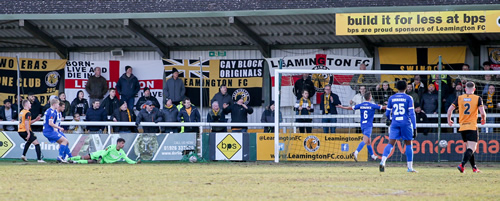 • League table after this match | Match photographs | Match highlights [YouTube]
---
Tuesday 22 February
Chester 0 Spennymoor Town 2
National League North
Attendance: 1,610 Half Time: 0-1
Booked: -.

Chester: Stanway, Roberts, Grand, Weeks, Fitzpatrick, Waring (Dackers 68), Stephenson, Burke, Apter, Williams, Roache (Simmonds 58). Subs not used: Gray, Heywood, Okagbue.
Spennymoor Town: Amissah, Pye (Spokes 46), Chandler, Tait, Curtis, Moke (Mulhern 74), Taylor, Ramshaw, Hall, Richardson, Thewlis (Ofosu 74). Subs not used: Eve, Mason.
Referee: Ben Wyatt.
The Blues fell to a second consecutive home defeat on a bitterly disappointing night at the Deva. Goals early in either half for Spennymoor undermined City's considerable efforts to get something from the game.

Chester did the early pressing but were undone on six minutes when the Moors broke quickly on the left. Ramshaw's raid on Roberts' blindside out-paced the City right back and the former Gateshead midfielder tucked the ball past the onrushing Stanway for the opening goal. So the Blues had to chase the game and created a couple of openings down the right. Apter crossed and found Stephenson in space but his resulting header was straight at the keeper. Then from a right wing corner a goalmouth scramble ended with Burke smashing the ball wide.

Calamity ensued as the visitors were awarded a penalty. Thewlis grappled with Roberts in City's box. On the blindside of the referee, but in clear sight of the Harry Mac, Thewlis grabbed hold of the Chester defender's shirt as he wrestled for possession. Referee Ben Wyatt, however, gave the decision against Roberts causing consternation on the home terracing. Then as Glen Taylor's spot kick was superbly saved by Stanway all the anger was channelled into a wall of noise behind the Blues, galvanising them forward. But an equaliser eluded them.

City continued the momentum after the break. Apter retrieved the ball from the feet of a Moors player, cut in from the right and played a one-two with Waring. His shot took a deflection and looped over Amissah in goal only to strike the post and roll across the six yard box before being scuffed to safety by a defender.

Ten minutes into the second period the game was taken further away from Chester. A speculative pass looked to be intercepted by Roberts but he took an awkward touch, Thewlis latched on to it and scored with a cross shot from the left.

Despite plenty of effort making a couple of changes – Simmonds and Dackers replacing Roache and Waring respectively – City lacked the quality necessary to break down a well organised and determined opposition. Indeed the visitors' speed in counter-attack which had led to their goals threatened to undo City further but once again Stanway rescued the situation.

It feels like lurching from one extreme to the other at the moment for Chester with the superb result against play-off chasing Southport being followed with three defeats. Blues desperately need a touch of solid stability to stem the decline and retrieve morale. Any lingering hopes of making the play offs must have gone now but they must be careful not to get drawn into the quagmire of a relegation struggle at the other end of the table.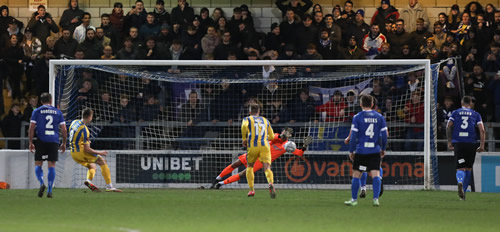 • League table after this match | Match photographs | Match Highlights [YouTube]
---
Saturday 19 February
Chester 2 Hereford 3
National League North
Attendance: 1,889 Half Time: 1-1
Booked: Stanway, Williams, Roberts.

Chester: Stanway, Roberts, Weeks, Fitzpatrick, Dudley (Hardy 41), Burke, Apter (Simmonds 71), Williams, Dackers (Waring 84), Okagbue, Roache. Subs not used: Gray, Grand.
Hereford: Sondergaard, Hodgkiss, Egan, McLean (Pinchard 80), Patten (Touray 74), Owen-Evans (Haines 90), Storey, Pollock, Vincent, Kouhyar, Revan. Subs not used: Hall, Gillela.
Referee: David McNamara.



An entertaining and closely fought match which could have gone either way ended up going the way of the visitors when they were awarded a penalty kick eight minutes from the end.

It came when Bull's skipper Hodgkiss went down like a sack of spuds from the lightest of touches on his shoulder by City substitute Simmonds. Owen-Evans scored as Stanway went the wrong way.

It was a harsh result on the Blues who had twice led through headers from Rob Apter's corner kicks. First Burke's emphatic finish on twenty-four minutes and, after the break, Williams' nodded in off the post at the Harry Mac end. In between the Bulls had forced an equaliser in the second minute of stoppage time at the end of the first half. In another rapid counter attack – a feature of the visitors' play – City's keeper and two defenders were drawn to the danger of Revan's near post cross but it eluded them all and allowed Hodgkiss to score into the gaping goal.

City's second half lead lasted even less as, within two minutes Kouhyar picked up the ball on the edge of the box and, despite being shepherded to the left managed to hit a crisp cross shot across Stanway and into the far corner.

The second equaliser seemed to take the wind out of City's sails and they appeared to run out of steam as the end-to-end encounter headed for its climax. Prior to this however Blues had been unlucky not to be further ahead. Dudley's rasping half volley in the first half stung Sondergaard's fingers in the Bulls' goal. Dackers, who led the line nimbly, saw a first-time shot fumbled by the Bulls' keeper and later the ball would not quite sit up for him and his shot was blocked.

As City applied pressure after half time Weeks' mazy run couldn't quite find a decisive finish. The Bulls' goal had a lucky escape when Hardy's flick from Apter's cross struck a defender on the line before being scrambled to safety.

Hereford looked to break swiftly and decisively when they had the chance. Early on in the game indecision between City debutant Okagbue and Stanway led to the latter bringing Owen-Edwards down outside the box. Bulls' players swarmed round the referee demanding a dismissal but only received yellow and a scuffed free kick instead. Stanway later saved bravely on at least three more occasions as the visitors got behind City's back line.

The Blues, then, continue to be a team in transition as they went down narrowly to a useful-looking Hereford side with momentum for the play-offs. City weren't helped by injury to Dudley who had a promising first half and the absence of Stephenson. Conspiracy theorists will have noted that referee McNamara gave the decisive penalty in a similarly swift manner to the one he awarded against the Blues in the play-off against Altrincham but against that he generally handled the game well. City's directors will probably wonder what difference added police and ticket restrictions on visiting supporters made when, like Telford and Southport before them, they still launched a number of flares on to the pitch.

There was much that was good about the Blues' performance despite the result. Philosophical City fans will be content with the long view that improvement is happening slowly – until at least that is - next Tuesday when City entertain both former managers Bern and Jonno and new charges Spennymoor.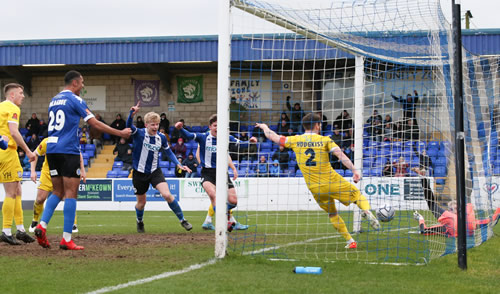 • League table after this match | Match photographs | Match highlights [YouTube]
---
Saturday 12 February
Darlington 2 Chester 1
National League North
Attendance: 1,200 Half Time: 1-1
Booked: Roberts, Fitzpatrick.

Darlington: Taylor, Smith, Hedley, Hatfield, Mondal (Storey 86), Rivers (Purver 76), Ellis, Lambert (Dos Santos 90), Cassidy, Lawlor, Rose. Subs not used: O'Neill, Griffiths.
Chester: Stanway, Roberts, Williams, Grand, Fitzpatrick, Apter (Horsfield 51), Weeks, Roache (Waring 63), Burke, Stephenson (Simmonds 46), Dackers. Subs not used: Gray, Okagbue.
Referee: J.Bancroft.



This was the fourth meeting between the sides this season, with the Blues having got the better of their opponents with an FA Cup replay victory earlier in the season.

After a busy opening few minutes by the Quakers it was Chester who opened the scoring on 17 minutes as Declan Weeks saw an effort partially saved by Tommy Taylor in the home goal,the loose ball fell to Marcus Dackers who calmly slotted it back past the keeper and in at the far post.

Chester could only hold onto their lead for five minutes as Jake Cassidy raced down the right to cross for Junior Mondal, recently returned from a loan spell at Marske United, at the near post who flicked the ball past Wyll Stanway to level.

Weeks almost gave the Blues the lead again but he saw his long range effort tipped over the bar by Taylor.

Mondal and Jarrett Rivers both saw efforts go just wide at the start of the second period and Stanway was called into action to produce a fine fingertip save to deny Jack Lambert.

The winning goal came on 57 minutes as Mondal and Lambert combined well on the left to let in the overlapping George Smith whose left foot shot beat Stanway to seal the points.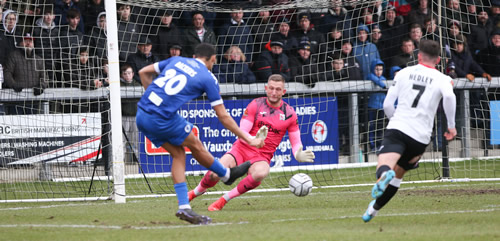 • League table after this match | Match photographs | Match highlights [YouTube]
---
Saturday 5 February
Chester 5 Southport 0
National League North
Attendance: 1,984 Half Time: 1-0
Booked: Stephenson, Roache.

Chester: Stanway, Roberts, Grand, Weeks, Fitzpatrick, Stephenson, Burke, Apter, Williams, Dackers, Roache. Subs not used: Gray, Waring, Horsfield, Simmonds, Okagbue.
Southport: Mason, Oliver, Doyle (Corrigan 67), J.Anson, Tharme, Woods (Buckley-Ricketts 67), Munro (Vassallo 56), Archer, Walton, Bainbridge, Edwards. Subs not used: Benjamin, McMillan.
Referee: S.Lucas.



The Blues won their first home match under Steve Watson's management and did so in style as they comprehensively thrashed local rivals Southport.

Just one change was made to the line-up which just failed to hold on to a narrow victory against high-flying Brackley on Tuesday. Horsfield dropped to the bench and a full debut was handed to Harrison Burke. The youngster slotted into central midfield while Kevin Roberts dropped back to right back.

As a strong swirling wind across the pitch and light rain hampered both sides City penned the visitors in their own half. Burke's energy and anticipation made an immediate impact in midfield as Chester sought to maintain a stranglehold on the game. Clear cut chances were few to begin with until one glorious opportunity fell to Stephenson from Roberts' looping right wing cross but he could not react in time to shoot on target. Stephenson, however was instrumental in the move that led to a breakthrough on half an hour. His artful wing play resulted in a deep cross which was headed clear to the edge of the area. Burke met it first time and struck a sweet half volley into the back of the net beating the dive of Cameron Mason all ends up. It was a dream beginning for the academy graduate.

City had dominated a hard fought encounter. Could they maintain the level after the break? Shortly after half time they gave themselves breathing space as intelligent quick thinking down the right by Roache led to his clipped cross being deftly headed home by Marcus Dackers. And only minutes later Weeks' mesmeric run and pass slipped Stephenson through to steer the ball under Mason for Chester's third.

Play was held up for a while as yellow flares emerging from the Sandgrounders' section were cleared off the pitch. But the hiatus did little to stem Chester's momentum. Stephenson and Apter continued to give defenders a torrid time, Burke and Roache seemed first to every loose ball in midfield and Weeks pulled the strings in a man of the match performance. Weeks it was who was found by Burke's pass to the edge of the box, he cut back onto his right foot and clipped in City's fourth with a strike to the far post.

Grand and Williams in the centre and Roberts and Fitzpatrick at full back let little get past them but when the visitors did manage to forge a chance down the right Bainbridge's powerful drive was well saved by Stanway. Rob Apter iced the cake and put the cherry on top of a sublime performance when he played a smart one-two with Dackers and struck home Chester's fifth goal of the afternoon to send Blues fans ecstatic.

Few could remember City dominating a match so emphatically for many a long day. Steve Watson used no substitutes so that the eleven on the field could enjoy the occasion to the maximum. It was a superb team performance and great credit to Watson whose organisational and motivational skills had played no little part in producing it.






• League table after this match | Match photographs | Match highlights [YouTube]
---
Tuesday 1 February
Chester 1 Brackley Town 1
National League North
Attendance: 1,284 Half Time: 0-0
Booked: -.

Chester: Stanway, Roberts, Grand, Weeks (Burke 80), Fitzpatrick, Stephenson, Horsfield, Apter, Williams, Dackers (Waring 69), Roach (Glendon 69). Subs not used: Gray, Simmonds.
Brackley Town: Lewis, Myles (Cullinane-Liburd 78), Walker, Murombedzi, Lomas, Dean, Yusuf, Armson, Ndovu, York, Rolt (Putz 78). Sub not used: Worby.
Referee: Dale Baines.

Steve Watson got the desired reaction from his team following the below par showing at Boston last Saturday. The Blues' line-up showed a couple of fresh faces in Wyll Stanway, the goalkeeper signed from Lancaster and midfielder Rowan Roache. It was a first game at home also for Rob Apter, the young loanee from Blackpool on the wing. Making way were Glendon, Lacey, Simmonds and Waring as Dakers and Horsfield returned to the starting line-up.

Visitors Brackley arrived knowing a win would take them top of the league but had injury concerns of their own including Matt Lowe and Tre Mitford and were only able to name two outfield substitutes for their bench.

The match was played throughout in tricky conditions with a strong and swirling wind and rain at times. Both teams worked hard at trying to win possession but it was not easy to get the ball on the ground and play a passing game for either side. Chester, however were noticeably more competitive and aggressive out of possession. Grand – made captain on the night – and Matty Williams won the majority of their headers – no mean feat against the experienced Ndlovu. Stephenson and Apter also applied themselves diligently to covering defensively as well as their attacking game. It was noticeable how hard City worked to stop crosses into the box.

Of the two debutants, Stanway hardly touched the ball in the first twenty minutes but was then smart to dash off his line and save bravely as a curling ball over the top found Rolt on the blindside of Williams. Then in first half stoppage time he claimed a corner with confidence. Roache covered plenty of ground and made a nuisance of himself as well as playing some incisive passes.

After a tight first half City began to fashion scoring opportunities. Dakers just failed to control an inviting through ball from Weeks. Then Weeks began another move, sweeping the ball out wide left to Stephenson. The winger cut in and squared for Roache who was tackled but the ball fell to Weeks on the edge of the area who rifled a precise shot into the bottom corner for a splendid goal.

The breakthrough made, Chester dominated but could not quite forge further ahead. The ball wouldn't fall kindly for Stephenson in the box and then he couldn't get the right purchase on his header moments later as Horsfield crossed dangerously. Apter curled a shot wide of the far post, and then picked up a loose ball and fizzed a dangerous cross to no avail.

Blues were left rueing missed opportunities when in stoppage time the visitors equalised from a corner by means of an unfortunate own goal by Grand. The skipper had hardly put a foot wrong all evening but inadvertently hooked the ball into his own net from a prone position. There was no hiding the disappointment around the stadium as the full time whistle blew but all recognised a much improved performance from the Blues. All over the park players had fought hard for possession and were on the front foot. Kevin Roberts, combative in midfield, in particular was indefatigable in his efforts but everyone played their part and, unexpected though it may have been, a win would not have flattered the Blues.


• League table after this match | Match photgraphs | Match highlights [YouTube]
---