---
Monday 30 August
Kidderminster Harriers 3 Chester 1
National League North
Attendance: 2,143 (325 Chester) Half Time: 1-0
Booked: Clark.

Kidderminster Harriers: Simpson, Richards, Cameron, Austin, Carrington (Montrose 71), Hemmings, Sterling, Foulkes (Penny 78), Martin, Bajrami, Freemantle (Bell 67). Subs not used: White, Emery.
Chester: Gray, Morgan (Grand 46), Cowan, Livesey, Williams, Askew, Clark, Roberts, Dudley (Oyibo 64), Waring, Marsh-Hughes (Johnston 46). Subs not used: Hardy, Stephenson.
Referee: D.Wootton.



A trip to Kidderminster is always one to savour and it was a special day for many Exiles, who hadn't seen any live football or fellow fans for nearly two years.
Sadly the football spoilt their Bank Holiday day out as a lacklustre Chester never looked likely to leave Aggborough with any sort of result. In the end, the faithful Blues' fans were lucky to see a late consolation goal. But a significant number of the travelling 325 supporters were already on their way home at that stage.
The game had started as a bit of a slow burner, with neither side making much of an impression until Ashley Hemmings hit the crossbar for Kidderminster with an 18th minute header.
Chester, featuring two changes from the last match as George Waring and Kevin Roberts made the starting line-up, seemed to wake up from there. A combination between Roberts and Waring resulted in a good pass to Josh Askew. However, his shot was well saved by Luke Simpson.
Soon after, Kidderminster's lively Omari Sterling – a St Kitts and Nevis international – took hold of a pass, ran into the area and fired for home. Chester goalkeeper Louis Gray, who went on to have a better game than the scoreline reflected, could do nothing about his strike.
Before the half-time whistle blew, Simpson had to make another save, this time from Jamie Morgan. But there was still time for more Kidderminster chances in the first 45 minutes. Hemmings hit the bar again and Gray made another excellent save from a Sam Austin strike.
The half-time catering experience was a sad one for many Chester fans, as the family business which fed hungry supporters for more than 55 years didn't have their contract renewed in the summer. A visit to Kidderminster will not be the same without fayre from the Murdochs on sale.
The second half didn't improve the mood of the away army. A cross from captain Luke Clark was headed down to the feet of Simon Grand, giving him an excellent chance to score. However he hit his cast-iron chance over the bar, leaving Chester fans with their heads in their hands.
The match looked lost when former Wrexham player Mark Carrington decided to go for goal when he was 30 yards out. He hit the perfect shot, which found the top corner of the net. It was certainly game over soon after that when a loose ball fell to Austin and he found the target to make it 3-0 to the hosts.
There was nearly 20 minutes left for Chester to make an impression, but the team looked tired and some disconsolate Blues fans started leaving the ground. If they'd have hung on until the sixth minute of injury time they'd have seen half-time substitute John Johnston score from the spot after Grand was fouled in the box.
I'd hate to remind Chester fans that the last time the team lost 3-1 at Kidderminster in August, which was back in 2013, they ended up being relegated the following April. But as the players return to full fitness, I'm not anticipating a repeat performance this season.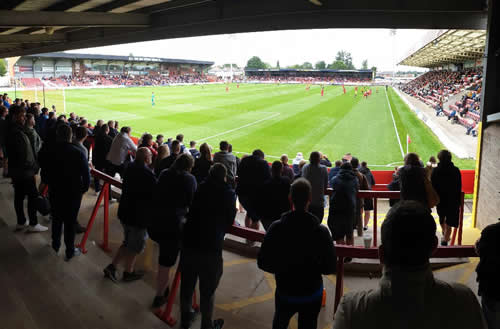 • League table after this match | Watch the goals (YouTube)
---
Saturday 28 August
Chester 1 Gateshead 1
National League North
Attendance: 1,401 Half Time: 0-0
Booked: -.

Chester: Gray, Weeks, Livesey (Stephenson 59), Cowan, Dudley (Johnston 59), Clark, Oyibo, Williams, Marsh-Hughes (Waring 72), Morgan, Askew. Subs not used: Grand, Hardy.
Gateshead: Chapman, Tinkler, Williamson, Storey, Jacob, Bailey, Ward (Williams 71), Olley, Campbell (Nicholson 86), Langstaff, Blackett (Scott 64). Subs not used: Guthrie, Pani.
Referee: D.Locker.



Manager Anthony Johnson had made it clear in interviews going in to this Bank Holiday Weekend that Chester's pre-season preparation had been badly setback by the Covid infections. Not only had players caught the virus and been affected by it, the training regime had also been wrecked and players trying to come back too quickly had been susceptible to picking up niggling injuries.

Perhaps with a view to Monday's match at Kidderminster, six changes were made to the starting line-up. Oyibo, Marsh-Hughes and Askew all started, Dudley made a welcome return, Matty Williams came in to the defence and Luke Clark, in the absence of George Glendon, captained City for the first time. In this atypical format Chester understandably took a while to get into the game. They also looked to be struggling for fitness and Gateshead soon had them on the back foot. Langstaff got behind on the right and fired a warning shot right cross the six yard box. Moments later Langstaff repeated the invitation but Livesey was on hand to clear the danger.

Blackett went close, cutting in behind and almost squeezing a shot below Gray. Then, from a right wing corner, Gray saved superbly from a headed effort by player manager Williamson. Luke Clark made strenuous efforts to try to steady Chester's ship, urging Gray not to release the ball too quickly and allowing time for City to recover.

Ironically Gateshead, for all their threat, only took the lead breaking away from a Chester attack early in the second half. Morgan advanced down the right but played the ball behind Oyibo allowing the Heed to rob him of the ball and release a counter-attack down the left. This ended with Blackett's shot being parried and Tinkler coming in from the right fired the ball home for the lead.

It was difficult to see where an equaliser might come from. Clark fired a free kick over the bar. Home fans barracked the Heed keeper Chapman for taking his time with goal kicks and the referee warned him about time wasting. But then he launched the ball to the half-way line and in three slick passes Adam Campbell was through on goal but put his effort narrowly wide. That failure to finish City off would come back to haunt the visitors.

Oyibo fed the ball out to Johnston (on for Dudley) and while his cross came over, Tinkler nudged Waring (on for Marsh-Hughes) in the back to give away a penalty. Stephenson (On for Livesey) stepped up to take it but Chapman parried and even threw himself at Stephenson's follow-up effort to save the day for Gateshead. City looked to have blown their chance for a reprieve.

Gateshead substitute Luke Williams was injured himself as he went in to a studs up challenge on Luke Clark. When the unfortunate Williams finally got to his feet after lengthy treatment it was to be shown the red card by referee Mr Locker. It seemed it would be the biggest cheer of the afternoon for the desperate home fans who hoped against hope that Chester might launch one final assault in the six minutes of added time.

The Heed occupied much of the added minutes keeping the ball near Chester's corner flag but when the Blues did get the ball forward as the seconds ticked away Johnston's cross was rebuffed but Weeks picked up the loose ball and centred for Storey, under pressure from both Williams and Waring to glance a header off the foot of the far post and in to the net for an own-goal equaliser. Cue scenes of absolute bedlam on the Harry Mac. Chapman, meanwhile, was overcome with disappointment. He booted the offending ball out of the ground and kicked the goalpost repeatedly. It was the last action of the game which City had stayed in and resiliently rescued a point. It felt almost as good as a win.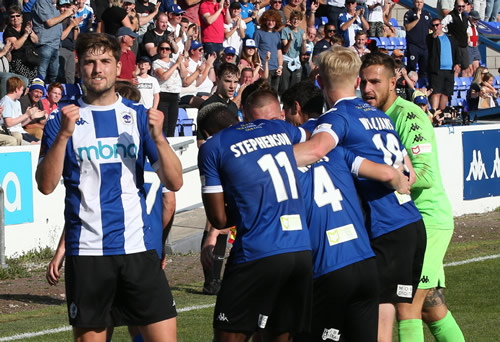 • League table after this match | Match pictures | Watch the goals (YouTube)

---
Tuesday 24 August
Chester 0 Curzon Ashton 3
National League North
Attendance: 1,746 Half Time: 0-2
Booked: -.

Chester: Gray, Grand, Weeks, Livesey, Cowan, Hardy (Marsh-Hughes 58), Glendon, Waring, Stephenson (Oyibo 46), Morgan, Johnston (Askew 46). Subs not used: Clark, Williams.
Curzon Ashton: Renshaw, Challiner, Waters, Poscha, Wilson, McKay, Thomas, Whitham, Knowles (Mahon 77), Dunn (Merrill 86), Curran (Hobson 77). Subs not used: Daly, Dyche.
Referee: E.Duckworth.

After recovering from a two goal deficit at the weekend in a delayed start to the season, Chester returned home in this re-arranged fixture with Curzon. The anticipation and expectation was high as Covid induced crowd restrictions were no longer in force. Players trained in smart new training tops to express their thanks to the continued support of fans during trying times. When the match began, however, a nightmare unfolded as City were comprehensively outplayed by The Nash.

From the word go the visitors did not give Chester a minute on the ball. They pressed high and forced City to go long when in so much of the pre-season they had tried to play patiently from the back. The Blues couldn't make the ball stick up front from the long ball, despite Waring's efforts and Stephenson and Johnston were harried out of possession too. When Chester did get the ball in midfield Curzon were quick to close down and win it back. Dunn was booked early for a clumsy tackle on Hardy but otherwise their smothering tactics were effective.

The pace of McKay, a summer signing from Chesterfield, down the left began City's undoing as he carved through and got behind the defence. His driven cross was met by former Stockport player Adam Thomas, lunging to tap in at the far post. Worse was to follow when a free kick from in front of the dugouts was driven in to the corridor of uncertainty in Chester's penalty area. Livesey's attempted clearance headed straight up in the air and as it returned to ground Thomas was the quickest to anticipate and struck through the crowded area into the net.

Curzon did not create further clear cut chances but instead concentrated on stifling any time Chester had on the ball as well as continuing to threaten down the flanks. Stephenson had a golden chance to reduce the deficit before half time but could not beat the onrushing Renshaw with his shot through on goal.

Managers Bern and Jonno made changes at the break with Askew and Oyibo replacing Stephenson and Johnston. Oyibo soon engineered space for Hardy to run down the right and cross first time for Waring. He seemed certain to score but lost his footing and scuffed his shot towards Renshaw with the goal beckoning. The chance got the crowd going again and they urged City forward to try to get back in the game. Askew and Oyibo both gave a fillip with the former's determination and aggression and the latter's close control.

Blues began to force a series of corners but couldn't fashion a clear-cut opportunity as the well-disciplined visitors held firm. Askew got behind down the left and pulled the ball back only for Waring and Oyibo to get in each other's way; Weeks shot a free-kick against the defensive wall; and Waring went close with a spectacular overhead kick which crashed down off the bar. Marsh-Hughes replaced Hardy and tried to single-handedly bulldoze his way through the defence. He had a header into the side netting and forced a save from Renshaw when bursting through a couple of defenders. Oyibo was cynically fouled by Knowles to earn a second yellow card for the visitors.

Even Danny Livesey was thrown into the attack in the closing stages as City grew increasingly frantic. Instead they succumbed to the inevitable sucker punch as Grand's back pass was short of Gray and substitute Craig Hobson scored past the stranded keeper.

Had Chester been more clinical they might have rescued a point but no one could deny Curzon Ashton the win that their tactically well-organised and energetic display merited. City looked well off the pace especially in the first half and their midfield was smothered out of any influence on the game. It is hard to tell how much disruption the Covid outbreak has had on Chester's preparations for the season – apart from the obvious absence of Dudley and others affected. The League programme is unforgiving. Tough challenges await at the weekend with the visit of Gateshead and then a trip to Kidderminster on the Bank Holiday Monday.

Despite the result it was overall good to be back watching football at the Deva again. City's second half fightback, whilst falling short, offered a glimmer of better things. St Jude is the patron saint of lost causes and City's was a lost cause last night but at least Jude Oyibo, on the day after his twenty-third birthday, provided a silver lining with his performance.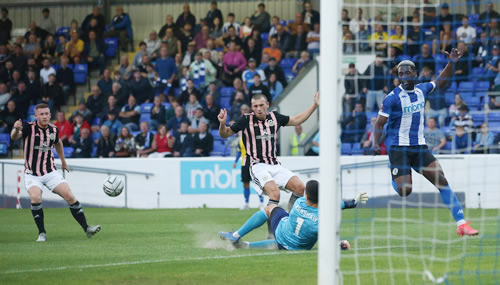 • League table after this match | Match pictures | Watch the goals (YouTube)
---
Saturday 21 August
Farsley Celtic 2 Chester 2
National League North
Attendance: 611 Half Time: 2-1
Booked: Weeks, Waring.

Farsley Celtic: Donaghy, Clayton, Barton, Byrom (Walker 41 (Longbottom 83)), Hayhurst, McKenna, C. Atkinson, Walton, Parkin (Richards 72), Spencer, Hanson. Subs not used: Fialdini, Fox.
Chester: Gray, Morgan, Livesey, Cowan, Grand, Johnston (Oyibo 63), Weeks, Glendon, Hardy (Marsh-Hughes 73), Stephenson (Askew 90+5), Waring. Subs not used: Clark, Williams.
Referee: J.Westgate.

George Waring scored twice as Chester came from 0-2 down to grab a point at The Citadel.

It was the home side that started the season on the front foot and it took only five minutes for their early pressure to tell as Tyler Walton found the bottom corner of the goal after a flicked pass from striker Jimmy Spencer.
Chester found it difficult to get going , John Johnston saw an effort saved by Tom Donaghy in the home goal in one rare attack. On 27 minutes Farsley doubled their advantage as Adam Clayton headed home Adam Barton's cross into the top corner giving Louis Gray no chance.

On the stroke of half time the Blues pulled a goal back as as George Glendon crossed for Waring, his header beating Donaghy.
Chester made changes after the break bringing on Jude Oyibo and Lloyd Marsh-Hughes and they began to impose themselves on the game, but they had Gray to thank who produced a fine fingertip save to deny Will Hayhust.
Moments later Chester were level as Waring headed home Dan Cowan's cross. A clash of heads between two farsley players ensured ten minutes of stoppage time in which Marsh-Hughes forced a fine save from Donaghy as both sides had to settle for a point.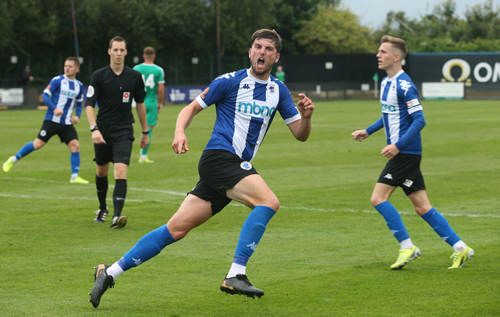 • League table after this match | Match pictures
---