---
Saturday 27 November
Curzon Ashton 2 Chester 1
FA Trophy Second Round
Attendance: 326 Half Time: 0-1
Booked: -.

Curzon Ashton: Renshaw, Waters, Poscha, Dunn (Whitham 67), Thomas, Curran (Hobson82), Bell (McKay 51), Lussey, Rain, Mahon, Barton. Subs not used: Merrill, Wilson.
Chester: Gray, Roberts, Cowan, Williams, Horsfield, Clark (Waring 88), Glendon, Weeks, Dudley (Stephenson 69), Jolley (Oyibo 79), Redshaw. Subs not used: Smith, Waring, Lacey, Lowe, Askew.
Referee: Simeon Lucas.



Despite taking a first half lead though on-loan Charlie Jolley, Chester are knocked out of the FA Trophy as Danny Livesey, aided by Simon Grand, takes interim charge of the first team.

Livesey made three changes to the side so disappointingly beaten at home by Guiseley on Tuesday. Matty Williams, James Horsfield and Luke Clark started with Simon Grand, Josh Askew and Paddy Lacey left out of the starting X1.

Played in a very cold wind both sides seemed to cancel each other out in the opening stages of the game. Chances were at a premium with just one falling to each side. George Glendon sent in a teasing cross that evaded everyone at the far post midway through the half, and at the other end Williams made a fantastic block to deny Marcus Poscha a goal scoring chance.

The Blues opened the scoring just before half-time as ex-Nash player Jolley rose to meat Kevin Roberts' cross and his header took a slight deflection off Chris Renshaw in the home goal before hitting the net.

Jolley almost added a second goal in the early stages of the second period shooting
just over from a free-kick before the home side drew level on 56 minutes. A quick counter attack following a Jack Redshaw effort for Chester that saw a pass fed through to substitute Jack McKay who slipped the ball under the advancing Louis Gray to find the net.

On 70 minutes Dan Cowan was penalised for a foul on Adam Barton in the penalty area. Former Blue Matty Waters stepped up to take the spot-kick only for Gray to pull off a save at the near post to keep the scores level.

Luke Clark was inches wide with a free-kick and Redshaw hit the crossbar from 25 yards out as Chester looked for a winner. However, with a penalty shoot-out just three minutes away, it was the home side that grabbed the all-important winner as Chester failed to clear a Craig Mahon corner giving Adam Thomas two chances to find the net which he duly did.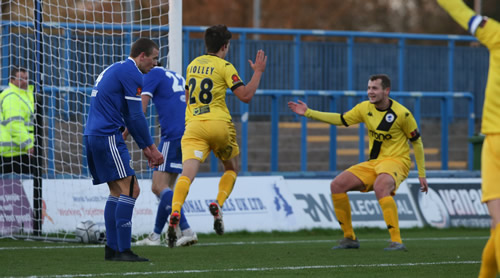 •
Match pictures
| Watch the highlights [YouTube]
---
Tuesday 23 November
Chester 0 Guiseley 1
National League North
Attendance: 1,351 Half Time: 0-0
Booked: Jolley.

Chester: Gray, Roberts, Grand, Weeks (Waring 73), Cowan, Glendon, Dudley (Stephenson 58), Lacey, Askew (Oyibo 70), Redshaw, Jolley. Subs not used: Clark, Williams.
Guiseley: Wade, Cantrill, Nicholson, Ekpolo, Bencherif, Mbeka, Hull, Spencer, Hey (Stones 88), Thewlis, Hutchinson. Subs not used: Hollins, Tuton, Gratton, Haw.
Referee: K.Silcock.

The end of Bern and Jonno's regime as joint managers came deceptively swiftly. The likeable duo departed the club following this second one-nil defeat in three days. Whereas the slender loss to Hereford on Saturday followed a good performance when City were unlucky not to come away from Edgar Street with at least a draw, this display was a different level. While the result was the same against Guiseley, Chester were much more disjointed and struggled to compete with a side that began the evening second from bottom.

Redshaw came in to the starting line-up in place of Oyibo as the only change to Saturday's team. Blues lost the toss and kicked towards the Harry Mac in the opening period. As the game settled Guiseley wrong-footed Chester with their aggressive approach. They allowed Blues players no time to dwell on the ball. Ekpolo and Mbeka in particular harried and hounded in the tackle, winning back possession more often than not. Spencer had first strike on Chester's goal with Gray doing well to tip his direct free kick round the post. Thewlis also proved a real handful up front and as City began to flounder at the back. He was allowed three bites of the cherry to try to score as the ball bobbled dangerously around City's six yard box before they manage to scramble it away.
Chester did manage some attacking intent and Jolley once again proved an outlet with his willingness to run with the ball. Weeks retrieved possession and set up Dudley for a shot on the edge of the penalty area but he saw his attempt deflected narrowly wide. City came closest to scoring when Glendon curled a shot towards the top corner only to see it glance off the bar. Just before half time Ekpolo retaliated for the Lions when his shot across goal was saved at full stretch by Gray.

The Blues have been playing with a more direct style of late and a ball over the top found Redshaw's run and gave him the opportunity to shoot. Wade parried but Dudley just failed to get on the end of Redshaw's follow-up cross before a defender got a block in. City began to be out-fought in the tackle and the experienced centre back Bencherif fired narrowly over to set alarm bells ringing. Hey tested Gray with a powerful shot after Blues backed off and invited the opportunity. The impression was that a goal for Guiseley seemed to be coming but when it arrived it was the result of calamitous defending. Cantrill was allowed to run diagonally from left back to right wing before releasing Spencer. Grand intercepted and tried to play his way out of danger but lost the ball again. Cantrill found Ekpolo and he dug the ball out between the legs of two defenders to pass to Hey in space at the edge of the box to pick his spot. Roberts tried to close him down but too late.

For sheer persistence if nothing else the visitors deserved to take the lead. Hey should have doubled it shortly after as Guiseley cut through Chester like a hot knife through butter. Incredibly Gray was able to save the day. Then the Chester keeper saved more comfortably from Mbeka after Hey and Spencer had run City's defence ragged once again.
As Chester threw on Waring for the last ten minutes, in place of Weeks, to try to save the game, a couple of golden opportunities came their way. First Waring seemed sure to score when Redshaw's shot from distance bounced off Wade. But the Lions' keeper recovered and somehow got in the way of Waring's shot. Then Jolley found space on the right and pulled the ball across the box but Stephenson's snatched shot failed to find the target and the chance went begging. A huge pity as Stephenson, as with last Saturday, had produced an impressive cameo as an impact sub and is beginning to look really sharp.
The visitors held on for a hard earned win – their first away of the season. Marcus Bignot, in joint charge at Guiseley, returned to the Deva to effectively end the involvement of his succesors as Chester manager. Morley and Johnson had lifted the club from the doldrums three and a half years ago and arguably but for the intervention of a global pandemic might have led City to promotion too. They have warmed the hearts of Chester supporters with their style of play as well as their personal honesty and genuine affection for the club. It was a sad way for it to end but then it is so often the way in the impatient modern game.
Third in the table when the season was prematurely curtailed last time, expectations had run high at the start of this one but things have not quite gelled after a disrupted start – again due to Covid. Even so Johnson and Morley and their team have provided plenty of good memories even in this faltering campaign – emphatic wins against Blyth and Boston; last minute comebacks against Gateshead and Darlington and last gasp, euphoric victories against Alfreton and Gloucester.
Though Chester parted company with Bern and Jonno after this disappointing evening, the joint managers leave with the gratitude and best wishes of the vast majority of City supporters. Thanks indeed to them both for the memories – and for the tremendous amount they did to stabilise our club and to take it forward.


•
League table after this match
| Match pictures
| Watch the highlights [YouTube]
---
Saturday 20 November
Hereford 1 Chester 0
National League North
Attendance: 2,274 (210 Chester) Half Time: 0-0
Booked: Grand, Glendon, Lacey, Dudley, Oyibo.

Hereford: Hall, Hogkiss, Haines, Pearce, McLean, Owen-Evans, Andoh, Lloyd, Vincent, Smith (Ismail 64), Gordon. Subs not used: Kouhyar, Fini, Pinchard, Sodeinde.
Chester: Gray, Roberts, Cowan, Grand, Askew (Redshaw 78), Lacey (Waring 78), Glendon, Weeks, Jolley, Dudley, Oyibo (Stephenson 62). Subs not used: Clark, Williams.
Referee: D.Rogers.

Chester's first match Edgar Street for nearly three years felt like it had almost everything – noisy away support, a spirited team performance and threats on goal – but the only thing lacking was a point for the Blues.
The first half was a very even affair, with Louis Gray being the first 'keeper to be called into action in the opening spell. At the other end, Christian Jolley made the first of a number of confident runs at the Hereford defenders. After a deft pass the ball was returned to him, but his shot went well high of the target and into the derelict terrace behind the goal.
Chester's only other first half chance came from a free kick set piece which resulted in a strike by Declan Weeks being saved by Hereford 'keeper Brandon Hall.
At half-time it already felt like a draw would be the likeliest result from this encounter, but the Bulls emerged as a more determined force in the second half. They had several opportunites to go ahead, but were stopped by Gray and a great block from Kevin Roberts.
Hereford did get the goal they'd been pushing for on the 72nd minute when a cross was headed towards Luke Haines, who responded with an unstoppable volley to wake the quiet home fans up.
Chester immediately stepped up the pace with substitute Darren Stephenson looking lively and forcing a stop from a Hereford defender, which had already beaten Hall. A quickly taken free kick also saw an Anthony Dudley shot saved by Hall. Stephenson was to feature again when he hit the post after a pass from Dudley.
With just a minute of normal time left, another dangerous Stephenson run and cross saw fellow substitute Jack Redshaw hit the ball into the net. But just as a handful of Chester fans were on the pitch to join in the celebrations, the assistant referee raised his flag for off-side.
Moments later another Chester substitute, George Waring, headed the ball into the net. But he was adjudged to have fouled his marker in the process and that goal was also disallowed. Referee Darren Rogers blew for full-time soon after and Chester emerged with nothing to show for their efforts.
Former Blues' manager Steve Burr, now assistant manager at Hereford, gave an acknowledging wave to the visiting supporters as Hereford celebrated like they'd won a major cup tie. It'll soon be a year since Chester have won a league away game, and they'll have to respond when they visit Curzon Ashton in the FA Trophy on November 27th.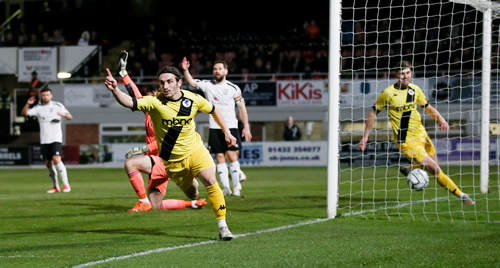 •
League table after this match
| Match pictures
| Watch the highlights [YouTube]
---
Saturday 13 November
Chester 2 Darlington 2
National League North
Attendance: 2,357 Half Time: 0-1
Booked: Lacey.

Chester: Gray, Roberts, Grand, Weeks, Glendon, Dudley, Horsfield (Askew 56), Lacey (Stephenson 60), Williams, Redshaw (Oyibo 67), Jolley. Subs not used: Cowan, Clark.
Darlington: Taylor, Hedley, Hatfield, Rivers, Lambert (Storey 90), Cassidy, Dos Santos (Mondal 82), Lawlor, Griffiths, Rose, Cooper. Subs not used: Martin, Sanyang, Beauchamp.
Referee: E.Duckworth.



History repeated itself as Chester scored two late goals to draw with Darlington in a thrilling finish. It happened sixteen years previously when Greg Blundell and Marcus Richardson pegged the visitors back to a 4-4 draw with goals in the 89th and 90th minutes respectively. This time Kevin Roberts and Josh Askew levelled matters with a whole four minutes to spare.

Roberts played an immense role in the finale as he rose above Lawlor to head the ball down and in at the far post to get City back in the game. Then a couple of minutes later he summoned the energy to race on to Weeks' chipped pass down the right wing and launched a cross to the far post. It was met by the Askew who outjumped Griffiths and nodded the ball past the flailing hand of Taylor and in to the back of the net. The Harry Mac became a seething mass of jubilant celebration as City completed another late comeback. The horde of travelling support stood in stunned silence while the Blues fans chanted "Who are Ya?" and the children in the South Stand subjected them to mass synchronised foam finger pointing in perfect tempo.

Still there was time for the game to swing again as Darlo won a couple of free kicks in Chester territory whilst Blues also came forward before Askew hit his shot wide. As the referee blew the final whistle nerves could at last cease to jangle. It had been an end to end affair through-out with the Quakers having arguably the better chances but the ball was cleared off the line at either end and Chester hit the post before their late rally.

Blues conceded from a left wing corner in the first half when Lambert curled his pinpoint kick precisely on to the head of tall defender Jake Cooper who nodded in. Their second came after the break as Chester pressed forward and the Quakers counterattacked swiftly. Lambert beat Weeks and raced diagonally forwards to the right where the ball ended up with Griffiths. Gray parried his low shot right into the path of Cassidy who tapped in with ease. If the Chester 'keeper felt he should have done better, he had kept City in the game in the first forty-five by saving bravely from both Cassidy and Dos Santos when they found the holes in Chester's defence.

In the first period both Williams and Redshaw had efforts cleared off the line whilst Jolley did the same to prevent Cooper opening the scoring. The Quakers were well disciplined and held a good shape whilst City worked hard to build on their impressive performance against Boston. Glendon covered every blade of grass whilst Hatfield did the same for those in tangerine. As Chester chased the game Askew replaced Horsfield to inject fresh energy and impetus down the left. Gaffers Morley and Johnson replaced defensive shield Paddy Lacey with forward Stephenson as they tried to get City back on terms before Darlington scored their second. The final throw of the dice was Oyibo for Redshaw.

Blues worked hard to get back in the game – encouraged by the biggest crowd of the season who sensed they could do it if they could just get a goal back. The chance seemed to have gone when Taylor saved and then Dudley could only hit the post with the re-bound. Just round the corner, however, was City's uplifting and resilient comeback. Not for the first time this season Chester provided a grandstand finish to send their followers out with a spring in their step.


•
League table after this match
| Match pictures | Watch the highlights [YouTube]
---
Saturday 5 November
Chester 4 Boston United 0
National League North
Attendance: 1,438 Half Time: 0-0
Booked: Horsfield, Lacey, Livesey.

Chester: Gray, Roberts, Weeks, Livesey (Clark 53), Glendon, Dudley (Stephenson 78), Horsfield, Lacey, Williams, Redshaw (Oyibo 72), Jolley. Subs not used: Waring, Askew.
Boston United: Crook, Tootle, Duxbury, Platt, Garner, Burrow (Ferguson 74), Elliott, Ayina, F.Preston (J.Preston 62), Leesley, Byrne. Subs not used: Green, Wright, Lalkovic.
Referee: M.Crusham.



The Pilgrims' progress had been rapid in recent weeks with four consecutive wins under their belt but they came unstuck at Chester as the Blues put in one of their best displays of the season so far.

Needing to show some reaction to a below par performance at Southport last weekend, the Blues players formed a huddle before the kick off and began on the front foot. They were boosted by the return of Declan Weeks from injury. Daniel Livesey also returned to the back line whilst loanee Charlie Jolley made his home debut up front. In another change of personnel, Horsfield took the left back spot.

Blues began well, getting the ball forward quickly but the first real chance came to former City striker Danny Elliott. Jordan Burrow's flicked header was helped on by Fraser Preston to Elliott who forced a shot but Roberts, whilst falling over, still managed to block his former colleague's attempt. Jolley, operating on the right wing then angled a run across goal as he pipped Boston keeper Crook to the ball but could not create a telling opening.

Horsfield was rather harshly booked for a fifty-fifty challenge on Burrows who ended up on the gravel track as a result. Shortly after City took the lead when Glendon played an exquisite pass over the top for Dudley to cut in behind on the right. Instead of shooting at goal, Dudley squared it across for Redshaw to tap in at the far post.

With their noses in front, the Blues pressed for further advantage. Crooks saved at point blank range from Livesey's diving header and then reacted smartly to knock William's deflected effort round the post. Blues also accrued another couple of yellow cards as Lacey was cautioned for a lunging tackle on Tootle whilst Livesey was cautioned for tripping Elliott as the game continued in physical and feisty fashion to the break.

Hopes of Chester retaining the lead faded shortly after the break as Livesey went down injured and was replaced by Luke Clark. Roberts moved sideways to fill in at centre-back. Then, however, the wheels came off the Boston bus as they were hit by two successive double yellow cards in just fifteen minutes. First Duxbury received two cautions in as many minutes – both for fouls against Jolley with whom he was having a lively tussle. His red card following his second yellow was met with disbelief on his part and glee from fans in the Gary Talbot Stand with whom he'd had verbal exchange. Next it was Elliott who was booked for backing in and then received a second card as he tackled Weeks from behind, having lost the ball moments before. He too felt he'd been harshly dealt with but had no option but to leave the field early. It was a sad return to the Deva for Elliott when most pessimistic Blues fans held it as a nailed on certainty that he would score against us.

Chester found it easier to retain possession now with the numerical advantage and they made it tell when Weeks threaded the ball through for Glendon to square for Williams to tap home. Jolley added a debut goal for Chester's third, running on to Weeks' superb lofted pass to chip the ball perfectly over Crooks. Darren Stephenson came off the bench and fired home the fourth as Crooks parried Clark's effort from distance and Glendon's follow-up.

The sendings-off undoubtedly made it easier for the Blues to enjoy this emphatic victory against a strong team in the play-off places but they were already dominant in the game and played with a refreshingly confident attitude. Key ingredients were the intensity with which City moved the ball forward, the lively running of Jolley and the artful link-up play of Dudley. Weeks was rightly awarded the Man of the Match accolade for another industrious and skilful performance but everyone in a Blue shirt did well and enjoyed their acclaim at the final whistle.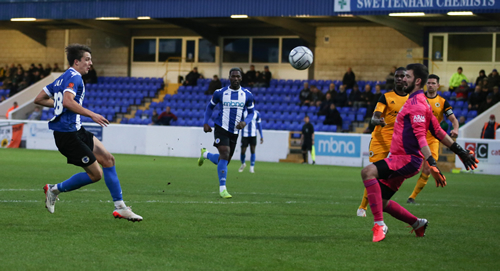 •
League table after this match
| Match pictures
| Watch the highlights [YouTube]
---