---
Monday 29 August
Nantwich Town 4 Chester 1

Evo-Stik Northern Premier League
Attendance: 1,561 Half Time 1-0
Booked: Horan, Powell.
Sent-Off: Horan.

Nantwich Town: Brain, Moss, Bailey, Flynn, Lowe, Worrall, Kelly (Prince 74), Cooke, Carter, Mills (Adaggio 90), Lennon (Campbell 90). Subs not used: Hendricks-Hamilton, Jack.
Chester: Danby, Brownhill (Booth 70), Horan, Smith, McGinn, Baynes, Stones (Howard 57), Powell, Wright, Rainford, McNeil (Simm 59). Subs not used: Taylor, Reed.
Referee: Richard Bartlett (Cheshire).

This was certainly not the result anyone predicted – how could two rip-roaring performances against FCUM and Stocksbridge be turned into a dismal display at Nantwich?

It was certainly not through lack of support – as more than 1,000 Chester fans turned up in their droves to witness this all-Cheshire bank holiday derby.

From the outset, no neutral would have predicted that the match would result in a 4-1 home victory. For the first 20 minutes, Chester piled on the pressure as they attacked towards their fans.

Nantwich's goalkeeper Johnny Brain, veteran of 200 Football League appearances with Port Vale, Macclesfield and Walsall, had to do so much shouting that his voice soon became hoarse.

But Chester, who had Chris Simm and Iain Howard on the bench after they failed to arrive in time for the team-sheet being handed in, failed to come close before the action switched to the other end.

Michael Powell dwelled on the ball in midfield on the 29th minute before it was snatched back by Nantwich. A neat pass to striker Ben Mills saw him complete the move with a good strike past John Danby.

But the travelling fans didn't seem rattled by the home lead and Jamie Rainford had his best chance of the day soon after. He had a great shot which was spectacularly tipped over the bar by Brain.

Neil Young made no changes at half-time, and the match started swinging in the direction of the hosts when George Horan pulled the shirt of Dabbers' Sean Cooke as he ran towards the box. The foul looked to have taken place outside the area, but referee Richard Bartlett blew for a penalty.

To make matters worse, ex-Chester City player Darren Moss argued that Horan was the last defender. Referee Bartlett then issued a second yellow card to Horan, so he was sent off with just ten minutes of the second half gone. Mills struck a good penalty to make it 2-0 to Nantwich.

Howard then came on to replace Greg Stones, who'd looked out-of-position all match in midfield. Soon after, Simm replaced Matt McNeil, who'd had a lacklusture game.

But the changes made no real difference to the team's performance and Nantwich made it 3-0 when Michael Lennon ran through to score. A Christian Smith consolation goal a minute later was barely noticed, or supported, by the disconsulate travelling fans.

Some of the Chester supporters now started making their excuses and those who did leave early didn't miss much. Nantwich's Liam Prince scored their fourth on the 85th minute when Chester had given up any hope of sneaking an unlikely point.

Nantwich, who featured another ex-Chester player, Jimmy Kelly, had ran the show for at least an hour of the match – with Kelly one of their star performers. The Chester team must have wished they could have left early as well as some of their fans. They'll be hoping to see a return of their home form when it's back to Chester to face North Ferriby United on Saturday.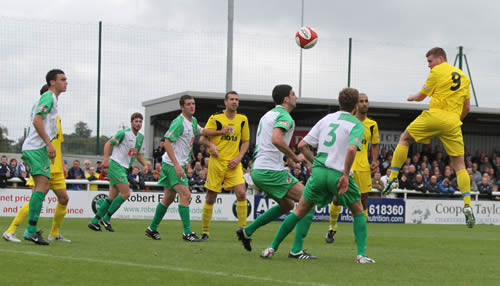 • More Pictures | Latest table


Rate Chester's performance
---
Saturday 27 August
Chester 5 Stocksbridge Park Steels 1

Evo-Stik Northern Premier League
Attendance: 2,040 Half Time 2-1
Booked: Powell, Howard.

Chester: Danby, Brownhill, Horan (Taylor 80) Smith, McGinn, Booth (Baynes 68), Powell, Howard, Wright, Simm, McNeil (Rainford 77). Subs not used: Stones, Reed.
Stocksbridge Park Steels: Scott, Lloyd, Haigh, Lovell, Davies, Marrison (Joynes 90), Riordan (Adam 46), Telling, Blythen (Thomas 65), Glarvey, Ward. Subs not used: Ellis, Schofield.
Referee: David O'Rourke (Liverpool).



Chester built on their midweek win as they turned on the style against Stocksbridge Park Steels and gathered momentum with a handsome victory.

From the word go City played good football and their crisp passing play was soon running rings round the Steels. McNeil's close control belied his height throughout the game and he combined well with Booth to set Simm free down the right. Simm checked, beat the full back and waited to roll the perfect pass for the oncoming Howard who drilled it in to the net for City's opener. A few minutes later Simm cut on from the left and let fly with a beauty only to see his shot tipped round the post at full stretch by Scott.

Danby was relatively untroubled in the City goal but there were still a few jittery moments in defence as Steels floated free kicks to the far post. And Chester were caught napping when they allowed their visitors to equalise from a contentious corner. A defender's clearance passed out near the corner flag and the linesman awarded a throw in but was overruled by the referee after Steels players appealed. The near post kick from the right was only half cleared and Marrison latched on to the loose ball to swivel and drive it home.

The goal only appeared to be denying the inevitable as City continued to go forward with assurance. They seemed fitter than their opponents too – one break away by City left at least three of the Steels red-faced as well as red shirted, doubled up and gasping for breath.

City forged ahead again courtesy of McGinn's driven free kick from wide right which flew round the wall and into the far corner. Soon after the break the game was taken further away from the Steels as Wright broke through on the left and pulled the ball back into the path of Powell who hammered it into the net despite the 'keeper getting a considerable touch on it.

Steels battled gamely on and looked increasingly lively up front after the introduction of substitutes Adam and later Blythen. The former was particularly unfortunate not to score when his effort rebounded off the bar and was scrambled away to safety.

But City had the bulk of the chances and perhaps should have added more to their tally. Smith should have scored at the far post but glanced his header wide. Horan hit the bar with his header from a corner. It was left to Powell to add another when he headed home from Baynes' immaculate cross.

Rainford came on for Booth and did well but over anxious to score himself – his shot to the near post was gathered by Scott and his mazy run ended with a last ditch tackle on the edge of the box. Simm showed the way in the last minute as he sprung the offside trap and deftly squared for Wright to score with a left footed clip past the 'keeper. Simm was rightly awarded man of the match for his indefatigable running and brilliant link up play. He combined well with McNeil who deserved his standing ovation when withdrawn just before the end. Howard too had a good all round match in the middle of the park.

City fans will be hoping that they continue where they left off on Monday in the Cheshire derby with Nantwich.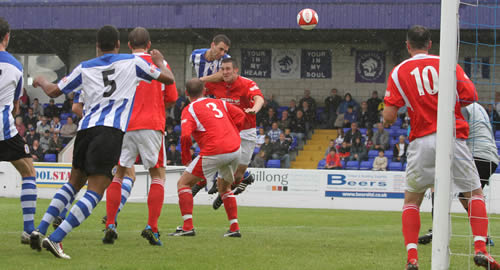 • More Pictures | Latest table


Rate Chester's performance
---
Wednesday 24 August
Chester 2 FC United of Manchester 1

Evo-Stik Northern Premier League
Attendance: 3,219 Half Time 3-0
Booked: Brownhill, Simm, McGinn.

Chester: Danby, Brownhill, Horan, Smith, McGinn, Booth (Baynes 87), Powell, Brown, Wright (Howard 64), Simm (Reed 83), McNeil. Subs not used: Rainford, Taylor.
FC United of Manchester: Spencer, Battersby, Jones, Stott, Neville, Carr (Roca 38), Cottrell, Platt (Grimshaw 73), Wolfenden, Deegan (Torpey 38), Norton. Subs not used: Metcalfe, Chadwick.

Referee: Jonathan Hunt (Liverpool).

It was like stepping back in time at the Exacta as 3,219 passionate fans roared on their teams as they battled it out in an exciting encounter that would have been a credit to the Football League.

Visitors FC United of Manchester brought along an away following of around 600 – giving an atmosphere that some could hardly remember, and the players may rarely have encountered.

But both fan-owned clubs rose to the challenge, with FCUM having the first real chance as a shot went wide of John Danby's post in front of the Harry Mac terrace.

Before long, Chester's new signing, Matty McGinn made his presence felt when his long-throw weapon was unleashed in the opening spell. His first attempt of many found the head of George Horan, forcing a save from FCUM 'keeper James Spencer.

The FCUM Number 1 had a brief spell at Chester City earlier in his career, but that was not enough to make him feel comfortable when he had to face a 15th minute penalty after Chris Simm was fouled in the box. That man McGinn stepped up to take the spot-kick and it was 1-0 to Chester.

Chester continued to heap on the pressure, with the crossbar coming to Spencer's rescue on at least one occasion. FCUM were clearly as rattled as the woodwork and manager Karl Marginson made a double substitution on the 38th minute.

The Mancunians barely had chance to get used to their new formation when a great Matt McNeil volley gave the Blues a 2-0 lead before half-time. And Chester nearly had a three goal half-time advantage when Simm did all the hard work in rounding Spencer before falling over in front of the net and somehow failing to score.

The atmosphere got even better as darkness came with the second half, and both sides had chances saved in the opening spell. But, as the game got more physical, diminutive referee Jonathan Hunt issued cards on both sides. Simm was unlucky to be yellow-carded for returning to the pitch before he had permission after being up-ended by an FCUM player.

The Chester fans urged on their team for a much-needed third as it looked increasingly likely that FCUM would score on the break. And that's just what happened after the Reds won a corner. Mike Norton scored for them – cueing a 'retro' goal celebration as a toilet roll was impressively thrown into the night sky and classically unfurled itself onto the pitch.

Mark Reed came on as an 83rd minute Chester substitute, replacing Simm, and he did his best to harry the FCUM defenders. But it was a very nervy closing spell for the home faithful before they were rewarded with a welcome three points.

Sue Choularton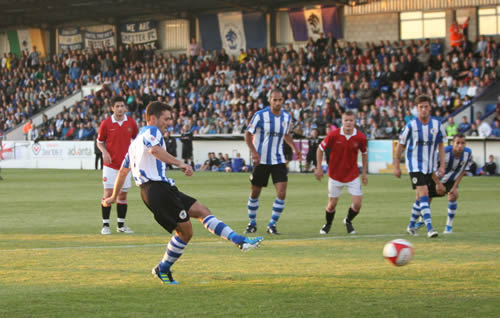 Picture © Rick Matthews (Chester Leader)

• More Pictures | Latest table
Rate Chester's performance
---
Saturday 20 August
Hednesford Town 1 Chester 0

Evo-Stik Northern Premier League
Attendance: 1,009 Half Time 0-0
Booked: Wright.
Hednesford Town: Crane, Haynes (Gomes 89), Monteiro, Shaw, Dunkley, Campion, Denny, Clements, Clarke (Osborne 81), Wellecomme, Danks (Quinn 65). Subs not used: Bailey, Grice.
Chester: Danby, Stones, Horan, Smith, Brownhill, Baynes (Booth 74), Williams (Powell 19), Brown, Wright, Rainford (Simm 58), McNeil. Subs not used: Marsh-Evans, Reed.

Referee: Alex Harvey (Nottingham).

Chester suffered a double blow at Keys Park going down to their first defeat of the season, and losing influential midfielder Ashley Williams with a shoulder injury that looks likely to keep him out of the side until Christmas.

The home side had won both of their opening two matches and chalked up an impressive run of 21 victories in 26 matches before the clash with Chester, indeed you have to look back to November 2010 for when they last tasted a home defeat!

The Blues, once again with a large away following behind them, remained unchanged from the side that won midweek at Burscough. It was the visitors that started brightly with Matt McNeil just failing to get a touch to a dangerous Jerome Wright cross.

But the loss of Williams on 19 minutes proved a turning point with the midfielder receiving several minutes of treatment before being stretchered off after falling awkwardly in a challenge.

A s the home side began to take control Cheyenne Dunkley flashed a header against the Chester woodwork following a free kick, the ball fell to Mark Danks who blasted over when well placed.

Only a superb last ditch tackle from Liam Brownhill denied Nick Wellecomme from giving the Pitmen an interval lead.
Danby was called into action just after the restart to deny dangerman Wellecomme again. After 66 minutes Matt McNeil forced home 'keeper Dan Crane into a save following Wes Baynes' corner.
The home side almost took the lead when Christain Smith nearly put through his own net with a header back to Danby that slipped just past the post.
With the game looking as though it was petering our for a draw the deadlock was finally broken two minutes from time; substitute Jamey Osborne took advantage of some hesitant defending to turn a loose ball home from close range after Danby had initially denied Wellecomme with a parry.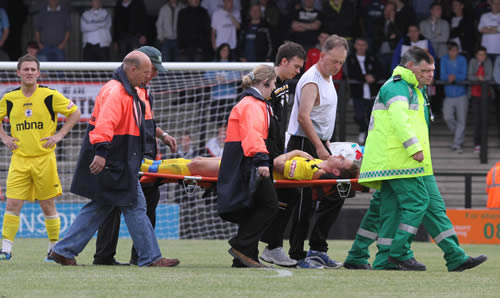 Picture © Rick Matthews (Chester Leader)

• More Pictures | Latest table
Rate Chester's performance
---
Wednesday 17 August
Burscough 1 Chester 4

Evo-Stik Northern Premier League
Attendance: 774 Half Time 1-1
Booked: Williams, Baynes.
Burscough: Thompson, Barlow, Holden, Williams, Connolly, Farley, Higgins (Crowder), Blakeman (Ashton 86), Jones, Beesley, McCulloch. Subs not used: Hoskin, King, Ellison.
Chester: Danby, Stones, Horan, Smith, Brownhill, Baynes (Booth 90), Williams, Brown, Wright, Rainford (Simm 64), McNeil (Reed 86). Subs not used: Powell, Judge.

Referee: Mark Powell (Liverpool).



Chester secured their first win on the new season in style with a great second half performance to sweep aside their opponents Burscough.

The Blues made changes from the side that drew against Rushall on Saturday with Wes Baynes and Jamie Rainford taking their place in the starting line-up at the expense of Robbie Booth and Chris Simm, while Alex Brown and Jerome Wright started in place of Michael Powell and Iain Howard.

The large 650+ Chester following in the crowd didn't have long to wait for the first cheer of the night as the Blues took the lead as early as the third minute when a foul on Matt McNeil saw referee Mark Powell point to the penalty spot and Jamie Rainford put Saturday's miss behind him to slot the ball past Thompson in the home goal.

Brown and Horan both went close to extending the lead as Chester continues to take the game to their opponents with Rainford's hard running up front causing all sorts of problems.

It was very much against the run of play when Chester were pegged back with a controversial penalty on the half hour mark. Greg Stones was adjudged to have fouled Liam Blakeman leaving Paul Williams to send John Danby the wrong way to level the scores. Chester continued to carry the game to their opponents up to the break without reward.

Following the turn round Chester carried on where they left off and were rewarded with a second goal on 63 minutes as Jerome Wright, on his full debut, cutting in from the right before beating Thompson with a left foot shot.

Any chance of a Burscough fightback was ended was McNeil scored his second goal of the season taking a pass from substitute Chris Simm before firing home. Captain George Horan wrapped up the scoring in the final minute heading home a Liam Brownhill cross.



• More Pictures | Latest table


Rate Chester's performance
---
Saturday 13 August
Chester 1 Rushall Olympic 1

Evo-Stik Northern Premier League
Attendance: 2,326 Half Time 1-1
Booked: Danby.
Chester: Danby, Brownhill, Horan, Smith, Stones, Booth (Baynes 82), Williams, Powell (Brown 67), Howard, Simm (Rainford 67), McNeil. Subs not used: Judge, Reed.

Rushall Olympic: Gemmell, Skedgel (Spittle 82), Smith, Tolley, Platt, Keenan (Beckett 55), Blythe, Bragoly, Amos (Morris 82), Lewis, Obeng. Subs not used: Maguire, Patrick.

Referee: Paul Mahon (Liverpool).

The eagerly awaited new season got underway but it wasn't to be the home win that Chester fans had hoped for. Instead the frustrated Blues had to be content with a point from a game that either side could have won, though a second half penalty miss by Jamie Rainford eventually proved costly. Manager Neil Young watched from the stand as he served a touchline ban carried over from last season.

Chester took just 14 minutes to break the deadlock as summer signing Matt McNeil rose and glanced in a Greg Stones left wing cross past 'keeper Chris Gemmell from close range.

A great move by Chester culminated in Robbie Booth slotting the ball into the net from close range but to the annoyance of the home crowd, referee Paul Mahon, called play back for a Chester free-kick following a foul by Olympic's James Skedgel in the build-up.
The visitors almost produced an equaliser as Ahmed Obeng lobbed John Danby in the Blues goal but could only watch as his effort from just inside the box bounced off the crossbar and out of play to the relief of the home fans behind the goal.
Seven minutes from the break the scores were level. A defensive mix-up following a back header ended with Danby fouling Matt Lewis in the area, the Rushall player picked himself up and slotted home the resulting penalty inside the right hand post. Danby was booked as a result of the foul.

After the break Chester pushed for the winner. Iain Howard saw an effort crash back off the post to Chris Simm who was unable to control the difficult rebound. Young then made a couple of changes after the break bringing on Alex Brown and Rainford at the expense of Michael Powell and Simm.

With 15 minutes remaining Chester were awarded a guilt-edge chance as Olympic's Grant Beckett brought down Rainford and the referee awarded the second penalty of the game. Rainford's effort from the spot was well saved by Gemmell in the visitors goal.

Chester continued to press and created several half chances that fell to Booth, McNeil and Brown and an effort was cleared off the line by the overworked, yet solid Rushall defence who held out for a hard-earned point.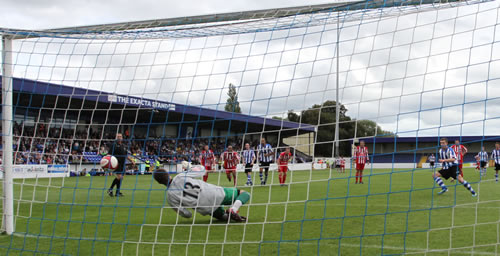 Picture © Rick Matthews (Chester Leader)

• More Pictures | Latest table
Rate Chester's performance
---