---
Saturday 29 October
Chester 2 Frickley Athletic 2

Evo-Stik Northern Premier League
Attendance: 2,485 Half Time 1-1
Booked: -.

Chester: Danby, Baynes, Horan, Taylor, McGinn, Wright (McNeil 72), Brown (Booth 46), Smith, Howard, Rainford (Simm 60), Wilde. Subs not used: Brownhil, Judge.
Frickley Athletic: Billard, Bleau, Cyrus (Callery 62), Walsh, Adams, Gray, Malton, Ashmore, Grayson, Ryan (Watts), Whitehouse. Subs not used: Jones, Saynor.
Referee: Paul Marsden (Preston).


It was a cunning ploy by Frickley to turn out at the Deva in blue and white stripes as Chester shed their usual strip for a shocking pink number in an effort to raise funds for a breast cancer charity. Home fans and players seemed subdued as the game unfolded at a lethargic pace – perhaps the visitors' kit subliminally confused those so used to urging the team in blue on.

City had made changes though and this undoubtedly had its effect. Smith replaced the energetic but yellow-card-prone Powell who was suspended and Wright came back into the team on the left with Howard dropping back into midfield. Rainford started in place of Simm who is nursing a broken wrist; Baynes continued at right back.

Chester played a patient passing game wherever possible against cautious opponents but, one sublime Christian Smith pass apart, failed to get behind their defence and carve out clear cut opportunities. Frickley's tireless hounding of City's back four as they passed the ball from side to side amongst themselves eventually paid off when Ryan caught Taylor taking one touch too many and cut along the goal line on the right. Danby hesitated and allowed Ryan to touch the ball past him and then crumple into the keeper's prone body. The referee bought that one and awarded a penalty which Ashmore converted clinically.

Might that be the kick up the backside that City needed? We hoped so and it only took them six minutes to equalise. Wright found Rainford with his back to goal on the edge of the penalty area and he spun to chip a shot over the keeper and into the far corner of the net.

At half time a group of pantomime characters conducted a penalty shoot-out at the home end. The nuances of this were lost on the Harry McNally Terrace as the sound system gave up the ghost. But there was one clear pantomime villain for the home crowd in the second half and that was Frickley's keeper Adam Billard. He made it a rule to take goal kicks from the opposite side of the goal and generally fritter away as much time as possible.

Frustration was compounded when Grayson pounced on a rare mistake by Horan, took the ball past Danby and stroked it home into an unguarded net. By this time however Simm and McNeil had been introduced into City's attack and they combined to lend more urgency and width to the Pinks' forward play. McNeil and Howard combined well down the right to allow the latter to send over an inviting cross. We expected Wilde to score but instead it was McGinn who timed his run to perfection and nodded home.

City then created a procession of chances to notch the winner but they all eluded them. Wilde and then Horan hit the bar in rapid succession; Billard somehow knocked Wilde's glancing header over the bar; and McGinn, after being teed up by Howard, shot too high. Despite play being extended for five minutes due to substitutions and time wasting antics the match ended all square.

In terms of ability Chester could and should have outshone their visitors but in terms of application only looked pretty in pink for the last twenty minutes or so. If only they had started the game as they had finished, City might have reaped three points instead of just the one.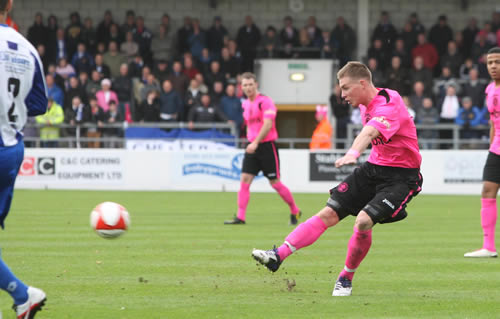 •
Latest table
| More pictures
Rate Chester's performance
---
Saturday 22 October
Chester 2 Ashton United 1

FA Trophy First Qualifying Round
Attendance: 1,624 Half Time 1-0
Booked: Brown, Wright, Howard.

Chester: Danby, Baynes, McGinn, Horan, Taylor, Brown, Booth (Wilde 54), Powell, Rainford (Wright 83), McNeil (Simm 54), Howard. Subs not used: Brownhill, Smith.
Ashton United: T.Smith, Harrop, Dawson, Lambert (Bathurst 81), Melling, Roberts, O'Neill (Kosylo 52), Bennett, Burns, Wright, Peers (Madely 81). Subs not used: B.Smith, Rose.
Referee: Daniel Meeson (Newcastle Under Lyme).



Chester booked their place in the second qualifying round of the FA Trophy with a victory over Ashton United though manager Neil Young was slightly critical about the performance saying: "Probably getting the early goal worked against us, because we didn't reach the levels of performance that we expect. Admittedly it's another win, so we can't be too harsh on the players but we've told them that we require more from them."

The early goal came in the second minute as Iain Howard was given time and space after a run to shoot home from the edge of the box. Jamie Rainford, starting in place of Chris Simm, failed to capitalise on the opportunities that came his way. In the eighth minute he headed a Robbie Booth cross wide and was later denied by Terry Smith (sic) in the visitors goal who rushed out to block a one-on-one with the striker.
A double substitution after the break saw Michael Wilde and Simm (wearing a plaster cast on his wrist) replace Booth and Matt McNeil as Chester went with three strikers up front.
The Blues eventually doubled their lead through Wilde after 62 minutes as the striker headed a Matt McGinn free-kick superbly past Smith.
The visitors reduced to ten men five minutes later as Kyle Harrop saw red after a heavy two-footed challenge on Alex Brown.

Despite being a man down Ashton then produced their best spell of the match. They pulled a goal back from the penalty spot on 72 minutes after Howard was penalised for pushing Burna in the box. The Blues player was probably lucky only to receive a yellow card, and not red, for the foul. Peter Wright converted the spot-kick.
Wilde tried an overhead kick as Chester looked to kill the tie off but the best chance in the closing minutes fell to Ashton substitute Sam Madeley who skied the ball over from six yards in added time when it looked easier to score.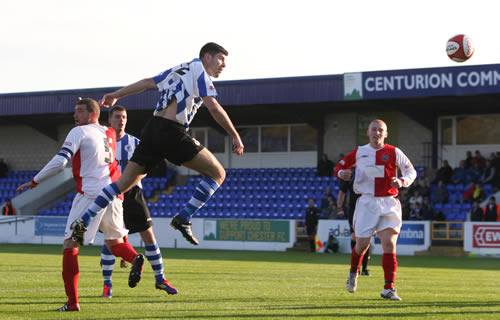 Picture © Rick Matthews (Chester Leader)

• More pictures
Rate Chester's performance
---
Saturday 15 October
FC United of Manchester 2 Chester 3

Evo-Stik Northern Premier League
Attendance: 3,112 (Chester 1,093) Half Time 2-1
Booked: Taylor, Brown, Horan, Powell.

FC United of Manchester: Spencer, Jacobs, Jones, Stott, Neville, Wolfenden, Cottrell, Carr, Roca (Chadwick 63), Deegan (Mulholland 82), Norton. Subs not used: Platt, Battersby, Grimshaw.

Chester: Danby, Brownhill (Baynes 57), Horan, Taylor, McGinn, Booth (Rainford 68), Powell, Brown, Howard, Simm, McNeil (Wilde 68). Subs not used: Ormrod, Judge.

Referee: David Midgley (Huddersfield).

A goal from captain George Horan in the final
minute gave Chester the edge and all three points in this five goal thriller that was a credit to both sides. Blues manager Neil Young made two changed to the side that drew at Buxton in midweek, as striker Chris Simm and defender Matty McGinn returned to the starting X1 in place of Michael Wilde and Wes Baynes who both started on the bench.
Traffic problems in the area meant a delayed kick-off for the match that eventually got underway at 3.15. Nearly 1100 supporters had made the trip from Chester and there was only 90 seconds on the clock when they were celebrating as Simm rose unchallenged to head home a McGinn right-wing corner from six yards and give the Blues a dream start. Chester continued to press after taking the early advantage and Matty McNeil saw another goal bound effort deflected wide just two minutes later as the home defence failed to clear the danger. Another corner, this time from the left by from Robbie Booth, caused all sorts of problems as Michael Taylor headed it wide at the back post.
It was ten minutes before the home side mounted their first real attack as John Danby turned a long-range Jake Cottrell effort round the post for a corner. The home side began to settle and came more into the game. Danby was soon tested again Carlos Roca tried his luck with a free-kick outside the box that the Chester 'keeper pushed away for another corner.
Danby's opposite number Jamie Spencer in the home goal did well to prevent Chester doubling their lead as the impressive Simm saw his goal bound header tipped over the bar at full stretch, and midway though the half the United 'keeper did well to stop a powerful McGinn 25-yarder. McGinn and Simm combined to set up Horan with a far post header by the defender couldn't quite get above the ball and headed over, moments later the home side leveled matters.
Ben Deegan was adjudged to have been fouled in the box by Alex Brown and Roca stepped up to send Dandy the wrong way from the spot kick to make it 1-1. Brown was booked in the process.
Five minutes later the game swung to the home side as Roca scored his second. Horan conceded a free-kick in a dangerous area outside the box and Roca stepped up to curl a delightful effort over the Chester wall and into the top left hand corner that gave Danby no chance.
Spencer was forced into another important save from Booth on the stroke of half-time as the Blues tried to restore parity before the break
The home side almost snatched a third goal moments after the restart but Roca shot just wide after beating McGinn. Chester, now kicking towards their support, bounced back and Michael Powell missed a great opportunity to equalise as he steered the ball wide after good build-up play from Iain Howard. Spencer produced to good saved to deny Howard and McGinn whose long ranger efforts brought the best out of the home 'keeper.
McNeil mis-hit a shot when well placed before the home side were reduced to ten men in the 63rd minute as Adam Jones received a second yellow card in as many minutes. Despite Chester dominating for much of the second period Danby was called on to make another save to deny Mike Norton and concede a corner.
Young made some substitutions bringing on Jamie Rainford and Michael Wilde at the expense of Booth and McNeil and twelve minutes from time the equaliser their second half play deserved finally came as Baynes' deep cross was headed down by Horan for Simm to score his second goal from close range to the wild delight of the fans behind the goal.
Another good save from Spencer denied Simm his hat-trick as the striker raced through on goal with three minutes remaining. There was still danger at the other end as a poor clearance from Danby fell to Matty Wolfenden who shot wide of the target from 20 yards.
With the game heading into stoppage time Chester sealed victory. A free-kick was played wide to Baynes, he took the ball forward and delivered another quality cross deep into the box which wasn't cleared and Horan turned to steer the ball home past the advancing Spencer from six yards to bring victory and set up unforgettable scenes of jubilation amongst the away ranks.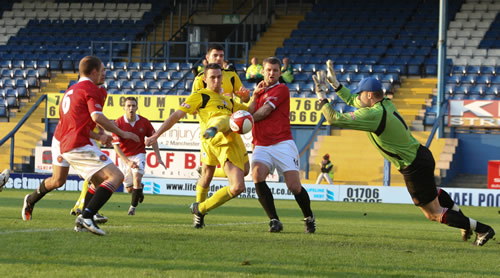 Picture © Rick Matthews (Chester Leader)

• Latest table | More pictures
Rate Chester's performance
---
Wednesday 12 October
Buxton 1 Chester 1

Evo-Stik Northern Premier League
Attendance: 602 Half Time 0-1
Booked: Baynes, Powell, Wilde.

Buxton: Hartley, Black, Williams, Horne, Wilde, Stevens, Maxfield, Towey, Ridley (Pemberton 79), Reed, Lugsden. Subs not used: Taylor, Liversidge, Ovington, Hopkins.

Chester: Danby, Baynes, Horan, Taylor, Brownhill, Booth (McGinn 57), Powell, Brown (Rainford 66), Howard, Wilde, McNeil (Simm 57). Subs not used: Ormrod, Judge.

Referee: Marc Perry (Sutton Coldfield).

Chester's winning run came to an end on the wet surface at Buxton in a match they could easily have lost, but managed to claim what could be a vital point.

It was a game which also saw the end of John Danby's remarkable run of clean sheets, when Buxton's Josh Wilde netted their equaliser on the 55th minute.

After a couple of early Chester chances, including a Michael Wilde header cleared off the line, it was actually Buxton who could have scored first. They made a rare first half attack, when George Horan was pulled up for a foul in the area.

I wasn't close enough to judge if he had committed an offence, but the Chester fans nearer the "crime scene" seemed to think it was an incredulous decision. But Steve Ridley screwed the spot-kick wide, leaving Danby clinging onto his clean sheet record.

It got even better for the travelling Blues fans not long after when a great move saw Wes Baynes whip in a cross which Michael Powell just connected with to put Chester 1-0 up at half-time. It could almost have been 2-0 when Matty McNeill had a goal disallowed for offside just before the whistle.

The second half saw the match officials very much in focus again, especially as Chester pressed for a winner following Josh Wilde's strike which had levelled the scores not long after the re-start and ended Danby's clean sheet run on 781 minutes.

I have to admit it was difficult for the linesmen as there were no white lines around the pitch - just indentations. Presumably it had been too wet for the line-marker to make an appearance, and the mower had also not been used for a while.

But Buxton's Mark Reed, recently of Chester, couldn't blame the conditions for a chance he missed to put the Bucks 2-1 ahead. He had a great chance to score and blazed his shot wide of the mark.

At the other end, Chester also had a real chance when goalkeeper Scott Hartley dropped the ball in the area, with Michael Wilde ready to pounce. But referee Mark Perry blew for a foul on the 'keeper, although it seemed clear to all Chester fans that Wilde hadn't barged into him. Wilde ended up being one of seven players booked during the match.

Chris Simm and Matt McGinn came on in the 57th minute as Chester continued to press. Iain Howard had a great run into the area, but his shot was blocked. Jamie Rainford replaced Alex Brown on the 66th minute and he had a couple of half-chances, but also failed to find the net.

Meanwhile Buxton were making the most of any challenge against them, and were still looking likely to score. In the end it was probably a relief for Chester when full-time came, as they hadn't looked like leaving Silverlands with three points. And I was one of those who was actually grateful they left with a point.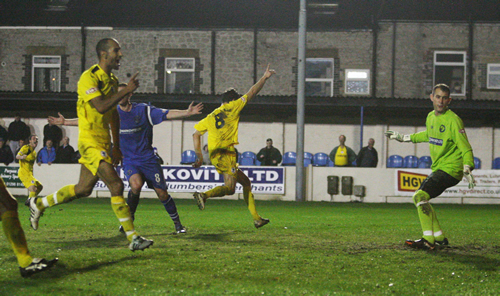 • Latest table |
Match highlights
| More pictures
Rate Chester's performance
---
Saturday 8 October
Chester 1 Chasetown 0

Evo-Stik Northern Premier League
Attendance: 2,930 Half Time 0-0
Booked: Booth, Baynes.

Chester: Danby, Baynes, Horan, Taylor, Brownhill, Booth, Powell, Brown, Howard (Wilde 70), Simm (Rainford 60), McNeil (Ormrod 90). Subs not used: McGinn, Judge.
Chasetown: Price, Farmer (Melbourne 68), Peel, Turner, Stride, Teesdale, Smith, Hands, Dovey (Birch 59), Perrow, Jevons. Subs not used: Branch, Cohen, Stephens.
Referee: Ian Siddall (Bolton).



This was an ugly match with a beautiful ending from Chester's point of view. A frustrating afternoon trying to break down a stubborn Chasetown defence came to an exciting climax when Michael Wilde rose to nod the only goal of the game with two minutes remaining.

The Scholars embraced in a huddle before the kick off and their determination not to concede was evident from the start. No quarter was asked or given as they marked tightly and tried to deny Chester any room. City promised most when they got the ball out wide. Baynes began at right back in place of Brownhill who was filling in on the opposite flank for the injured McGinn. And it was Baynes who put in a couple of delightful crosses early on. Simm converted one of them after just five minutes, firing in off the post but Mr Darfi's flag was raised for offside.

Minutes later Simm beat the offside trap only to see his effort parried by Price. Chasetown weathered this early storm and grew in confidence as the game progressed and Chester got sucked into an attritional encounter. The Scholars did not venture forth very much but went close when Danny Smith beat Brownhill in the tackle on the edge of the box and drilled his shot just wide of the far post.

The second half settled quickly into a similar pattern and a particularly turgid period of play, when the visitors dragged out a series of throw-ins, was punctuated by Booth being booked for retrieving the loose ball and thrusting it into the lethargic full-back's face. The same player pushed his luck too far when he ran away with the ball to prevent a quick throw-in minutes later and, agreeably to the home crowd, joined Boothy in the book.

Alex Brown threaded a delightful ball through for Simm who, for the second time in the game was denied when one-on-one by the 'keeper. Rainford came on after the hour to replace Simm but despite some good control could not find the key to unlock the Chasetown door. Booth and Howard seemed increasingly drawn in to the middle of the field and the game continued with City's moves breaking down with a timely tackle or a misplaced pass. The crowd - with the exception of the four hundred or so schoolchildren in the Evans Halshaw Stand – became increasingly restless.

Michael Wilde was introduced into the fray with ten minutes to go and it was obvious that he had been champing at the bit to get on. He launched himself into tackles and chasing lost causes in an effort to make things happen. It looked like the deadlock had been broken when Brownhill's cross seemed to elude everyone and end up in the back of the net. Once again Mr Darfi's flag spoiled the party – perhaps for a push, possibly for offside it wasn't clear which. As the cheers died down the prone figure of Richard Teesdale, The Scholars' club captain was also in the back of the net looking like a beached whale. He was finally extricated after having milked as many moments as possible towards earning a precious point.

It looked like being one of those days and we fully expected the visitors to deliver a sucker punch, probably in injury time. Gary Birch, the experienced substitute nearly delivered it when he trapped the ball and attempted to chip Danby from just inside the half way line. The Chester 'keeper seemed at sixes and sevens but managed to parry the effort away for a corner.

Instead it was City who conjured up the dream finish when Brownhill crossed from the left and Wilde met it beautifully to give Price no chance of saving it. Delirium reigned on the terraces as City played out the four minutes of injury time against a suddenly urgent Chasetown.

The winning streak continued for another game and the manager of the month curse was held at bay.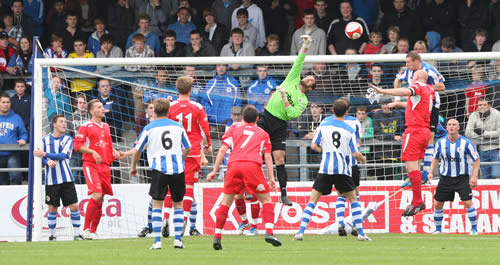 • Latest table | More pictures


Rate Chester's performance
---