---
Saturday 28 January
Chester 2 Mickleover Sports 1

Evo-Stik Northern Premier League
Attendance: 2,085 Half Time 2-1
Booked: -.

Chester: Danby, Brownhill, Horan, Taylor, McGinn, Booth (Howard 85), Sarcevic, Brown, Wright (Cox 69), Wilde (Simm 61), McNeil. Subs not used: Rainford, Smith.
Mickleover Sports: Clarke, Grocott, McAughtrie, Wood, Hoyle, Smyth, Walshe, Simpson (Farthing 73), Guy (Strzyzewski 34), Graves, Richie-Smith (Pawley 79). Sub not used: Dodsley.
Referee: Paul Marsden (Preston).



Chester discovered the football equivalent of Parkinson's Law as they raced to a two-nil lead in the first twenty minutes but then spent the rest of the game in second gear and even hanging on at times.

By the time Brown drilled an excellent shot home from the edge of the box to put City ahead they might already have been one up. Wilde was set up beautifully by McNeil but Clarke was equal to the task in the Sports' goal as the City forward tried to pick his spot. Chester continued to apply the pressure and doubled their advantage when Booth's right wing cross was glanced inside the far post by McNeil.

Sports had looked to come forward in between times. Richie-Smith put in a couple of menacing corners underneath the cross bar, looking to find the head of defender McAughtrie who matched McNeil in stature and had a tremendous tussle with him all afternoon.

Still there seemed to be no question of where the three points were going to end up – just how many City would win by – until Mickleover got back in to the contest just before half time. McGinn was put under pressure from Danby's throw out and allowed himself to be closed down by Smyth who crossed for Graves to skim a header past the Chester 'keeper.

Try as they might City couldn't up the tempo enough to put the game beyond doubt after this and Mickleover continued to grow in confidence. Chester threatened in spurts: Brown and Sarcevic combined brilliantly to feed Wright but his cross was profligate and drifted over the bar. Sarcevic had a thunderous shot himself which clipped the top of the cross bar. Horan headed over when well placed, as did Simm when he came on later.

New signing Stefan Cox was introduced into the attack taking over from Jerome Wright on the left and looked lively. But it was when Howard came on and Cox switched to the right that he really tested the visitors' defence. One promising move ended with him blazing over the bar. Later he picked out McNeil at the far post but his header which seemed to have allayed fears of Sports netting a late equaliser was disallowed for offside.

So the agony continued until the final whistle and City crept over the finishing line. Neil Young seemed as bemused as any one why they had made such a meal of this match. He said that playing with wingers did not suit City – but it worked well for the opening spell when Chester fleetingly showed the form that had swept them to the top of the table. Still, other results meant that this win extended their lead to three points.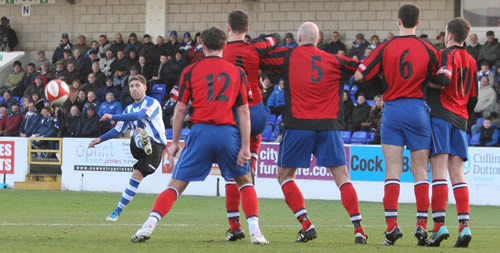 • Latest table | More pictures


Rate Chester's performance
---
Saturday 21 January
Chester 1 Hednesford Town 2

Evo-Stik Northern Premier League
Attendance: 3,343 Half Time 1-2
Booked: Smith, Horan.

Chester: Danby, McGinn, Smith, Taylor, Horan, Sarcevic (Booth 54), Mackin (Wilde 8), Brown, Howard, Rainford (Simm 80), McNeil. Subs not used: Ormrod, Judge.
Hednesford Town: Crane, Haynes, Campion, Dunkley, Bailey, Denny, Osborne, Clements (Blakeman 79), Jevons, Hay (Landell 84), Durrell (Beesley 65). Subs not used: Robinson, Grice.
Referee: Gordon Johnson (Ormskirk).


City were out-thought and out-played by title rivals Hednesford as the visitors completed a League double and moved level on points with the Blues at the top of the table.

Following the presentation of his manager of the month award for December Neil Young was forced to re-jig the team today due to injuries to Brownhill and Wright and suspensions to Baynes and Powell. City lined up with Taylor, Horan and Smith across the back with Sarcevic and McGinn as wing/full backs and Mackin, Brown and Howard in the centre of midfield. McNeill and Rainford formed the forward pair.

Only five minutes had elapsed before Young had to re-arrange things again. Levi Mackin was upended and fell awkwardly to break his collar-bone and what must be one of the briefest of home debuts was over. Bizarrely this is the third injury of this type that Chester players have suffered this season and the second against Hednesford – Ashley Williams has been sidelined since the sides met in August. Wilde whose season was disrupted by a similar injury replaced the unfortunate Mackin.

The Pitmen adapted to the blustery conditions much better than Chester. Playing in to the wind Hednesford forged ahead into a two goal lead thanks to effective counter attacks and lacklustre defending on City's part. Chester had just created an opening when Smith's raking pass found Sarcevic and the winger cut in only to see his low cross cut out. Breaking away swiftly the Pitmen threatened City's goal. The danger appeared to have been cleared only for Howard to lose the ball and Clements latched on to it to unleash a superb dipping shot from outside the area which just crept under Danby's crossbar.

Further woe for City arrived when Hay latched on to a through ball, Taylor stumbled and the forward was left with just Danby to beat. This he duly did with a precise finish.

City, with the wind at their backs were restricted to long range efforts in reply. McGinn and Rainford went very close with free kicks. Earlier, Wilde had a great attempt following good play by McNeil clawed out of the top corner by the goalkeeper. But City did get back in the game just before the break when McNeil was hauled over in the box and McGinn converted the resulting penalty.

Blues players came out early after half time eager to put pressure on the visitors from the off but after a brief flurry of corners, Chester struggled to impose themselves on the well-organised visitors. Hednesford defended well, squeezing City's midfield and forcing them to resort to hit and hope balls on too many occasions. Chester did begin to show more promise when Booth came on for Sarcevic. He was set up to shoot following a superb run by Wilde but couldn't keep his effort down. Later he curled another shot just wide of the far post.

City's closest efforts to equalising came towards the end as they racked up the pressure. Wilde's downward header was beaten away by Crane. Then Smith had two attempts – a header from a corner which went narrowly over and a shot from the edge of the box which was definitely going in until Crane tipped it round the post at full stretch.

Chester are still in pole position following this humbling setback but must know they have a lot more to do before being sure of a second successive promotion.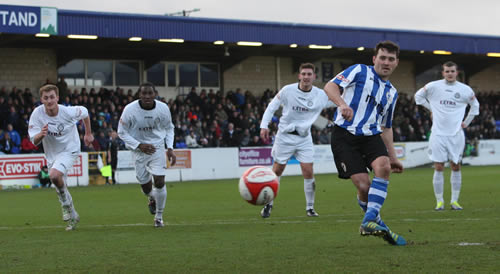 • Latest table | More pictures


Rate Chester's performance
---
Saturday 14 January
Ebbsfleet United 3 Chester 2

FA Trophy Round 2
Attendance: 1,387 Half Time 1-0
Booked: Smith.

Ebbsfleet United: Edwards, Stone, Lorraine, Mambo, Howe, Phipp, Marwa, Barrett (Shakes 38), West, Willock, Pinney. Subs not used: Herd, Simpemba, Azeez, Darvill.

Chester: Danby, Brownhill, Horan, Taylor, McGinn (Brown 46), Sarcevic (Wilde 67), Smith, Mackin, Wright (Howard 46), Rainford, McNeil. Subs not used: Simm, Judge.

Referee: Tim Robinson (Bognor Regis).

Ebbsfleet, with its ramshackle, but large and traditional ground on the Thames estuary, seemed a world away from last week's away venue at Rushall, but the Chester performance was almost a match to the previous Saturday.

In the end, Chester couldn't beat the team two leagues above them, but they emerged from this entertaining FA Trophy tie with the respect of all at the game. They must now concentrate on the job in hand – not moving from the top of the EvoStik Premier.

Chester, playing for some reason in yellow when their blue-and-white stripes could not possibly have clashed with Ebbsfleet's red strip, were in their opponents' half right from the off. They won a couple of corners in the opening spell, with one effort being cleared off the line.

Jamie Rainford featured for Chester for the first time since his loan spell at Halifax and was clearly trying to make an impression. But it was captain George Horan who nearly got the first breakthrough when he went over in the box and a penalty appeal followed. The shouts were turned down, but it left the travelling support of around 600 Chester fans thinking the Wembley dream was still alive.

But Ebbsfleet had some strong players who were hard to shrug off the ball. And as the half-hour mark neared, one of those players – Calum Willock – was free in the box after some poor Chester defending. John Danby almost saved his powerful header, but couldn't quite stop it.

Chester didn't let their heads drop though and soon after Rainford saw a shot saved by Fleet 'keeper, Preston Edwards. Before long, the action was then at the other end, with Danby making a save from another dangerous Ebbsfleet player, Nathaniel Pinney.

Still, at half-time with the score at 1-0, there was definitely a feeling that Chester could come back into it and it was good to renew some old acquaintances as the icy shadows lengthened during the break. For some this was their first sight of the new Chester – I hope they'll be back for more.

But the sense that this game was not yet over didn't last for too long when Ebbsfleet's Yado Mambo had another free header in the box and it was 2-0 to the Blue Square Premier team with just ten minutes gone in the second half.

However a Chester comeback was almost on the cards soon after when the ball pinged around the Ebbsfleet box and a Blues' header hit the underneath of the crossbar and landed on the wrong side of the line. This bought Chester back to life though and it wasn't long before they did get the score back to 2-1. First Antoni Sarcevic was fouled and Alex Brown's well-taken free-kick resulted in another headed goal – this time for Matty McNeil.

The entertainment wasn't over yet and it was Ebbsfleet's turn to score again – this time another dangerman, Ricky Shakes, pounced on a rebound to make it 3-1 to the home side.

Michael Wilde and Iain Howard were on the field by now and they certainly played their part in Chester's attacking spirit continuing. Indeed a Howard cross led to Chester's second goal when the ball went through a crowd of players to find Rainford. His 72nd minute strike was deflected into the goal and it was still "game on."

There were enough decent chances for Wilde, Rainford and Brown in the final spell of the match to keep every Chester fan glued to the match - some not even noticing the passing container ships (is this always a feature of cup defeats? Middlesbrough and Canvey Island spring to mind...). But it wasn't too be and we had to settle for a creditable performance in defeat, with slight worries over injuries to Sarcevic and Jerome Wright.

Those of us who lingered in nearby Gravesend after the match were around to hear the team praised by Ebbsfleet fans, who made the incorrect assumption that we were "streets ahead" in our league. If we carry on playing like that, they just might be proved right.
Sue Choularton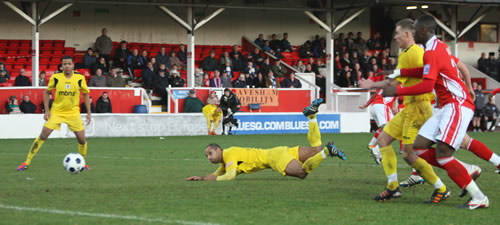 Picture © Rick Matthews (Chester Leader)

• More pictures | Match Highlights (YouTube)
Rate Chester's performance
---
Saturday 7 January
Rushall Olympic 0 Chester 4

Evo-Stik Northern Premier League
Attendance: 714 Half Time 0-1
Booked: -.

Rushall Olympic: Gemmell, Platt, Spittle, Tolley, Skedgel, Haynes, Dacres, Forde (Keenan 46), Briggs, Lewis (Adaggio 73), Obeng (Melbourne 46). Subs not used: Blythe, Gomes.

Chester: Danby, Baynes, Horan, Taylor, McGinn, Booth (Wilde 63), Smith (Mackin 73), Powell, Wright, Sarcevic, McNeill (Simm 80). Subs not used: Rainford, Howard.

Referee: John Law (Worcester).

Chester started 2012 away days in style with a cracking 4-0 win away at Rushall Olympic – made all the sweeter as League title rivals Northwich and Hednesford dropped points in their games.

It was a great day all round for the fans, with some of us starting it at the 12 noon opening time at the Black Country Arms in Walsall. This even gave us an unexpected chance to re-live old times as a group of Bournemouth fans were have a pre-match drink before their League game at the Bescot.

Chester is a much happier club since our last trip away to Bournemouth and we could look forward to an away day to relish. Determined to make the most of it, several Chester fans also called in at the canalside Manor Arms – just a goal-keeper's kick from the ground.

Then it was onto Dales Lane and a pre-match meal of chips and peas as we studied the team line-up. Chester were featuring Matty McNeill as the lone striker, with Chris Simm and Michael Wilde on the bench, alongside new signing Levi Mackin.

It was all Chester in the opening spell as the Blues won several corners and McNeill, as well as Robbie Booth, tested the Olympic 'keeper inside the first few minutes.

It felt like there was only one side in it, when Antoni Sarcevic received a cross from Jerome Wright on the half hour mark. Sarcevic crossed to the ever-lively McNeill and he scored the first goal of the afternoon.

The goal sparked Rushall into life and their well-marked striker Ahmed Obeng had a couple of forays into the box, as well as a shout for a penalty. But the closest they came to scoring all game came just before half-time when a powerful Matt Lewis strike beat John Danby, but not the crossbar.

The second half followed a similar pattern, with McNeill very much the danger man. He was in the box again, when the ball came to Michael Powell who hit for home at relatively close range.

So at 2-0, Chester were very much in the driving seat and they were soon having the chequered flag waved at them. McNeill was bought down in the penalty area and a spot-kick was awarded. Up stepped Matty McGinn to make it 3-0 to coasting Chester.

Chris Simm, Michael Wilde and Levi Mackin all came on as second-half substitutes to add to the attacking options. Indeed, all three combined for the fourth goal of the day. Wilde passed to Simm, who pulled it back for Mackin to score on his debut in the last minute of the game.

It'll be much tougher next week at Ebbsfleet, but there's nothing like a confidence-boosting win to help the team's FA Trophy preparations.

Sue Choularton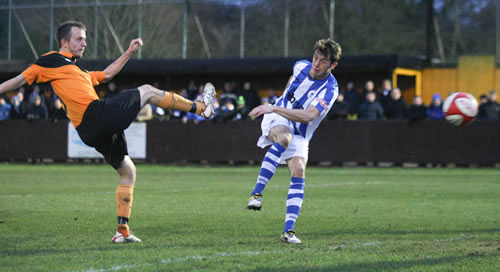 Picture © Rick Matthews (Chester Leader)
• Latest table | More pictures
Rate Chester's performance
---
Monday 2 January
Chester 1 Nantwich Town 1

Evo-Stik Northern Premier League
Attendance: 3,560 Half Time 0-0
Booked: -.

Chester: Danby, Brownhill, Taylor, Horan, Smith, Booth (Ormrod 74), Powell, Brown, Wright (Simm 82), Sarcevic, McNeil (Wilde 64). Subs not used: Duggan, Judge.

Nantwich Town: Brain, Lowe, Bailey, Moss, McDonald, Foster (Solvjors 46), McPherson, Flynn (Maguire 58), Cooke (Irwin 77), Mills, Lennon. Subs not used: Jack, Wakefield.

Referee: Gary Hilton (Upholland).

Despite dominating this contest for large periods, Chester failed to beat Nantwich for the second time this season and ended up with another derby stalemate over the festive season.

Good weather brought out a record crowd for this Bank Holiday clash – 3,560 was the largest since the club re-formed. Neil Young rang the changes once again with the team. McGinn was out through injury rather than suspension and Christian Smith deputised at left back. Howard sat out his one match ban – Jerome Wright started in his place. Up front McNeil led the line again with Sarcevic given a roving brief just behind him.

Urged forward by Powell and Brown, City began to dominate possession but the visitors were well organised and defended stoutly. They were rocking after quarter of an hour when a move from the left was half cleared to the right and, from a narrow angle, Sarcevic thwacked a shot against the underside of the bar. City looked to get the ball out to the flanks but Nantwich defended in numbers and rarely allowed the Blues to get behind them. Often Chester were reduced to launching deep crosses which were dealt with by the 'keeper and the tall visiting defenders. Horan, returning to lead the team from a four match ban, headed narrowly over from a right wing cross.

City's best attempts came from quick breakaways. Powell intercepted on the halfway line to set Sarcevic away but he shot too high. Then, as half time approached, Sarcevic set up Wright from the left whose shot was tipped around the post by 'keeper Brain. At the other end the Dabbers showed that they were no mugs when they broke forward – holding on to the ball effectively. They threatened briefly when Taylor was put under pressure facing goal and took the ball away from Danby before recovering to clear. Veteran midfielder McPherson had a half chance to score when the ball fell to him in the box but scuffed his shot wide.

Chester were left to regret their inability to capitalise on their first half dominance when Lennon put the visitors ahead with a well worked goal. He twisted and turned in the inside left position and carved an opening from which he shot past Danby. Dabbers fans clearly loved the moment but it was to be short-lived euphoria as Smith went on a run from left back and prodded a through ball for Sarcevic who raced on and clipped a sublime shot past Brain for the equaliser.

There was still plenty of time to get a winner and City began to pile on the pressure but couldn't quite do enough to make it tell. Brown was unlucky when his volley from the edge of the box sped through a crowd of players and crashed against the foot of the post. Powell also had a half chance but couldn't keep his shot down enough and it flew over. Wilde came on to replace the excellent McNeil but despite plenty of effort did not have a clear cut chance.

Once the Dabbers had weathered this storm they took the game to City in the last quarter of an hour or so and, as the Blues became more ragged, might even have forged ahead themselves. Ormrod came on for the weary Booth but had a wretched time. Simm replaced Wright and looked lively but to no avail and City's dominance faded.

It's hard to put a finger on it but Chester didn't fire on all cylinders today. With a bit more luck a first half goal might have made a different game of it but the Blues had to be content with a point which just about keeps them ahead of the chasing pack at the top of the league.

Colin Mansley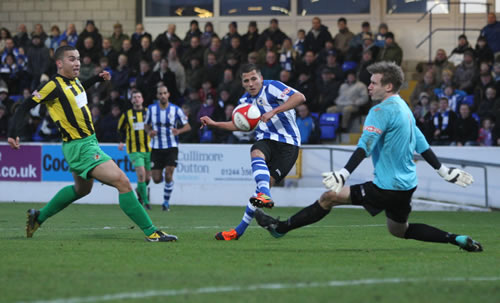 Picture © Rick Matthews (Chester Leader)

• Latest table | More pictures
Rate Chester's performance
---