---
Saturday 31 March
Chester 2 Whitby Town 0

Evo-Stik Northern Premier League
Attendance: 3,128 Half Time 1-0
Booked: McGinn, Powell, Booth.

Chester: Glennon, Baynes, Horan, Taylor, McGinn, Sarcevic (Booth 54), Powell, Smith (A.Williams 85), Howard, M.Williams (Simm 74), Wilde. Subs not used: Wright, Brownhill.
Whitby Town: Liversedge, Hassan (Lyth 80), Robinson, Burgess, White, McTiernan (Appleby 61), Portas, Williams, Clarke (Beadle 42), Mulligan, Smith. Subs not used: Leeson, Campbell.
Referee: Ian Hussin (West Derby).



A new and much improved Whitby came to the Exacta but the City juggernaut was not deflected from its course. Whitby had beaten Northwich and drawn with FC United in the last week and provided stern opposition to Chester, looking to complete a perfect March, having won all five previous matches this month.

The Seasiders' resistance lasted until the stroke of half-time. Horan's header looped upwards from a corner and dropped near the goal line for Wilde to pounce and nod it over. Just prior to this Town had seen their best chance to score slip by as McTiernan headed wide when well placed at the far post.

City struggled to dominate the match as Whitby afforded them little room and time to bring the ball down and pass it around. Alex Brown was injured and his absence was felt. But the Blues still managed to look most likely to score and Wilde's goal was just reward for his untiring efforts.

The home faithful were entertained with a number of raffle draws at the interval and Cleggy's announcements added to the amusement. The VIP raffle was first won by the Chairman – who sportingly waived his prize - the second winner's ticket was then announced along with name and 'phone number. Earlier we had been told the registration number of an unlocked car in the car park with valuables on the back seat – too much information!

Whitby responded after the break with substitute Beadle going close at the near post. City forged further ahead on 53 minutes when Marc Williams was tripped from behind in the penalty area. McGinn showed great strength of character, having missed a couple recently, to drill the ball under the keeper's body from the penalty spot.

Booth replaced the injured Sarcevic and City's forward play began to flow. Booth himself went close to scoring with a 25 yarder, and should have been given the chance to score when Simm, also on as sub, decided to have a go himself. But it was Booth's link up play down the right which was most threatening and his pass to Baynes led to Howard volleying narrowly over the bar in the final minute.

Harsh bookings were picked up by McGinn and Powell and there was a standing ovation to greet Ashley Williams as he returned to the fray after a long haul recovery from being up-ended at Hednesford in August. Neil Young has put together a solid squad without a weak link in it and with all eager to play their part in driving Chester to a second successive championship. Not the least impressive was the ever dependable and under sung centre-back pairing of Horan and Taylor – superb both once again.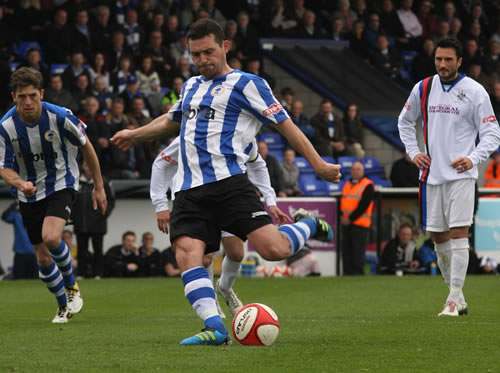 •
Latest table
Rate Chester's performance
---
Tuesday 27 March
North Ferriby United 0 Chester 3

Evo-Stik Northern Premier League
Attendance: 459 Half Time 0-1
Booked: Sarcevic, Wright.

North Ferriby United: Nicklin, Gardner, Larvin, Peat, Anderson, Foot, Brooksby, Fry, Bolder, Clarke, Morris. Subs not used: Belcher, Denton, Hunter, Williams, Wilson.
Chester: Glennon, Baynes, Horan, Taylor, McGinn, Sarcevic (Booth 84), Brown (Powell 53), Smith, Wright (Howard 80), Simm, Wilde. Subs not used: Brownhill, M.Williams.

Referee: Ken Haycock (West Yorkshire).

Chester extended their lead at the top of the Northern Premier League to a massive eleven points after defeating North Ferriby United for the third time this season. The Blues had already seen off The Villagers 6-0 at home in the league and 5-1 away in the FA Trophy and goals from George Horan, Michael Wilde and Chris Simm ensured that the quest for a second successive championship remained on course.
Manager Neil Young made a couple of changes from the side that won at Matlock on Saturday, in came Michael Wilde and Jerome Wright for Marc Williams and Iain Howard who both started on the bench. There was a slight delay to the start of the match due to a floodlight failure but the Blues soon found their stride creating an opening as early as the second minute as Antoni Sarcevic saw an effort deflected wide after latching on to a through ball from Wes Baynes.
There was a scare at the other end a couple of minutes later when Danny Clarke mis-hit an effort after the Chester defence had failed to clear a free-kick. Wilde headed over the bar and Wright saw a long range effort saved before the deadlock was broken in the ninth minute as Horan rose at the back post to head home a Matty McGinn corner.
The home side responded well and created chances of note. Matt Glennon was well placed to save a Danny Clarke shot and Gregg Anderson hit the post on 18 minutes with Glennon beaten.
Chester thought they'd doubled their lead five minutes before the break but Simm's effort was ruled offside. Glennon produced another fine save to deny Paul Foot as the home side looked to get on level terms before the break but it was Sarcevic, who was causing all sorts of problems, who had the last chance of the half curling a shot just wide following Baynes pull-back.
Sarcevic saw an effort just clear the bar minutes after the break and McGinn forced a good save at full stretch from Adam Nicklin in the home goal before Chester added a second goal on the hour mark as Wilde headed home from a Baynes near-post corner as Chester once again took advantage of a quality set-piece.
Chester began to take control, Wilde headed just over, Horan and Simm went close and Nicklin saved from Wilde before the Blues wrapped up the points three minutes from time as Simm touched home Robbie Booth's shot after good approach play from McGinn.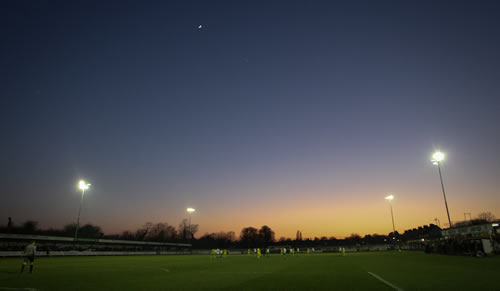 Picture © Rick Matthews (Chester Leader)

• Latest table | More pictures
Rate Chester's performance
---
Saturday 24 March
Matlock Town 0 Chester 1

Evo-Stik Northern Premier League
Attendance: 1,036 Half Time 0-0
Booked: Horan, Simm, Wilde. Sent-off: Wilde.

Matlock Town: Kennedy, Yates, Gaughan, Lukic, Featherstone (Joynes 68), Algar (Bettney 40), King, Bowler, Riley, Wilkin, McMahon. Subs not used: Witcombe, Buxton.
Chester: Glennon, Baynes, Horan, Taylor, McGinn, Sarcevic, Brown (Powell 85), Smith, Howard, Simm, M.Williams (Wilde 55). Subs not used: Wright, Brownhill, Booth.

Referee: Mike Bingham (Leamington Spa).
This was definitely a game of two halves, with Chester emerging victorious after they upped their performance in the second half at Matlock's scenic Causeway Lane.

It was one of those days that make it a pleasure to be a Chester fan – a glorious sunny afternoon, friendly and scenic surroundings, an away win for the Blues and the news that promotion rivals Northwich had slipped up away at Whitby.

But it didn't seem that pleasant in the match's opening spell. It was certainly all Matlock, as Chester failed to threaten in the first half. Indeed, the Gladiators missed a great chance when a powerful strike hit the underside of the bar. The rebound produced a good save from Matt Glennon when Matlock looked certain to go ahead.

It was a different Chester who came out for the second half, perhaps boosted by the knowledge they were shooting towards a goal surrounded by Chester fans – rather than the one in front of the cricket field alongside the neat three-sided stadium.

Chester were trying to win every ball right from the whistle, with Anton Sarcevic and Chris Simm combining well, but not quite finding that killer strike. Iain Howard was also as hard-working as ever. The focus changed slightly when Michael Wilde came on to replace Marc Williams on the 55th minute.

Wilde looked ready for the challenge, and soon after his name was on the scoresheet. A Matty McGinn ball into the box was well-placed for Wilde to have a clever, lobbed, header over Matlock 'keeper Jon Kennedy and into the net. Around 700 travelling Chester fans went crazy and then tried not to think about what had happened after the opening goal at Chasetown.

But Matlock didn't make it an easy three points for the Blues. They had a good run into the box, which was cleared as Chester scrambled back from the offensive.

Wilde was still looking threatening and had another chance to score, but Kennedy made a save with his legs. So no wonder the Chester fans were nervous when their goal hero was was sent off. After receiving an earlier yellow card, Wilde put himself on a final warning when he threw the ball away after Matlock were awarded a free kick. Before long, he committed a foul near the touchline and was promptly shown the red card. Chester manager Neil Young was also sent to the stand to watch the six minutes of injury time unfold.

It was't quite as nervy a closing spell as at Garforth Town last season, but it was still an edgy time for the Chester following. However, the referee's whistle finally came, and with it the news about an unexpected defeat for Vics. So it was a happy band of Blues fans who left Matlock's ground to join the sightseers enjoying the boating lake opposite and the other delights of this corner of Derbyshire. I'm not sure when I'll next see a ground in such an impressive setting, as (say it quietly) it's beginning to look like we might not be returning next year.

Sue Choularton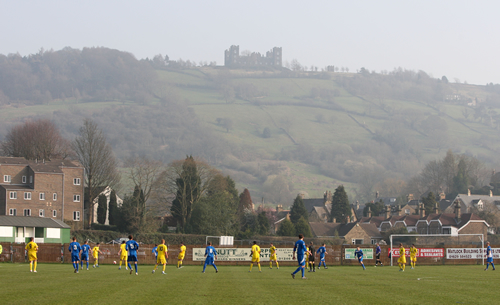 Picture © Rick Matthews (Chester Leader)

• Latest table | Match highlights [MTFC TV] | More Pictures
Rate Chester's performance
---
Saturday 17 March
Chester 3 Bradford Park Avenue 2

Evo-Stik Northern Premier League
Attendance: 2,781 Half Time 3-0
Booked: Smith, McGinn.

Chester: Glennon, Baynes, McGinn, Horan, Taylor, Brown (Wright 90), Howard, Smith (Powell 66), Simm (Wilde 67), Williams, Sarcevic. Subs not used: Brownhill, Cox.
Bradford Park Avenue: Lamb, Clayton, Drury, Deacey (Greaves 66), Knowles, Riley, Marshall (O'Brien 75), Hotte, Matthews, Hudson (Daly 46), Davidson. Subs not used: Boshell, Dempsey.
Referee: D.Meeson.



All of the goals went in at the Clock End after Chester raced into a 3-0 lead by half time and then Bradford clawed their way back into the game in the last twenty minutes. It was hardly a game of two halves though – the visitors had better possession of the ball to begin with and carved out the best chance when Davidson sprung through and lobbed a bouncing ball over Glennon but just wide of the post.

City were struggling to string passes together and finding it difficult to adjust to the absence of McNeill up front. They took encouragement though when Howard and McGinn combined to send in an inviting cross for Horan, who headed narrowly wide while well placed. The chance seemed to act as a spur and City took the lead shortly after, courtesy of Horan's defensive partner Michael Taylor. Following a corner Taylor lurked at the far post to lash the ball in to the roof of the net.

It was Taylor's first goal of the season and minutes later Marc Williams became the tenth of the outfield players on display to add his name to the score sheet. He tucked the ball past Lamb after brilliant work by Brown who held off the attentions of three defenders before putting Williams through.

More joy for Chester followed swiftly as Williams glanced home the deftest of headers from Baynes' free kick. City had scored three in eight minutes and Avenue were reeling.

Try as they might City couldn't add to their tally after the break. Sometimes they were guilty of shooting too soon and trying the complicated when the simple pass beckoned. Bradford scored what seemed a consolation goal when Riley nodded in at the far post from a free kick awarded after Howard was harshly judged to have handled the ball.

The anxiety increased when Chester were victims of another dubious decision – referee Meeson awarding a penalty when Davidson went down in the box. Glennon did well to save O'Brien's kick but could not hold on to it and the sub bundled the ball home.

Veteran supporters began to anticipate the time-worn scenario of an equaliser deep into injury time but the referee, who had been generous to the visitors in a couple of decisions, was miserly when it came to added time and blew for full time – to the relief of the home support.

It turned out to be a good result for City against a useful Bradford side and an entertaining game – worthy of the memory of Trevor Storton – great servant of both clubs who was remembered with honour before the match.


Colin Mansley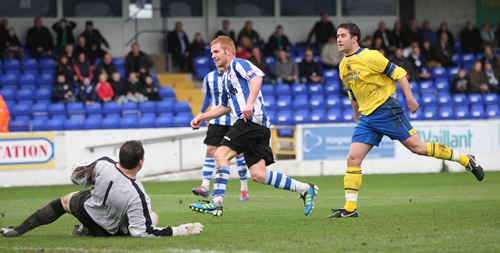 • Latest table | More pictures


Rate Chester's performance
---
Wednesday 7 March
Chester 4 Burscough 0

Evo-Stik Northern Premier League
Attendance: 2,527 Half Time 2-0
Booked: Smith.

Chester: Glennon, Baynes, Horan, Taylor, McGinn, Sarcevic, Brown (Powell 73), Smith, Wright (Howard 55), Simm, McNeil (M.Williams 9). Subs not used: Cox, Brownhill.
Burscough: Ellison, Camozzi, Whitcombe, Barnett, Murphy, Tyson (Williams 81), Parry, Clarke (Brookfield 81), Glover, Jones, Gornell (Burey 68). Subs not used: Quirk, Horn.
Referee: Alan Clayton (Hyde).

Top against bottom in the league can often throw up strange results but not in this case as this match went to form and Chester ran out comfortably against the Linnets to extend their lead to double figures.

It was not all plain sailing for City however as they had to adjust their pattern of play following the departure of target man McNeil through injury. He went down after a handful of minutes clutching an ankle and then had to hop his way all round the touchline to reach the sanctuary of the treatment table. Marc Williams replaced him and was busy throughout, tracking back to chase the ball and showing slick and sometimes brilliant approach play and passing.

Burscough were pinned back in their own half right from the outset and when Sarcevic crashed the ball into the roof of the net following a long throw by McGinn and then Smith popped up to head past a stranded keeper to make it two-nil before twenty-five minutes were up they had an uphill task ahead.

Inevitably City took a collective foot off the pedal after the opening goals and, to their credit, the visitors strove persistently to get back into the game. The match seemed to be drifting on like this until Simm added a third just after the hour mark, latching on to Horan's knock down from a free-kick and sidestepping a defender to shoot home.

A fourth goal was added when Sarcevic set off on another of his slaloming runs with the ball, he cut in from the right and hammered a fierce cross into the goalmouth – Howard got a touch to knock it over the line.

City have a rest now until St Patrick's day when another team in green, Bradford Park Avenue, visit the Exacta. Let's hope they lose none of their urging momentum in the meantime.

Colin Mansley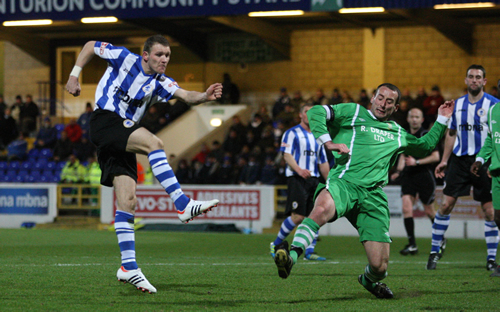 Picture © Rick Matthews (Chester Leader)

• Latest table
Rate Chester's performance
---
Saturday 3 March
Frickley Athletic 1 Chester 3

Evo-Stik Northern Premier League
Attendance: 720 Half Time 0-0
Booked: -.

Frickley Athletic: Dickinson, Cyrus, Walsh, Gray, Turner, Bleau, Ludlam, Ashmore, Mallon, South (Ryan 82), Knox. Subs not used: Adams, Schofield, Hood.
Chester: Glennon, Baynes, Horan, Taylor, McGinn, Sarcevic, Brown (Powell 74), Smith, Wright (Howard 61), Simm (M.Williams 82), McNeil. Subs not used: Brownhill, Cox.
Referee: Paul Cook (Hull).


Chester maintained their eight point lead at the top of the Northern Premier League following this latest success on the road. With championship rivals Northwich, Hednesford and Chorley all picking up maximum points at the weekend the importance of this win at Frickley becomes clearer.
The home side were on an impressive seven game unbeaten run that saw them do the Blues a big favour with a last minute equaliser against Hednesford seven days ago. The Blues won the toss and decided to kick up the Frickley slope, on a bobbly pitch, in the wet and windy opening half.
The conditions made for a scrappy opening period with some timely tackling around the area from the Chester defence restricting the hosts some some long range efforts. Wes Baynes, who scored two long-range efforts last week, tried his luck from distance again in the sixth minute but shot wide.
A Baynes free-kick to Matt McNeil was met by the striker whose header found Chris Simm but the striker shot straight at Stephen Dickinson in the home goal.
At the other end Matt Glennon reacted quickly to beat Peter Knox to a dangerous through ball as the home side hit back. George Horan though he'd given Chester the lead on 31 minutes as he a headed home a Matty McGinn cross only for referee Paul Cook to rule the goal out for, presumably, an infringement on the defender who went for the same ball though there were few complaints from the home defenders!
A looping Baynes free-kick from the right found Simm at the far post but he could only direct his header straight at Dickinson who held comfortably.
Chester began the second half strongly and had the ball in the net again four minutes after the restart but Antoni Sarcevic's close range header was ruled out for offside, moments later Sarcevic forced a good save from Dickinson who repeated the feat to deny Alex Brown. In a counter attack Glennon dived smartly to his left to deny Knox who turned and fired in a decent effort from the edge of the box
Horan saw another goal ruled out for offside before they eventually took the lead on 63 minutes as Christian Smith was in the right place to tap the ball home from two yards after Simm and won the ball on the right of the box and crossed for the in-form midfielder.
The home side responded immediately and drew level within a minute as Baynes was caught on possession by Knox who fed Ryan Mallon whose side-footed volley beat Glennon.
Chester hit back and Smith sent in a 25-yarder that Dickinson saved at full stretch before substitute Iain Howard restored the lead in the 71st minute. Simm picked up on a misplaced defensive header and set Howard through on goal, the midfielder coolly rounded Dickinson and poked a shot past two back-peddling defenders on the line.
Howard shot just wide and Simm blazed over the bar, the ball bobbled up just as he struck it, before Horan finally got the goal he deserved eleven minutes from time heading home Sarcevic's cross to wrap up the three points.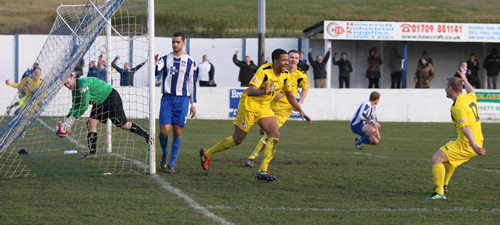 Picture © Rick Matthews (Chester Leader)

• Latest table | More pictures
Rate Chester's performance
---