---
Saturday 25 February
Chester 4 Buxton 0

Evo-Stik Northern Premier League
Attendance: 2,470 Half Time 2-0
Booked: Smith.

Chester: Glennon, Baynes, McGinn, Horan, Taylor, Brown (Powell 65), Wright, Smith, McNeill (M.Williams 75), Simm, Cox (Sarcevic 55). Subs not used: Brownhill, Howard.
Buxton: Hartley, Black, Wilde, Istead, Hawes, Bounab (Roberts 63), Lugsden, Davidson (Maxfield 63), Reed, Barraclough, Ridley (Towey 63). Subs not used: Agus, Turner.
Referee: David Underwood (Hambleton).

The Blues consolidated their position at the top thanks to a brace of goals from Simm and two unusual strikes from Wes Baynes.

Baynes was back in the side at right back, replacing Liam Brownhill. Simm took Sarcevic's place alongside McNeill in attack. But the third and most surprising change to City's line up was that of Matt Glennon in goal having been signed yesterday from Stockport until the end of the season.

Simm made the most immediate impact, latching on to a hopeful ball from McGinn and bursting past a static Buxton defence to slot the ball past Hartley. The Bucks were looking rocky after this early setback but managed to claw their way back into the game, breaking play up where possible. Reed, returning to the Deva for the first time since last year worked hard and proved a constant threat to the home defence.

Cox and Wright looked lively on either flank for City and the former cut in from the right to shoot narrowly wide with his favoured left foot. A few minutes later Chester doubled their lead in spectacular style. They were awarded a free kick on the right wing just by the half way line. The referee prevented them from taking it quickly but without much delay Baynes was the only one in the stadium to notice Hartley off his line and launched an audacious attempt at goal. He judged it perfectly and the ball sailed over the back-pedalling 'keeper and into the net.

The beleaguered Bucks 'keeper was in trouble again before half time as he extended his grasp outside the penalty area to grab hold of the ball. He received a yellow card but no further embarrassment as the resulting free kick was cleared.

Chris Simm's pace and willingness to run off the ball continually stretched the Bucks' defence and his endeavour was further rewarded when Wright's superbly weighted through ball set him off like a greyhound out of the traps. Simm held off the attentions of a trailing defender and slipped the ball through Hartley's grasp for his second and City's third.

Just after the hour Baynes capped a thoroughly convincing display with the best goal of the lot. Sarcevic (On for Stefan Cox) came surging forward with the ball and Hartley ran out of his area to take it off his toes. The loose ball fell to Baynes, and with ironic cries of "Shoot" ringing around him from the crowd, duly obliged by sending a thirty yard excocet into the back of the net, somehow managing to thread it through a crowd of players in between.

Marc Williams came on to make his debut and was a whisker away from giving himself a dream start when his one-two with Simm just got blocked in time.

A welcome and comfortable win for City then and with Vics busy in the Trophy, Chorley losing and Hednesford being pegged back by Frickley in the last minute, Chester extended their lead to eight points. Neil Young will be sure not to allow complacency to set in the Blues' dressing room though – this time last season City were twelve points clear of Skelmersdale but – as we know – it came down to a couple of goals difference in the end.
Arguably the two most vital goals in the whole equation were scored by Dan Toronczak for Ossett Albion as they pegged Skem back to 7-2 on the last day of the season. He was present today to perform the half time draw and received a rapturous standing ovation.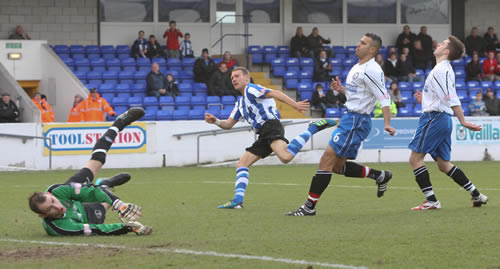 Picture © Rick Matthews (Chester Leader)

• Latest table | More pictures
Rate Chester's performance
---
Saturday 18 February
Chasetown 1 Chester 1

Evo-Stik Northern Premier League
Attendance: 679 Half Time 0-0
Booked: Cox, Brownhill.

Chasetown: Price, Lycett (Birch 77), Slater, Turner, Teesdale, Branch, Hands (Cresswell 65), Stride, Downes (Wright 81), Quinn, Perrow. Subs not used: Farmer, Birt.

Chester: Judge, Brownhill, Horan (Powell 37), Taylor, McGinn, Wright, Brown, Smith, Cox (Booth 70), Sarcevic (Simm 74), McNeil. Subs not used: Howard, Baynes.

Referee: Rob Ellis (Coventry).

Hopefully we won't look back on this match as two vital points dropped, but that's how it feels after the Blues missed at least two golden chances to give themselves a real buffer zone at the top of the League.

As we approached Chasetown, you'd be forgiven for doubting the match would go ahead – for there was a downpour of torrential proportions as we left Cannock. I was certainly grateful that we were one of the few passengers aboard the 60 bus as the rain pelted down.

The resultant heavy pitch didn't make for a game of attractive football and there were few initial chances as both teams slugged it out while the match settled down. Chasetown had a couple of defenders who wouldn't have been out of place on a nightclub door and this certainly wasn't a match for wimps.

Indeed Chester captain George Horan was soon on the ground with blood pouring from his nose. This came after a number of Chester corners, when the Blues defender had remained in the Scholars' box while the ball came foward again. But his nose collided with the fist of Chasetown 'keeper Ryan Price and Horan's face came off worst. He had to be replaced by Michael Powell and the Chester team had to be reshuffled.

There was yet another Chester corner, but the Blues didn't come close to scoring. By now the sun was shining brightly and Chester were no doubt looking forward to the second half when the glare would have been right n the eyes of the Chasetown defence.

It certainly was a brighter second half, with the Chasetown 'keeper very much on centre stage. He made a great diving save from Alex Brown, but was soon picking the ball out of the back of the net.

Antoni Sarcevic brilliantly collected a mid-air pass, rounded a Chasetown defender, and thwacked the ball home – right in front of the travelling fans who'd been making a great noise under the covered terrace behind the goal.

Soon after Price made a good save from Michael Taylor, who also had a lively second half. But there was a distinct feeling that Chester needed to score a second to ensure they left Staffordshire with three points. And we all thought that had come when a Sarcevic pass was slotted home by Powell. But the linesman ruled it offside, and it now felt like Chester were on the backfoot.

Chris Simm came on to replace 'Sarce' on the 73rd minute. Soon after he made an impression when he was brought down in the box by a Chasetown defender. But Matty McGinn's penalty was one of the softest I've seen, and Price had no trouble saving it.

Chester were very much off-guard now, and soon after it was 1-1 when a Chasetown free-kick came to Dean Perrow and he put the ball past Adam Judge. But the match wasn't over, and Chester had another goal disallowed for offside. This strike from Jerome Wright seemed far more legitimate than the first attempt and there was now a distinct feeling that it wasn't going to be Chester's day.

But wait – Simm had a chance to give Chester the lead again. He was in one-on-one with Price, but missed the target and put the ball well wide. And so it wasn't to be our day and we had to console ourselves that some results elsewhere had gone our way.

Sue Choularton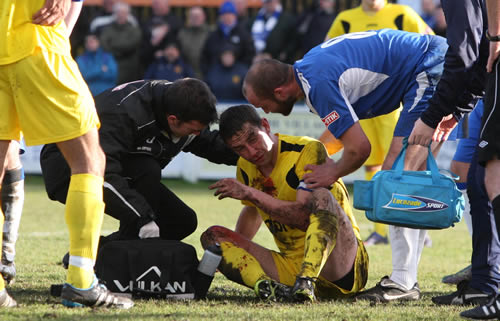 Picture © Rick Matthews (Chester Leader)

• Latest table | More pictures
Rate Chester's performance
---
Saturday 11 February

Chester 2 Stafford Rangers 0

Evo-Stik Northern Premier League
Attendance: 2,318 Half Time 0-0
Booked: Taylor.

Chester: Danby, Brownhill, Horan, Taylor, McGinn, Cox (Booth 70), Brown (Simm 86), Smith, Wright, Sarcevic (Powell 86), McNeil. Subs not used: Wilde, Howard.
Stafford Rangers: Read, Luke, Brown, Espley, Dicker (Donnelly 78), Carr, Heller, Street (Blackhurst 64), Morris, Stevenson (Nagington 71), Sheldon. Subs not used: Skelton, Allcock.
Referee: John Brooks (Melton Mowbray).



The only game played today in the Northern Premier League ended with Chester completing a hard fought double over a dogged Stafford side. As a result City stole a march on all the others to forge six points clear at the top.

Volunteers had been down to the Exacta early to roll the protective covers back and ensure the game went ahead despite freezing conditions overnight.
The temperatures crept just above zero during the day but a cold breeze ensured a chilly afternoon for the diehard supporters – at least the players could run around to keep warm. Another unveiling took place before the kick-off as a brand new clock on top of the South Stand was dedicated to the memory of board member Richie Wightman who died a year ago.

Just prior to kick off Chester were presented with the Fair Play award for January. The accolade came for a number of games which co-incided with the suspensions of Powell and Baynes after their dismissals at Northwich.
Eyebrows were raised at the omission of both from the side today (Powell especially has been missed) – we could only speculate that perhaps we are hoping to retain the trophy for February as well.

City began brightly with two wingers – Cox and Wright – in good form who caused the visiting defence plenty of trouble. Much of the time however, Mc Neill was on his own up front, with Sarcevic lurking on the edge of the box and unable to get on the end of inviting crosses from the wings. Sarcevic nearly managed to spin on McNeill's knock down but Read smothered the threat. When Sarcevic was tripped as he twisted and turned on the edge of the box, Brown lined up the free kick. It curled towards the top corner before Read tipped it around the post.

Stafford had few direct attempts on goal but the running of Carr with the ball caused City some problems and the visitors' corners provided consternation. Rangers employed a novel technique of lining up outside the penalty area and then charging in when the corner came across. The tactic led to plenty of confusion but no clear cut chances.

Referee Brooks let a lot go in a match full of physical encounters but Taylor was yellow carded for a sliding challenge and Rangers' full back for tripping Wright for the umpteenth time. City had dominated but had no goals to show for it before half time.

Shortly after the break though, Brown worked the ball in from the left and had a dig at goal from outside the area. The ball was cruelly deflected off a defender to take it past a helpless Read in the Rangers' goal. With the breakthrough, City played with less anxiety and pinned the visitors back as they pressed for a second. They won a procession of corners until at last with ten minutes to go Smith nodded home McGinn's centre from the right.

Danby was injured in the closing minutes as Stafford went looking vainly for a consolation but the score stayed the same and City could be content with a hard-working display and a hard earned three points. The key virtue as far as Neil Young was concerned seemed to be application. Chester stuck to the task; they applied themselves well and maintained their grip on top spot.

Colin Mansley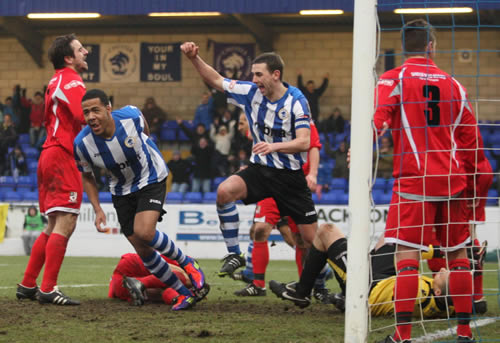 Picture © Rick Matthews (Chester Leader)

• Latest table | More pictures
Rate Chester's performance
---