---
Saturday 30 December
Chester City 0 Milton Keynes Dons 3

League Two
Attendance: 2,271 Half Time 0-0
Booked: Bennett, Linwood, Westwood, Hand, Walters. Sent-off: Linwood.

Chester City: Danby, Linwood, Westwood (Bolland 71), Artell, Marples, Bennett (Steele 71), Martinez, Hand, Hessey, Blundell, Walters. Subs not used: Palethorpe, Semple, Sandwith.
Milton Keynes Dons: Harper, Diallo, O'Hanlon, Butler, Lewington, McGovern, Andrews, Wilbraham (G.Smith 78), Dyer (Edds 64), Platt, McLeod (Taylor 67). Subs not used: Baines, Mitchell.
Referee: D.Deadman (Cambridgeshire).


There was to be no Christmas cheer for City fans who witnessed a second successive 0-3 home defeat in less than a week as Milton Keynes Dons carried on their impressive form with a sixth win on the spin to move two points behind end-of-year leaders Walsall.
Too add to the problems piling up the card total for the two festive matches reached eight yellow and two red following another spate of bookings and an early bath for defender Paul Linwood.
There was no place for captain Stephen Vaughan after the club had announced that he could be leaving in the new year, Dean Bennett returned to the side following injury to take his place while Roberto Martinez took the skipper's armband. In defence David Artell replaced Phil Bolland who took a seat on the bench.
Chester applied the early pressure with Dons keeper Lee Harper soon in action cutting out a dangerous Jon Walters cross before strike partner Gregg Blundell to get to it. Minutes later Blundell saw a shot blocked from close range after a defensive slip had given the striker a sniff of an early goal.
City were having the better of the pssission and the overworked Harper was in action again producing a fine save to deny Sean Hessey whose powerdrive looked to be heading for the top corner.
It wasn't until midway through the half before the visitors threatened the City net as goal-machine Izale McLeod, surely a transfer target in January, for once failed to find the target as he headed wide when well placed. As the opening period drew to a close John Danby produced a great save to deny Aaron Wilbraham whose powerful shot was pushed wide.
The opening goal came on 60 minutes as McLeod cutting in on the left edge of the penalty area was adjudged to have been tripped as he threaded the ball past Linwood. McLeod took the penalty low down to Danby's right but the 'keeper made a great save but couldn't prevent Clive Platt for racing in to slot home the rebound.
The Blues responded well and Roberto Martinez forced another save from Harper after latching on to Simon Marples' teasing cross moments later.
Moments later the Dons added a second goal. A freekick was floated over to the far post to Wilbraham whose header on target could only be parried by Danby into the path of McLeod who had the easiest chance to notch his 16th league goal of the season.
Manager Mark Wright made a double substitution introducing Phil Bolland for Ashley Westwood and striker Lee Steele for Bennett but before the couple could make a telling contribution to the game the Blues found themselved three goals down as Jon-Paul McGovern curled a direct free kick from distance into the top corner after a foul on substitute Scott Taylor.
To complete the afternoon of misery for City Paul Linwood picked up a second yellow card two minutes from time to become the sixth City player dismissed so far this season.
---
Tuesday 26 December
Chester City 0 Macclesfield Town 3

League Two
Attendance: 3,365 Half Time 0-1
Booked: Hessey, Wilson, Vaughan. Sent-off: Wilson

Chester City: Danby, Linwood, Westwood, Bolland, S.Vaughan, Martinez, Hessey (Semple 75), Hand, Wilson, Walters, Blundell (Steele 62). Subs not used: Artell, Sandwith, Marples.
Macclesfield Town: Lee, Regan, Morley, Swailes, McIntyre, Miles (Hadfield 46), Tolley, Navarro, Bullock (Reid 62), Murphy, Tipton (McNeil 75). Subs not used: Heath, Jennings.
Referee: N.Miller (County Durham).



Legendary manager Harry McNally would be turning in his grave at the Chester performance in front of the terrace newly named in his honour.
It was Macclesfield who showed the fighting spirit which used to be the trademark of Harry's Chester team, earning the Silkmen a deserved 3-0 victory and a move away from the bottom of League Two.
In truth, neither side put on an impressive performance in front of the Boxing Day crowd of 3,365, although City started the slightly brighter of the two Cheshire clubs.
But after an early shot from Roberto Martinez – nicknamed 'Mad Dog' by the Spaniards sitting behind me (were they related to him?) – Macclesfield soon found their feet. Barely 10 minutes had gone by when Jamie Tolley passed to an unmarked Matthew Tipton. He took a good shot which City 'keeper John Danby failed to stop and the first goal in front of the Harry McNally Terrace sadly went to the opposition.
It was almost one-way traffic after that with City's only real chances coming from a wild Laurence Wilson strike which went well wide and a couple of corners which were easily dealt with by the Macc defence.
The game got rather scrappy and after a midfield 'pushing and shoving session' ended in bookings for Wilson and Stephen Vaughan, the red mist descended on Wilson. Just four minutes later he was sent off for his second bookable offence after a bad challenge in the middle of the park. He couldn't argue with the decision.
Referee Nigel Miller then provoked the City fans when he failed to find in the Blues' favour when Jon Walters was fouled in the area. Soon after, he sent off Tolley for a second bookable offence, but was still roundly booed by home fans when he went off at half-time.
The City team failed to be inspired by the half-time official naming of the Harry McNally terrace and the re-appearance of former City heroes Stuart Rimmer, John Kelly and Gary Bennett on the pitch. For fans of a certain age, it was worth the gate money alone to hear the name "Rimmer" being chanted again and to know that Harry was finally getting the official recognition he deserved.
There was little else to remember from the day. The first 30 minutes of the second half passed with City's only real threat being a powerful Hessey strike which was deflected for a corner. Mark Wright tried to change things around on 61 minutes by replacing Blundell with Lee Steele. He attempted to make his presence felt, but didn't really make any headway.
It was nearly game over not long after the substitution, when City failed to deal with a Macclesfield free kick and ex-Chester player Kevin McIntyre scored for the Silkmen to make it 2-0.
City had a faint chance of getting back into it when a good Jonathan Walters shot rattled against the crossbar in front of the home end. It was City's best chance of the game, but there was soon a goal at the other end.
Another ex-Chester player, this time "Big" John Murphy, made it three for Macclesfield when he thumped a rasping shot into the net. Hundreds of City fans started making an early exit – this was not going to be a match to remember, nor one to win over any 'part-time' supporters. They must have been thinking they'd have had a better day at the sales.
There were four minutes of added time, but there was nothing City could do to even get a consolation goal in 'Harry's End'. He'll be growling loudly in football heaven now – I hope the Chester team can hear him!
---
Saturday 16 December
Peterborough United 0 Chester City 2

League Two
Attendance: 4,491 (168 Chester) Half Time 0-2
Booked: Bolland.

Peterborough United: Tyler, Holden, Futcher, Morgan, Arber, Newton, Butcher, Stirling (Yeo 56), Huke (Smith 46), Opara (Benjamin 46), Crow. Subs not used: Gain, Davis.
Chester City: Danby, Linwood, Bolland, Westwood (Artell 85), Hessey (Sandwith 80), S.Vaughan, Hand, Martinez, Wilson, Blundell (Steele 90), Walters. Subs not used: Palethorpe, Semple.
Referee: D.Drysdale (Lincolnshire).


It was a happy return to London Road for Mark Wright as City moved up four places to tenth in League two following this two goal defeat of his former club.

The margin of victory would have been even greater but for a great display in the home goal by man of the match Mark Tyler who made several great saves to deny City before having to hobble off late in the game to be replaced by club captain and outfield player Dean Holden as the Posh had already used all their substitutes.
Tyler was in the thick of things early on to deny Roberto Martinez as the Spaniard saw his shot from a tight angle pushed over the bar for a corner.
City took the lead on nine minutes as Jon Walters beat the onrushing Tyler to Stephen Vaughan's right wing cross to head home. The Blues (playing in yellow) should have doubled their lead minutes later but Gregg Blundell, given far too much time by the home defence, saw his close range effort saved by Tyler's outstretched legs. Hessey, making a return to the side at the expense of David Artell, saw a low shot parried away as City pushed for a second. Tyler then pulled off a magnificent save to deny Blundell from a cracking volley after some quick interplay from the City midfield.
At the other end the action was sparse with Lloyd Opara heading wide the only real half chance that came the home sides way.
Five minutes before the break City got the second goal their first-half play had deserved though it had an element of luck about it as Laurence Wilson's long range effort was deflected home by defender Mark Arber who sliced the ball past a stranded Tyler with a casual looking attempted clearance.
At the interval Peterborough made a double change bringing on Trevor Benjamin and Shane Huke.
Danby was soon tested with several teasing crosses as the home side applied the pressure after the break. Holden, Butcher and Stirling all saw efforts plucked out of the air by the City shot-stopper while at the other end Martinez kept Tyler on his guard bringing out another full length save following a 20 yarder.
The nearest the home side came to reducing the lead was when Ben Futcher's header was cleared from under his own crossbar by Hessey. Despite the home sides pressure Chester continued to counter-attack with vigor and Martinez, Walters and Blundell all saw chances to extend the lead saved.
With around 20 minutes remaining Tyler had to be assisted from the field with an ankle injury that reduced the home side to ten men. City had several chances to take advantage of their numerical supremacy with Walters wasting a great effort in trying to walk the ball in and Blundell seeing a shot deflected by Holden for a corner in front of the small band of City fans.
City brought on three substitutes as they comfortably played out until the final whistle to complete their third successive league victory. The Blues now enter the busy four match festive programme beginning at Mansfield Town on Friday night.
---
Tuesday 12 December
Chester City 1 Bury 3

FA Cup Round 2 replay
Attendance: 2,810 (616 Bury) Half Time 1-1
Booked: -.

Chester City: Danby, Marples (Steele 59), Bolland, Artell, Sandwith (Linwood 52), S.Vaughan, Hand, Martinez, Wilson, Blundell (Semple 72), Walters. Subs not used: Hessey, Westwood.
Bury: Fettis, Scott, Challinor, Woodthorpe, Brass, Pugh, Turnbull (Barry-Murphy 80), Mattis, Buchanan (Kennedy 90), Bishop, Hurst (Speight 75). Subs not used: Grundy, Youngs.
Referee: D.Foster (Tyne & Wear).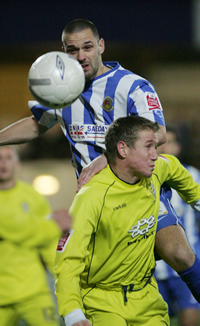 Chester crashed out of the FA Cup in this second round replay to miss out on a home tie with Championship side Ipswich Town in the third.

City went into the game full of confidence on the back of two successive Deva League wins and got off to a flying start after just three minutes when Laurence Wilson weaved his way past several defenders from the left wing to edge into the box and shoot past Shakers 'keeper Alan Fettis who just got his fingertips to the ball but couldn't prevent it from going in off the far post.
City had started like a house on fire, just a couple of minutes later Walters set-up Gregg Blundell who found himself in plenty of space but delayed before putting his shot wide of goal. City pressed again, Jonathan Walters also found himself in space before shooting straight at Fettis when a second goal looked certain.
It was ten minutes before John Danby was threatened in the home goal as he saved well from a low Andy Bishop shot.
City came close to adding a second just after the half hour mark as the unlucky Walters saw an effort hit the woodwork following a Roberto Martinez cross.
However with nine minutes remaining the dangerous Bishop brought the scores level as he was allowed to head home unmarked past Danby following a right-wing Glynn Hurst cross to send the teams in level at the break.
City were rocked four minutes after the interval as provider Hurst turned goalscorer as he towered above the City defence at the back post to head home Marc Pugh's sweeping far post cross.
Six minutes later it was game over as Bury forced a third. Once again the City defence failed to clear properly from a Bishop effort and Dwayne Mattis picked up a loose ball to fire home from the edge of the box through a crowd of players.
Bury were in control and Pugh almost added a fourth after the introduction of Ryan Semple and Lee Steele saw City reverting to playing with three up front.
Despite the Blues enjoying more of the possession they rarely threatened Fettis in the Bury goal with a late Martinez free-kick forcing the only real save as the visitors comfortably held out for a third round tie in January.
---
Saturday 9 December
Chester City 4 Lincoln City 1

League Two
Attendance: 2,142 (317 Lincoln) Half Time 1-0
Booked: Bolland, Sandwith.

Chester City: Danby, Marples (Linwood 69), Artell, Bolland, Sandwith, S.Vaughan, Hand, Martinez, Wilson, Blundell, Walters. Subs not used: Steele, Bennett, Hessey, Rutherford.
Lincoln City: Marriott, Eaden, Beevers, Brown, Nicholson (Mayo 82), Amoo, Frecklington, Kerr (Morgan 63), Birley (Moses 62), Stallard, Griton. Subs not used: Rayner, Kell.
Referee: K.Stroud (Hampshire).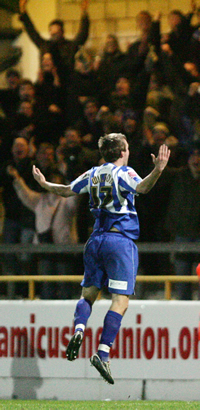 City turned in one of their best performances of the season as goals from Roberto Martinez, Jon Walters, Gregg Blundell and Laurence Wilson give the Blues an emphatic victory over high-flying Lincoln City at a cold Deva Stadium.
The Imps came to Chester boasting the best away record in League Two but they were brushed aside as three second half strikes brought a second successive home victory and pushed the Blues' goal difference into the positive as well.
With Ashley Westwood serving a one match ban, Phil Bolland stepped into the heart of the defence. Ryan Semple, on loan from Lincoln was also forced to watch from the sidelines as Lincoln, who forced no less that 15 corners to Chester's one during the 90 minutes, were to start without the services of top scorer Jamie Forrester who failed a late fitness test.
The visitors forces in the early pressure in the swirling rain with the Blues defence clearing from a right wing corner. Andy Marriott in the Lincoln goal did well to hold a Roberto Martinez free-kick, while Kevin Sandwith and Jamie Hand both tried long-range efforts as City, with the wind at their backs, looked to take advantage of the conditions.
On 20 minutes Chester opened the scoring. Stephen Vaughan sent over a looping cross to the far post, Andy Marriott came out but seemed to collide with defender Nicky Eaden in attempting to deal with the ball which broke to Jon Walters whose square pass set up Martinez to score from ten yards.
Lincoln struck back with defender Nat Brown heading a free-kick into Danby's arms and David Artell made a crucial sliding challenge to deny Ryan Amoo and maintain City's advantage at the interval.
Marriott saved with his legs following a low Blundell shot five minutes after the break but City doubled their advantage minutes later as Jonathan Walters stooped to head home Gregg Blundell's cross off the crossbar the ball bounced down before hitting the stranded Marriott on the back before Walters followed up to steer the ball over the line from a yard.
Lincoln made a double substitution and pulled a goal back just a minute later as they pushed defender Brown forwards and were rewarded as he scrambled a goal back on 64 minutes following a cross from Martin Gritton missed at the back post by the Chester defence who allowed Lee Freckleton to head back for Brown.
The dangerous Freckleton sent in a shot that Danby saved well before Mark Wright brought on some extra defensive cover in the form of Paul Linwood for Simon Marples.
With fifteen minutes remaining City ensured there was to be no nervy ending as they added a third when in-form striker Blundell glanced a header from a Sandwith free-kick over Marriott and in off the bar for his seventh goal in eight matches.
Lincoln forced another flurry or corners but the three points were wrapped up eight minutes from time as Laurence Wilson headed home, with the help of his shoulder, Blundell's pin-point right wing cross for his fourth goal of the season.
There was just enough time for Freckleton to go close again, the woodwork coming to City''s rescue, before referee Stroud blew a halt to the proceedings.
---
Tuesday 5 December
Chester City 3 Boston United 1

League Two
Attendance: 1,527 Half Time 0-0
Booked: -.

Chester City: Danby, Marples, Westwood, Artell, S.Vaughan (Semple 90), Hand, Martinez, Wilson, Sandwith, Walters, Blundell (Bennett 88). Subs not used: Bolland, Hessey, Linwood.
Boston United: Marriott, Clarke, Ellender, Miller, T.Ryan, Kennedy, Greaves, R.Ryan (Canoville 81), N'Guessan, Green, Elding. Subs not used: Maylett, Farrell, Stevens, Rowson.
Referee: C.Oliver (Northumberland).



City are gaining a reputation over recent weeks of only being able to play a game of one half. Tonight was no exception as they stumbled laboriously through a painful forty-five minutes before racing away from Boston to win at a canter.

It was a cold and squally evening, there was the attraction of live European football on the telly, and both of these factors no doubted contributed to the meagre gate of 1,527. The play was fragmented and pedestrian for much of the first half which gave ample opportunity to while away the time by counting the crowd. I made it 37 who had made the long journey from Lincolnshire.

If, anything, Boston looked the more lively and more likely to score.Their forward, N'Guessan made a nuisance of himself all evening and seemed keen to capitalise on hesitancy in City's defence. He crashed a shot in after turning Marples which Danby did well to parry on to the crossbar. Earlier Danby came out of his area to tackle a Boston midfielder as he raced clear on goal following Artell's slip.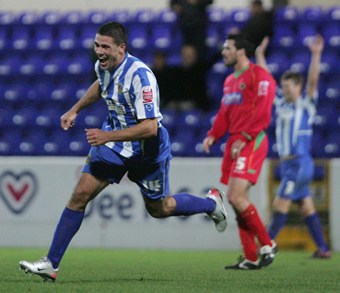 Going forward City looked lively only sporadically when Blundell and Wilson combined. The Blues were guilty of wasting a succession of corners and free kicks with poor delivery.

After the break N'Guessan tried the patience of the referee once too often and became the first and last person into his notebook for the evening. From the free kick back in Chester's half, Walters climbed and knocked the ball down to Blundell. Gregg got a lucky break from a tackle and ball sat up kindly for him. His finish was top class as he curled the ball round Marriott and into the corner of the net from outside the area.

Boston rallied, Elding headed into the net but was offside, and the Pilgrims worked hard at keeping City pinned back until Sandwith sprang Walters loose with a raking pass and, as the City forward prepared to cross, he was scythed down by Miller. Blundell put the resulting penalty away with élan – his confidence restored following the trauma of his injury against Rochdale a year ago.

When Walters ran and shot powerfully from outside the area, Marriott was deceived as the ball hit a divot and lifted over his outstreched body. The look club captain, and former City player, Ellender gave his goalkeeper said it all. Stephen Vaughan came within a nano second of scoring his first goal for City as his shot was stopped by a last ditch tackle. The game was up for Boston – though that just encouraged the knot of die-hards behind their goal to sing even more defiantly into the wind. N'Guessan rewarded them with an almost casual goal as City's defence seemed to fall asleep following a late substitution.

Even the loss of a clean sheet could not detract from this more than welcome three points. It provides a bit of a cushion before the visit from Boston's Lincolnshire neighbours, though at the opposite end of the table this coming Saturday. The road back to Birmingham (and Boston no doubt) glowed white in the light of the full moon.


---
Saturday 2 December
Bury 2 Chester City 2

FA Cup Round 2
Attendance: 3,428 Half Time 0-0
Booked: Wilson, Westwood, Steele, Martinez. Sent-off: Steele.

Bury: Warrington, Scott, Fitzgerald, Challinor, Kennedy, Pugh, Mattis, Baker, Buchanan, Hurst (Speight 79), Bishop. Subs not used: Woodthorpe, Youngs, Barry-Murphy, Adams.
Chester City: Danby, Westwood, Linwood, Artell, S.Vaughan, Hand, Martinez, Sandwith (Bennett 46), Wilson, Walters, Semple (Steele 46). Subs not used: Bolland, Marples, Palethorpe.
Referee: K.Woolmer (Kettering).

The FA Cup is supposed to be all about drama and passion, well, it was hard to see any of that in the first half of this 2nd round tie at Bury's Gigg Lane.
We had to wait for the second half – and a barmy 11 minute spell which saw the watching 3,428 finally entertained by four goals, before you really felt this was more than just a game between two mid-table L2 teams with nothing much to play for.
Bury started the match brighter of the two teams, with City 'keeper John Danby forced into making a couple of saves and the Shakers earning a corner, which was easily cleared, in the first five minutes.
Bury's on-loan 'keeper Andy Warrington, remembered by many City fans for his penalty saves for Doncaster against Chester's "Deadly DCs" – Dave Cameron and Daryl Clare – in the 2003 Conference play-offs, was kept quiet for the first 15 minutes or so, until he had to make a save from a Ryan Semple header.
Soon after, Chester made about their only neat passing move of the first half and Jamie Hand had a shot on target, again easily held by Warrington. Jonathan Walters looked busy as ever throughout the first half and forced Warrington into a near post save towards the end of the half – probably the nearest City came to scoring by that stage.
Bury won a couple of first half free kicks near the penalty area and the closest they came to the target followed one of these. But once again, Dave Artell was in the right place (about three yards off the line) to head the ball clean away.
As the City fans waiting in long queues for refreshments or otherwise at half-time, there were mutterings of the football on display being "like watching paint dry". It really was impossible to talk about the "magic of the Cup".
But Chester manager Mark Wright did his bit to liven up the 800 or so travelling Blues' fans with an attacking half-time substitution, with Lee Steele and Dean Bennett replacing Kevin Sandwidth and Ryan Semple.
Almost from the off Walters had another decent chance to score, closer to the line this time, and right in front of the expectant away following. But Warrington saved again and a dangerous rebound was also dealt with by the Bury defence.
Referee Keith Woolmer had already set his stall out as a fussy individual in the first half, with bookings for Laurence Wilson and Ashley Westwood, and he soon had the Chester fans yelling "hometown referee" at him. Steele went down after a penalty area challenge, but Mr Woolmer was having none of it and promptly booked Steele for diving.
But Steele thought he had the last laugh a few minutes later when he controlled the ball well in the area, with only Warrington to beat. He tapped the ball underneath the 'keeper to put City 1-0 up and to finally bring bring the Chester cup dream to life.
The City celebrations didn't last long, however, as leading scorer Andy Bishop netted easily at the other end just three minutes later. Did the over-exuberant announcer really say something about "bashing the Bishop" as the Bury fans celebrated?
It wasn't long before the distinctive announcer, who reminded those around me of a boxing PA, was on the tannoy again. Danby initially did well to make a low save from a one-on-one with Bishop. But the rebound fell to Richie Baker, who lobbed the ball over Danby before he had chance to get up.
But the game wasn't over yet, and just five minutes later, Steele was in the box and hit the ball under Warrington again. This time it was at a tight angle, and the ball just found its way home across the line.
Steele sprinted to the on-rushing City fans to celebrate and before he knew it found himself over the low wall separating the fans from the pitch. Cue the arrival of his friend, Mr Woolmer, and Steele was booked for over-celebrating, and consequently sent off for a second bookable offence. Perhaps he should have known better, and it led to a very tense closing spell.
It was backs against the wall for City as Bury took advantage of the extra man and continued to press forward. Mr Woolmer did nothing to endear himself to Chester fans as full-time approached when we were told there would be seven minutes of added time. You'd think there'd been a long stoppage for a serious injury, but the referee must have seen a delay we'd all missed.
As the time ticked closer to 5pm, Bury had most of the ball. But there was no real chance in the extended injury time and Mr Woolmer finally found his whistle – much to the relief of Chester and their fans. Here's hoping the "Hometown referee" lives up to his nickname for the rematch at the Deva Stadium.

Sue Choularton
At the match on Saturday was Sebastian Blair (above) who is raising money for MENCAP SPORT. He is following the progress of the FA Cup from the first qualifying round (Wembley v Thame United) through to the final. Bury v Chester was the tenth match so far in the sequence having followed Wembley › Redbridge › AFC Hornchurch › Welling United › Clevedon Town and the trail continues with Chester City following our victory in the last round. Sebastian was collecting donations at our second round match at Bury and will be at Deva Stadium for the replay. If you would like to donate to the cause, or read more about the venture, please visit his website here.
---