---
Tuesday 31 October
Chester City 3 Stockport County 0

Johnstone's Paint Trophy Round 2
Attendance: 1,229 Half Time 1-0
Booked: Bolland, Artell.
Chester City: Danby, Sandwith, Hessey, Bolland, Artell, Marples, Wilson, Hand, Bennett, Steele (Walters 78), Blundell. Subs not used: Palethorpe, Westwood, Holroyd, Allen.
Stockport County: Spencer, Williams, Clare, Dinning, Robinson, Poole, Tansey, Allen (Bramble 69), Rose, Dickinson (Ellis 80), Malcolm (Taylor 69). Subs not used: Deasy, Malcolm, Havern.
Referee: N.Swarbrick.

City progressed through to the last 16 of the northern section of the Johnstone's Paint Trophy at the expense of Cheshire neighbours Stockport County. The Blues bounced back from Saturday's 1-0 defeat at Barnet, their first reverse in six matches, as late goals from Gregg Blundell and Laurence Wilson cemented the victory though the final scoreline flattered Chester.
Changes in the competition rules this year state that clubs must field strong teams. City gave a debut to Lee Steele signed earlier in the day on loan from Leyton Orient and Jamie Hand replaced the suspended midfielder Roberto Martinez in the City line-up.
County started the brighter of the two sides, Mark Robinson testing John Danby with a long range effort from 25 yards.
At the other end City were finding it hard going against a resolute Stockport defence though Blundell saw a shot go wide following a through ball from Dean Bennett. Danby was in the action again soon after saving from David Poole as the visitors continued to press.
At the other end James Spencer in the visitors' goal was called to make his first save of the night from a Sean Hessey piledriver.
Somewhat against the run of play City took the lead with two minutes of the first half remaining as Hand took advantage of some sloppy defending to drill the ball home from 20 yards after the County defence failed to clear their lines. On the stroke of half-time former City player Michael Rose saw a free-kick saved by Danby to preserve the half-time advantage.
The second half followed the same pattern of the first. Liam Dickinson saw a long-range effort pushed away by Danby for a corner though Greg Tansey's flag-kick was cleared by the City back line.
Dickinson saw a shot saved by Danby before City put the game beyond County seven minutes from time. Simon Marples fed Gregg Blundell who fired home from 20 yards for his first goal since the opening day of the season, and a well taken goal it was.
Two minutes later the Blues wrapped the game up as Wilson shot past Spencer for his first goal in City's colours sending the blues into Saturday's quarter-final draw.
---
Saturday 28 October
Barnet 1 Chester City 0

League Two
Attendance: 2,301 (273 Chester) Half Time 1-0
Booked:
Martinez, Blundell, Westwood.
Sent-off: Martinez.

Barnet: Flitney, Devera, King, Yakubu, Nicolau, Puncheon (Graham 90), Bailey, Hessenthaler, Sinclair, Vieira (Warhurst 76), Kandol. Subs not used: Gross, Cogan, Jaimez-Ruiz.
Chester City: Danby, Marples, Westwood, Artell (Linwood 46), Sandwith (Holroyd 73), Bennett, S.Vaughan (Bolland 46), Martinez, Wilson, Walters, Blundell. Subs not used: Hessey, Palethorpe.
Referee: R.Lee (Essex).

City's six game unbeaten run came to an abrupt halt at Underhill as the Blues turned in a below par performance against a team missing five players that had only won once at home this season. Attempts to sign Leyton Orient striker Lee Steele in time for the clash failed so once again Gregg Blundell and Jon Walters led the line for City. The suspension of Jamie Hand meant a return from injury for captain Stephen Vaughan.
Kicking uphill City started well and had a glorious chance to open the scoring as early as the eighth minute as Blundell was sent through on the left, just when it looked like he would shoot for goal he squared the ball for Walters who missed the pass entirely and the ball drifted away to safety to the frustration of the 273 visiting supporters housed in the nearby corner.
Roberto Martinez saw a free-kick punched clear by Flitney in the home goal, Jason Puncheon picked up the loose ball and set up Vieira who threaded a ball through for Dean Sinclair whose shot was superbly pushed round the post by John Danby. Ten minutes later though Sinclair opened the scoring. A through ball was met by the midfielder who took the ball forward before he was bundled down by Kevin Sandwith when there was no real danger on the left side of the box. Sinclair picked himself up to send Danby the wrong way from the penalty spot.
City found themselves on the back foot for most of the remaining first period. Play was getting niggly and in the first of three fare-up's (there was an almighty one last season), Blundell and Ashley Westwood found themselves in the referee's notebook along with Flitney. When play was resumed Sandwith fired a free-kick straight at the Bees shot-stopper who was also on hand save save a 12-yard effort from Dean Bennett just before the break.
Mark Wright sent his side out early for the second period and changed personnel with Stephen Vaughan being replaced by Phil Bolland and David Artell replacing Paul Linwood as the manager tried a change in formation with three across the back and an extra man in midfield.
The first action of the period though came from Nicky Nicolau who blasted a shot high and wide and moments later veteran Andy Hessenthaler tried his luck from long range only to see his volley go narrowly wide.
On 69 minutes the Bees were awarded a second controversial penalty as referee Lee adjudged that Bolland had fouled Ismail Yakubu, the man in green was surrounded by furious City players and justice was seen to be done as Danby saved Nick Bailey's spot-kick low down. The Blues faithful, still wound-up over the incident, got behind the team as they broke quickly down the right, a pinpoint cross from Simon Marples was sent in only for Walters to head agonisingly over from close range. Minutes later Bennett also headed wide and another chance had gone begging.
At the other end Yakubu headed over from an inswinging corner and Bailey saw a shot go wide. Marples once again sent in an inch perfect cross that was met by Bolland, however his header was directed just wide of the right hand post.
With five minutes remaining City were reduced to ten men after Roberto Martinez, who'd received a yellow card in the first half for a foul on Puncheon, was shown a second one as he slid in on Bailey.
There was no way back now, despite a long period of added time, City's despondent fans were already heading for the exit.
---
Friday 20 October
Chester City 2 Hartlepool United 1

League Two
Attendance: 2,580 Half Time 1-1
Booked:
Artell, Westwood, Marples.
Chester City: Danby, Marples, Sandwith, Westwood, Artell, Bennett, Hand, Martinez, Wilson (Linwood 78), Walters, Blundell. Subs not used: Broughton, Bolland, Hessey, S.Vaughan.
Hartlepool United: Konstantopoulos, Barron, Robson (Brackstone 14), Nelson, Clark, Humphreys, Porter (Brown 76), Bullock, Liddle, Daly, Foley (Maidens 79). Subs not used: Strachan, Provett.
Referee: K.Woolmer.



There must have been something in the air at the Deva on Friday night. A dozen Norwegian visitors arrived at the club shop and started snapping up City souvenirs: "Would you like to try the shirt on sir?" "No thank you, that will not be necessary. XXL is ...enough." Vaughan Promotions own Derry Matthews presented his WBU Featherweight title belt which he'd won last weekend; a young dancer celebrated her fightback from a severe spinal injury with a vigorous work out on the pitch and there was a display of kick boxing at the interval. Perhaps inspired by this League Two's leading scorer, Jon Daly got his retaliation in early on Dave Artell and was shown the red card after only fifteen minutes of this keenly fought encounter.

A few minutes earlier, Daly had gone down under a challenge by Artell and seemed aggrieved when the referee dismissed his appeals for a free kick. Mr Woolmer and his assistant interpreted Daly's wayward elbow as revenge and the visitors were down to ten men. It was a key moment as City cashed in on their numerical advantage and stretched the Hartlepool defence to breaking point.

City had to chase the game after Hartlepool took the lead in bizarre fashion. Danby, in kicking away a back pass hit it so forcibly against Porter that it cannoned straight back into the net from a narrow angle. The Aussie forward held his hands up more in embarrassment than celebration but no one could deny it was his goal.

Chester sought to pass the ball around and make the visitors run themselves into the ground. Sometimes City's build-up play appeared too slow. Blundell was presented with a golden chance before half time as Walters headed the ball perfectly into his path but the goal-starved Gregg volleyed over the bar. Earlier Foley had missed an equally clear cut opportunity after Porter's overhead kick had opened up a glorious chance for him.

The visitors had tried to slow the game down after the sending off so it was ironic that City equalised deep into first half added time. A free kick on the left was spread across to Marples on the right and the move seemed to be laboured but the full back got to the by-line and his cross caused confusing in the box. Westwood was on hand to steer the ball into the net and was duly mobbed by his team mates.

After the break Chester swept forward and really made the most of their one-man advantage. Wilson was in a good place to score from a Martinez free kick but misdirected his header. City's passing and movement was as slick as we've seen in recent months and they took the lead from one such flowing move.

Martinez played a one-two with Marples and the latter's first time cross was met perfectly by Blundell. Konstantopoulos managed to parry the ball but there was a thrill of anticipation on the North Terrace as Walters homed in on the rebound and smashed it into the net.

City swept forward repeatedly in an effort to put the game beyond reach. Konstantopoulos made a magnificent save from another Blundell header, clawing it out of the top corner. Just prior to this the keeper had been injured as Blundell couldn't quite force the ball in following a touch by Martinez. If this had been a Featherweight title fight Hartlepool would have been out for the count. But City could not find an elusive third goal.

Danby was called upon to make one more vital save as City survived five minutes of stoppage time to earn the reward their compelling performance had deserved.


---
Saturday 14 October
Rochdale 0 Chester City 0

League Two
Attendance: 3,149 (704 Chester) Half Time 0-0
Booked:
Blundell, Hand, Walters.
Rochdale: Gilks, Ramsden, Stanton, Sharp, Goodall, Jones, Crooks, Cooksey, Barker (Moyo-Modise 64), Sako (Clarke 78), Dagnall. Subs not used: Boardman, Rundle, Thompson.
Chester City: Danby, Marples, Artell, Westwood (Bolland 86), Sandwith, Bennett, Martinez, Hand, Wilson (Hessey 90), Blundell (Broughton 71), Walters. Subs not used: Palethorpe, Holroyd.
Referee: P.Joslin (Nottinghamshire).



You can tell Chester are looking much more positive these days when you drift out of away matches feeling the 0-0 resut was two points dropped, rather than a point gained. Not a bad sign at this stage of the season.
The first half was dominated by Chester, with Roberto Martinez, made captain because of Stephen Vaughan's injury/suspension, pulling all the strings. Martinez had a shot himself in the first minute and then was involved in most of the City chances.
Chester's downfall was that they seemed to lack the final killer instinct on goal. They dominated the first half in terms of possession, but it was a defender who came closest to scoring – Dave Artell, who hit a powerful header against the crossbar after a short corner.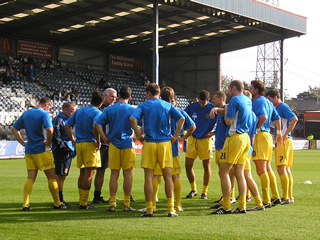 Dale goalkeeper Matthew Gilks was the butt of many of the 704 away supporters' attention for his horror tackle on Gregg Blundell at Chester last season. He seemed distinctly rattled by the barracking at times and it was a shame he was barely tested by the City team.
Laurence Wilson looked lively again and made some forays into the Dale box. Dean Bennett and Jon Walters also played brightly and had some half chances. But there was no serious threat on the Rochdale goal.
Rochdale's strikeforce, including 6ft 7ins Morike Sako, were also distinctly toothless. It seemed hard to believe they were the same side who put five past Darlington just eight days before.
The first half wound to an end not long after Martinez took a free kick which zoomed about two feet above the bar.
Rochdale looked a better side in the second half, with a couple of tame shots early on by the giant Frenchman, Sako. Chester also had a chance with a Walters header, which went wide.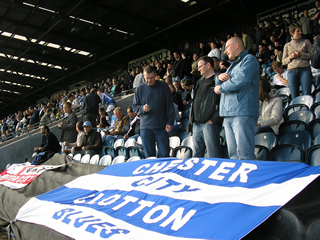 But both sides seemed determined to cancel each other out. Rochdale bought on 19-year-old Clive Moyo-Modise, who looked a very tricky customer, and livened things up in the game's final spell. Mark Wright tried to turn Chester's fortunes around by replacing Blundell with Drewe Broughton.
The game's closing minutes were actually dominated by referee Phil Joslin. There was a flurry of late bookings (three in five minutes) as both teams flared up at each other – but there was nothing really harsh in any of the incidents.
Jamie Hand fell down hard in the Rochdale box and lay without moving for sometime while all the Chester fans and players tried to draw Mr Joslin's attention to him. Play continued without Hand, and Walters received one of those late bookings for pleading with Mr Joslin for the City physio to be allowed on after Dale won a corner.
Hand eventually got his treatment and there were then many minutes of added time – impossible to tell how many as the Rochdale Tannoy didn't seemed to extend to the away stand and I missed the fourth official's board. It was fingernail-chewing time for City fans when Rochdale pressed forward and won a free-kick just outside the area as the clock ticked close to 5pm.
But Dale's free-kick flew over the crossbar. It was an appropriate end to the match – close, but not quite close enough, for both sides.
---
Friday 6 October
Chester City 0 Walsall 0

League Two
Attendance: 3,241 (1,028 Walsall) Half Time 0-0
Booked:
-.
Chester City: Danby, Marples, Artell, Allen, Sandwith, S.Vaughan (Broughton 40), Martinez, Hand, Wilson, Bennett, Walters. Subs not used: Palethorpe, Holroyd, Rutherford, Cadwallader.
Walsall: Bossu, Westwood, Gerrard, Roper, Taylor (Demontagnac 61), Wright (Pead 46), Dobson, Keates, Fox, Butler, Bedeau (Dann 74). Subs not used: Gilmartin, Sam.
Referee: M.Haywood (Wakefield).


A battling performance from City in difficult conditions on Friday night could well have yielded maximum points from top of the table side Walsall. The Saddlers had debutant goalkeeper Bertrand Bossu to thank for a remarkable double save late in the game to deny Chester victory.
Wet and windy conditions made life difficult for players and spectators alike with over 1,000 visiting supporters made the trip from the west midlands.
Chester appeared to adapt to the conditions quicker and forced a couple of corner's in the opening five minutes, Bossu forced into the first save of the night as Jonathan Walters met Kevin Sandwith's flag-kick with a header.
City took advantage of having the wind behind them and opted for a couple of long range efforts, Jamie Hand and Walters both saw efforts on target but well held by Bossu in the driving rain.
Five minutes before the break manager mark Wright was forced to replace Stephen Vaughan with Drewe Broughton, the City captain suffering a hamstring injury.
Chances on goal were at a premium, the nearest the visitors came to troubling John Danby came just before the break as the Saddlers forced a couple of quick corners. David Artell headed the danger away from the first while referee Haywood blew for a foul by Tony Bedeau following the second.
The visitors continued their spell of pressure after the restart. Danby was forced into his first save of the night as he pushed wide David Pead's corner, minutes late he caught a Kris Taylor 30-yarder.
Walters sent over a teasing cross that evaded everyone before being cleared by Westwood.
With minutes remaining City had a great opportunity to snatch the points. A right wing cross was met by Broughton, he tried to place his shot and saw it pushed onto the post by Bossu, the rebound fell for Dean Bennett whose effort grazed the crossbar.
Wright said after the game: "Our best scoring chance of the game looked harder to miss than it did to score.
I know Drewe (Broughton) was trying to be precise and he was trying to pop the ball in the corner because of Walsall's big keeper, but I thought it was harder to miss. We also flashed a lot of balls across their box, but nobody was quite getting in there which was a bit disappointing.
We're certainly going to look for another striker to help everybody out. We've got togetherness within the squad but the only thing missing is for us to score off our knee, our shin, or our shoulder – I don't care how it goes in, I just want us to score goals."
---