---
Tuesday 27 February
Chester City 1 Hereford United 1

League Two
Attendance: 1,842 (299 Hereford) Half Time 0-0
Booked: Hessey, Artell.

Chester City: Danby, Linwood, Bolland, Artell, Hessey, Kearney, Meechan (Wilson 56), Hand, Sandwith, Yeo, Steele (Holroyd 67). Subs not used: Allen, Bennett, J.Vaughan.
Hereford United: Brown, Travis, Mkandawire, Beckwith, Purdie, Williams, Smith, Jennings, Thomas, Guinan, Connell. Subs not used: Thompson, Sills, Ferrell, Rose, Jeannin.
Referee: L.Probert (Gloucestershire).

Wayne Brown made his first return to City since leaving in June 2005 and his last minute save at the feet of Chris Holroyd denied a first league goal for the youngster and all three points for Chester.
City had to be content then with just a point that lifts them one place in League Two, on a night when a blustery wind at Deva Stadium made playing difficult.
The Blues, looking to put behind the Saturday's disappointing defeat at Swindon, got off to a flying start forcing two corners in the opening 90 seconds, though both of Kevin Sandwith's flag-kick's were cleared to safety by the Bulls rearguard. John Dandy, who single handedly kept Saturday's score line respectable, was soon in the action tipping over a 25 yarder from Simon Travis for a corner that was dealt with by the City defence.
Chester were being restricted to long range efforts and Sean Hessey kept Brown on his toes from all of 30 yards in City's next real threat. Five minutes later a long-range Sandwith effort flew high and wide and didn't trouble Brown.
Danby was forced into making another telling save from Alan Connell in the only other real effort in an opening 45 minutes to forget.
As is too often the norm these days City showed more purpose after the interval though it was the visitors who pressed more. Andrew Williams and Ben Smith both saw shots saved, and Smith saw one effort cannon back off the bar, before City manager Mark Wright introduced Laurence Wilson at the expense of Alex Meechan. Moments later Connell was again denied by Danby who pushed his curling free-kick round the post. Steve Guinan also show wide when well placed before City made a second change with lee Steele being replaced by Holroyd.
Moments later on 71 minutes City took the lead. Everton loan player Alan Kearney picked up the ball in midfield, shrugged off a challenge before sending an inch perfect though ball for Simon Yeo to run on to, he shook off Tamika Mkandawire, and shot past Brown in City's only real effort on target all night.
The Bulls equaliser came with seven minutes remaining and followed their eleventh corner of the night. Danny Thomas crossed and with the City defence failing to clear the danger it fell to Dean Beckwith who headed the ball back from the bye-line to Connell who was waiting to turn the loose ball into the net for a deserved equaliser.

• League Two table
---
Saturday 24 February
Swindon Town 1 Chester City 0

League Two
Attendance: 5,462 Half Time 1-0
Booked: Linwood, Bolland, Holroyd.

Swindon Town: P.Smith, J.Smith, Nicholas, Vincent, Ifil, Roberts (Brown 86), Pook (Noubissie 89), Timlin, Zaaboub (Weston 78), Jutkiewicz, Sturrock. Subs not used: Stewart, Hopper.
Chester City: Danby, Bolland, Linwood, Artell, Marples (Hessey 50), Hand, Bennett (Wilson 70), Kearney, Sandwith, Yeo, Meechan (Holroyd 79). Subs not used: Palethorpe, Cronin.
Referee: R.Lee (Essex).



It says a lot for the Chester performance that this was another game when there was as much post-match talk about off-the-field incidents than there was about the actual match.

To concentrate on the game first, City lost 1-0 after a ninth minute penalty following a Dave Artell handball and showed little chance of coming back until they pressed forward, without result, in the closing spell.

The Blues (bizarrely re-nicknamed in the programme as either The Bordermen or The Elevator Crew) were playing their first match since the departure of Spanish talisman Roberto Martinez, who took up the Swansea manager's post the day before. He was replaced as captain by defender Phil Bolland and in his midfield role by Jamie Hand.

City 'keeper John Danby was called into action soon after Swindon kicked off, when they were awarded a free kick inside the first two minutes. The hardy contingent of travelling Blues fans – tucked in the corner of the Arkells stand, a 'twin' of the old Sealand Road main stand – were relieved when Danby held Christian Roberts' strike.

But relief turned to despair moments later when Artell put his arm up to a header from 17-year-old Lucas Jutkiewicz and referee Ray Lee blew for a penalty. Swindon's Jack Smith sent Danby the wrong way from the spot and it was 1-0 to The Robins.

The rest of the half was very much all Swindon and the Chester fans, many of whom were already disgruntled by the £20 cost of tickets bought on the day, were easily distracted by the officious Swindon stewards demanding City fans sit down, while home fans were clearly able to stand. Two Chester fans were eventually ejected for refusing to take their seats.

Back on the field, Chester were kept in the game by Danby, who made a point-blank save from Blair Sturrock, son of Town manager, Paul Sturrock.

Chester's only real first half chance fell to Alex Meechan, a former Swindon trainee, from a Kevin Sandwidth cross. But he failed to make the most of the opportunity and half-time came soon after.

Swindon started the second half much as the first and a header from a 47th minute Robins' corner had to be cleared off the line. Soon after, Danby made another good save from teenager Jutkiewicz (who, despite his name, is an English-born product of the Swindon Centre of Excellence).

Sean Hessey came on for Simon Marples in the 50th minute, but the half continued to go all Swindon's way. Chester did have some hope when Sandwidth ran into the box, but he seemed to aim for goal at a tight angle instead of passing the ball.

Laurence Wilson then came on for Dean Bennett and he did jink his way past two or three Swindon players before seeming to run out of steam as he approached goal and failing to find Simon Yeo with his pass. The final City substitution came on the 79th minute, when Chris Holroyd replaced Meechan.

City did show a final attacking spark in the closing minutes. Holroyd had a penetrating run towards the Swindon box and would have been clear on goal were it not for a quality challenge by Jerel Ifil.

Swindon fans did their best to help their team cling onto the three points needed to edge them nearer towards automatic promotion by holding onto the ball to waste time when it went into the Town End behind the goal.

But in all honesty, it looked like Chester wouldn't have scored with another 90 minutes of football, and when full-time blew it must have ended the play-off hopes of all but the most optimistic of Blues' fans.


| | |
| --- | --- |
| | |
| | |
| --- | --- |
| | |
---
Wednesday 21 February
Chester City 1 Bury 0

League Two
Attendance: 1,642 (244 Bury) Half Time 0-0
Booked: -.

Chester City: Danby, Linwood, Bolland, Artell, Marples, Martinez, Kearney, Bennett (Wilson 86), Sandwith, Yeo, Steele (Meechan 78). Subs not used: Hessey, Holroyd, Cronin.
Bury: Warrington, Parrish, Challinor, Fitzgerald, Kennedy, Baker, Wroe, Scott, Buchanan, Bishop, Pugh (Hurst 82). Subs not used: Speight, Adams, Woodthorpe, Stephens.
Referee: K.Friend (Leicestershire).

A last minute penalty on his home debut by Simon Yeo brought the double over the Shakers to lift City to 11th in League Two. Without a home win since 9 December the three points will have come as a welcome relief to the 1600 or so City fans that turned out. With Jamie Hand once again missing through suspension City gave a debut to on-loan Everton midfielder Alan Kearney. The Blues deserved their victory, but only following a spirited second half effort after failing to show for the first 45.
That opening period will be long forgotten as both sides struggled to create chances. Roberto Martinez, a target for Swansea this week, almost set Dean Bennett through but Andy Warrington the Shakers goal spotted the danger and cleared just in time from the onrushing player.
Richard Baker and Nicky Wroe, with a volley, both tested John Danby from long range but that was about all the City shot stopper had to deal with in the opening period. Yeo worked himself an opening on the right of the box but shot high and wide when he should have done better.
With no doubt a stern half-time team talk behind then City started the second period far brighter with Bennett testing Warrington from 12 yards in the opening minute. The Blues forced a corner two minutes after the break and David Artell rose to meet Kevin Sandwith's flag-kick only to see his goal bound header cleared off the line by Warrington. Phil Bolland saw a shot saved and Yeo flashed another shot over as City pressed for the opening.
Warrington saved again as Martinez met a corner from Simon Marples.
Against the run of play the visitors had a great chance to open the scoring but John Fitzgerald headed just over at the back post from Baker's corner.
Again Martinez was in the thick of the action forcing David Buchanan to clear another header off the line. With 12 minutes remaining manager Mark Wright replaced Lee Steele with Alex Meechan. The overworked Warrington then punched another Yeo effort clear.
With three minutes remaining there was a let off for City as Bury substitute Glyn Hurst completely missed his kick in front of goal.
Just as the game heading for a draw, and the fans for the exits, there was a final twist as Yeo jinking his way into the box was tugged back by Dave Challinor leaving referee Friend no option but the point to the spot. Yeo picked himself up to blast the spot-kick home and secure the points for the Blues.

• League Two table
---
Sunday 18 February
Wrexham 0 Chester City 0

League Two
Attendance: 6,801 (1,775 Chester) Half Time 0-0
Booked: Martinez, Bolland, Hessey, Yeo, Artell, Linwood.

Wrexham: Ruddy, Spender, Mike Williams, S.Evans, Gareth Evans, D.Williams, Fleming (Carvill 63), Garrett, McEvilly (Marc Williams 87), Llewellyn, Barron (Done 86). Subs not used: Ingham, Samba.
Chester City: Danby, Hessey (Kearney 90), Bolland, Artell, Linwood, Sandwith, Marples, Martinez, Bennett, Steele (Meechan 67), Yeo (Holroyd 90). Subs not used: Allen, Cronin.
Referee: R.Beeby (Northamptonshire).

It was honours even at the Racecourse in a derby game which failed to live up to its billing and saw both sides settle for a 0-0 bore draw.
The most exciting part of this game was probably the anticipation – stoked up by the heavy police presence, a near-capacity top tier away stand, an amazing volley of fireworks just before kick-off and a one-minute silence which almost lasted the duration.
But once kick-off came, there wasn't too much happening on the field for the 1,775 Chester fans to cheer about. The first half was dominated by Wrexham, who had several attempts on goal in the first 10 minutes.
Thankfully City 'keeper John Danby, a prime contender for Chester man-of-the-match, was a confident presence in the box all afternoon and had the measure of every Wrexham attempt.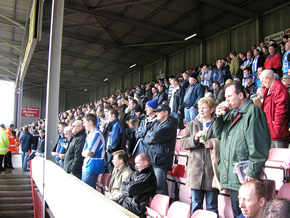 Chester's outfield players sprung into a bit more life as the first half progressed, winning a couple of free-kicks in dangerous areas. But they didn't look like threatening from anything other than set-pieces and those early free-kicks came to nothing.
As the game was warming up, Chester captain Roberto Martinez was the first of six City names in the referee's notebook when he fouled Wrexham's Rob Garrett after the tricky teenager had him well-beaten.
The resultant free-kick found Chris Llewellyn free on the edge of the area and he hit a powerful header which thudded against the crossbar, rebounded dangerously in the box and was eventually cleared. Danby was furious with the City defence – not for the first time of the afternoon – and made his feelings clear to Phil Bolland.
Just moments later, Bolland himself was in the referee's notebook and it was apparent City were getting frustrated. A booking for Sean Hessey followed four minutes later when he kicked the ball way up into the home stand as the ref blew for another Wrexham free-kick.
As both sides trooped off for half-time, the City fans could only hope their team would improve as they attacked towards the away stand in the second half. There were hopeful murmers that Wrexham dangerman Lee McEvilly wouldn't last the second half as he came out early, apparently to run off a strain.
Earlier McEvilly had been repeatedly called a fat 'so-and-so' by Chester fans who didn't have much room to talk themselves. I do enjoy the humour of derby games – especially the kind offer of directions to Tamworth and Forest Green Rovers to the Wrexham substitutes.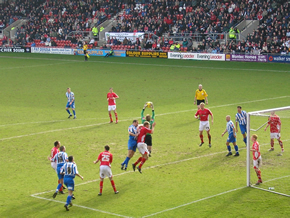 Chester did come out with a little more fire, with Martinez determined to make an impression. Unfortunately, most of his normally-deft passes failed to find a blue-and-white shirt. It was as if he was trying too hard.
Martinez took a couple of City corners early on in the half, but the first was well held by Wrexham's John Ruddy and after the second, the referee blew for yet another infringement.
Alex Meechan replaced Lee Steele on the 67th minute and did his best to provide City with a different kind of attacking option. But all eyes were soon on fellow recent signing, Simon Yeo. Not long after winning a free-kick after a Wrexham foul he found himself running away from goal in the area and made a dive for a penalty. There could be no denying the resultant yellow card.
The derby atmosphere warmed up after this, with both sides threatening the opposition boxes. Meechan did look dangerous around the area, but couldn't get anything near the target. At the other end, Wrexham had a shot which went right across the face of the goal.
McEvilly was substituted by Wrexham boss Brian Carey, to the jeers of the City fans. He responded to his previous tormentors by giving them 'the finger' as he walked through the tunnel.
City manager Mark Wright made two 90th minute substitutions, with Alan Kearney and Chris Holroyd replacing Yeo and Hessey. There was barely any time for them to make an impression, but for a split second Holroyd had the chance of a shot and instant City martyrdom. However, he panicked and made a hash of the shot.
By now Chester had gone nearly 20 minutes without a booking, so it was no surprise when the sixth City yellow card of the afternoon went to Paul Linwood for a foul on Llewellyn. It was full-time soon after and both sets of fans will have to wait for another season (or perhaps several?) for a chance to reclaim the bragging rights.

Sue Choularton
---
Saturday 3 February
Accrington Stanley 0 Chester City 1

League Two
Attendance: 1,900 Half Time 0-1
Booked: Bolland, Hand.

Accrington Stanley: Kazimierczak, Edwards, Williams, Welch, Richardson (Brown 82), Todd, Harris, Grant (Proctor 82), Boco, Mullin, Fleetwood (Mangan 68). Subs not used: Fearon, Doherty.
Chester City: Danby, Hessey, Linwood, Bolland, Artell, Sandwith, Hand, Martinez, Bennett, Steele (Meechan 62), Yeo (Holroyd 87). Subs not used: Palethorpe, Cronin, Rutherford.
Referee: P.Joslin (Nottinghamshire).



Chester completed their first double of the season over Accrington Stanley with a victory that lifts them to tenth in League Two.
Both new signings were on show at a foggy Fraser Eagle Stadium as Simon Yeo partnered Lee Steele up front and Alex Meechan started on the bench as City. Both Dave Artell and Paul Linwood returned to the side following suspension.
City began the stronger of the two sides with Yeo looking lively on his debut. Artell headed wide of the target twice in the opening stages and Roberto Martinez arrowed in a 20-yarder just over the bar before Stanley got into the action as Romauld Boco sent in two efforts on goal that both went wide and failed to trouble John Danby in the City goal.
New signing Przemyslaw Kazimierczak in the home goal was well placed to deny Yeo a debut goal saving well after he'd followed up a Jamie Hand effort.
The Blues scored what was to prove to be the winning goal midway through the half. Sandwith sent over a free kick from the right which Kazimierczak failed to collect. The ball dropped to Linwood who made time for himself and took the ball wide before slotting it home for his first ever League goal, to the delight of the large City following behind the net.
Boco again responded for the home side shooting over from close range but it was Chester who were creating the better chances and Yeo almost doubled the lead with a volley just over as City finished the half on top.
The Blues continued where they left off, great play down the wing by Sandwith set up Dean Bennett who fluffed his chance in front of goal.
John Danby saved a header from Paul Mullin and Artell blocked another effort from the striker who attracted interest from City before last weeks transfer deadline.
Sandwith saw a shot cleared off the line before Manager Mark Wright introduced Meechan into the action at the expense of Steele. He almost made an immediate impact as he beat the offside trap to race through one-on-one with the 'keeper who got the better of him to block his shot.
City were almost made to pay for their missed chanced as Andrew Mangon volleyed over in the dying minutes but City held on for their fourth win in their last five league away outings.

• League Two table
---