---
Wednesday 29 November
Chesterfield 4 Chester City 4
(Chesterfield win 3-1 on penalties)

Johnstone's Paint Trophy area quarter-final
Attendance: 2,414 Half Time 2-2
Booked: -

Chesterfield: Roche, Bailey, Hazell, Downes, O'Hare (Picken 90), Hall, Niven, Allott, Hurst, Folan, Shaw. Subs not used: Jordan, Allison, Larkin, Smith.
Chester City: Danby, Linwood, Westwood, Bolland, Hessey, Semple (Holroyd 79), Martinez, S.Vaughan (J.Vaughan 83), Wilson (Rutherford 77), Bennett, Blundell. Subs not used: Sandwith, Allen.
Referee: S.Mathieson (Stockport).

City's run in this year's competition came to an end at Saltergate but not before the Blues battled back bravely against their League One opponents to force the tie into penalties.
Both Ashley Westwood and Roberto Martinez returned from suspension as manager Mark Wright rested some players ahead of Saturday's FA Cup second round tie at Bury. Ryan Semple made his full debut for the Blues.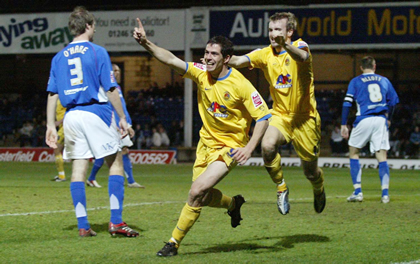 The crowd had hardly found their seats before City got off to the worst possible start, conceding a goal in the opening minute through Paul Shaw who shot home from the edge of the area following a though pass from Paul Hall. A minute later Ashley Westwood was well placed to charge down a long-range shot from Alex Bailey as the home side's whirlwind start continued.
The Blues defence held out until the 14th minute until it was breached again. John Danby did well to push a Kevan Hurst round the post for the first of a series of corners. City however failed to clear the third of these Caleb Folan headed home Alan O'Hare's cross to double the home advantage.
City were struggling to settle but struck back on 21 minutes as they reduced the lead to 2-1 with Paul Linwood heading home from a Martinez inswinging corner. Six minutes later City were level as another header, this time from Laurence Wilson, found the back of the Chesterfield net from Semple's cross.
The home side almost snatched the lead on the stroke of halt-time as Dandy was called upon again to push a header round the post, this time from Paul Shaw. The resulting corner was cleared by Stephen Vaughan for the last action of an entertaining half.
Just three minutes after the break City went ahead. Semple again found Wilson's head with his cross, this time the ball hit the crossbar but Gregg Blundell was close at hand to convert the rebound for his third goal in four matches.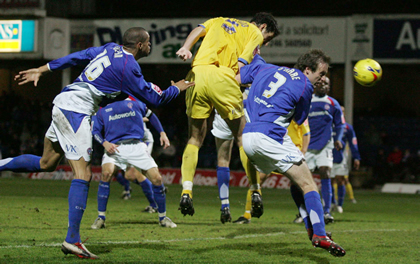 The delight at turning the tie round was short lived however. It took the Spireites just three minutes to hit back. Once again City failed to clear from a corner and Aaron Downes was on hand to convert O'Hare's pass. 3-3.
Chances were at a premium now until twenty minutes from time the home side restored their lead. Once again it came from a corner as Hurst set up Downes for his second goal of the night.
With time slipping by Wright made three substitutions bringing on Chris Holroyd and Paul Rutherford for Semple and Wilson and replacing Stephen Vaughan with his younger brother James for his Chester debut.
Westwood shot over the bar with 15 minutes remaining before Mark Allott missed a chance two wrap things up for the home side volleying high and wide from a Hurst corner.
With just four minutes remaining Phil Bolland headed home a cross from Rutherford to the delight of the small band of away fans to send the game into penalties. City went behind to the first spot-kick but failed with their first two through Hessey and Martinez, and were unable to capitalise as Shaw missed for the Spireites. Blundell did reduce the score to 2-1 before goalkeeper Roche converted his kick. It was left to youngster Holroyd to try and keep City in the match but he sent his spot-kick wide.
Penalty shoot-out
CHESTERFIELD
CHESTER CITY
Kevan Hurst scores

1

0

1

0

Sean Hessey misses (saved)
Paul Shaw misses (wide)

1

0

1

0

Roberto Martinez misses (saved)
Paul Hall scores

2

0

2

1

Gregg Blundell scores
Barry Roche scores

3

1

3

1

Chris Holroyd misses (wide)
---
Saturday 25 November
Shrewsbury Town 2 Chester City 1

League Two
Attendance: 4,464 (830 Chester) Half Time 0-1
Booked: Bolland, Hand, Blundell, Marples, Bennett.

Shrewsbury Town: Shearer, Herd, Langmead, Hall (Humphrey 69), Burton, Ashton, Edwards, Drummond, Davies, Asamoah, Symes. Subs not used: MacKenzie, Hope, Sorvel, Fortune-West.
Chester City: Danby, Marples (Hessey 78), Linwood, Artell, Bolland, Sandwith (Wilson 54), Bennett, S.Vaughan, Hand, Blundell (Semple 78), Walters. Subs not used: Palethorpe, Steele.
Referee: L.Probert (Gloucestershire).


With several City players leaving for Gay Meadow in the summer, this was always going to be a tense affair and that's just what it turned out to be. The match, played on a boggy waterlogged pitch, will no doubt be remembered for the brawl that greeted the full-time whistle more that the end-to-end 90 minutes that preceded it that saw City lose out to a controversial last minute penalty.
Early morning work on the pitch by the Shrewsbury staff enabled the match to pass a 9am inspection, though it cut up heavily in places any further afternoon rain would surely have seen the game called off.
City boss Mark Wright elected to start with Gregg Blundell and Jon Walters in the starting front line, leaving ex-Shrew Lee Steele to occupy a space on the bench. Midfielder Dean Bennett replaced the suspended Roberto Martinez and Paul Linwood returned to defence.
The boggy surface almost led to an opening goal in the first two minutes as home 'keeper Scott Shearer did well to tip over a Blundell shot for a corner. At the other end, minutes later, a misjudged City backpass was intercepted by Derek Asamoah, he took the ball wide of the advancing John Danby only for Phil Bolland to slide in and make a timely tackle to prevent the ex-City player opening the scoring.
It wasn't long before the deadlock was broken though. On eight minutes Blundell received a long clearance, chested the ball down before taking it wide past the despairing dive of Shearer. He turned and slotting the ball home just inside the far post to the delight of the 800+ City fans. This was a confident finish that we were all used to seeing from the striker at the start of last season.
Shearer was once again called into action to save a long range effort from Kevin Sandwith as City appeared to cope with the difficult conditions better that their hosts.
Bennett was on hand to block a shot from Dean Herd and Dave Edwards saw a snap shot just clear the bar with Danby beaten. Heard was again in the action down the right wing and he sent in a teasing cross that miraculously evaded everyone scrambling in the City goalmouth just four yards out and passed through to safety.
Blundell had a great opportunity to extend City's advantage as he was set through one-on-one with Shearer but he appeared to try and round the keeper and home skipper Sagi Burton was able to clear the danger when a second goal looked imminent.
On the stroke of half time the Shrews missed a golden opportunity to equalise. Once again it was a teasing cross, this time from Asamoah, that Edwards met just two yards out but somehow contrived to scoop the ball over the bar into the City faithful, it seemed harder to miss that score.
City left the pitch to a good reception from the traveling fans, but the mood was soon to change. Just four minutes after the restart Shrewsbury were level. Asamoah cut in from the left and worked his way along the byline without challenge before cutting the ball back to the unmarked Ben Davies just two yards out to turn the ball home.
Minutes later it seemed the game had been turned on its head as the ball found its way into the City net again only for the flag to deny Asamoah. The home side piled on the pressure and the City defence was rocking. Laurence Wilson replaced Sandwith as manager Wright attempted to change things. The pressure continued though as Edwards hit a post and several crosses skidded across the City six-yard box as the Blues rode their luck.
The home side appealed for a penalty after Davies went over in the box, scuffles broke out and as a result the ex-City midfielder was booked, presumable for diving.
With just four minutes remaining a rare City excursion into the Shrews half saw a right wing cross clearly appeared to be handled by Heard but referee Procter waved away City's appeals.
To compound matters, as the game ventured into added time a shot on the right edge of the box from Asamoah hit defender Paul Linwood on the arm from close range and referee Procter deemed the offence deliberate and awarded a spot-kick. Davies was prevented from taking it and it was left to Michael Symes to just steer the ball past Danby's dive.
Right on the final whistle Sean Hessey clattered into Asamoah and a melee broke out in front of the main stand. Seconds later, with players pushing and shoving each other Burton was shown a straight red card. Other brawls broke out around the dug-out's and there was a charge by several players down the tunnel. Whatever the reasons there are bound to be severe repercussion for both sides once the referee's report has been submitted to the FA.

Picture © Evening Leader – Gregg Blundell celebrates.
---
Friday 17 November
Chester City 1 Stockport County 1

League Two
Attendance: 3,624 (1,285 Stockport County) Half Time 0-1
Booked: Martinez.

Chester City: Danby, Marples, Artell, Bolland, Sandwith, S.Vaughan (Bennett 82), Martinez, Hand, Wilson, Steele (Blundell 82), Walters. Subs not used: Palethorpe, Linwood, Hessey.
Stockport County: Ruddy, Kane, Williams, Clare (Briggs 45), Griffin, Poole, Dinning, Taylor, Gleeson, Bramble, Le Fondre (Proudlock 72). Subs not used: Spencer, Rose, Malcolm.
Referee: J. Singh.

Chairman Stephen Vaughan was fuming after seeing this latest display from City. The Blues came from a goal down at the break to share a point with their Cheshire neighbours but the disjointed first-half showing brought the following rebuke from the chairman after the match.
"The league game at Shrewsbury Town next Saturday and the FA Cup tie at either Bury or Weymouth the week after could define our season, and I will be demanding a marked improvement from everybody concerned to what I witnessed in the first 45 minutes on Friday evening. I want to re-emphasise to my fellow directors and our supporters, that one way or another there will be an improvement in results, I will ensure that."
That first-half showing saw City take 33 minutes before their first effort of note from Lee Steele after they'd earlier conceded a goal through some lacklustre defending.
With Ashley Westwood serving a suspension and Paul Linwood injured manager Mark Wright drafted in Simon Marples and Stephen Vaughan in place of Sean Hessey and Dean Bennett who both played in last weeks FA Cup encounter at Clevedon.
On a cold and wet Deva night It was the Hatters who started stronger and both Tes Bramble and Adam Le Fondre had half chances top open the scoring, Le Fondre also brought out a great save from John Danby in the home goal too maintain parity after the striker had broken through onto Jason Taylor's through ball.
Danby was called into action saving bravely at the feet of the onrushing Tes Bramble after another quick County raid had stretched the City defence. Danby required several minutes of treatment following the challenge that brought a yellow card.
On 26 minutes the visitors opened the scoring. A left wing cross from Taylor was allowed to drift across the City six yard box, Sandwith stuck out a leg to clear the danger but completely missed the ball allowing David Poole to hook the ball home at the far post.
Steele headed straight at John Ruddy when well placed six yards out, City created several more attempts on Ruddy's goal before the half ended.
The Blues, no doubt after a half-time roasting, came out fired up continuing on from where they'd left off.
Ruddy cleared his lines well following one penalty area scramble and he also did well to save one again from Steele, but just before the hour mark City were level.
Stephen Vaughan played a pass into Jon Walters from the right wing, he shielded the ball turned and slid a low shot past John Ruddy into the corner of the net for the edge of the six yard box.
Moments later Jon Walters almost gave Chester the lead though his header was gathered by Ruddy, Steele then shot inches wide City, who were dominating more after the break, looked the more likely of the two sides to now to go on and get the winner.
It wasn't all one way traffic though as Danby though was forced to make a crucial save twelve minutes from time to deny Bramble.
In the closing stages City had to great chances to snatch the winner. Four minutes from time Bennett and substitute Gregg Blundell combined well to set up Jamie Hand but he shot straight at Ruddy. Then in the in the final minute Blundell again worked ball through for Walters one-on-one on the County 'keeper. With everyone expecting him to shoot Walters instead chose to try and find Laurence Wilson with a pass, which he didn't, and the opportunity was wasted.
---
Saturday 11 November
Clevedon Town 1 Chester City 4

FA Cup Round 1
Attendance: 2,261 (275 Chester) Half Time 0-1
Booked: -.

Clevedon Town: Greaves, Witcombe, Bater, Jacobs (Rawlins 75), Scott, Clark, Hapgood, Mullings, Page, Pitcher, Haines. Subs not used: Sheppard, Aschemie.
Chester City: Danby, Hessey, Sandwith, Bolland, Artell, Bennett, Martinez, Hand, Wilson (S.Vaughan 83), Steele (Holroyd 87), Walters (Blundell 69). Subs not used: Palethorpe, Allen.
Referee: S.Bratt (West Midlands).


The winds which had ripped off Aldi's roof near the site of Chester's old ground at Sealand Road and had caused ferries across the Irish Sea to be cancelled, tugged at the old oak trees in the corner of the Hand Stadium. Clevedon's newish home was making its debut in the first round proper of the FA Cup and the illustrious Chester City were the honoured guests.

A small army of people were drafted in to welcome the crowds of people for this much anticipated tie. From programme sellers to workers at the local equestrian centre – which doubled up as a car park for the day – all played their part. The Seasiders usual attendance of below 200 swelled to over 2,000 as a new record attendance was set for the ground. Chester have often been the visitors when clubs have recorded their lowest attendance so this was a welcome change.

Plenty of City followers found their way into the huge supporters' lounge which has another life as a night club during the week. Outside we met with a fundraiser for a charity who is following every round of the FA Cup all the way to (we hope) Wembley. We donated to his worthy cause before he confessed to being a Tranmere Rovers supporter. The Exiles were out in force – there are almost enough in the West Country to form their own branch.

If the cold and bracing wind was likely to be a leveller between the two sides – three divisions apart – Chester used it to their advantage in the first half. Sensibly they passed the ball about on the ground and moved the ball about quickly despite the home sides' energy in trying to close them down. Some neat approach play on seven minutes led to Hessey thumping a cross to the far post which Wilson swept into the opposite corner. City were ahead and nerves about a giant killing began to settle. Chester imposed themselves on the Southern League side and barely let them out of their own half. The crossbar was struck and Artell had a goal disallowed for offside. Our only worries at half time were about Chester would regret not making their dominance tell further.
Soon after the interval the lead was doubled. A free kick outside the area was hit straight into the wall and struck a defender's hand. The referee awarded another kick right on the edge of the box. Martinez worked the ball wide to Hand who thumped a fierce shot into the roof of the net (How many players can claim to have scored in a Stadium with which they share a name?). Shortly afterwards Walters made it three with a towering header from a corner and – an unaccustomed feeling – City fans began to relax and enjoy the game as it played out.

Blundell made an almost instant impact by scoring as soon as he came on and then Pitcher completed the scoring with a consolation – which no-one but perhaps Mark Wright would begrudge – for Clevedon. City can look forward to the next round but will it be a return to the West Country at Weymouth or north to Gigg Lane?

Colin Mansley
At the match on Saturday was Sebastian Blair who is raising money for MENCAP SPORT. He is following the progress of the FA Cup from the first qualifying round (Wembley v Thame United) through to the final. Clevedon v Chester was the ninth match so far in the sequence having followed Wembley › Redbridge › AFC Hornchurch › Welling United › Clevedon Town and now the trail continues with Chester City. Sebastian will be collecting donations at our second round match whether it is at Bury or Weymouth. If you would like to donate to the cause, or read more about the venture, please visit his website here.
---
Friday 3 November
Darlington 1 Chester City 0

League Two
Attendance: 3,630 (157 Chester) Half Time 1-0
Booked: -. Sent-off: Westwood.

Darlington: Russell, Close, Clarke, Collins, James, Wainwright, Cummins, Keltie, Smith, Johnson (Holloway 90), Conlon (Armstrong 86). Subs not used: Stockdale, Giallanza, Logan.
Chester City: Danby, Bolland, Westwood, Artell, Marples, Wilson, Bennett (Sandwith 67), Hand, Martinez, Walters (Blundell 75), Steele. Subs not used: Palethorpe, Hessey, Holroyd.
Referee: R.Booth (Nottinghamshire).



Following the midweek Trophy win over Stockport County, City came back down with a bump as they lost their second successive League Two outing by a single goal margin. It could have read a lot worse however with the home side hitting the City crossbar on no less that three occasions in the second period.
After ending his 16 match goal drought on Tuesday, striker Gregg Blundell was relegated to the substitutes bench at the expense of Jon Walters as manager Mark Wright took a look at the Lee Steele/Walters partnership. Roberto Martinez also returned to the side following suspension, replacing Shaun Hessey. Ashley Westwood returned after injury to replace Kevin Sandwith in the starting X1.
The home side took the lead on 18 minutes. Patrick Collins' clearance found Simon Johnson on the left, he beat Simon Marples and crossed for Barry Conlon whose shot was blocked but Micky Cummins reacted first to slot home the loose past the outstretched hand of John Danby.
City began to get a foothold in the game, enjoying plenty of midfield possession, but despite this they created only one real chance of note during the period when Dean Bennett, having got past the home defence, sent over a tantalising cross that slipped right across the goal just begging for an outstretched City leg to divert it home but it wasn't to be.
Laurence Wilson tried his luck from long range just before the break but Russell in the home goal was well positioned to make a comfortable save.
Darlo almost doubled their lead just after the break as Martin Smith's curling effort smacked against The City bar and Cummins saw his follow up shot deflected over.
Not long later, as the City defence went AWOL, Neil Wainwright broke clear with Johnson, he elected to shoot rather than pass as Dandy advanced only to see his effort strike the woodwork.
Wright introduced both Sandwith and Blundell as City continued to enjoy plenty of possession without troubling the home defence. Conlon made it a hat-trick of bar strikes when his effort bounced back following a Clark Keltie cross with five minutes remaining.
Despite this City had two glorious chances to grab a point in the dying minutes as Blundell shot over and Wilson shot straight at Russell from six yards when it seemed easier to score.
With the game heading into stoppage time Ashley Westwood received a straight red card from referee Booth following a challenge on Johnson and now faces a three match ban straight after returning from injury.
---