---
Friday 30 March
Hartlepool United 3 Chester City 0

League Two
Attendance: 6,059 (125 Chester) Half Time 2-0
Booked: Bennett, Bolland. Sent-off: Bolland.

Hartlepool United: Konstantopoulos, Barron (Gibb 52), Nelson, Clark, Humphreys, Brown (Hignett 78), Sweeney (Bullock 38), Liddle, Monkhouse, Barker, Williams. Subs not used: Provett, Foley.
Chester City: Danby, Linwood, Bolland, Artell, Hessey, Bennett, Hand, Wilson, Sandwith, Yeo (Rutherford 79), Holroyd. Subs not used: Brownlie, Cronin, J.Vaughan, Steele.
Referee: R.Shoebridge (Northamptonshire).



For the trip to the north-east Manager Mark Wright recalled a fit again Dean Bennett at the expense of Paul Rutherford and Kevin Sandwith replaced James Vaughan as City faced a difficult task taking on league leaders Hartlepool United, currently enjoying a 22 match unbeaten run.
If that task wasn't going to be hard enough, it was made all the more difficult as the Blues conceded the first goal of the game just three minutes from the start through some slack defending.
Phil Bolland was penalised for a late tackle on Eifion Williams. Richie Humphreys free-kick was swung over to find unmarked dangerman Richie Barker with plenty of time to plant a free looping header past John Danby in front of the small band of travelling support.
James Brown saw a far post shot clear the bar as the City defence reeled under some early home pressure.
Chester came more and more into the game after the early setback though. They enjoyed plenty of possession as they showed a dogged determination to get back on level terms.
Simon Yeo was pulled up by a late linesman's flag before the Blues saw two efforts go close In a couple of minutes as Sean Hessey shot wide and then Paul Linwood saw a header from a corner cleared off the line, the ball fell to Bennett just six yards out but his shot was straight at home 'keeper Dimitrios Konstantopoulos who saved when an equaliser seemed certain.
Chris Holroyd also tested Konstantopoulos before, against the run of play, the home side doubled their lead on 26 minutes.
Richie Humphreys broke down the right and sent a cross-field pass to Andy Monkhouse who had plenty of time to bring the ball down and shoot across Dandy for the edge of the box for the second.
Brown was in the action again soon after the break and Danby saved well to prevent the youngster adding the third. Sandwith saved from Gary Liddle and Barker saw an effort blocked by a City player
With 20 minutes remaining Chester were reduced to ten men as defender Phil Bolland, booked only moments earlier, was shown a second yellow card for a challenge on Brown. Worse was to follow as Humphreys' free-kick was crossed for Ben Clark to head home and complete the scoring.

In a rare effort at the other end Sandwith shot wide before City introduced Rutherford for Yeo with 11 minutes remaining but it was too late for City who will rue those first half missed opportunities.
---
Saturday 24 March
Chester City 2 Barnet 0

League Two
Attendance: 1,591 (143 Barnet) Half Time 1-0

Booked: Hand.


Chester City: Danby, Linwood, Bolland, Artell, J.Vaughan (Bennett 77), Rutherford (Maylett 60), Hand, Hessey, Wilson, Holroyd, Yeo. Subs not used: Steele, Brownlie, Sandwith.
Barnet: Flitney, Hendon, Yakubu, King (Devera 62), Gross, Cogan (Hatch 65), Sinclair, Bailey, Graham, Birchall, Allen (Grazioli 81). Subs not used: Harrison, Nicolau.
Referee: A.Penn (West Midlands).
The sweet smell of chocolate from the factory at the back of the Harry McNally Terrace mingled with the equally welcome taste of success as Chester notched a welcome win in the March sunshine.

Wright handed starts to three of City's young hopefuls. Chris Holroyd had made his debut two games ago at Walsall. Now Paul Rutherford and James Vaughan made their bow at the Deva. Barnet started crisply and swept towards the home end with a flurry of attacking movement. A free kick on the edge of the box saw Danby stumble and in the ensuing scramble Vaughan's red boot seemed to slice the ball towards the goal. Danby recovered well to claw it away from the top corner.

Gradually City gained territorial advantage and the crowd were heartened when the impish Rutherford skipped past a couple of defenders to find himself one-on-one with the keeper. The tall Flitney parried the youngster's shot but both the move and the player showed promise. The Bees displayed a little weakness when defending corners. Twice Linwood sent headers narrowly over when well placed. In first half stoppage time Linwood won a header at the far post from another and sent it back across goal for Bolland to head into the net. Just prior to this we breathed a sigh of relief when Oliver Allen's shot hit the base of City's post at the other end.

At half time Fred Wilcox, veteran of the 1947/8 season, leant on his white stick to take a bow. He had faced a Blackpool team, Stanley Matthews included, on the way to the FA Cup Final.

After the break, the Blues made the most of the psychological advantage of a goal just before half time and pressed for another. Linwood came sliding in at the far post but his shot zoomed narrowly wide. Then the ever alert Yeo intercepted a Barnet pass and nipped in to set Holroyd into the box. He turned and pulled the ball back for Hand to finish with a fine shot from the edge of the area.

Rutherford limped off to be replaced by Maylett soon afterwards and a visibly tiring Vaughan gave way for Bennett. City held firm, the defence never gave an inch and Hessey gave a robust performance in the middle of the park.

The much needed win halted a seven match slide and all but preserved City's Second Division status for next season.


| | |
| --- | --- |
| | |
| | |
| --- | --- |
| | |
| | |
| --- | --- |
| | |
---
Friday 16 March
Chester City 0 Rochdale 1

League Two
Attendance: 2,197 (683 Rochdale) Half Time 0-0

Booked: Yeo, Artell, Hand.


Chester City: Danby, Linwood, Bolland, Artell, Marples, Maylett (Holroyd 74), Hand, Wilson, Hessey, Yeo, Brownlie (Steele 57). Subs not used: Sandwith, Cronin, Meechan.
Rochdale: Gilks, Ramsden, Goodall, McArdle, Perkins, Muirhead, Doolan, Turnbull (Crooks 67), Rundle, Dodds (Thompson 81), Murray. Subs not used: Rigby, Jackson, Prendergast.
Referee: A.Taylor (Cheshire).

Simon Yeo was passed fit to start against Rochdale but a goal from loan striker Louis Dodds after four minutes was enough to give Dale the points and continue City's miserable home run that has seen them win just once, against Bury, in their last eight matches at Deva Stadium.

Though Yeo was passed fit Dean Bennett wasn't, the midfielder failing to recover from a thigh injury picked up at Walsall so in stepped Sean Hessey. After criticising his forwards last week, manager Mark Wright dropped both Lee Steele and Chris Holroyd to the bench in favour of Yeo and on-loan Royce Brownlie.
In front of another low Friday night crowd, over 2,000 down on the corresponding Friday match last season, City couldn't have got off to a worse possible start. There were just four minutes on the clock when Rochdale, playing with the wind behind them, took the lead. Glenn Murray made a probing right wing run and pulled the ball back for Dodds, on his full Dale debut, to tuck the ball away in front of the away support.

Dangerman Murray fed Dodds again in the next meaningful attack of the half but John Danby was well placed to save his effort as City were being overrun in midfield.
The Blues were struggling to break down the visitors defence, their only shot of note on target in the half coming from Jamie Hand over 30 yards out that was easily gathered by Matthew Gilks Just before the break Brad Maylett blazed an opportunity over the bar
Ten minutes after the break referee Taylor waved away penalty appeals as Yeo tumbled under a challenge from david Perkins. Wright replaced Brownlie with Steele as City looked to increase the pressure. Seven minutes later Taylor did award City a penalty after a foul by Rory McArdle in the box following a corner. However after consulting one of his assistants the decision was reversed and McArdle had his yellow card scrubbed out.
Holroyd replaced Maylett and City created several chances of note in the dying stages when they finally sparked into ilfe. Hessey saw a shot fly over the bar and moments later Paul Linwood saw a goalbound header matched by a great save from Gilks to deny the City defender an equaliser.
As the game moved into added time Yeo saw a shot crash against the woodwork but with City pressing they were caught on the break, though Murray could only turn Muirhead cross wide when a second goal looked a certainty.
So another poor home performance from City who failed to test a side lying four places below them until the final five minutes. Next up is on Saturday at Deva Stadium are Barnet another of the clubs just below City. The level of attendance at the weekend, with no Premiership matches taking place, may give a stark indication of what many supporters think of the current 'entertainment' being dished up.
---
Saturday 10 March
Walsall 1 Chester City 0

League Two
Attendance: 5,282 Half Time 0-0

Booked: Artell.


Walsall: Ince, Pead, Gerrard, Dann, Fox, Wrack (Sam 27), Dobson, Keates, Cooper, Butler, Harper (Taylor 81). Subs not used: Cederqvist, Demontagnac, Bossu.
Chester City: Danby, Bolland, Linwood, Artell, Marples, Maylett (Kearney 46), Hand, Bennett (Cronin 46), Wilson, Steele (Brownlie 72), Holroyd. Subs not used: Sandwith, Hessey.
Referee: D.Foster (Tyne & Wear).



City manager Mark Wright gave a full debut to Chris Holroyd who started alongside Lee Steele up front for City's visit to a sunny Bescot Stadium. Holroyd had made 15 appearances this season, all from the bench, and he was picked ahead of on-loan signing Royce Brownlie.
The youngster almost helped City to a dream start on 13 minutes after he won the ball on the left to feed Steele only for the City forward, with just Clayton Ince to beat, to blast his chance high and wide from close range to spurn a priceless opportunity.
The home side started well, attacking down the City left. Time after time Laurence Wilson was left alone to deal with two onrushing forwards as Walsall spread the ball around and attacked with pace. They forced a succession of corners but the City defence with Phil Bolland and particularly Dave Artell held firm to clear any danger.
Craig caused concern in the City defence as his cross shot was just out of reach of the onrushing Martin Butler.
Artell caused outcry amongst the home fans with he crashed in a two footed tackle on Wrack but referee Foster produced a yellow card with the home fans crying Off! Off! Off!. Wrack lasted a few minutes more before being replaced by Hector Sam.
Brad Aylett tried an effort from long distance but Ince gathered comfortably
John Danby, who has saved City on a number of occasions in recent games, pulled off a magnificent save low-down from Butler to turn the striker's shot around the post in front of the travelling support. The resulting far post corner was blocked by the City defence.
The Blues conceded a free-kick just outside of the box but although Keates' effort cleared the City wall Danby gathered under the bar. In the last action of the half Sam saw a long range effort fly just wide.
Dean Bennett, injured on the stroke of half-time was replaced by Glenn Cronin, making his first appearance for Chester at the break while Brad Maylett made way for Mark Kearney.
The Blues fans were treated to a glimpse of record scorer Stuart Rimmer who was a guest of the Saddlers, another of his former clubs, to help with a marketing promotion.
Danby was once again in the action straight after the break tipping over an effort from danger man Butler and moments later Keates sent a flick header just wide as the home side pressed for the opening.
At the other end City's chances were few and far between but when they did come they were spurned. Steele turned and sent in a snap-shot straight at Ince from eight yards and moments later Holroyd made space, shook off a defender and sent in a low far post effort that was saved well by Ince at full stretch.
The only goal of the game came on 67 minutes. The ball was pumped into the City box from a free-kick and a blue shirt appeared to handle it. Wilson complained to the referee but he'd pointed to the spot without hesitation and Keates smashed the ball past Dandy.
Brownlie replaced Steele but City could produce nothing in response as cramp got the better of Holroyd in the latter stages of the game. The home side almost doubled their lead as Sam saw a shot bounce out from the inside of the post as City slumped to their second away defeat in five days.
---
Tuesday 6 March
Mansfield Town 2 Chester City 1

League Two
Attendance: 2,366 (89 Chester) Half Time 1-1

Booked: Linwood, Hessey.


Mansfield Town: White, Mullins, Hjelde, Baptiste, Jelleyman, Arnold (Hamshaw 60), D'Laryea, Dawson, Hodge (M.Boulding 70), Conlon (Gritton 83), Brown. Subs not used: Muggleton, Charlton.
Chester City: Danby, Marples, Bolland, Hessey, Sandwith, Hand, Bennett, Linwood, Wilson, Brownlie (Steele 61), Maylett (Meechan 77). Subs not used: Allen, Kearney, J.Vaughan.
Referee: E.Ilderton (Tyne & Wear).



Chester's dwindling play-off hopes all but disappeared with two defensive lapses which saw Mansfield claim a 2-1 victory despite an early City lead.
The 89 travelling fans did at least have something to remember from their trip, with 10 shots on and off target, as well as eight corners and an impressive ninth minute goal from Brad Maylett.
The match had actually barely started when Maylett made the most of a Mansfield backpass blunder and fired an unstoppable low shot right into the far corner. City had already threatened with two corners and a Kevin Sandwidth shot.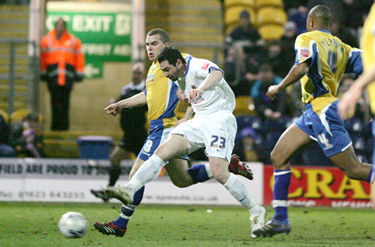 Perhaps Mansfield, who just before kick-off had been told a Barbados trip awaited them if they reached the play-offs, were dreaming of sandy beaches, blue skies and cocktails when Maylett woke them up.
Soon after the Stags went behind they were threatening City's goal, but John Danby parried, then held onto, a powerful shot from Stephen Dawson. They had another handful of chances, but captain Phil Bolland, Simon Marples and Jamie Hand were all in the right place to deal with them.
However they got their equaliser on the 27th minute, when a well-measured pass over the top of the midfield found Simon Brown perfectly placed to meet it as he ran towards goal. He collected the ball well and had no trouble slotting it home.
Thankfully City still pressed for another first half goal, with Laurence Wilson and Maylett working hard to supply lone striker, Royce Brownlie. He had a shot towards the end of the half, but didn't seriously threaten the target.
Soon after the re-start, Mansfield were preying on goal again and Danby's blushes were spared by an off-the-line Bolland clearance from a Nathan Arnold strike.
Chester then got back into the action, with Marples getting into the most attacking positions I've seen so far this season. He made one powerful run past three Mansfield players, but Wilson failed to find the target when he passed to him.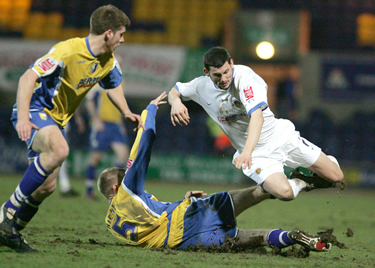 Lee Steele came on for Brownlie on the 61st minute, but mostly seemed to be behind the run of play for the rest of the game. City did win a couple of corners, but didn't really look like scoring from them.
City's next substitution came on the 77th minute when Alex Meechan replaced Maylett and it looked like they were playing for another draw. Danby does seem to be getting expert at taking his time at goal-kicks!
But Chester were punished soon after when the defence failed to deal with a Stags' corner. The cross came through to Alex Baptiste and he headed an unstoppable goal to keep Mansfield's Barbados dream alive.
Both teams continued to make a game of the closing spell and it looked a distinct possibility that there would be a fourth goal. Mansfield's Brown came the closest and Dean Bennett had a wild injury time shot, which went well wide.
But it was Mansfield who collected the three points and the City fans had to console themselves by reflecting on a spirited performance and a rare post-match statistic which showed Chester were only responsible for three fouls. Even if City don't reach the play-offs, perhaps there's a chance of a late bid for this season's Fair Play Award?
---
Friday 2 March
Chester City 1 Torquay United 1

League Two
Attendance: 1,996 (155 Torquay) Half Time 0-0

Booked: Bennett.


Chester City: Danby, Linwood, Bolland, Artell (Wilson 8), Hessey, Kearney, Bennett, Hand, Sandwith, Brownlie, Yeo (Maylett 39). Subs not used: Meechan, J.Vaughan, Holroyd.
Torquay United: Raynor, Andrews, Angus, Gordon, John (Hill 62), Mansell, Smith, Kerry (Hockley 81), Robinson, Thorpe, Easter (Cooke 45). Subs not used: Horsell, McPhee.
Referee: A.Marrinier (West Midlands).

Lee Thorpe scored for Torquay with their first meaningful shot of the game. The fact that it came in the last minute, from the penalty spot and equalised Dean Bennett's earlier goal for City summed up a frustrating evening.

There seemed little threat to Chester's goal when substitute Hockley collapsed in a heap in the penalty area. Andre Marriner, who had earlier been verbally abused by the supporters in the Harry McNally End, awarded the spot kick. Thorpe, a striker admired by Wright as he admitted before the match, scored confidently in front of a deserted South Stand but wheeled away towards the 155 Gulls fans in the West.

City may well have to settle for a rebuilding period after their slim hopes of making the play offs were all but ended with this result. Losing star players like Walters, Blundell and Martinez, not to mention erstwhile captain Stephen Vaughan was always going to mean difficult times ahead and so it has proved.

Wright drafted in Brownlie on loan from Swindon and the Aussie led the line fairly well tonight. Unfortunately for him his debut is likely to be remembered for a glaring miss which would have secured all three points for City. He got there a fraction of a second too late from Wilson's low cross and his stabbed shot from four yards flew narrowly over the bar. Earlier Bennett had put Chester in the lead following a similar left wing attack which resulted in him firing home from eight yards (Picture below).

The first half had been largely undistinguished with the highlight being Kearney's rasping shot from the edge of the box turned spectacularly round the post by the Torquay keeper. Chester dominated possession and worked hard not to allow Torquay time on the ball all game. They also had to contend with an early injury to Artell, following a clash of heads with Thorpe and Yeo too limped off later to be replaced by debutant Brad Maylett, having joined Chester from Boston. Intriguingly there was no place on the bench for Lee Steele, rumoured to have fallen out with Wright following criticism of his form.

In contrast to the vast majority of City fans I enjoyed the game – apart of course from the last minute. For my two lads (6 & 7) it was a first night match and a special occasion for them. They, if they remember anything will think of a big orange Cheshire Cat handing sweets out to them and maybe the cheers when City scored. Not for them the frustration and disappointment of failing to win. Next morning they were too busy re-enacting the match dressed in full City kit, wellies and making a right mess of the lawn.


| | |
| --- | --- |
| | |
| | |
| --- | --- |
| | |
---