---
Saturday 7 August
Nantwich Town 3 Chester 2
Pre-season friendly
Attendance: - Half Time: 1-1
Booked: -.

Nantwich Town: Terry, Bourne (T.Stair 67), Hatton (Devine 64), Langley, Harrison, Hughes, Webb (J.Stair 53), Lawrie, Miller (Thompson 78), Cooke, Saunders (Mwasile 64). Subs not used: Danquah, Edwards.
Chester: Gray, Trialist A (Oyibo 64), Grand (Trialist B 83), Morgan, Weeks, Glendon, Johnston, Hardy (Marsh-Hughes 76), Stephenson, Waring, Dudley. Subs not used: Worsnop, Cartwright, Lowe.
Anthony Dudley misses a late penalty as Chester, with a makeshift defence, lose their final pre-season friendly at Nantwich Town.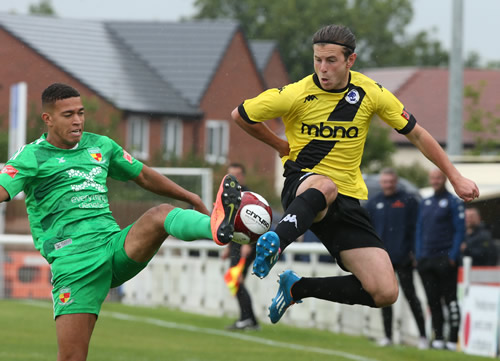 •
Match pictures
---
Wednesday 4 August
Chester 0 Bolton Wanderers 0
Pre-season friendly
Attendance: 612 Half Time: 0-0
Booked: -.

Chester: Gray, Morgan, Livesey (Roberts 78), Williams, Cowan, Glendon, Weeks, Hardy (Stephenson 63), Johnston (Marsh-Hughes 75), Dudley (Trialist 81), Waring (Oyibo 63). Subs not used: Worsnop, Burke.
Bolton Wanderers: Gilks (Hutchinson 78), Comley, Senior, Colvin, Conway, Tutte, Thomason (Tweedley 68), Crawford, Darcy (Wilcox 80), Politic (Henry 68), Fitzmartin. Subs not used: Toure, Pettifer.



Chester's final home friendly against a Bolton Wanderers XI ended goalless but was an absorbing watch. The Trotters, backed by a fair following, included one or two experienced players among their side including the veteran 'keeper Matt Gilks – who had helped revive their fortunes last season – and Romanian midfielder Dennis Politic – on the road to recovery after a year out with a knee injury. There was, disappointingly, no return for Antoni Sarcevic – so much revered at the Deva.

City kept a similar line-up from last Saturday but with Waring starting instead of Stephenson. Waring it was who set up the best opportunity of the first half when he judged the bounce of the ball better than Comley and then squared it for Dudley to burst clear. Chester's Lewandowski-look-alike seemed to have scored when he shot past Gilks but the ball rebounded off the post and Bolton were able to clear. Meanwhile Wanderers had moved the ball round extremely quickly as they probed for an opening. Gray had to save bravely and smartly at the feet of Thomason.

Blues forced a number of corners in the second half as they exerted a greater degree of pressure. Williams was wide with a header from one and Stephenson, on as a sub, saw his snapshot hit Gilks and fizz over the bar. Weeks also had efforts – one from distance as he saw Gilks off his line – and another from a close angle into the side netting when a cross might have been a better option.

Both sides made a number of changes as the pace of the game continued unrelentingly. Unlike competitive league or cup games there was little to see in the way of gamesmanship or time-wasting even if the lack of jeopardy blunted its edge a bit. But with players on both sides wanting to impress their managers there was no lack of skill or endeavour to admire.

Bernard Morley spoke after the game about how pleased he was that Chester kept their shape against full-time opponents whose speed of movement and thought threatened to overwhelm. City's new signings continue to impress – Cowan covered a lot of ground, both in attack and defence; Oyibo and Stephenson came on for assured cameos; Williams looks capable at the back. The midfield trinity of Glendon, Weeks and Hardy combined effectively and Johnston's pace looked threatening. Overall though this was another solid, disciplined and silky performance from the Blues as they prepare for the new season a week on Saturday.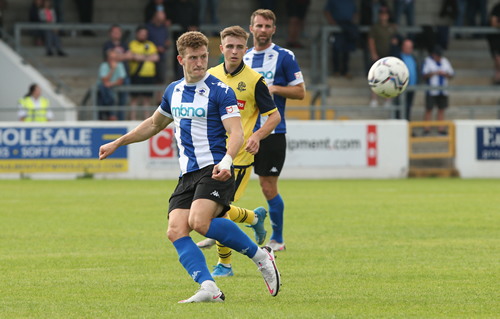 •
Match pictures
---
Saturday 31 July
Chester 3 Fleetwood Town 0
Pre-season friendly
Attendance: 422 Half Time: 1-0
Booked: -.

Chester: Gray, Morgan (Sloane 76), Livesey (Burke 85), Williams, Cowan, Glendon (Lowe 85), Weeks (Clarke 85), Hardy (Clark 70), Johnston (Oyibo 59), Dudley (Marsh-Hughes 76), Stephenson (Waring 59).
Fleetwood Town: Crellin, Bird, Hayes (Wallace 77), Boyle, Wilson, Teale, Johnston, Thompson (Raffie 69), McMillan (Smith 77), Baggley (Edwards 77), Conn-Clarke.



The Fleetwood Academy minibus in the car park gave a hint that the first team were otherwise engaged for this fixture. When Dudley scored a delightful goal after only five minutes following his clever pivot and one-two with Hardy, it looked like this might be an uneven match.

But the youthful visitors – a development squad – grew into the game impressively and began to push City back. Left wing back Hayes ended one move by blazing narrowly over the bar – the ball ricocheting spectacularly in one of the entrance tunnels. Then a precise and tantalising pass lobbed over the defence set up a chance for Conn-Clarke whose effort was blocked by Cowan's last ditch tackle. Chester were glad of the break at half-time but came back renewed in energy. Johnston harried the Fleetwood defence like a demented gnat and forced an error out of keeper Crellin. His pass was under-hit and Johnston teed up Dudley to burst through and pass to Hardy. The midfielder cut back and beat the 'keeper at the near post.

Following a flurry of substitutions Oyibe put a gloss on the scoreline with tricky control on the right and a cool finish across the goal. Oyibe's every touch seemed spot on and he later laid the ball back for Marsh-Hughes to scuff his shot wide. Fleetwood continued to be a threat with Baggley testing Gray with a long-rage effort and then cutting behind the defence on the left to be denied by the keeper's parry.

In the end, then, a convincing win against a busy and technically gifted young opposition. Both sides played good possession football with precise passing. How much this will resemble the slog and physicality of the National League North in November remains to be seen – but an enjoyable watch nonetheless.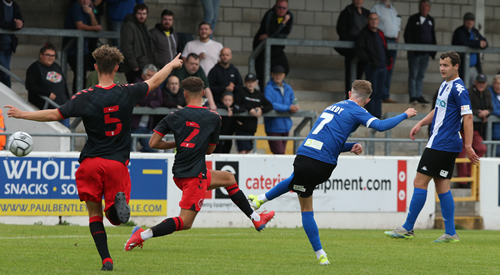 •
Match pictures
Watch the goals (YouTube)
---
Tuesday 27 July
Trafford 4 Chester 3
Pre-season friendly
Attendance: - Half Time: 2-2
Booked: -.

Trafford: Cooper, Neild, Sloan, Graham, O'Brien, Rooney, Belcher, Hughes, Hazeldine, Mulholland, Morgan. Subs: Palma, Jordan, Barlow, Sheridan, Otaluna, Burke, Bradshaw, Higginbottom, Bentley.
Chester: Gray (Worsnop 46), Roberts, Livesey (Williams 65), Cowan (Clarke 77), Morgan, Weeks, Glendon (Burke 77), Hardy (Lowe 77), Dudley (Marsh-Hughes 77), Oyibo (Clark 33), Waring (Stephenson 65).
Referee: B.Wyatt.

Two goals from George Waring and a third from Jamie Morgan weren't enough, as the Blues lost an entertaining encounter 4-3 last night at Northern Premier League Division One North side Trafford, who clinched their win with a goal two minutes from time.




• Match pictures | Watch the goals (YouTube)
---
Saturday 24 July
Radcliffe 1 Chester 2
Pre-season friendly
Attendance: - Half Time: 0-2
Booked: -.

Radcliffe: Belford, Trialist, Trialist, Lenighan, Thornley, Jones, Hall, Crothers, Akpa-Akpro, Grant, Orlando-Young. Subs: Nacarro, Sajjad, Trialist, Carroll, Grogan, Ibrahim, Marshall.
Chester: Gray, Roberts, Cowan, Livesey, Grand (Morgan 36), Glendon, Weeks, Hardy (Clark 65), Johnston (Oyibo 65), Stephenson (Clarke 82), Dudley (Marsh-Hughes 82). Subs not used: Worsnop, Burke, Williams.
Referee: Alan Bennett.



Just up the hill from where Sir Frank Worrell and Sir Garry Sobers played cricket for Radliffe in the 'fifties and 'sixties, the football team entertained Chester for the second summer running. Last year City were turned over by a useful outfit from the league below. This year, however, Chester were well into their stride and overcame some early pressure to dominate the first half. The Blues went into the interval two goals to the good after Grand had glanced home Weeks' cross from a right-wing corner routine and Stephenson scored with the deftest of touches following Johnston's burst of pace down the right.

Chester's football was a delight to watch at times with Weeks, Glendon and Hardy combining well in midfield, Roberts striking up a good understanding with Johnston and Stephenson hugging the left touchline to good effect. Stephenson might have scored a couple more in the first half alone – seeing one shot cleared off the line and then rounding the garishly attired Belford to fire wide just after City's second. Belford did well to save at point blank range from Grand's header.

Grand was withdrawn through injury after half an hour or so and Roberts switched to left back as cover – Morgan coming on at right wing back. Radcliffe made a couple of changes themselves with Grogan replacing the injured Jones and Omar Ibrahim coming on for Orlando-Young who'd been run ragged by Johnston.

Blues tried to add to their tally in the second half with Weeks going close and Hardy just failing to connect on a couple of occasions. But it was The Borough who scored the only goal of the second half when Gray's wayward throw ended up with Grant who chipped the stranded keeper. Gray then made amends with a spectacular save from Thornley's header. At the other end Glendon cracked a free kick against the corner of upright and bar with Belford beaten.

The injury to Grand aside, Chester will be pleased with the way they withstood the testing encounter that Radcliffe gave them on Bernard Morley's old stamping ground. They look to continue progress as they pit themselves against League opposition in Fleetwood next weekend and Bolton shortly after.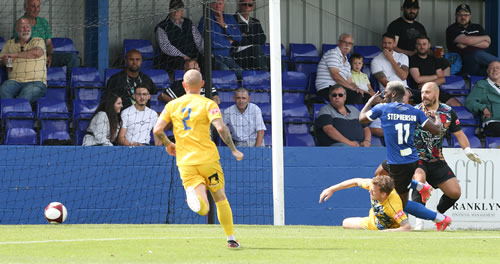 •
Match pictures
---
Friday 23 July
Macclesfield FC 0 Chester 3
Pre-season friendly
Attendance: - Half Time: 0-2
Booked: -.

Macclesfield FC: Hodgson (Pierce 65), Kennerley (Pemberton 65), Fregapane, Beck, Owen, Grimshaw, Arnasalam (Nelson 80), Crofton (James 69), De Silva (Kennedy 65), Dwyer (Hanks 69), Whitaker. Subs not used: Dos Santos, Yusuff, Doumbouya, Ajayi.
Chester: Gray, Heywood (Hughes 62), Burke, Williams, Sloane, Cartwright, Lowe (Turner 62), Clark, Marsh-Hughes (Oyibo 86), Waring, Clarke (Stephenson 86). Subs not used: Worsnop, Glendon, Hardy, Cowan, Trialist.

Two goals in the opening twelve minutes from Ethan Cartwright, and a third early in the second half from George Waring give a youthful Chester side victory at North West Counties Premier Division side Macclesfield FC.
---
Tuesday 20 July
Northwich Victoria 1 Chester 5
Pre-season friendly
Attendance: TBC Half Time: 0-1
Booked: -.

Northwich Victoria: Cheetham, Camozzi, Fleming, Barski, Misambo, Sherlock, R.Winder, Clarke, Birchall, J.Winder, Waller Subs: Lynch, Brew-Butler, Kelly, Mather, Kouris, Wood, Banfore.
Chester: Gray (Worsnop 72), Morgan (Oyibo 46), Williams (Roberts 46), Livesey (Williams 63), Grand (Burke 63), Cowan (Hardy 46), Weeks (Clarke 73), Glendon (Cowan 63), Clark (Johnston 46), Waring (Dudley 46), Stephenson (Marsh-Hughes 56).



This was a convincing win for the Blues over North West Counties Football League Premier Division side Northwich Victoria at a very hot Wincham Park. Declan Weeks opened the scoring on 15 minutes giving 'keeper Chris Cheetham no chance from a shot for the edge of the box.

That was the only goal of the opening half but the Blues added two further goals shortly after the restart with Anthony Dudley converting a 48th minute penalty and John Johnston adding a third six minutes later.

Vics pulled a goal back through Brady Lynch who reacted first to a loose bal in the Chester box to score past Louis Gray.

Two goals in a couple of minutes near the end saw Chester wrap up the victory. First Lloyd Marsh-Hughes found the net after a fine mazy solo run, and moments later, on 85 minutes, Dudley added his second following fine work by James Hardy.
---
Saturday 17 July
Chester 4 Bury AFC 2
Pre-season friendly
Attendance: 437 Half Time: 0-0
Booked: -.

Chester: Gray, Roberts, Cowan (Livesey 46), Grand (Williams), Morgan (Trialist 52), Johnston (Hardy 46), Glendon, Weeks (Clark 52), Oyibo (Burke 67), Dudley (Marsh-Hughes 52), Stephenson (Waring 52).
Bury AFC: Atkinson (Wilczynski 83), Williams (Trialist 85), Metcalf, Brazel, Hunt (Trialist 85), Ibrahim, Golboy, Holt (Trialist D 46), Greaves (McWilliam 85), Daniels (Downing 85), Hughes. Subs not used: Obasoto, Trialist, Lent, Trialist.

An entertaining frieldly at a blisteringly hot Deva Stadium sees Chester miss a penalty before eventually running out 4-2 winners over Bury AFC. All the goals came in the second half with George Glendon, Matty Williams, Harrison Burke and James Hardy on target for the Blues.
---
Sunday 11 July
Clitheroe 0 Chester 1
Pre-season friendly
Attendance: 277 Half Time: 0-0
Booked: -.

Clitheroe: Thompson, Winnard (Burrows 46), Lonsdale, Smalley, Priestley (Pilkington 34), Turner (Etherington 56), Cummings, Stopforth (Hunter 46), Gonzakles, Wilkins (Bricknell 65), Adams. Subs not used: Whitworth, Lynch.
Chester: Worsnop, Trialist B, Trialist C, Burke, Williams, Sloane (Hughes 66), Cartwright, Lowe, Marsh-Hughes, Clarke, Trialist D. Subs not used: Heywood, Turner.

A second half goal from Ethan Cartwright gave a young Chester side victory at Northern Premier League side Clitheroe.
---
Saturday 10 July
Chester 0 Sheffield Wednesday 2
Pre-season friendly
Attendance: 721 Half Time: 0-1
Booked: -.

Chester: Gray, Cowan, Morgan (Marsh-Hughes 83), Weeks, Livesey (Williams 63), Grand (Burke 76), Clark (Lowe 82), Hardy (Oyibo 66), Johnston (Trialist 63), Dudley (Waring 63), Stephenson (Clarke 69).
Sheffield Wednesday:
Dawson (Wildsmith 46), Palmer (Dawodu 46), Dunkley (Galvin 67), Hutchinson (Brennan 46), Börner (Trialist 36), Galvin (Trialist 46), Bannan (Waldock 46), Green (Hagan 46), Windass (Dele-Bashiru 46), Adeniran (Hunt 46), Paterson (Adedoyin 46).

A good work out for Chester as a goal either side of the break see The Owls claim victory in this pre-season friendly as fans return to Deva Stadium.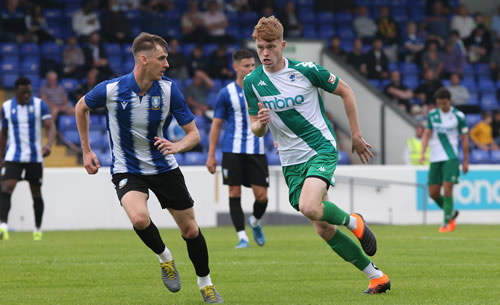 •
Match pictures
---
Saturday 3 July
Elton Vale 0 Chester 6
Pre-season friendly
Attendance: - Half Time: 0-2
Booked: -.

Chester (First half): Gray, Roberts, Cowan, Grand, Trialist, Johnston, Clark, Glendon, Weeks, Oyibo, Dudley.
Chester (Second half): Gray, Morgan, Burke, Sloane, Williams, Hardy, Cartwright, Lowe, Heywood, Clarke, Marsh-Hughes.


There were four goals on his debut for Zack Clarke as Chester's pre-season gets underway with a comprehensive victory at Elton Vale.

The Blues opened the scoring as early as the fourth minute as Declan Weeks was well placed to head home a Kevin Roberts cross. The lead was doubled on 13 minutes as winger Jude Oyibo, making his first start since signing from Curzon Ashton, opened his Chester account with a simple tap-in following good build-up play from John Johnston. It wasn't all one-way traffic and the home side were unlucky to see a curling shot come back off the crossbar just before half time.
Chester made a host of changes at the break, in fact just Louis Gray played the full 90 minutes. And it took one of those changes, Clarke, just three minutes to find the new on his debut, converting a James Hardy through ball. The same two players combined to add Chester's fourth goal on 78 minutes.
Clarke capped a memorable display by adding two more goals in the final six minutes, first converting from a rebound after Ethan Cartwright's effort had been partially saved, and three minutes from time slotting home a Cartwright pass.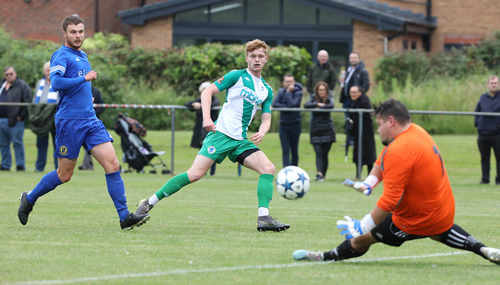 •
Match pictures
---