---
Saturday 30 April
Chester 4 Gateshead 2

Football Conference Premier
Attendance: 2,323 Half Time: 0-0
Booked:
Mahon.


Chester: Thompson, Higgins, Heneghan, Astles, Hunt, Chapell (Mahon 59), Shaw, Rooney, Lloyd, Alabi (Hannah 59), Richards (Hobson 83). Subs not used: Worsnop, George.
Gateshead: Russell, Baxter, Pattison, Clark (Curtis 6), Gillies, Mafuta (Chandler 37) Holden, Bowman (Ramshaw 37), Johnson, Hamilton, Whitmore. Subs not used: MacDonald, Onovwigun.
Referee: R.Wigglesworth (Doncaster).

With the threat of relegation behind them Chester finished the season in style with an entertaining victory over Gateshead. The opening period offered little in scoring opportunities, James Alibi saw a weak effort easily saved and Ben Heneghan headed wide following a Ryan Lloyd corner.

The Heed, who were forced to make a defensive substitution after only six minutes, saw plenty of the ball but only had a long range effort from Daniel Johnson to show for all their possession. By the time the half had finished the visitors had been forced into using all their replacements with injuries mounting up.
Six minutes into the second period the visitors opened the scoring as Rob Ramshaw beat Ryan Higgins to a Hamilton cross to force the ball home from close range. Nine minutes later Chester were level as Kane Richards headed home a John Rooney cross at the near post. A minute later the Blues turned the game on its head taking the lead as Ryan Hingins pounced on a loose ball and drove it home from 25 yards.

Caretaker manager Jon McCarthy had introduced Ross Hannah just before the equaliser and the Blues' top marksman soon found himself on the score sheet running onto a Rooney through ball to beat Sam Russell from 12 yards. Four minutes later Hannah notched his 26th goal of the season picking up a Tom Shaw pass, beating defender Alex Whitmore before firing past Russell.
Russell denied Hannah a hat-trick with a smart save following a pass from substitute Craig Hobson. The Heed pulled a goal back four minutes from time through Johnson but it proved only to be a consolation as Chester held out to give management duo of McCarthy and assistant Ian Sharps a third successive victory and a timely boost to their chances of filling the roles on a permanent basis.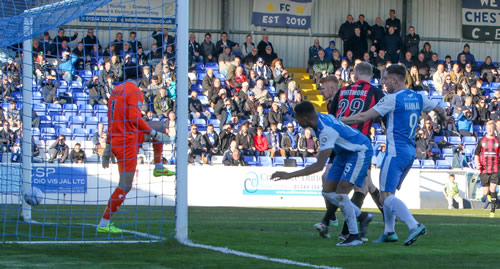 Picture © Rick Matthews (Chester Leader)

• League Table | More pictures
Rate Chester's performance
---
Saturday 23 April
Grimsby Town 1 Chester 2

Football Conference Premier
Attendance: 4,575 Half Time: 0-0
Booked:
Thompson.


Grimsby Town: McKeown, Tait, Pearson, Nsiala (Robertson 76), Horwood, East, Nolan, Disley, Monkhouse (Jennings 71), Amond, Bogle (Pittman 71). Subs not used: Henderson, Clay.
Chester: Thompson, Higgins, Heneghan, Astles, Hunt, Chapell (George 89), Shaw, Lloyd, Rooney, Richards (Hannah 68), Alabi (Hobson 79). Subs not used: Worsnop, Mahon.
Referee: Simon Bennett (Stoke).
Chester didn't need any help from other results in the end as they guaranteed a place in the Conference Nation next season with this wing victory at promotion chasing Grimsby Town.
The Blues deserved their three points and the victory will no doubt boost caretaker manager Jon McCarthys chances of landing the role on a permanent basis.
The Mariners, looking to cement a place in the play-off's almost took the lead in the opening five minutes as Andy Monkhouse saw a sharp header saved by Tony Thompson in the Chester goal. The Blues themselves came close to breaking the deadlock early on as Kane Richards saw a shot cleared off the line after following up a Jordan Chapell effort that had been well saved by James McKeown.
Grimsby created further chances with Padraig Amond guilty of two missed opportunities and Omar Bogle heading overthe bar from close range.
Danny East saw an effort blocked by a great Ben Heneghan tackle as the half drew to a close.
It took Chester just three minutes after the restart to open the scoring as Chapell picked up a loose ball raced into the box and squared to John Rooney, the midfielder controlled the ball before curling a great shot past McKeown.
Despite added pressure from the home side Chester doubled their lead just after the hour mark through Ryan Astles who met a far post Rooney free kick with a fine header.
Bogle missed a great chance to pull a goal back as his on-target effort was blocked by Tom Shaw but the home side pulled a goal back seven minutes from time as Craig Disley blasted the ball home from close range following a scramble.
Amond blasted over in added time but Chester survived a nervous final few minutes for an unexpected but very welcome victory.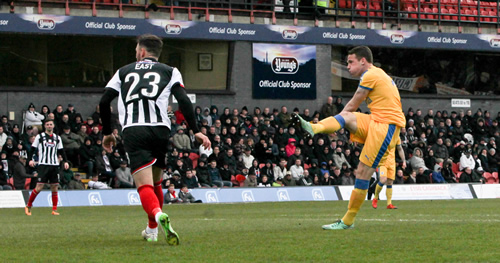 Picture © Rick Matthews (Chester Leader)

• League Table | More pictures
Rate Chester's performance
---
Saturday 16 April
Chester 4 Welling United 0

Football Conference Premier
Attendance: 2,237 Half Time: 1-0
Booked:
Shaw.


Chester: Thompson, Higgins, Heneghan, Astles, Hunt, Rooney, Shaw, Lloyd, Chapell (Mahon 71), Alabi (Hobson 76), Richards (O'Brien 86). Subs not used: Worsnop, George.
Welling United: Rodak, Chambers (Wanadio 69), Nortey, Gayle, Taylor, Lokko, Corne, Harris (Porter 26), Daniel, Kargbo, Bakare (Kabba 69). Subs not used: McEntegart, Lee.
Referee: Ian Hussin (Liverpool).



As I'd so far seen nine defeats and two draws this season, I was on a mission as I drove to Chester for this crucial end-of-season clash against Welling. Thankfully the Blues shared my determination, and I finally witnessed three points as well as four fantastic goals.
I wasn't so quite so confident in the opening spell after John Rooney took a poor penalty following a foul on James Alabi. His spot-kick was easily held by the Welling goalkeeper and I immediately resigned myself to nothing better than I'd seen so far this season.
But a different story started unfolding soon after when a great pass to Kane Richards, followed by a superb run, led to Rooney making amends for this penalty miss. His strike put the Blues, who were playing without injured goal machine Ross Hannah, in the lead on the 17th minute.
Hannah's injury actually did a favour to Alabi and Richards, with the latter given more of a forward's role. The two made the most of the opportunity, with Richards making another good run and pass to Rooney before the half-time whistle. However, the midfielder missed the chance this time around.
But Rooney was back on the scoresheet soon after the re-start with a move that started deep in the Chester defence. Alabi set him up well, and Rooney had no trouble finding the net this time. The Blues were clearly relieved to go 2-0 ahead, and it was good to see them celebrating with the Chester bench.
The home side carried on pressing forward, and Richards got his name on the scoresheet as the Blues carried out yet another attack on the hapless Welling defence. I'm sorry to say that they looked a well-beaten, and relegated, team by then.
I almost had to pinch myself when Chester went 4-0 ahead through Tom Shaw on the 84th minute, who found himself well-placed to net the ball from close-range. With the results of other games coming in, the impressive win wasn't enough to secure Chester's National League status for next season – but it was certainly as good a performance as I'd seen all season.
I was sorry to see the Wings relegated from the national scene, but I wouldn't have wanted them to keep their place at Chester's expense and I'm sure I'll find some excuse to visit the Door Hinge pub on their doorstep in subsequent seasons.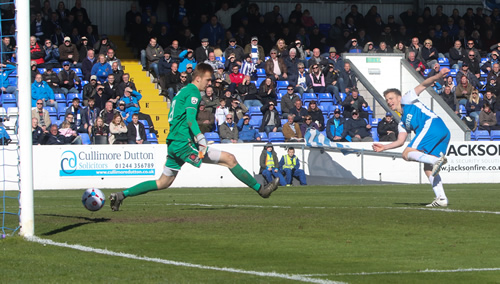 • League Table | More pictures


Rate Chester's performance
---
Saturday 9 April
Lincoln City 2 Chester 1

Football Conference Premier
Attendance: 2,001 Half Time: 1-0
Booked:
-.


Lincoln City: Farman, Wood, Howe, Bush, Beevers, Hodge (Rhead 62), Hawkridge, Sparrow, Caton (Maris 46), Muldoon, McDaid (Simmons 77). Subs not used: Wildin, Grant.
Chester: Thompson, Hughes (Higgins 42), Heneghan (Alabi 46), Astles, Hunt, Mahon (Chapell 68), Shaw, Rooney, George, Lloyd, Hannah. Subs not used: Worsnop, Hobson.
Referee: Alan Young (Cambridgeshire).



Despite a spirited performance the Blues suffered another defeat on the road though the results from other relegation rivals were kind to Chester.

Jon McCarthy and Ian Sharps took charge of team affairs following the departure in the week of Steve Burr. The Imps started well and also opened the scoring in the fifth minute as Robbie McDaid saw a header come back from the crossbar with the recalled Tony Thompson beaten. Thompson was on hand however to stop a Jack Muldoon effort as the home side just edged a scrappy opening.

Lincoln took the lead seven minutes before the break as Terry Hawkridge sent in a teasing cross that McDaid glanced past Thompson into the net.

The Blues were forced into a change with Ryan Higgins replacing the injured Sam Hughes and the midfielder had the final chance of the half heading a Ross Hannah cross straight at Paul Farman in the home goal.
Ben Heneghan limped off early in the second half to be replaced by James Alabi and the substitute was on hand to head the equaliser on 73 minutes following John Rooney's far post cross.

Two minutes later Chester were reduced to ten men as Ross Hannah limped off with all three substitutes on the pitch. Parity was short lived as George Maris volleyed past Thompson with a fine finish on 81 minutes to bag all three points.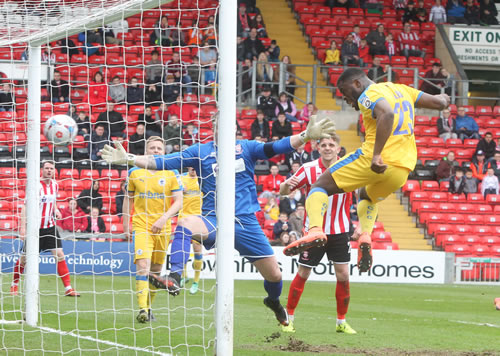 Picture © Rick Matthews (Chester Leader)

• League Table | More pictures
Rate Chester's performance
---
Tuesday 5 April
Torquay United 2 Chester 0

Football Conference Premier
Attendance: 1,837 (67 Chester) Half Time: 1-0
Booked:
Sharps, Shaw, George, Rooney.


Torquay United: Moore, Verma, Smith, MacDonald, Butler, Allen, Rees, Raachi, Chaney (Harrad 65), Ajala (C Richards 75), Blissett (Gerring 90). Subs not used: Fisher, Hancox.
Chester: Worsnop, Hughes, Sharps, Astles, Hunt, Alabi (Hobson 57), Shaw (Lloyd 57), George (Richards 86), Rooney, Mahon, Hannah. Subs not used: Chapell, Thompson.
Referee: Wayne Barratt (Worcester).


Steve Burr's swansong as Chester manager was watched by just 67 Chester fans and they witnessed an all-too familiar story unfold, which began only moments after kick-off.
Torquay, who have been languishing towards the bottom of the National League table for most of the season, started like a team desperate to avoid relegation. They had Chester on the back foot almost from the off and earned themselves a goal inside the opening three minutes.
Johnny Hunt looked like he had just stepped off the coach when failed to tackle a Torquay player as he ran down the line. His run earned the home side a corner and Nathan Blissett rose well into the box to notch up the first goal with a powerful header.
At that stage I felt like going for a wander in the glorious Devon sunset as I'd a feeling there would be no way back for the Blues. Chester's best first half chance came from a John Rooney free kick, which hit the crossbar. But that was the closest Chester came and, with goalkeeper Jon Worsnop keeping them in it with a good save close to the end of the first 45 minutes, there was no denying that Torquay deserved their lead.
The second half was a different Chester performance, but it didn't really kick-start until Worsnop made another fine stop from a Torquay strike. Ryan Lloyd and Craig Hobson were introduced as substitutes on the 56th minute, replacing Ryan Shaw and James Alabi.
Both Lloyd and Ross Hannah had chances to even the game up, but the luck just wasn't with Chester. I can't knock their effort in the second half, and on another day they might have grabbed an equaliser. The linesman seemed to unfairly flag for offside on a couple of occasions when Chester did have threatening spells, but the referee also took some stick from the home fans for his decisions.
In a last throw of the dice, Burr introduced Kane Richards on the 84th minute, but at that stage he barely had time to make an impression. Overall it's fair to say that Torquay looked the better team and it was no surprise when they secured victory with a second goal on the stroke of injury time. Chester had been pressing for a much-needed equaliser when they lost the ball. Torquay broke quickly and Iffy Allen had no trouble earning their hosts a deserved win with a well-taken goal.
•
League Table
Rate Chester's performance
---
Saturday 2 April
Chester 2 Boreham Wood 2

Football Conference Premier
Attendance: 1,444 Half Time: 1-1
Booked:
-.


Chester: Worsnop, Shaw, Heneghan (George 51), Astles, Rooney, Alabi (Richards 69), Hunt, Lloyd (Mahon 79), Higgins, Hannah, Hughes. Subs not used: Thompson, O'Brien.
Boreham Wood: Russell, Nunn, Doe, C.Clifford, Woodards, Reynolds, Shakes, Lucas, Haynes (Sam-Yorke 70), Morias (White 62), Kamdjo. Subs not used: Cox, Stephens, Devera.
Referee: Jason Whiteley.



Preparations for the game were thrown in to chaos as news emerged that the visitors' coach had been delayed on the Motorway. Kick off was put back to 4.30 or 5.00pm and people drifted home or back to their cars or gathered in the Blues Bar. Those who had done the former were then caught out when the kick off was announced for 3.45pm – earlier than previously feared but it definitely will have knocked a few hundred off the attendance.

This was billed as another 'must win' game for the Blues and they started off on the front foot. Shaw went close with a pile-driver of a shot before Higgins raided down the right. The wing back's cross was met by Rooney on the edge of the box who clipped it first time into the net to give the Blues the lead. It was a confident start and could have led to a dominant display but it proved short-lived as Boreham Wood were level five minutes later.

The equaliser came from a set piece after Junior Morais had drawn a foul from Ben Heneghan. The ball was played down the left wing instead of into the box and caused confusion in the City defence. They could not deal with the subsequent cross and Doe tapped in the loose ball. Once again the goal deflated Chester and the visitors started to dominate possession in midfield. Fortunately for Chester they weren't able to make the dominance count. Lucas had an air shot when well placed in front of goal and City made it to the break level.

Blues' plight became more difficult when Ben Heneghan was injured stretching to make a tackle on Junior Morais. He had to be replaced by Luke George. Hughes dropped back into a flat back four whereas in the first half City employed a 3-5-2 formation. George added a bit of bite into midfield and Chester enjoyed better possession. They took the lead when Shaw was brought down from behind and Rooney struck a superb free kick over the wall and past a scrambling Russell in the 'Wood goal.

How City fans longed for a third goal to make the game safe but, if anything, as the game wore on it was Boreham Wood who became stronger. Their substitutes of Sam-York and Harry White seemed to make more impact that Richards and Mahon who came on for the Blues. Lucas got clear on the left but fluffed his chance to score, putting his shot well wide. But in the final minute, out of nothing, White picked out a shot into the bottom corner which snatched the victory away from City. It was a cruel blow for both players and long suffering fans to take. A win would have made City virtually safe this season but the draw keeps them mired in anxiety for a while longer yet.
•
League Table


Rate Chester's performance
---

LATEST NEWS

TWO NEW SIGNINGS
Chester have added a defender and a midfielder to their squad today.
more »
LAST MATCH

BLUES HELD BY
LATE GOAL
Chester took a two goal lead through Kurt Willoughby and Joe Lynch, but a brace from Alfreton's Tommy Denton, saw the points shared.
more »
CLUB HISTORY

Everything you need to know about the club's history, honours, records and kits. Complete list of fixtures from 1885 and much more.
more »
SUPPORTERS

EXILES BLOG
The Exiles have set up a blog to provide away match information and articles for Blues fans living away from Chester. You can read it here
Exiles » | ISA »