---
Saturday 26 September
Bromley 3 Chester 0

Football Conference Premier
Attendance: 1,610 (213 Chester) Half Time 3-0
Booked: Sharps, Hunt.


Bromley: Kettings, Udoji (Rodgers 79), Fuseini, Swaine (Francis 71), Holland, Cook, Anderson, Dennis (Joseph-Dubois 87), Porter, Emmanuel, Chorley. Subs not used: Prestedge, Goldberg.
Chester: Worsnop, Hunt, Heneghan (Kay 46), Sharps, Higgins, Mahon, Chapell, Rooney, Shaw, Hannah, Hobson (Peers 60). Subs not used: Forth, Tonge, Hughes.
Referee: Alan Young.



In years to come, I'll probably remember this match as a great day out, despite the disappointing result. But as I drove away from Bromley, it distinctly felt like two points dropped through Chester squandering more chances than some teams get in a month.
Both Craig Hobson and Jordan Chapell had chances to score in the opening minutes of the game, as the Blues looked to put on a livelier performance than their last visit to south-east London a mere four days ago.
However, it was Bromley who found the net first when Ben Heneghan lost the ball to Moses Emmanuel. The home side's deadly striker made no mistake when he struck a great strike past the diving Jon Worsnop.
Soon after Chester missed a golden opportunity to equalise when Ross Hannah managed to volley the ball over the bar from a corner. He was only about six yards out, and it had seemed easier to score than miss.
It wasn't long before the Blues paid for failing to equalise when Bromley's Louis Dennis scored another excellent goal as he slotted for home as Worsnop came out of his net.
But the 250 or so Chester fans thought their team were about to get back into it as they continued to press forward and won another corner towards the end of the first half. Somehow Ian Sharps also missed the target from close range. Soon after it was game over when Emmanuel scored another quality goal, with a dipping volley from outside the penalty area.
The second half wasn't quite a non-event, although there were no more goals scored by either team. Chester's Craig Mahon, Chapell and Tom Peers all had chances to make the scoreline a bit more respectable. But it managed to remain at 3-0 to the Ravens.
There are definitely days when the luck doesn't go quite your way and, with 18 shots in the game, this was definitely one of those days for Chester. I'm a firm believer than luck will always even out across the season, and before long the Blues will net a hatful of goals. I just hope I'm there to witness it!
Sue Choularton

• League Table
Rate Chester's performance
---
Tuesday 22 September
Welling United 2 Chester 1

Football Conference Premier
Attendance: 564 Half Time 1-0
Booked: Shaw, Richards.


Welling United: King, Jefford, Chambers, Lee, Lokko, Nortey, Porter, Wellard, Corne, Harris, Vidal (Kabba 81). Subs not used: McEntegart, Obafemi, Taylor, Awotwi.
Chester: Worsnop, Higgins, Hunt, Chapell, Shaw, Sharps, Rooney (Hughes 72), Thomson (Mahon 67), Heneghan, Hobson (Richards 67), Hannah. Subs not used: Kay, Forth.
Referee: Robert Whitton (Essex).



Chester were unable to build on Saturday's home victory over Eastleigh as they lost by the odd goal in three to Welling. The Blues fielded the dame starting line-up as Saturday and started well despite only arriving 45 minutes before the kick-off.
John Rooney forced a save from John King in the home goal in the eighth minute as Chester started well. George Thomson then saw a goalbound effort blocked, Thomson saw another effort from a Jordan Chapell cross fly over the bar.
Craig Hobson had the best chance midway through the half as he met a Ryan Higgins cross at the far post only to see King push his effort wide.
Welling had the ball in the net only for Jefford to see his effort ruled out for offside. The post cam to the home side's rescue when the unlucky Ross Hannah saw a fine volley hit the woodwork.
Not for the fist time this season the Blues were made to pay for their squandered chances just before the break when the Wings took the lead as a through ball from Xavier Vidal was met by Reece Harris who chipped the advancing Jon Worsnop.
In the last action of the half Thomson saw another close range effort blocked by King.
The home side doubled their advantage 20 minutes from time as Ricky Wellard took advantage of some indecision by Worsnop who didn't deal with a downward header in the box and Wellard pounced.
Chester had appeals for a penalty waved away as Kane Richards appeared t be brought down by Michael Chambers but referee Whitton booked the Blues midfielder for diving.
Chester finally found the net in the fourth and final minute of stoppage time s Hannah turned home Craig Mahon's cross from close range.

• League Table
Rate Chester's performance
---
Saturday 19 September
Chester 1 Eastleigh 0

Football Conference Premier
Attendance: 1,922 Half Time 1-0
Booked: Shaw, Thomson.


Chester: Worsnop; Higgins, Sharps, Heneghan, Hunt, Chapell, Rooney, Shaw, Thomson (Mahon 67), Hobson (Hughes 88), Hannah Subs not used: Forth, Kay, Richards.
Eastleigh: Noice; Partington, Green, Evans (Drury 56), Turley (Midson 70), Payne (Odubade 62), Reason, Cook, Harding, Lafayette, Constable Subs not used: Midson, Lee, Todd.
Referee: John Brooks.



As the nation celebrated the seventy-fifth anniversary of the Battle of Britain, Chester won their own battle in the air against the Spitfires as Ben Heneghan nodded in the only goal of the game.

How Chester did not add further goals to their tally is something Steve Burr will wonder about as City had chance after chance to make this victory more emphatic. They began brightly and carved a few openings in the first quarter of an hour. The same team that started against Grimsby in midweek took the attack to Eastleigh. Their movement was slick and passing clever – one left wing touch pass from Hannah inside the full back was sublime.

The one and only goal came from the right. Chapell did well near the corner flag and was fouled by Harding. Rooney's free kick was nodded down and in by a surprisingly unmarked Heneghan. He had double cause to celebrate as it was his twenty-second birthday too.

Eastleigh did not take this set-back lying down and came at City with a vengeance. Following a well worked move from a throw-in down the right, Lee Cook, scorer of two goals for Barnet against City in the opening match of last season, arrowed a cross-cum-shot in to the net at the far post. Constable, however, in attempting to head the ball in had strayed into an offside position. It was a fair cop.

The former Oxford striker and leading goalscorer threatened again when he headed over from a right wing cross and again when his perfectly executed overhead kick passed just the wrong side of the post from the visitors' point of view.

Chester's own attempts at going forward were frustrated time and again as Hannah and Hobson fell into Eastleigh's offside trap organised by veteran centre-back Jamie Turley. All in all they were caught out nine times – it seemed like twice that. In the second half Chester had a procession of chances as they got behind the Spitfires last line of defence repeatedly. Chapell got clear and blazed just over. Then Hannah had a go with similar result. A later chance came his way and he might have done better as Noice was poorly positioned but the Blues' forward went for power instead of precision and again wide of the mark. Thomson scooped a shot on target only to see it plucked out of the top corner as Noice kept Eastleigh in the game.

Mahon replaced Thomson towards the end and Hobson gave way to Hughes so that he could receive a well-deserved ovation from the appreciative home crowd. So hard had Hobson worked, it was all he could do to hobble off the pitch. Eastleigh sub Odubade complained to the referee that the Blues' cult hero was time wasting but we all knew better. It was summary justice when Odubade missed a glorious chance to equalise – scooping the ball over the bar momentarily before Worsnop clattered into him and left him in a heap on the ground.

As the referee indicated four minutes added time and Lee Cook lined up a dangerously placed free kick conceded by the indefatigable Higgins it looked like deja vu all over again and a late late equaliser similar to Tuesday night might be on the cards. But Worsnop rose to palm Cook's effort round the post and City survived to hail a good and hard earned victory.
Colin Mansley

• League Table
Rate Chester's performance
---
Tuesday 15 September
Chester 1 Grimsby Town 1

Football Conference Premier
Attendance: 1,964 (357 Grimsby) Half Time 0-0
Booked: Heneghan.


Chester: Worsnop, Higgins, Heneghan, Sharps, Hunt, Shaw, Thomson (Hughes 67), Rooney, Chapell (Richards 80), Hannah, Hobson (Peers 84). Subs not used: Forth, Kay.
Grimsby Town: McKeown, East, Nsiala, Pearson (Pittman 88), Robertson, Arnold, Disley, Robinson (Clay 70), Monkhouse (Mackreth 78), Amond, Bogle. Subs not used: Tait, Gowling.
Referee: Jason Whitely (Leeds).

The City faithful had been given a glimpse of an unexpected but welcome win against much fancied Grimsby for the final seventeen minutes of normal time. They endured another four minutes of added time and saw referee Jason Whiteley look at his watch as the ball was launched into their penalty area one final time. Then, with the tortureful timing worthy of the cruelty of Torquemada, the ball glanced off the head of a Blues' defender and onto Padraig Almond's before slithering into the bottom right hand corner of the Chester net.

On reflection a draw was not an unfair result but it was harsh on City who had battled ferociously to hang on to their hard fought but slender lead. They forged ahead in a tight and gripping encounter when Hannah was bundled to the ground by Gregor Robertson. After Rooney's miss from the spot on Saturday Hannah picked himself and the ball up to take command of the situation. He struck the penalty with relish and celebrated with exuberance. It was a fair bet he was going to score tonight against the team that let him go in the summer.

City gave a good account of themselves against one of the pre-season favourites for promotion. They made a number of changes following the disappointment of derby defeat to Tranmere. Higgins resumed at right back and Thomson started in midfield for the first time this season. Hobson and Chapell were up front to partner Hannah as the Blues adopted a 4-3-3 formation. It seemed to work well for them going forward as Thomson worked industriously to link midfield with the forwards. Hannah and Shaw both had worthy efforts on goal as a result and Thomson himself shot from outside the area only for McKeown to gather.

When Grimsby countered, however, they were able to find plenty of space in front of Chester's defence. As they spread the play neatly out to either wing City's full-backs were often outnumbered. Bogle had a shot blocked on the edge of the area and later Worsnop saved superbly as Bogle again got through on goal. The Blues work-rate was high as they tried to contain the Mariners and the latter's frustration began to show. Bogle was yellow carded for a late challenge on Hunt.

The visitors began the second half brightly and Rooney cleared Amond's effort off the line but Blues recovered their foothold in the action. Hobson worked tirelessly on the left and proved a real handful to defend against. Thomson had an effort from the outside of the area but was beginning to flag and was replaced by Sam Hughes. Following good work by Hobson, Chester won a corner and as the ball was half cleared Robertson clattered into Hannah for the penalty kick. It was a soft award but accepted gratefully by City players and fans alike.

Chapell might have made it 2-0 as Hannah set him up to shoot at the end of a sweeping move until East threw himself into a last ditch blocking tackle. Richards and then Peers came on to give City fresh impetus and energy up the field. The Mariners also threw Mackreth and then Jon-Paul Pittman into the fray. Blues defended tenaciously until in the added time to added time they finally succumbed. Grimsby joy was matched by Chester misery but when they reflect upon the quality of their performance they can take heart. Most City fans would have settled for a draw before the game – that they felt cheated of a victory at the end shows how well the Blues played tonight. With a tiny additional amount of composure they would have gained the three points their effort deserved.

Colin Mansley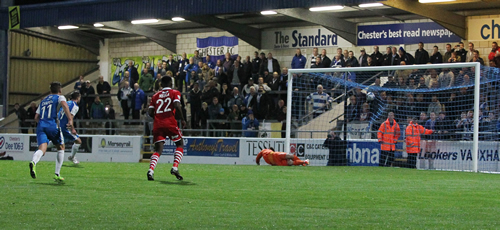 Picture © Rick Matthews (Chester Leader)

• League Table | More pictures
Rate Chester's performance
---
Saturday 12 September
Tranmere Rovers 2 Chester 0

Football Conference Premier
Attendance: 7,433 (1,526 Chester) Half Time 2-0
Booked: Hughes, Rooney, Kay.


Tranmere Rovers: Davies, Ihiekwe, Sutton, Hogan, Hill, Dawson (Jackson 78), Jennings, Harris, Mekki, Mangan (Maynard 85), Norwood (Margetts 90). Subs not used: Turner, Ridehalgh.
Chester: Worsnop, Kay, Heneghan, Sharps, Hunt, Higgins, Shaw, Rooney, Mahon (Hughes 46), Hannah (Hobson 70), O'Hanlon (Richards 65). Subs not used: Forth, Chapell.
Referee: Simon Bennett (Staffordshire).

Chester turned out one of their worst performances for a very long time when they were beaten by Tranmere Rovers in the first competitive match between the sides for 25 years.
Backed by an away support of over 1,500 CHester were caught cold in a poor opening half that saw Rovers score twice to claim all three points.
Manager Steve Burr was able to name Craig Hobson, Ross Hannah and Kane Richards i nthe starting line-up after all three had recovered from injury.
It took the home side just five minutes to breech the Blues defence with Adam Mekki's corner flicked on and with Jon Worsnop and Ben Heneghan getting in each other's way Liam Hogan had the simple task of heading into an unguarded net from six yards out.
The home side had a great chance to double the lead moments later when a simple through ball split the Blues defence to see James Norwood racing through on goal but his attempted lob was caught by Worsnop.
Norwood did find the net on 25 minutes but the linesman's flag was already raised for offside. It was a short reprieve for Chester though at the striker added a second goal 12 minutes later. Picking the ball up just over the half way line he weaved in and out of the static defence to slot the all past Worsnop into the bottom corner.
Burr brought on youngster Sam Hughes for a debut at the break. There were lour appeals for a penalty as Liam Hogan handled under pressure from Hannah but referee Simon Bennett adjudged that the Blues striker had fouled.
Both Hobson and Richards were introduced form the bench as Chester looked to create something and 15 minutes from time Bennett pointed to the penalty spot after Hughes saw a header handled in the box.
Up stepped John Rooney but his weak effort was saved by Scott Davies low down to his left, the rebound came back out but Rooney and Richards got in each other's way and the opportunity was missed.

• League Table | More pictures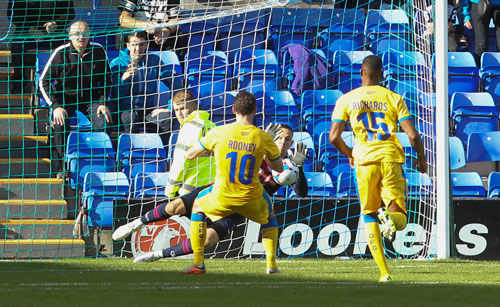 Picture © Rick Matthews (Chester Leader)
Rate Chester's performance
---
Saturday 5 September
Chester 1 Forest Green Rovers 2

Football Conference Premier
Attendance: 2,163 Half Time 0-1
Booked: Tonge.


Chester: Worsnop, Tonge, Heneghan, Sharps, Hunt, George (Thomson 82), Shaw, Rooney, Higgins, O'Hanlon (Peers 76), Mahon (Chapell 82). Subs not used: Forth, Kay.
Forest Green Rovers: Maxted, Pipe, Kelly, Bennett, Racine, Marsh-Brown (Clough 85), Sinclair, Wedgbury, Frear (Sam-Yorke 82), Parkin (O'Connor 74), Guthrie. Subs not used: Jones, Kamdjo.
Referee: Martin Coy (County Durham).

With league leaders Forest Green Rovers in town, manager Steve Burr made a host of changes from the side that drew with Guiseley on the Bank Holiday. New loan signing Josh O'Hanlon came in for a debut with Luke George, Ben Heneghan, Tom Shaw and Dale Tonge also making starts.
Rovers were looking to set a Conference Premier record with an eighth successive victor and they had the first sniff at goal as Keanu Marsh-Brown forced a save from Jon Worsnop.
Chester created efforts too as both Shaw and Higgins tested Jonny Maxted in the visitors goal before Rovers were handed an opportunity to open the scoring from the penalty spot. Worsnop was adjudged to have fouled Kurtis Guthrie in the area but the goalkeeper redeemed himself with a supers save low down to his left to push away Jon Parkin's spot-kick.
The reprieve proved short lived though as Rovers took the lead five minutes before the break, when Parkin sent Elliott Frear through on goal and he slotted the ball past Worsnop for the opening goal.
Maxted saved a Johnny Hunt effort as the Blues looked to bounce back but the final action of the half saw Parkin send a weak shot at Worsnop when he should have done better.
Chester came out after the break looking for an equaliser. Shaw saw an effort well saved before the Blues drew level on 62 minutes as Luke George sneaked in at the far post to meet a John Rooney free-kick with a diving header past Maxted.
Rooney saw another free-kick flash just wide but Rovers responded with a second goal on 76 minutes as substitute Aaron O'Conner latched onto a Guthrie through ball that split the Blues defence to lift the ball past Worsnop.
Chester made three substitutes and the oncoming George Thomson almost snatched an equaliser heading over a Hunt cross from close range.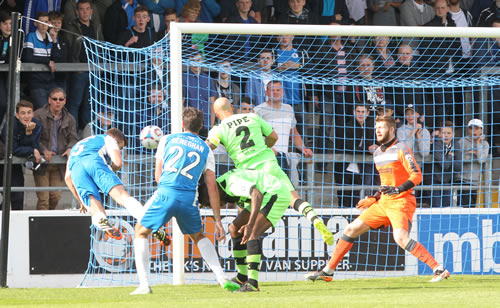 Picture © Rick Matthews (Chester Leader)

• League Table | More pictures
Rate Chester's performance
---