---
Saturday 30 January
Braintree Town 2 Chester 0

Football Conference Premier
Attendance: 727 Half Time: 2-0
Booked:
Heneghan, Hannah.


Braintree Town: Crowe, Clerima, Phillips, Fry, Habergham, Woodyard, Paine, Davis (Issac 68), Sparkes (Miles 76), Akinola, Marks (Cheek 63). Subs: Edgar, Anderson.
Chester: Worsnop, Higgins, Heneghan, Astles, Hunt, Mahon (Hughes 55), George, Rooney, Chapell (Gilchrist 46), Hannah, Alabi (Shaw 74). Subs not used: Thompson, Sharps.
Referee: Nigel Lugg (Surrey).

Once again defensive errors were to blame as Chester's winless run in the league in 2016 continued with this defeat at Braintree Town. Manager Steve Burr gave a debut for striker James Alabi who partnered top scorer Ross Hannah up front.

It took The Iron just ten minutes to unlock the Blues defence as Matty Philips was left unmarked at the near post to prod home a Dan Sparkes corner.

Chester responded as Jordan Chapell saw a powerful 25-yarder pushed away by Michael Crowe in the home goal before Crag Mahon saw a shot blocked after working his way into the box past a couple of defenders.

Ten minutes before the break Chester's inability to defend set pieces was exposed again as another Sparks corner was not cleared and fell to Matt Paine gave Jon Worsnop no chance from close range.
Burr made changes after the break bringing on Jason Gilchrist and Sam Hughes (for Chapell and Mahon) and although Chester improved slightly as Crowe had to deal with efforts from Johnny Hunt and Ben Heneghan they never looked likely to get back into the game that was lost through sloppy defending in the opening half.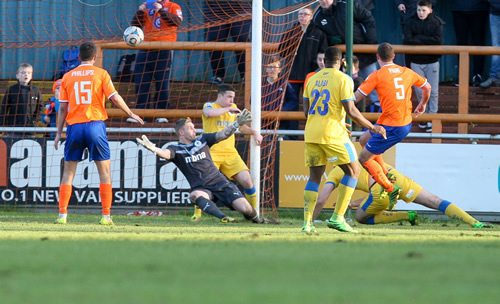 Picture © Rick Matthews (Chester Leader)
Rate Chester's performance
---
Saturday 23 January
Chester 0 Southport 0

Football Conference Premier
Attendance: 2,228 Half Time: 0-0
Booked:
Heneghan.


Chester: Worsnop, Higgins, Heneghan, Astles, Hunt, George, Rooney, Mahon, Lloyd, Chapell, Hannah. Subs not used: Thompson, Sharps, Shaw, Gilchrist, Hughes.
Southport: Crocombe, Challoner, Thompson, Foster, Blakeman, Rutherford, Wright (Nolan 70), G.Jones, Phenix, Almond (Ryan 89), Allen. Subs not used: Viscosi, A.Jones, McCarthy.
Referee: Adrian Holmes (Castleford).



City and the Sandgrounders settled for a hard-fought stalemate which, although goalless, was not short of intrigue and entertainment.

Southport arrived unbeaten in their last half dozen games, transformed by the new regime of Dino Maamria into a difficult to beat, well-organised unit. Blues had Astles making his league debut, having cut his teeth in the midweek Cheshire Cup tie against Hyde. The visitors, in luminous day-glow as opposed to normal yellow, pressed high up the field and made it difficult for City to build from the back.

Chapell was back in the side following a good display in the Hyde match and looked lively all afternoon. A move down the right got behind the Southport defence and ended with Rooney carving out a shooting opportunity only to see him drag it left-footed into the side netting. He protested that Crocombe got a touch but a goal kick was given. That proved to be the best chance of the first half in a game where clear opportunities were hard to come by. Southport were proving tough opponents and a physical challenge was never far away. Phenix and Challoner were shown yellow cards for their efforts and Heneghan joined them in the ref's notebook for a mistimed tackle on young lone striker Jamie Allen.

After the break Southport's clearest attempt came from the edge of the box, but Foster's shot was straight at Worsnop. Chester began to edge ahead in a highly contested game and started to threaten. Hunt was unlucky to be given offside in a promising move. Phenix then had a header well-saved by Worsnop at the other end. Hunt did well to get behind the Sandgrounders' defence on the left but his low cross somehow eluded Chapell. After 64 minutes came the game's defining moment as Higgins tried a long range shot from midfield which Crocombe spilled. Hannah with the goal at his mercy skied the ball over the bar. Was the linesman's flag raised to indicate offside or a goal kick? No-one was quite sure – but it was a horrible miss.

Hannah almost broke the deadlock towards the end with an improvised flick – but could not get enough power to beat Crocombe. Then Southport won a succession of corners and threatened to snatch the points but Chester's defence – solid throughout – held firm. A draw was probably fair but Blues could have done with the win – they slipped down to seventeenth in the table as a result.

Just after half time there was one of the most bizarre announcements heard at a football match when Southport supporters were informed that their coach was leaving at five past four. Perhaps some of them had come on a shoppers' coach we wondered. In reality the announcement referred to a coach load of late arrivals who had tried to force entry in to the stadium. The police arrived in force to escort them back from whence they came.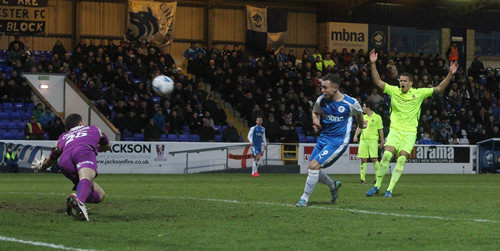 Picture © Rick Matthews (Chester Leader)

• League Table
Rate Chester's performance
---
Tuesday 19 January
Chester 3 Hyde United 0

Cheshire Senior Cup Round 1
Attendance: 356 Half Time: 2-0
Booked:
-.


Chester: Forth, Evans, Heneghan (Sharps 63), Astles, Waters, Hewitt, Hughes, Chapell (Nugent 63), Rooney, Lloyd, Peers. Subs not used: Worsnop, Higgins, George.
Hyde United: Vince, Ellison, Woods, Pearson, Trimble (Boyle 46), Burke, Bell, Holmes, Fitton, Gray, Bevins. Subs not used: Jones, Muscat.
Referee: David Croft.

Two goals from Sam Hughes and a third from Steven Hewitt saw Chester into the second round of the Cheshire Senior Cup.

It took Chester just six minutes to open the scoring as Hughes headed a Jordan Chapell cross following a short corner past Vinve in the Hyde goal. Ryan Astles, making his Bues debut, produced a fine block to deny Reece Gray an equaliser.

Chester doubled their lead on 18 minutes, Chapell again the provider with Hewitt heading home his cross. Matty Waters went close for Chester soon after the break but the Blues wrapped the tie up wit their third goal as Chapell again set up Huhes who headed past Vince.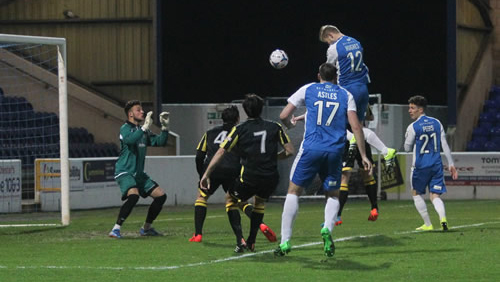 •
More pictures
Rate Chester's performance
---
Saturday 16 January
Chester 4 Hungerford Town 0

FA Trophy Round 2
Attendance: 1,276 Half Time: 0-0
Booked:
Higgins, George.


Chester: Worsnop, Higgins, Heneghan, Sharps, Hunt, Chapell (Hughes 90), George (Gilchrist 90), Rooney, Mahon, Hattersley (Lloyd 46), Hannah. Subs not used: Forth, Hughes, Hewitt.
Hungerford Town: Strudley, Tyler, John, Boardman, Day, Rusby, Clark (Goodger 79), Rees, Jarvis (Draycott 73), Herring, Preen (Brown 68). Subs not used: Horgan, Jones.
Referee: Joseph Johnston (Liverpool).



Kick off was delayed while everyone waited for the Hungerford 'keeper to take the field. Presumably the reason was a clash of colours - he eventually emerged wearing a green Chester top. Several home supporters urged the ref to blow for kick off with the visitors' goal still empty – it might not have made a lot of difference, so seldom did City trouble the Hungerford custodian in the first half. Strudley was only called into meaningful action by a skimming Rooney effort from twenty yards or so.

The rest of the opening period was a mediocre affair with the well-organised Crusaders frustrating City's attempts to break the deadlock. Lack of confidence on the field and frustration off it was much in evidence as the Blues struggled to get behind the Reds' defence. In truth Worsnop had little to do either – though Hungerford did threaten at one or two set pieces. At half time the tie was goalless and there remained the possibility of an upset.

Chester made a change at the break with midfielder Lloyd coming on for target-man Hattersley. The alteration seemed to give City more impetus and more possession in midfield where they needed it. After an initial flurry, however, Chester lost possession carelessly and Hungerford were close to scoring on the counter attack. Worsnop did well to save at the feet of Rees.

The scare gave the Blues a wake-up call and Mahon skipped through a couple of challenges to thread the ball to Chapell. His right foot shot took a slight deflection and beat Strudley low down to his left to give City the lead.

Strudley made a number of saves after this – from Rooney's free kick and full length from Hannah. City began to pile on the pressure but we were still restive without a vital second goal. Hungerford then made it difficult for themselves when Rees was booked twice in as many minutes for reckless tackles on George and was dismissed.

Hannah took advantage of a ball over the top and raced clear, held his nerve and finished clinically past Strudley to ease Cestrian anxiety. Hunt then added a third when Hannah got in the way of the Crusaders' keeper gathering the ball and it fell kindly to the left back who gleefully struck it into the empty net.

Gilchrist came on for the last few minutes – long enough for him to provide a crisp finish to Higgins' cross from the by-line to make it four-nil.

Hungerford players saluted their supporters. About seventy had made the trip from Berkshire – a total that represents around fifty per cent of their normal home attendance. Their players had put on a good show for the first hour until the wheels had come off with the red card. The wheels on the awaiting Swindon Town team bus looked intact as it trundled along to take them home.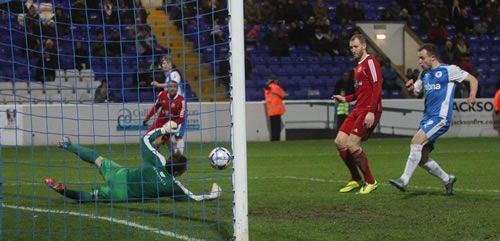 •
More pictures
Rate Chester's performance
---
Saturday 9 January
Aldershot Town 3 Chester 1

Football Conference Premier
Attendance: 1,617 (158 Chester) Half Time: 0-0
Booked:
George.


Aldershot Town: Smith (Thomas 46), Alexander, Beckles, Oastler, McGinty, D.Walker, Gallagher, Lathrope, Browne, C.Walker (Stevenson 87), Pavey (Carr 90). Subs not used: Oliver, Brodie.
Chester: Worsnop, Higgins, Heneghan, Sharps (Gilchrist 69), Hunt, Mahon, George, Hewitt (Rooney 55), Lloyd (Shaw 55), Hannah, Hattersley. Subs not used: Forth, Astles.
Referee: Brett Huxtable (Torquay).


This game, played on a greasy surface in torrential rain for much of the 90 minutes, hinged on a number of incidents that went against Chester – two defensive lapses by the Blues and an almost inexplicable refereeing decision.
Chester, cheered on by 158 travelling fans housed undercover in one of Aldershot's traditional stands, started brightly enough. Ross Hannah came close in the opening spell when he tried to lob the Aldershot goalkeeper Phil Smith. But his strike was just too high to find the net.
Soon after that, Aldershot's man-of-the-match Sean McGinty came close with a header from a corner. Ross Hannah also had another effort saved by Smith.
But the first incident that turned the game came just before half-time when an Aldershot header back to their keeper from midfield was chased down by Craig Mahon. The Chester player went down in the box – seemingly after a lunge at him by the Aldershot keeper. The away fans thought the only debate was if it was a penalty and a sending-off for Smith, or just a penalty.
None of the Aldershot players protested about a dive by Mahon, and they must have been among those amazed when the referee awarded a goal kick to the home team. As Mahon hadn't touched the ball at that stage, the least it should have been was a corner for the Blues.
I don't know if that unsettled Chester, who made their feelings known to both the referee and his assistant at half-time, but they went 2-0 down inside the first seven minutes of the re-start.
Their first goal came after a great save by Jon Worsnop fell well for Aldershot. The resultant strike by McGinty bounced around Ryan Higgins and into the net.
Another defensive slip-up not long after the re-start saw Ian Sharps fail to stand up to Alfie Pavey and he easily found the net to make it 2-0 to the hosts.
By now the weather conditions were getting worse, but an amazing shot from John Rooney gave the Blues something to play for when he found the goal from 25 yards out.
There was then a hint that Chester might get back into the game, but a poorly taken corner by Mahon went straight to the feet of an Aldershot player. He got the ball upfield and a Jim Stevenson goal sealed the result for Shots.

Sue Choularton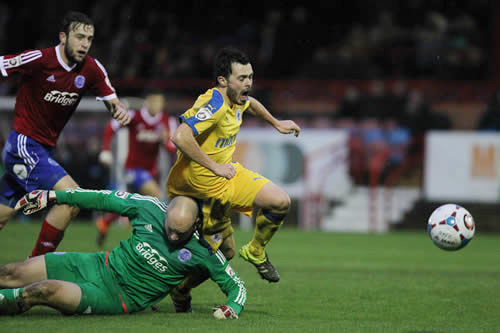 Picture © Rick Matthews (Chester Leader)

• League Table | More pictures
Rate Chester's performance
---
Saturday 2 January
Chester 1 Altrincham 1

Football Conference Premier
Attendance: 2,155 Half Time: 1-0
Booked:
-.


Chester: Worsnop, Higgins, Heneghan, Sharps, Hunt, Mahon, George (Hewitt 72), Shaw, Lloyd, Hattersley (Hobson 72), Hannah. Subs not used: Forth, Chapell, Rooney.
Altrincham: Deasy, Sinnott, Havern, Leather, Griffin, Moult, O'Keefe (Clee 46 (Heathcote 70)), Richman, Lawrie, Reeves (Bowerman 66), Rankine. Subs not used: Williams, Swift.
Referee: Rob Jones (Wirral).



Chester created enough chances to wrap this game up by half-time but had to settle for just a point after gifting Altrincham an equaliser. Manager Steve Burr made one change bringing in Craig Mahon for Alex Whitmore whose loan-period had ended
The visitors went close after just three minutes as Michael Rankine's effort hit the woodwork with Jon Worsnop beaten. Tom Shaw blazed over the bar after good work from Mahon before Danny Hattersley saw an effort deflected to safety. Ryan Higgins forced a save from Deasy.
Hattersley was in the thick of the action heading wide from more good work by Mahon and then seeing another effort cleared off the line as Chester pressed. Pressure finally paid off in the 20th minute as the Blues took a deserved lead as Hannah scored from close range after being put through by striker partner Hattersley.
Referee Rob Jones waved away loud appeals for a penalty after Deasy had challenged Hattersley before Luke George sent a 20-yarder just wide of the post.
The overworked Deasy pulled off another good save to deny a long-range Higgins effort. Just before the break the Robins missed a great chance to level as Reeves headed straight at Worsnop from eight yards out.
Chester continued to create chances after the break with Luke Shaw missing the best of those shooting over after good work from loanee Ryan Lloyd. They were left to rue those missed opportunities as the visitors equalised on the hour mark as Jordan Sinnott's right wing cross was met by Rankine who beat Worsnop to the ball to head home.
Sharps deflected a Reeves effort over the bar at the visitors looked to grab the lead. Burr brought on Steven Hewitt for a debut and Craig Hobson for George and Hattersley.
Hobson saw a long range effort cleared and ben Heneghan also saw an effort scrambled away and Hannah hit a post from close range.
The last chances went to Rankine who produced two saves from Worsnop in the dying minutes.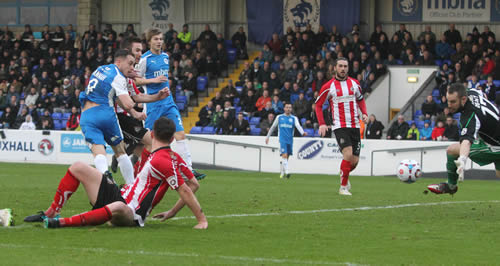 Picture © Rick Matthews (Chester Leader)

• League Table | More pictures


Rate Chester's performance
---

LATEST NEWS

TWO NEW SIGNINGS
Chester have added a defender and a midfielder to their squad today.
more »
LAST MATCH

HOME WIN FOR BLUES
Early goals from Kole Hall and Kurt Willoughby set Chester up for a home win over Brackley Town.Early goals from Kole Hall and Kurt Willoughby set Chester up for a home win over Brackley Town.
more »
CLUB HISTORY

Everything you need to know about the club's history, honours, records and kits. Complete list of fixtures from 1885 and much more.
more »
SUPPORTERS

EXILES BLOG
The Exiles have set up a blog to provide away match information and articles for Blues fans living away from Chester. You can read it here
Exiles » | ISA »