---
Monday 28 December
Chester 0 Macclesfield Town 2

Football Conference Premier
Attendance: 2,791 Half Time: 0-2
Booked:
Hobson.


Chester: Worsnop, Higgins, Sharps (Mahon 46), Heneghan, Whitmore, Hunt, Shaw, George (Rooney 58), Lloyd (Hobson 75), Hattersley, Hannah. Subs not used: Forth, Chapell.
Macclesfield Town: Jalal, Halls, Byrne, Pilkington, Fitzpatrick, Rowe, Turnbull, Whitehead (Diagne 80), Holroyd, Dennis, Sampson. Subs not used: Branagan, Churchman, Cowan, Sutherland.
Referee: Ian Hussin (Merseyside).



City fielded the same side and the same formation that had worked so well against Torquay but came unstuck against a well-drilled Macclesfield. Higgins and Hunt were pinned back by Macc's wingers Samson and Holroyd respectively and having three centre backs meant that the Blues tended to be overwhelmed in midfield.

As a result Chester were on the back foot more and more as the game went on. Danny Rowe in particular was allowed far too much room to dictate the play from City's point of view. When he was given space to turn on the edge of the area on twenty-five minutes his low cross was sliced horribly by Sharps and the ball looped over Worsnop into his own net. It was a freakish way to go behind but the goal had been coming.

Sharps was clearly unhinged by his misfortune and dithered moments later to allow Dennis a shot on goal from a narrow angle. He blazed narrowly over but it could easily have been a second for the visitors.

The Silkmen did not wait too much longer to double their advantage though. Referee Hussin, not for the first time this season, awarded a soft penalty against Chester for a push or shirt pull in the area – no-one was entirely sure. Heneghan seemed to be the culprit, as he was against Wrexham. Dennis scored the spot kick and made himself unpopular with the Harry Mac as he celebrated without restraint.

Burr made a change at half time and replaced Sharps with Mahon as City reverted to 4-4-2. The Irishman injected some urgency into Chester's forward play as they strove to get back into the game. His cross gave Lloyd a golden chance to score but the Port Vale loanee steered his shot wide when he should have done better. Rooney then came on for George and the captain's armband passed to Heneghan.

Rooney's free kick from outside the box was comfortably gathered by Jalal and it turned out to be just about City's only effort on goal as Macclesfield weathered the storm of Chester's efforts. Worsnop did well at the other end to keep out Dennis' far post header as the visitors threatened on the counter attack.

The damage had been done in the first half by a flukey own goal and a dubious penalty but Macclesfield were worthy winners having out-thought and outplayed a forlorn City. The Blues now find themselves looking down rather than up the table after a very disappointing end to the year.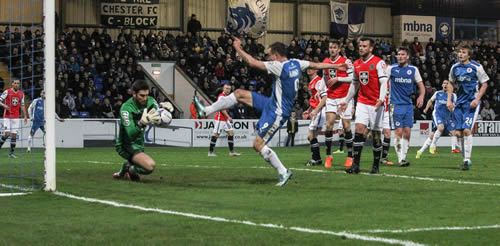 • League Table | More pictures

Rate Chester's performance
---
Saturday 19 December
Chester 4 Torquay United 1

Football Conference Premier
Attendance: 2,160 Half Time: 3-0
Booked:
-


Chester: Worsnop, Higgins, Sharps, Heneghan, Whitmore, Hunt, Shaw (Rooney 76), George, Lloyd (Mahon 76), Hattersley, Hannah (Hobson 84). Subs not used: Forth, Chapell.
Torquay United: Lavercombe, Heslop, MacDonald, Smith, Nicholson (Chaney 78), Murombedzi (Carmichael 46), Verma, Butler, Briscoe, Fisher (Gerring 65), Wright. Subs not used: Hancox, Corderoy.
Referee: Tom Nield (West Riding).


City sent their fans home happy for the Christmas festivities by notching their biggest win on the season so far. It took just sixteen seconds to establish the lead. Shaw chased down the ball to the right by-line. His low pull back was trapped by Hattersley with his back to goal. He laid it back for Hannah who measured his left foot strike in off the far post.

The same combination almost doubled the margin within a few minutes. Hannah latched on to Hattersley's flicked header, held off a defender and lifted the ball over Lavercombe only to see it bounce back off the post. City were well on top with wing backs Higgins and Hunt finding plenty of room on either flank. Higgins went on a lung bursting run from defence to attack which earned him an ovation from the main stand. On another occasion he fended off four opponents to emerge with the ball and keep City on the attack.

But Torquay began to claw themselves back into the game. Player manager Nicholson saw his pile-driver shot palmed over by Worsnop. Then as half time approached Chester made the game safe with a couple of goals in as many minutes.

First the energetic Higgins charged down the right again and cut in to shoot in with his left foot from the edge of the area for his first goal of the season. Next Hattersley engineered a free kick just outside the area and Hannah whipped in a superb strike which curled in to the top right corner.

Hannah might have had a hat trick before half time as he headed wide when well placed, but he was not to be denied when he latched on to Hunt's incisive through ball to clip the ball past Lavercombe again. In between times Wright had reduced the deficit for the visitors when his left wing cross was caught in the wind and sailed over Worsnop into the top corner. Wright was so bemused he didn't quite know how to celebrate.

All five goals then were scored with a left foot – it could make a good question in the future. There could have been more goals too. Hannah had one chalked off for offside in the second half and Rooney missed the chance to add to the tally when Lavercombe saved his penalty and just managed to get a hand on the rebound to divert Rooney's follow-up on to the post. Hattersley then saw his header from Rooney's cross also bounce back off the upright.

The Hattersley and Hannah combination looked potent on this showing and Higgins and Hunt had a field day but would another team afford them the same amount of room? Blues fans weren't complaining but savoured the win.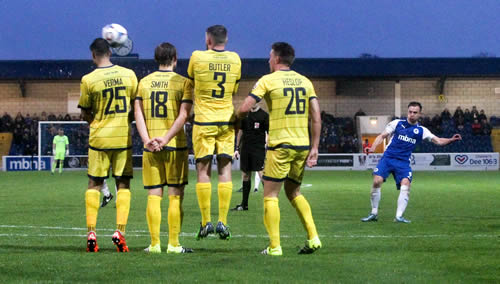 • League Table | More pictures


Rate Chester's performance
---
Saturday 12 December
AFC Telford United 0 Chester 2

FA Trophy Round 1
Attendance: 850 Half Time: 0-2
Booked:
George, Hannah.


AFC Telford United: Montgomery, Dawson, Brownhill, Wynter, Slade (Deaman 41), Tilt, Clancy, Rea, Hassan, Rowe, Austin (Reid 77). Subs not used: Campion, Wilkinson, Gorman.
Chester: Worsnop, Higgins, Hunt, Sharps, Heneghan, George (Rooney 42), Shaw, Chapell (Mahon 72), Lloyd, Hattersley (Hobson 87), Hannah. Subs not used: Forth, Whitmore.
Referee: J.Busby.



A brace of goals from in-from striker Ross Hannah eased Chester through to the second round of the FA Trophy and a home tie against Southern League opponents Hungerford Town.
A rain soaked pitch with areas of standing water made play difficult at times but it was perhaps the home side that adapted better in the opening stages.

Ryan Rowe saw a shot deflected wide before Lucas Dawson curled a 25-yard free kick just wide of Jon Worsnop's post with the Chester 'keeper beaten.
Former Blue Sean Clancy was well placed to clear a Jordan Chapell effort off the line, the ball found its way to Tom Shaw who saw an effort from the edge of the box partially saved by James Montgomery but the loose ball fell to Hannah who scored.
A swift move involving Ryan Higgins and Danny Hattersley saw the striker force a save from Montgomery, the resulting corner was headed over by Ian Sharps.

Luke George, who had already been booked, was perhaps fortunate not to receive a red card for a tackle from behind on Jack Rae.
Ten minutes before the break Hannah added his second goal finishing with a superb shot after Ryan Lloyd had played him through.
Steve Burr immediately replaced George with John Rooney.

With a two goal cushion Chester sat back in the second period. Worsnop just managed to get a fingertip to Rowe's effort after Higgins had slipped on the ball.
Callum Hassan saw an effort blocked as the Bucks looked to get back into the game but the Blues defence held firm.

The last chance of the match saw Hattersley slipped through on goal bue he was unable to test Montgomery.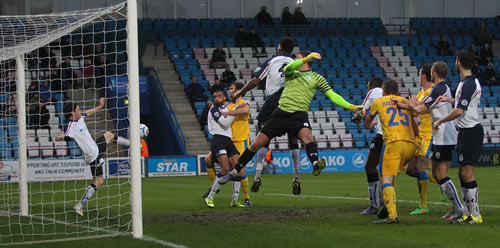 Picture © Rick Matthews (Chester Leader)

• More pictures
Rate Chester's performance
---
Saturday 5 December
Cheltenham Town 3 Chester 1

Football Conference Premier
Attendance: 2,501 Half Time: 1-1
Booked:
Hunt.


Cheltenham Town: Phillips, Dickie (Rowe 88), Downers, Parslow, McLennan, Jennings, Storer, Pell, Munns (Novakovich 55), Waters (Hall 84), Wright. Subs not used: Kitscha, Barthram.
Chester: Worsnop, Higgins, Sharps, Whitmore, Hunt (Mahon 75), Chapell, Shaw, George, Lloyd, Hattersely, Hannah. Subs not used: Rooney, Forth, Richards, Hobson.
Referee: Stephen Ross (Boston).



Seen as I wasn't expecting Chester to get anything out of this game, I was just looking forward to a good day out in Cheltenham – and I wasn't disappointed.
Half a dozen or so Exiles started their day by meeting in the excellent Sandford Park Ale House for a pre-match drink and chat. It was easy to see why this smart pub is in CAMRA's shortlist of four for its annual pub of the year award.
Then it was onto business and the walk to Cheltenham's Whaddon Road, or the strangely named World of Smile Stadium. It was soon the Cheltenham fans who were smiling as they went ahead on the 18th minute.
The goal came after they were awarded a debatable free kick, which rebounded off the goalpost. The ball fell well for the home side, and a quick pass gave Billy Waters an easy chance to put Cheltenham 1-0 up.
But Chester, who were starting with John Rooney on the bench, had put on a good show until then and it was soon back on level terms. It was another rebound that saw the Blues even up the score when Ross Hannah's first attempt was parried by Cheltenham goalkeeper Dillon Phillips. However, Hannah was able to head the ball home to send the away fans into jubilant celebrations just moments before the break.
The singing went on well into half-time and at that stage it felt like the Blues just might sneak a result at the league leaders. Indeed, an Alex Whitmore header was cleared off the line in the opening spell of the second half.
But the hosts struck again through Waters when he received a defence-splitting pass and took his shot well to put Cheltenham back in the driving seat. And they went 3-1 up just two minutes from the end through Danny Wright.
The result was a scoreline that flattered Cheltenham and – a bit like the match at fellow Gloucestershire title chasers Forest Green Rovers in October – on another day, Chester could have come away with a point. It was a viewpoint we reflected on during our post-match visit to the hard-to-find Kemble Inn. On a selfish note, I'd like to visit both pubs again next year. I wonder if I should mention it to Santa?
Sue Choularton
Rate Chester's performance
---