---
Saturday 31 October
Forest Green Rovers 2 Chester 1

Football Conference Premier
Attendance: 1,561 (215 Chester) Half Time 2-1
Booked: Sharps, Worsnop, Kay.

Forest Green Rovers: Maxted, Bennett, Clough, Racine, Jennings, Marsh-Brown (Kelly 74), Sinclair, Wedgbury, Carter (Bender 87), Frear, Parkin. Subs not used: Eve, Baldwin, Jones.
Chester: Worsnop, Higgins, Kay, Sharps (Heneghan 63), Hunt, Chapell, George, Shaw, Mahon, Roberts (McDonagh 63), Hannah. Subs not used: Forth, Gordon, Woodland.
Referee: Nigel Lugg (Surrey).

As I walked along aptly named 'Another Way' to Forest Green's New Lawn stadium I was expecting a bit of a rout, with the high-flying home side set to be no match for Chester. But the Blues put on a better performance than most of the 215 visiting fans would have predicted and could well have left sunny Gloucestershire with a point.
Steve Burr put out a side that kept his three new signings Jamie McDonagh, Ben Gordan and Luke Woodland on the bench. Ben Heneghan was also one of the substitutes, while John Rooney was suspended.
With half the crowd and the capless Forest Green 'keeper, Jonny Maxted, struggling to see in the sun, it was the Chester who had the best of the opening 15 minutes. But a couple of shots on target from James Roberts and Jordan Chapell were easily saved by Maxted.
It all changed on the 12th minute though when Ross Hannah rose highest from a Chapell corner. Above a melee of heads in the box, he managed to find the net to give an early start to Chester.
That sparked Forest Green back into life, with experienced striker Jon Parkin looking a real threat. It's pretty obvious why he is nicknamed 'the Beast', and I bet he eats more than Forest Green's much-publicised vegan diet.
And sure enough, he was on the scoresheet on the 31st minute with a neat finish from close range after a good pass into the danger area. Chester's defences seemed to be shaken by that and just two minutes later, a poor Michael Kay backpass was pounced on by Keanu Marsh-Brown. He ran unchallenged towards on-rushing Jon Worsnop, before taking his chance well and putting the home side ahead.
The rest of the the first half petered out, with the only other significant Chester moment being an appeal for a penalty by Craig Mahon. Referee Nigel Lugg waved him away and pointed to a free kick just outside the box.
The sun had dropped by the time the second half started, giving every a clearer view of proceedings. But there wasn't as much action as in the first half. The closest Chester came to scoring was with a Tom Shaw strike, which was saved by Maxted.
Heneghan and McDonagh came on in the 63rd minute, replacing Ian Sharps and Roberts. McDonagh showed a few glimpses of potential, and had a shot saved by Maxted towards the end.
Chester did look more threatening as time ticked on, and the noisy away following didn't give up hope when there was four extra minutes added onto the clock. But it wasn't their turn for a last-minute equaliser and the win put Forest Green Rovers back at the top of the League.
Rate Chester's performance
---
Saturday 24 October
Altrincham 1 Chester 0

FA Cup Fourth Qualifying Round
Attendance: 1,603 (563 Chester) Half Time 0-0
Booked: Rooney.


Altrincham: Deasy, Sinnott, Leather, Havern, Grffin, Moult, Lawrie, O'Keefe, Richman, Bowerman (Clee 74), Reeves (Heathcote 90). Subs not used: Swift, Williams, Davies, Stouppis.
Chester: Worsnop, Higgins (Richards 63), Heneghan, Sharps, Kay, Hunt, Rooney, Shaw (Peers 74), Mahon, Hannah, Hobson (Hughes 52). Subs not used: Forth, Thomson.
Referee: Richard Wigglesworth (Doncaster).

There was to be no repeat of last season's money-spinning FA Cup run as Chester were knocked out in the fourth qualifying round.

Manager Steve Burr made one change from the side that beat FC Halifax with Craig Hobson com loan player James Roberts who had a hamstring injury.

The Blues backed by a decent following created two chances in the opening minutes with Michael Kay seeing an overhead kick attempt saved by Tim Deasy in the home goal and Ryan Higgins sent a header over the bar when well placed.
Midway through the half Deasy made a great save to deny Ross Hannah after the striker had sent in a powerful shot on target. The home side were confined to a couple of long range effort with Adam Griffin and Jake Moult both bringing out saves from Jon Worsnop.
Altrincham had the better of the latter stages of the first half and five minutes before the break missed a great chance to take the lead as George Bowerman, with just Worsnop to beat, shot high over the bar from the edge of the penalty box.
Hannah saw another powerful effort fly just wide four minutes after the break before the home side opened the scoring on 52 minutes as a James Lawrie free-kick was parried one handed by Worsnop but the ball dropped at the feet of Damian Reeves who slotted it home from a couple of yards out.
The home side were awarded a penalty in the 67th minute as Worsnop challenged Simon Richman. The referee however changed his mind moments later and awarded a drop ball!
Tom Peers, on for Tom Shaw, saw an effort from ten yards saves as Chester pressed for an equaliser but the home defence held out to win the tie and be rewarded with a home match against Barnsley in round one.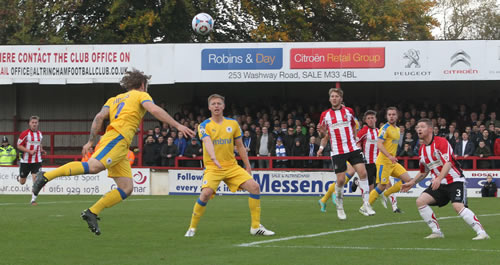 Picture © Rick Matthews (Chester Leader)
Rate Chester's performance
---
Saturday 17 October
Chester 2 FC Halifax Town 1

Football Conference Premier
Attendance: 2,088 Half Time 1-0
Booked: -.


Chester: Worsnop, Heneghan, Sharps, Kay, Higgins, Rooney (Hughes 90), Shaw, Mahon, Hunt, Roberts (Richards 53), Hannah (Hobson 90). Subs not used: Forth, Chapell.
FC Halifax Town: Glennon, Bolton, N.Brown, M Brown, Banton (Roberts 46), McManus, James, Wroe, Sadlier (Bencherif 84), Burrow, Hamilton (Tuton 46). Subs not used: Porter, MacDonald.
Referee: Ollie Yates (Staffordshire).



James Roberts made an emotional return back to Chester following the tragic death of his sixteen year old brother Ben in a car crash on the evening of the game against Wrexham on 3rd October.

When he broke the deadlock by latching on to the loose ball on the edge of the area, beating a defender and firing past Matt Glennon, the applause Roberts received was the longest I have ever witnessed for a goal celebration. He pointed both hands to the sky and was mobbed by his team mates. His courage today was warmly appreciated by everyone who was there.

This was just before the break in a match where City looked the better side but struggled to make the breakthrough against a Halifax side low in confidence after their midweek thrashing at Grimsby.

Chester doubled their lead shortly after half time.. Sharps won a towering header (He doesn't miss many) at the back to set Rooney forward. His pass was deftly back heeled by Hannah into the path of Hunt who struck it into the net.

Just before this, Roberts had limped off feeling a tight hamstring and received a second standing ovation. Chester seemed on course for victory as they continued to sweep forward but then began to sit more deeply and give the visitors more time on the ball. Halifax, with nothing to lose began to throw caution to the wind and Burrows took advantage of slack marking at the far post to fire in past Worsnop.

So began yet another jittery last twenty minutes or so for the City faithful. Richards, on as a sub for Roberts, looked to have eased anxiety when he nodded in Rooney's cross – only for the goal to be given offside. But Chester held their nerve to chalk up consecutive victories for only the second time this season.
Colin Mansley

• League Table
Rate Chester's performance
---
Tuesday 13 October
Southport 1 Chester 2

Football Conference Premier
Attendance: 1,326 (407 Chester) Half Time 1-0
Booked: Higgins, Kay, Rooney, Richards.


Southport: Coughlin, Jones (Thompson 65), Foster, Wright, Phenix, Nolan, Joyce, Almond, Stockton, Bishop (Rutherford 77). Subs not used: Viscosi, Allen, Blakeman.
Chester: Worsnop, Heneghan, Sharps, Kay, Higgins (Mahon 61), Shaw, Thomson (Richards 61), Rooney, Hunt, Chapell (Hobson 77), Hannah. Subs not used: Forth, Hughes.
Referee: Adrian Holmes (Castleford).



The Blues had a lot of possession early on without threatening the home goal. Both Jordan Chapell and Johnny Hunt shot wide while John Rooney forced a save from Sandgrounders 'keeper Andy Coughlin.

Southport broke the deadlock on 36 minutes as Mike Phenix set up Louis Almond who steered the ball past the diving Jon Worsnop. Phenix almost doubled the lead as his deep looping cross almost crept in at the far post.
Manager Steve Burr brought on Craig Mahon and Kane Richards just after the hour mark and Mahon was back to his best as his introduction sparked Chester into life.
With 11 minutes remaining Chester drew level as Michael Kay took advantage after Coughlin failed to collect a Rooney corner and Kay slotted home the loose ball.
Coughlin was at fault again as Chester snatched the winner five minutes from time as Mahon's shot was fumbled by the ex-Wrexham 'keeper into the net.

Manager Steve Burr said after the game: "I thought it was another frustrating game to be honest from our point of view. We got in their final third no end of times, but our final ball was shocking. I wasn't happy with our lack of testing the home keeper and I think we need to be more ruthless."
"It would be hard to pick out anyone who excelled, but I was just delighted that we managed to come away with all three points because they were three big points for us."

• League Table
Rate Chester's performance
---
Saturday 10 October
Chester 2 Lincoln City 3

Football Conference Premier
Attendance: 2,224 Half Time 1-2
Booked: Heneghan, Shaw, Higgins.


Chester: Worsnop, Higgins, Sharps, Kay, Hunt, Heneghan (Richards 59), Rooney, Shaw, Chapell, Hobson (Thomson 59), Hannah. Subs not used: Forth, Hughes, Peers.
Lincoln City: Farman, Beevers, Waterfall, Howe, Bush, Stanley (Everington 11), Wood, Power, Hawkridge, Rhead (Hearn 80), Muldoon (Simmons 90). Subs not used: Grant, Tempest.
Referee: Tom Nield (Huddersfield).



Chester never recovered from the shaky start they made to this match and were chasing the game from the fourth minute. Beevers was allowed to cross from the deep right with ease and leading scorer Matt Rheade, with his back to goal, nodded the ball over his left shoulder and notched his eleventh goal of the season.

Lincoln continued to press and were afforded plenty of room to run in to as the Blues seemed all at sea. Wood galloped forward and let fly a screaming shot – only to be denied by Worsnop's spectacular save. When Chester did manage to string some passes together and play to feet they showed that they could make an impact. Hannah found the overlapping Hunt on the left and he got to the by-line to drive hard and low across the box. Chapell ghosted in at the far post to sidefoot home an equaliser.

The Blues were at parity for barely two minutes as Hobson lost the ball on the left and Lincoln surged forward. From Bush's long throw Heneghan cleared more with height than distance. Worsnop made to go for the ball but then thought better of it which meant he was on the back foot when Everington's shot came in. The Chester keeper partly saved it but the ball crept towards the goal and as he tried to retrieve it the linesman adjudged it to have crossed the line.

After the break Lincoln seemed to have made the game safe when Beevers got to the by-line and crossed superbly for Power to race in and nod past Worsnop to make it 3-1. However a double substitution for Chester (Thomson and Richards replaced Heneghan and Hobson respectively) and subsequent change of formation meant that the Blues began to grab the initiative.

Hannah, frustratingly isolated for much of the game, latched on to the ball and curled a beauty into the net off the post. With 23 minutes to go Chester were back in it. The Blues dominated the remainder of the game – and had the chances to equalise. Hannah flicked a shot on to the bar and then missed a golden chance to equalise when presented with a free header in the six yard box. Rooney's shot was within a whisker of the right hand post.

The Imps, with guile that bordered on an art form, tried their best to stem the flow of this Blue tide with infuriating time wasting tactics and going to ground at every opportunity to persuade the referee to stop the game. Despite the seven minutes that Mr Nield added on and the momentum that they built up in the last half and hour, Chester could not manage to find an equaliser. For the third time in a week, the Blues were involved in a 3-2 thriller, but for the second time in four days they were on the wrong end of the scoreline.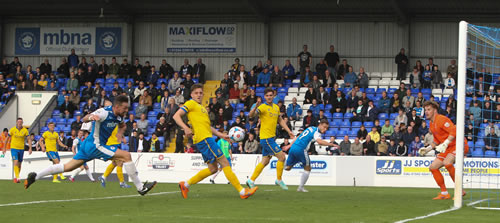 •
League Table


Rate Chester's performance
---
Tuesday 6 October
Barrow 3 Chester 2

Football Conference Premier
Attendance: 1,354 Half Time 1-1
Booked: Heneghan, Sharps.


Barrow: Dixon, Symington, Ashton, Livesey, Williams, Cowperthwaite, Harvey, Haworth, Grimes (Wilson 68), Cook (Walker 85) Pilkington (Mellor 73). Subs not used: Fofana, Newby.
Chester: Worsnop, Hunt, Sharps, Kay (Hughes 82) Higgins, Shaw, Rooney, Chapell (Thomson 89) Richards (Hobson 73) Heneghan, Hannah. Subs not used: Forth, Peers.
Referee: Martin Coy (County Durham).



Chester's inconsistent form continued as they failed to build on Saturday's derby victory as they are beaten at Barrow. Manager Steve Burr made two changes from the side that beat Wrexham, in came Jordan Chapell and Kane Richards in place of Craig Hobson and James Roberts.
It was The Bluebirds who made the brightest start with Jon Worsnop forced into a saves to deny both Andy Haworth and Dan Pilkington while Alex Ray-Harvey missed a chance to put the home side ahead shooting wide from close range.
Chester's first effort saw ben heneghan head just wide after Chapell's right side corner had been flicked on by Michael Kay.
Worsnop saved from David Symington before Chester took the lead in the 34th minute. John Rooney's through ball was met by Chapell who controlled it well before shooting past Joel Dixon into the bottom corner. Rooney set up Ross Hannah five minutes later but the Blues striker shot wide when well placed to double the lead.
Barrow responded to that miss with an equaliser, Symington saw an effort come back off the post and Haworth was on hand to convert the loose ball.
Two minutes into the second half Barrow took the lead. Haworth sent over a free-kick that the Blues defence failed to deal with and the ball fell to Andy Cook whose shot was to powerful for Worsnop.
Barrow continued to create chances but it was the Blues who next found the nest with a equaliser on 72 minutes from Tom Shaw who pounced after Dixon had failed to control a Rooney cross.
Once again though Chester were caught cold after finding the net as Niall Cowperthwaite thundered home a 25-yarder five minutes later that gave Worsnop no chance and secured all three points for the home side.

• League Table
Rate Chester's performance
---
Saturday 3 October
Chester 3 Wrexham 2

Football Conference Premier
Attendance: 3,741 (1,200 Wrexham) Half Time 1-1
Booked: Hannah.


Chester: Worsnop; Higgins, Kay, Heneghan, Sharps, Hunt; Shaw, Rooney; Hannah, Roberts (Chapell 69), Hobson (Richards 46). Subs not used: Forth, Hughes, Thomson.
Wrexham: Belford; Vidal, Newton, Smith, Hudson; Vose, Jennings, Moke (York 65), Evans; Quigley (Carrington 69), Nolan (Smith 65). Subs not used: Jackson, White.
Referee: Ian Hussin



After two successive defeats away from home and a disappointing display down the road at Tranmere still fresh in the memory, Chester rewarded their long-suffering fans by rising magnificently to this occasion. The Blues put on a superb performance to emerge victorious against a Wrexham side who have made a strong start to the campaign and will have had their eyes set on a derby win.

From start to finish City out fought and showed more heart than their bitterest rivals. Higgins and Hunt set the tone - rampaging forward to win tackles with panache and not allowing the Dragons to settle on the ball.

Eyebrows had been raised at the team selection as Heneghan, Sharps and Kay were all in the line-up. The latter two paired up in central defence this time whilst Ben was given a midfield role – not something he looked completely comfortable in on a previous occasion – but he grew into it today. James Roberts made his debut having arrived on loan from Oxford United. He added energy to City's attacking play and a sprightly dash into the penalty area saw him nip past two opponents before screwing his shot wide when a goal looked on the cards.

More good play by Roberts led, indirectly to the Blues taking the lead as he was tripped by Sean Newton 25 yards out. Rooney lined it up and shot exquisitely over the wall and into the top left hand corner. A brilliant goal and the lead was no less than Chester deserved as a reward for their tireless efforts.

Within five minutes however they were pegged back to 1-1. Dominic Vose crossed from the left and the ball drifted wide of the far post. Heneghan, however, was adjudged by the referee to have nudged Blaine off the ball and a penalty was awarded. It looked a very harsh decision but the visitors accepted the gift with glee and Vose tucked the spot kick past Worsnop. Their spirits lifted, Wrexham pressed for a second before half time but a combination of heroic defending by Worsnop and others and a wayward finish by Quigley (On loan from Bournemouth) meant the first half finished level.

Chester were glad of the break to re-group and Kane Richards was called in to replace Hobson in the front line. (Saint) Andy Milner made the half time draw and thoughts of his equaliser on Valentine's Day over twenty years ago warmed the hearts of Blues fans. Good vibes were reflected on the pitch as the Blues allowed the Reds to play the ball across the back but then hit them on the counter attack. The supremely industrious Shaw played a one-two with Hanna and surged into the box to restore City's lead.

When Richards nodded in Hanna's pinpoint cross at the far post, the joy on the Harry Mac was unconfined. Within the space of a week he had gone from the ignominy of missing the team bus to becoming the toast of the town. His work rate this afternoon was phenomenal and he grasped this chance to show what he can do with both hands. Richards' pace was a constant worry to the Wrexham defence during the second half.

Rooney also gave an outstanding performance, tirelessly retrieving lost causes and winning the ball back to put City on the attack time after time. He almost produced the icing on the cake when another sweetly struck free kick rebounded off the bar and ricocheted off a nonplussed Blaine and into the grateful arms of their 'keeper.
The conditions of the bubble match meant that none of the way supporters could leave early – much though they might have wanted to. Instead they were subjected to a constant barrage of the home fans singing the Blues to victory. Even Jennings' late, late consolation goal could not take the gloss off a brilliant afternoon for every Cestrian.

The police helicopter emerged out of the surrounding gloom to escort the visitors home whilst in the Blues' Bar the beer flowed as freely as the singing and – courtesy of the television - we were able to enjoy the match all over again in all its' glory.


•
League Table


Rate Chester's performance
---