---
Monday 28 March
Guiseley 3 Chester 3

Football Conference Premier
Attendance: 1,186 Half Time: 0-1
Booked:
-.


Guiseley: Drench, Toulson, Parker, Lockwood, Lawlor (Norburn 56), Rothery (Johnson 69), Hatfield, Sinclair, Atkinson, Dudley (Hall 90), Hurst. Subs not used: Boyes, Craddock.
Chester: Worsnop, Higgins, Hunt, Rooney, Heneghan, Astles, Shaw, Lloyd, Hughes, Alabi (Richards 83), Hannah. Subs not used: Thompson, Hobson, Mahon, O'Brien.
Referee: Richard Wigglesworth.



An added time goal from Tom Shaw rescues a point for Chester after an amazing final ten minutes that saw four goals scored. Manager Steve Burr made a couple of changes from the side beaten at home by Barrow on Saturday, with goalkeeper Jon Worsnop replacing Tony Thompson and Ryan Astles returned to defence following suspension in place of Ian Sharps.
Chester started the game well with Ryan Higgins heading just wide on five minutes and John Rooney saw an effort saved from close range by Steven Drench in the home goal as Chester pressed. Drench was in action again pushing a long range Hannah effort just wide on ten minutes.
A lively start to the game saw Gavin Rothery slide the ball just past the post at the home side replied to Chester's bright opening. Worsnop made a smart save to deny a long-range goalbound effort from James Hurst. Hurst then saw another effort cleared off the line by Shaw moments later.
Chester took the lead on 39 minutes as Ryan Lloyd sent an inch-perfect through ball for Hannah who shot over Drench to find the net in front of the travelling support. The Blues almost doubled their lead just before the break as Ben Heneghan headed over when well placed.
Guiseley started the second period well, Heneghan was on hand to head clear a dangerous cross and Worsnop gathered a 20-yard effort from Rothery. Guiseley equalised on 74 minutes as Emile Sinclair headed home past Worsnop. James Alibi was sent though by Hannah but the striker failed to control the ball and the chance was gone.
With nine minutes remaining Will Hatfield poked home from close range after an Astles mistake to give Guiseley a 2-1 advantage. Kane Richards was immediately brought on for Alibi and within just two minutes had brought Chester level scoring through a crowded penalty area.
The home side looked to have pinched all three points when the unmarked Sinclair scored his second from close range to give the home side a 3-2 lead in the 90th minute. But with added time running out Shaw was on hand to equalise as a loose ball from a Chester corner wasn't cleared by the home defence.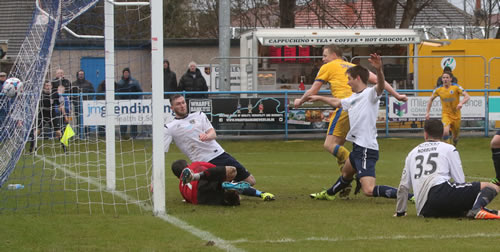 Picture © Rick Matthews (Chester Leader)

• League Table | More pictures
Rate Chester's performance
---
Saturday 26 March
Chester 1 Barrow 2

Football Conference Premier
Attendance: 2,020 Half Time: 1-0
Booked:
Shaw.


Chester: Thompson, Higgins, Heneghan, Sharps, Hunt, Hughes, Shaw, Rooney, Lloyd (O'Brien 77), Alabi, Hannah. Subs not used: Worsnop, Mahon, Waters,, Richards.
Barrow: Dixon, Sutton, Grand, Livesey, Wilmer-Anderton, Parry, Harvey, Donahue (Haworth 46), J.Williams, Cook, Tomlinson. Subs not used: Abbott, Lacey, Walker, S.Williams.
Referee: Rob Jones (Wirral).



Despite taking a first half lead through Ross Hannah, a third successive defeat leaves Chester sitting six points uncomfortably above the relegation zone.
Rain and a swirling wind made conditions difficult as both side took time to adapt. James Alibi saw an effort blocked before Barrow almost took an early lead as Jordan Williams saw an effort crash back from the crossbar with Tony Thompson in the Blues goal beaten on 15 minutes.
Chester took the lead eight minutes before the break as the Barrow defence failed to clear a corner and leading scorer Ross Hannah steered the loose ball home from close range. A smart save from the legs of Joel Dixon in the Bluebirds goal prevented Hannah from doubling the lead in the stroke of half-time.
Barrow started the second period on the front foot and a timely tackle from Ian Sharps prevented an Andy Cook run through on goal. On 55 minutes the equaliser came as Williams picked up a loose ball and attacked down the left, cutting inside to beat Ryan Higgins before bending a shot past Thompson.
Barrow looked the stronger side as Chester found themselves on the back foot and it seemed inevitable when Barrow took the lead as Williams scored his second goal with a well taken 20 yarder past Thompson.
Chester responded with a couple of efforts as Hannah shot just wide from long range and Tom Shaw saw an effort ruled out for offside after a John Rooney free-kick wasn't cleared by the Barrow defence.
A chorus of boos greeted the players and management as they left the pitch following this latest defeat with assistant manager Jon McCarthy blaming individual errors for the loss.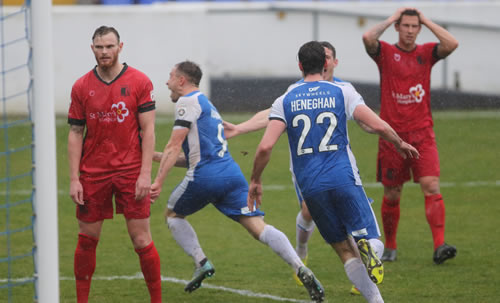 Picture © Rick Matthews (Chester Leader)

• League Table | More pictures
Rate Chester's performance
---
Saturday 19 March
Wrexham 3 Chester 0

Football Conference Premier
Attendance: 6,459 (930 Chester) Half Time: 0-0
Booked:
Hunt, Sent-off: Astles.


Wrexham: Taylor, Carrington, Smith, Hudson, Newton, Fyfield, Evans, Heslop, Fowler (York 81), Jennings, Jackson (Gray 86). Subs not used: Vidal, Moke, Beck.
Chester: Thompson, Higgins, Heneghan, Astles, Hunt, O'Brien (Rooney 84), Hughes, Lloyd, Chapell (Mahon 14 (Shaw 69)), Alabi, Hannah. Subs not used: Worsnop, Hobson.

Referee: Adrian Holmes (Castleford).



This was a disappointing display from Chester who had Ryan Astles sent-off as Wrexham ran out convincing winners at the Racecourse Ground.

Wrexham started stronger with Tony Thompson called into action to save from Robbie Evans early on and were denied by the woodwork as Connor Jennings hit the bar from close range after Thompson had saved an Jamal Fyfield effort.

Chester were forced into an early change with Craig Mahon replacing the injured Jordan Chapell. The Blues were on the back foot for most of the opening half though Danny O'Brien did force a save from Rhys Taylor in a rare attack on goal.
Manny Smith saw a free header fly over the bar from Lee Fowler's corner as Wrexham continued to press. Thompson gathered a shot from Jennings after good build-up work by Mark Carrington while at the end Ross Hannah saw another long-range effort saved as the sides left the field at half-time 0-0 with Chester the happier of the two sides with that scoreline.
James Alibi sent a header just wide at the opening of the second period before the Blues fell behind in the 65th minute. A misplaced Mahon pass was picked up by the opposition midfield and Kayden Jackson was sent through on goal only to be fouled by Astles was received a red card. Jennings placed his spot-kick just out of the reach of Thompson to open the scoring.
Former Blue Sean Newton headed over as Wrexham looked to double their lead. The second goal duly arrived on 77 minutes as Jackson and Jennings combined again with Jackson shooting smartly past Thompson. Six minutes later Evans put the game beyond Chester adding a third from close range following Jackson's right wing cross.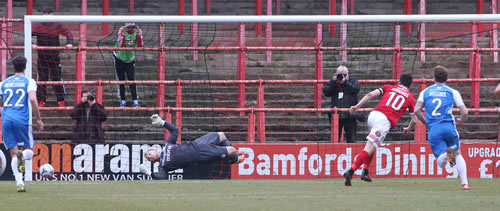 Picture © Rick Matthews (Chester Leader)

• League Table | More pictures
Rate Chester's performance
---
Monday 14 March
Tranmere Rovers 1 Chester 0

Cheshire Senior Cup Semi-Final
Attendance: 409 Half Time: 0-0
Booked:
-.


Tranmere Rovers: Turner, Duggan, Hill, Hogan, Riley, Taylor-Fletcher, Mackreth, Maynard, Davies, Margetts, Stockton. Subs not used: Pilling, Ilesanmi, Omotola, Hunter, Cringle.
Chester: Worsnop, Higgins, Astles, Sharps, Waters, Shaw, Rooney, Richards, O'Brien, Mahon, Hobson. Subs not used: Thompson, Chapell, Alabi, Lloyd, Hughes.
Referee: Robert Jones.

Steve Burr made a host of changes rom the side that lost at Eastleigh with only Danny O'Brien, Ryan Astles and Ryan Higgins keeping their places in the starting X1.

Chester created a number of chances in the opening half with Kane Richards, John Rooney and Craig Hobson all coming close to opening the scoring. Former Chester 'keeper Iain Turner made a good save to deny Hobson from scoring with a header following an O'Brien cross.

The only goal of the game game came on a breakaway 15 minutes from time by Jonny Margetts who was put through on goal by Cole Stockton to shoot past Jon Worsnop and book a final tie with Stockport County.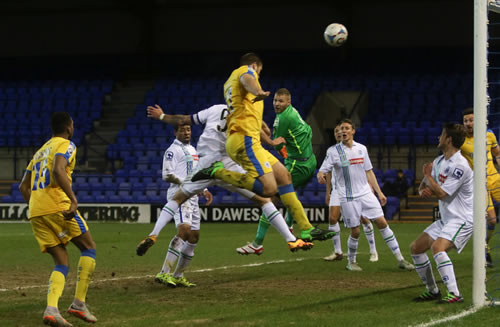 •
More pictures
Rate Chester's performance
---
Saturday 12 March
Eastleigh 1 Chester 0

Football Conference Premier
Attendance: 1,831 (175 Chester) Half Time: 0-0
Booked:
Astles.


Eastleigh: Fltney, Evans, Partington, Turley, Harding, Coulson, Payne, Reason, Odubade (Midson 78), Tubbs, Cook (Green 88). Subs not used: Poke, Todd, Holland.
Chester: Thompson, Higgins, Heneghan, Astles, Hunt, O'Brien (Mahon 75), Hughes, Lloyd, Chapell (Shaw 64), Hannah, Alabi (Hobson 87). Subs not used: Worsnop, Rooney.

Referee: David Rock (Hertfordshire).
Even the most optimistic fan must have thought it highly unlikely that Chester would repeat their midweek goal fest and the sight of Eastleigh's bobbly and bare pitch must have confirmed their opinion that this was not going to be an afternoon of silky football.
But the travelling army of an estimated 175 away fans did have their hopes raised within the first 10 minutes when Ryan Higgins rode several challenges before making a great run into the box followed by a good cross to Ross Hannah. The Chester striker made no mistake in finding the net, but he was declared to be offside and it remained 0-0. It was certainly a close decision and it wasn't the last time that referee David Rock found himself at centre stage.
Minutes later there was nearly a goal at the other end, but Eastleigh's Luke Coulson could only rattle the crossbar with a powerful shot from outside the box.
For a significant spell of the first half, Chester's goal was under siege, with goalkeeper Tony Thompson putting on a star performance to deny the home side. At the other end, James Alabi had the ball in the net, but the offside whistle had blown well before he took aim. In fact, the Chester frontline were caught offside on several occasions through the game.
The opening minutes of the second half saw Eastleigh denied again – this time by some great blocks by defenders Ryan Astles and Ben Heneghan. Soon after, a fantastic one-on-one save by Thompson kept Chester in the game.
The home side's fortune changed on the 68th minute when Astles tusseled in the box with an Eastleigh player, earning himself a yellow card and handing the Spitfires a penalty. On-loan Matt Tubbs stepped up to chip the ball home, despite Thompson diving the right way.
Craig Mahon was a tricky presence when he came on to replace Danny O'Brien, but Chester didn't look seriously likely to score until Craig Hobson came on, replacing James Alabi on the 87th minute. Hannah had a good chance, but headed the ball over the crossbar. And Tom Shaw came even closer when he blasted the ball over.
With five minutes of stoppage time, Chester still couldn't find the net and a Tubbs' strike also blazed over the bar. So when referee Rock blew the full-time whistle we hadn't had another 10-goal thriller, although I don't expect we'll get another of those this season!
Sue Choularton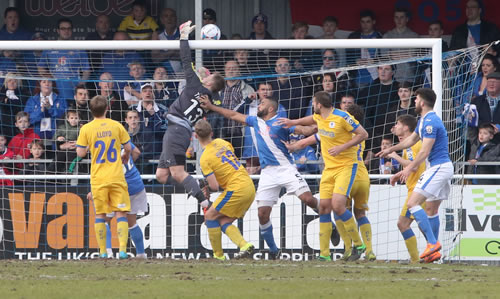 Picture © Rick Matthews (Chester Leader)

• League Table | More pictures
Rate Chester's performance
---
Tuesday 8 March
Chester 8 Aldershot Town 2

Football Conference Premier
Attendance: 1,425 Half Time: 6-1
Booked:
-.


Chester: Thompson, Higgins, Heneghan, Astles, Hunt, O'Brien (Mahon 78), Hughes (Shaw 73), Lloyd, Chapell, Alabi (Bell 69), Hannah. Subs not used: Worsnop, Rooney.
Aldershot Town: Smith, Alexander, Oastler, Beckles, McGinty, Browne, Gallagher, Stevenson, Walker, Lafayette (Pavey 69), Rasulo (Hatton 60). Subs not used: Saville, Ralph, Thomas.
Referee: Karl Evans (Wigan).
As I was on holiday in Plymouth the last time Chester won 8-2 (Against Peterborough United in 1972) I was so grateful to witness this unbelievable performance as the Blues shot the visitors to pieces.

Pre-match expectations were not high after City failed to beat Bromley at the weekend and the pressure on this as a "must-win" game had increased. Neil Turner on the radio warned that Aldershot were a difficult team to break down with experienced centre backs and a good goalkeeper and may well try to catch Chester on the break.
Blues fielded the same team in 4-4-2 formation that drew with Bromley on Saturday. They made a bright start with Chapell setting Higgins free on the right and his menacing cross was cleared for a corner. Chapell delivered the kick beautifully and Sam Hughes met it in the six yard box to volley his first league goal for the Blues.

The Shots countered and looked dangerous as they moved the ball about quickly and found plenty of space on either wing. Experienced striker Lafayette was fouled twice in quick succession and earned free kicks in a threatening area around the edge of the penalty area. As the second one broke down Chester swept forward on the counter attack themselves. Hannah laid a great header off to Danny O'Brien on the right and he went on a run to cut inside and feed the ball through to Alabi who slid in to score a second past the on-rushing Smith.

Two-nil after only thirteen minutes. But we are Chester supporters – that meant there was still plenty of time for it all to go wrong. Sure enough after a spell of concerted pressure, Lafayette curled in a fine effort from just outside the area to halve the arrears.

City came forward again and Hunt had a goal disallowed for offside. As another Aldershot move broke up Heneghan curled an exquisite long ball round the Shots' centre back which fell invitingly into the path of Alabi. The burly forward slid the ball past Smith to restore the two-goal cushion. Three minutes later Hughes headed home another superbly delivered Chapell corner to make it 4-1.

Still there was time for Alabi to complete his hat trick before half time which he duly did when latching on to Hannah's pass and flicking the ball past Smith. And then in first half added time Alabi iced the cake further with a supremely executed lob having been put through from a long ball down the left by Ryan Astles. If the atmosphere among the home support was ecstatic before it was febrile now as the teams came off for their half time cuppa with City six-one up. Whilst not making themselves hoarse singing James Alabi's name over and over again, the City faithful reaped the reward of attending this fixture by busily texting friends and relations with the incredible scoreline.
Surely the Shots would throw caution to the wind in the second half and attack recklessly trying to save some face? But it was City who continued to dominate playing with all the confidence a hatful of goals brings – they harried and pressed and chased the ball down constantly not giving any opportunity for Aldershot to settle on the ball.

Hannah deservedly got on the scoresheet with arguably the best goal of the night as he lashed the ball home from twenty five yards. Next Aldershot gave their fans a rare chance to cheer when they did finally hit City on the break and Dan Walker found himself clear and beat Thompson to score their second goal.

Smith in the Shots' goals was looking shell-shocked but could hardly be blamed for his sides' demise on the evening. Only the eighth scored by Hannah could be attributed to his mistake as he failed to hold on to a powerful drive by O'Brien and Chester's top scorer turned it into the net.

As Alabi, Hughes and O'Brien were all withdrawn to rapturous applause, one of their replacements – Bell – had the best opportunity to add to City's total when his clever run made the most of Hannah's through ball. Smith, though, saved well from his low shot.

City fans didn't want the evening to end but - as all good things do – it did and Blues fans went off into the night to celebrate and embellish stories of an incredible match. It was only three much needed points, the goal difference was vastly improved, but more importantly this was an evening to be celebrated, re-lived and told ad nauseam into our dotage to children's children.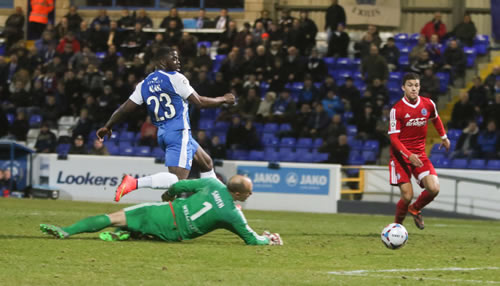 • League Table | More pictures
Rate Chester's performance
---
Saturday 5 March
Chester 1 Bromley 1

Football Conference Premier
Attendance: 2,058 Half Time: 1-0
Booked:
-.


Chester: Thompson, Higgins, Heneghan, Astles, Hunt, O'Brien (Mahon 83), Hughes, Lloyd, Chapell (Rooney 76), Alabi (Bell 76), Hannah. Subs not used: Worsnop, Shaw.
Bromley: Julian, Holland, Swaine, Francis, Anderson, Gordon, Fuseini, Chorley (Rogers 83), Coombes (Joseph-Dubious), Emmanuel (Goldberg 78), Cunnington. Subs not used: May, Allassani.
Referee: Steve Rushton (Staffordshire).

Blues stuttering progess this season continued with a disappointing draw at home to Bromley. The Ravens returned to London with a point from their first visit to Chester as City failed to capitalise on a number of promising openings.

On a bright but cold afternoon City began the match attacking towards the Harry Mac End. As they came forward the Blues got behind the visitors on the flanks several times but the ball into the box often lacked the quality to cause the Ravens concern. Alabi had a fine effort from outside the area narrowly over the bar but also contrived to stumble over the ball on a couple of other occasions as Blues' attacking moves broke down.

Hannah opened the scoring after quarter of an hour when he got behind the Bromley defence to latch on to a through ball from O'Brien. He took it to the keeper's right to get the ball on to his favoured left foot and looked to have taken a touch too many until he tucked it beneath Julian and into the net. Blues continued to dominate but could not make it count again. Just before the break Hannah had a glorious opportunity to double his and Chester's tally for the day but struck his first-time shot just wide of the post.

Bromley, though shaky at the back were always a threat going forward and might have equalised just before the break but shot straight at Thompson. Early in the second half though they did strike, courtesy of their top scorer Emmanuel. Heneghan fouled Cunnington over on the Bromley left, the free kick was knocked down to Emmanuel in space in the six yard box. His shot was partially parried by Thompson and seemed to trickle over the line in slow-motion as City's keeper desperately tried to retrieve it and Swaine then followed through to make sure it was a goal.

City's confidence seemed to suffer from the blow but still they had a couple of good chances to forge back ahead. First Hunt cut in from the left but saw his shot saved and then substitute Bell's shot from a similar position flashed wide of the target. The Ravens also looked to hit City on the break and Emmanuel went close with a lobbed effort following hesitancy between Thompson and Hunt. As Chester advanced on one last attack, Higgins' cross drifted behind the goal – it seemed to sum up a frustrating afternoon for the Blues.

A draw was probably fair but only adds to Chester's growing anxiety about slipping towards the drop zone, from which they are now five points clear. The Blues' young team need to demonstrate the confidence of youth if they are to bring in the victories they need to ensure safety.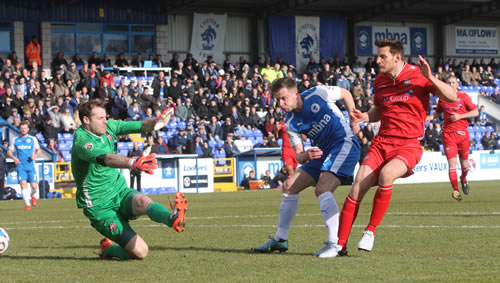 • League Table | More pictures
Rate Chester's performance
---

LATEST NEWS

TWO NEW SIGNINGS
Chester have added a defender and a midfielder to their squad today.
more »
LAST MATCH

HOME WIN FOR BLUES
Early goals from Kole Hall and Kurt Willoughby set Chester up for a home win over Brackley Town.Early goals from Kole Hall and Kurt Willoughby set Chester up for a home win over Brackley Town.
more »
CLUB HISTORY

Everything you need to know about the club's history, honours, records and kits. Complete list of fixtures from 1885 and much more.
more »
SUPPORTERS

EXILES BLOG
The Exiles have set up a blog to provide away match information and articles for Blues fans living away from Chester. You can read it here
Exiles » | ISA »