---
Friday 29 April
Garforth Town 2 Chester 1

Evo-Stik Division One North
Attendance: 2,428 Half Time 0-1
Booked: Wilde, Powell.
Garforth Town: Higginson, Marron, Villerman, Dempsey, Kelly, Price, Priestley, Hotchkiss, Brown, Small (Turley 82), Fisher (Walker 45). Subs not used: Normaschild.

Chester: Whiteside, Aspin, Horan, Taylor, C.Williams, Stones (Barnes 61), Booth (Howard 58), A.Williams, Powell; Simm (Wilson 78), Wilde. Subs not used: Ruffer, Judge.

Referee: M.Coy.

In one of the most nerve-wracking afternoons I've ever known, it was hard to recall some of the football I saw at Garforth Town on this all-important final day of the season.

I'd like to say the result was irrelevant – but each of the three goals was significant as Chester eventually emerged as Evo-Stik North League champions by a goal difference of just two.

But you'll have to forgive me if this report concentrates less on the pitch action, as part of the afternoon was just a blur – seen through half-closed eyes and with frequent glimpses at my watch and Twitter feeds on my mobile phone.

The afternoon started promisingly enough, with sunshine all the way and Neil Young picking the players who finished the winning match at AFC Fylde.

Chester were also being backed by around 2,200 Blues fans – over 1,000 spectators more than Garforth's previous record - and just needed a point to seal the Championship, leaving chasing team Skelmersdale as runners-up.

The worst case scenario seemed an impossibility – seeing Chester lose at Garforth and Skem beating Ossett Albion by such an impressive scoreline that they could overcome a minus eight goal difference. What could go wrong?...

Most of the first half was largely forgettable as the football was of such low quality on a bumpy and hard pitch. The best entertainment of the first 44 minutes came from those on the terrace in front of the main stand who were taking the proverbial out of Garforth's joint manager, John Barnes-lookalike, Richard Sutherland. Fair play to him, he gave as good as he got!

Michael Powell did have a shot which was well held by the Garforth 'keeper and Chris Simm struck a shot over the bar from a corner. But it was Powell who made himself a hero when he took a neat pass from Michael Aspin and smashed the ball home on the stroke of half-time.

He reacted as if that goal had clinched the title – running half the length of the field and twirling his shirt in the air. He got booked for his celebrations – but no-one really cared. No-one really worried about Skem being 3-1 up either.

But Garforth weren't reading the script and around 20 minutes after the re-start, they equalised. A loose ball in the box was claimed by Darren Kelly who scored with the kind of overhead-kick he had probably only dreamt about.

Now the Chester fans and team started getting edgy. The goal reports from Skelmersdale were coming thick and fast, and we weren't certain which could be relied on. Then our worst nightmare started to be played out before our eyes.

Garforth were continuing to press and the Chester defence failed to clear a ball effectively. It came to Garforth defender Matt Dempsey and his superb strike curled into the bottom right-hand corner past the diving Richard Whiteside.

Now the score at Skelmersdale was all-important and, with 20 minutes left to play, the reports were that it was 5-1. As we tried to work out what would have happened if we'd finished on the same goal difference (answer: Skelmersdale would have gone up as they'd scored more goals), we also tried to urge the team to get an equaliser.

It must have been the longest 20 minutes in the life of any Chester fan as the Blues looked unlikely to find the net. George Horan had a good chance to score from a corner, but his header went over the bar. Substitute Bradley Barnes also blazed the ball over from a few yards out.

Score reports from the Skelmersdale match were now coming from every direction - 6-1, 7-1, 7-2 - even onto 8-2, 9-3 and 10-2. None would have mattered if Chester had put the ball in the net - but there were no more serious chances before the referee blew for full-time.

It was a muted finish until the Garforth announcer prematurely announced that Skem had won 7-2. There was a mini-celebration and pitch invasion, but Neil Young was on his mobile and it was clear the other game was still going on. Time ticked by and then "YES" it really was 7-2 at Skelmersdale and it was party time as "The Blues are going up"...

The pitch was cleared of the initial invasion for the trophies to be handed out. First came the players' cups, then the main prize – the Evo Stik North Trophy, which was lifted by captain George Horan. Now I could believe it and I was on the pitch myself to join in the fun. Roll on next season!

Sue Choularton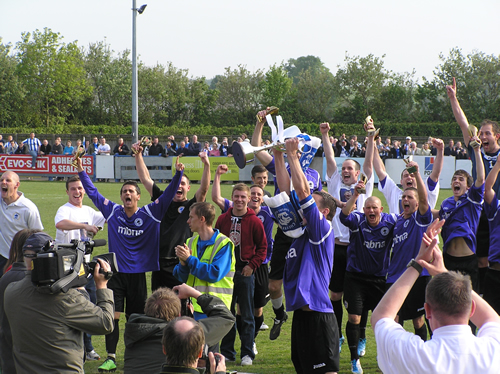 • Final league table | The presentation [YouTube]
Rate Chester's performance
---
Monday 25 April
AFC Fylde 1 Chester 3

Evo-Stik Division One North
Attendance: 1,316 Half Time 1-0
Booked: -
AFC Fylde: Edge, Stringfellow, Doughty, Steel, Elderton, Kay, Mercer, Jarvis, Walwyn (Bell 57), Townson, Barnes (Kusaloka 83). Subs not used: Stevenson, Lawlor, Hills.

Chester: Whiteside, Aspin, Horan, Taylor, C.Williams, Powell, A.Williams, Barnes (Stones 54), Wilson (Simm 46), Wilde, Booth. Subs not used: Judge, Barlow, Ruffer.

Referee: B.Toner (Lancashire).

Chester have one hand on the championship trophy after they put in a quality second half performance to beat fellow promotion contenders AFC Fylde and maintain their three point lead at the top of the table. Neil Young's men just need a point now from their final match at Garforth Town on Friday to secure the Evo-Stik Division One North title.

A swirling wind made conditions difficult at Kellamergh Park as Chester took on fourth placed Fylde who were themselves looking for a win, in their final match of the season, to boost their chances of a home play-off tie.
Backed by another large following Chester started well as Robbie Booth set up Michael Powell in the second minute only to see the midfielder's 20-yarder clear the bar. Moments later the action was at the other end as Paul Jarvis saw an effort cleared for a corner.

Booth was making his presence known and saw a goalbound effort blocked and forced home goalkeeper Lewis Edge to palm away an effort from just under the bar.
The home side broke the deadlock in the 36th minute as the Chester defence failed to clear a Jarvis free-kick and the ball fell invitingly for Kevin Townson who drilled it home past Richard Whiteside to give the home side the advantage at the break.
With rivals Skelmersdale 3-1 up at home to Prescot Cables at half-time things weren't looking too clever for the Blues – with the chances of the championship being decided on goal difference becoming a real possibility.
Manager Young made a tactical change at the break bringing on Chris Simm for Kyle Wilson and not long into the second period replacing Bradley Barnes with Greg Stones.
Powell sent a header from a Booth corner just wide as Chester began to exert themselves on the game at the start of the second period. The Blues pressed and forced a series of corners and from the fifth one Powell headed the ball home at the far post for a deserved equaliser.
Four minutes later the turnaround was complete at leading marksman Michael Wilde rose to head home from Chris Williams' left wind cross to send the Blues players, management and supporters wild with delight!
There was no sitting back from Chester who pushed for more and both Wilde and Michael Aspin forced Edge into saves. It was perhaps fitting that Booth, who turned in a man-of-the-match performance, should wrap up the points four minutes from time as he volleyed home a rebound after Edge had saved Wilde's initial effort.
The players and supporters couldn't contain their delight on the pitch at the end of the match, this was a massive second half performance that was worthy of the champions elect, but Chester must ensure that the job is finished professionally on Friday at Garforth where a final victory would notch up 100pts for the historic season.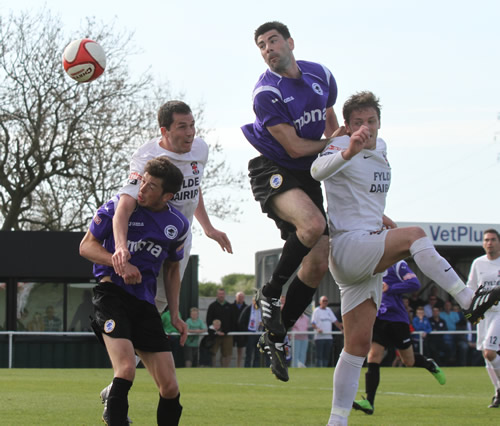 Picture © Evening Leader

• League table | More pictures
• Pictures from an AFC Fylde perspective
Rate Chester's performance
---
Saturday 23 April
Chester 2 Bamber Bridge 0

Evo-Stik Division One North
Attendance: 3,307 Half Time 2-0
Booked: Taylor. Sent-off: Taylor.
Chester: Whiteside, Aspin, Horan, Taylor, C.Williams, Booth, Barnes, A.Williams (Field 53), Powell, Wilde (Stones 59), Simm (Wilson 86). Subs not used: Barlow, Judge.
Bamber Bridge: Hinchcliffe, Bowyer, L.Atherton, White, Crowder, Reynolds, Clark, Wright (Galliers 83), Waddecar, Marlow (Mayers 71), Taylor. Subs not used: M.Atherton, Jones.
Referee: J.Madine (Liverpool).
There was an air of renewed optimism around the stadium as Chester took on Bamber Bridge for what everyone hoped would be the last home League game of the season. Lancaster's late winner against Skelmersdale on Tuesday had put Chester's destiny back at their own feet.

City began like condemned men reprieved and took the attack towards the Harry Mac Terrace. Aspin got an early cross in which the 'keeper palmed away. The Blues' tails were up. Powell then set up Simm for the opening goal with a sublime run and chipped pass. Simm got there just before the keeper and then reacted first to the loose ball to prod it into the empty net.

After this Bamber Bridge responded well and pinned City back for a spell. Simm sprung through on another ball over the top as City counter attacked. There was a coming together of foot and heel in the box and both Simm and the last defender fell to the ground. The ref interpreted it as a stumble whilst the Harry Mac bayed for a penalty. Young was so incensed by the decision he was subsequently banished to the stands for importunate remarks made to the linesman.

The Blues did forge further ahead though when Booth's free kick from the left was nodded home by Powell as he ghosted in at the far post. Simm and Horan might have added further to the score but both misdirected headers.

Bamber Bridge were still threatening after the break and City needed another goal to be certain of the win. Their task was made all the harder when Taylor was sent off for a second yellow card on the hour. Chester regrouped with Stones coming on for Wilde and slotting into the middle of defence alongside Horan. The visitors moved the ball about well, trying to make their advantage tell. City at times could hardly get out of their own half.

Simm was left to plough a lone furrow up front – a job he did eagerly. His enthusiasm got the better of him though when he tapped a goal bound shot from Booth into the net only to succeed in having the goal disallowed for offside. Booth was livid but a few minutes earlier his shot had come off a post and stranded Simm so it would be harsh to blame the number nine for making sure.

The visitors pressure came to the boil when they won a succession of soft free kicks on the edge of the box. From one Whiteside was stranded as the shot came crashing off the underside of the bar. After this City seemed to find a second wind and were able to take the play to the other end of the pitch and see out the remaining minutes until full time.

Chester's "Famous Five" forward line of 64-5 were re-united on the pitch before this game and re enacted their equally famous photo shoot. After the match, City's current crop of players took a well-deserved lap of honour. Promotion is still not won yet but they richly deserved the acclaim they received for a wonderful first season. Not only have the results been good, more importantly the club is being well run, valuing both its current supporters and its heroes of past years. It has been a joy to watch it all unfold but I don't particularly want to come back to watch them again in the play-offs next week.

Colin Mansley



Picture © Evening Leader
• League table | More pictures
Rate Chester's performance
---
Saturday 16 April
Radcliffe Borough 2 Chester 2

Evo-Stik Division One North
Attendance: 751 Half Time 0-1
Booked: -.
Radcliffe Borough: Culkin, Brown, S.Connor, Flowers, King, Sherlock (Pendlebury 64), Forrest, M.Jones, Broadhead (G.Jones 90), Fletcher (Abadaki 74), Wharton. Subs not used: M.Connor, Manning.
Chester: Lennie, Taylor, Ruffer, Horan, Stones (C.Williams 65), Aspin (Barlow 65), A.Williams, Powell, Booth, Wilde, Simm (Wilson 78). Subs not used: Barnes, Judge.
Referee: R.Wootton (Wakefield).



The wheels appear to be coming off Chester's championship bandwagon after a disastrous second half at Stainton Park. Kyle Wilson, on as a substitute, salvaged a point with a late equaliser. And George Horan almost pulled the result out of the bag when his header into the top corner was pawed away onto the angle of cross and bar but in the end City had to settle for a point when they desperately needed all three.

City had begun well in the April sunshine. Borough won the toss and chose to kick down hill first half. Chester's back line held out well to Radcliffe's attempts to get the ball forward quickly. One exception was when Stones was caught with an awkwardly bouncing ball on the hard and difficult surface and Wharton wriggled past to send a dipping half volley goalwards. Lennie, making his debut in City's goal managed to tip it over.

Gradually Chester tightened their grip and they forged ahead when Powell stabbed the ball home after Wilde's effort was blocked. It was City's hundredth as well as Powell's first goal this season.

Chester began sluggishly after the break and had already had a warning raid on their goal before Lennie lost out in a tussle for the ball with Fletcher. The forward then turned and fired the shot into the empty net from a narrow angle.

Stung into a response, City came surging forward and Simm was clattered just as he was about to shoot at goal. Connor was shown the red card and then took an interminable amount of time to trudge off the field. Radcliffe's 'keeper Culkin also delayed the resultant spot kick by remonstrating with the referee. By the time Wilde ran up to take the penalty he was a bag of nerves and scuffed the ball horribly wide.

Still it seemed inevitable that Chester would score another as they swept forward time and time again. Horan put a header wide. Simm's header was blocked by Culkin and then his free kick too which had eluded the defensive wall. Radcliffe defended doggedly.

On came Barlow and Chris Williams to further Chester's efforts and later Simm was replaced by Wilson. But then disaster occurred as City were caught on the break. A long punt upfield was swept first time by Wharton out to the right and substitute Abadaki ran on fresh legs to score.

It was an almost impossible task for City to recover now but they almost did it. Wilson found room in the box to turn and crash a shot in off the underside of the bar. Then deep into injury time came Horan's header. What a moment that would have been if it had gone in. Instead City have to reflect that they must rely on other results going their way if they are to finish top of the pile.


• League table | More Pictures
Rate Chester's performance
---
Monday 11 April
Curzon Ashton 3 Chester 1

Evo-Stik Division One North
Attendance: 908 Half Time 2-0
Booked: Barnes, A.Williams, Booth.
Curzon Ashton: Carnell, Birch, Davis, Jones, Martin, Worsley, Moses, Evans, McDonagh, Moore, Mack (Blair 84). Subs not used: Leach, Young, Lyons, Wright.
Chester: Judge, Aspin, Taylor, Ruffer, Stones, C.Williams (Booth 63), Barnes (Powell 79), A.Williams, Howard (Barlow 68), Wilde, Simm. Subs not used: Beck, Wilson.
Referee: P.Gooch (Wigan).



Chester turned in one of their worst performances of the season and missed out on a chance to extend their lead at the top of the table. The Blues still remain six points clear of Skelmersdale United (who play tomorrow) but have now played two games more that their championship chasing rivals.

Manager Neil Young kept faith with the side and formation that saw the Blues pick up three points against Cammell Laird two days earlier.
It was a fairly scrappy opening period to the game that was almost halfway through when the first chance of the game fell to Michael Wilde who headed wide Iain Howard's out swinging cross. Howard was playing his last match before a three game ban kick's-in.
The home side's first real effort came a few minutes later after Ashley Williams had picked up a booking for bringing down Luke Mack, Mack himself took the resulting free-kick that was deflected wide of the Chester goal. There were more chances soon after as Harry Davis fired wide from a corner when well placed.
Curzon were having the better of the first half and continued to press Chester back though the Blues did create another good chance themselves when Chris Williams headed over Wilde's cross.
Six minutes before the break Curzon deservedly opened the scoring as Chris McDonagh headed home from close range with Adam Judge having no chance. Two minutes later Adam Jones almost doubled the score but his long-range effort flew just wide.
A minute before the break though Curzon did add a second as the Chester defence failed to deal with a corner allowing Chris Worsley to fire home from 15 yards.
The second period began where the first ended with the home side pushing Chester with Mack pulling an effort wide early on before he home side scored a third in the 55th minute. A sloppy back pass from Ashley Williams was intercepted by McDonagh who slid the ball pasted a stranded Judge for his second goal of the game.
Manager Young introduced Robbie Booth and Scott Barlow but anything Chester managed to create was dealt with by home 'keeper David Carnell. The Blues scored a consolation goal, all important considering the title may go down to goal difference!, as Booth lobbed Carnell in the final minute.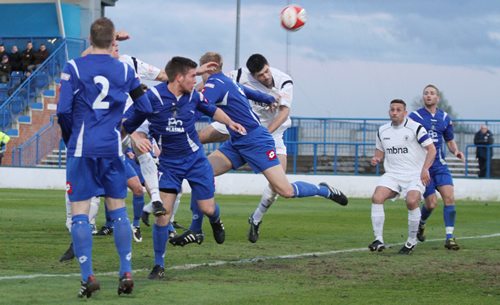 Picture © Evening Leader

• League table | More Pictures
Rate Chester's performance
---
Saturday 9 April
Chester 2 Cammell Laird 0

Evo-Stik Division One North
Attendance: 2,331 Half Time 0-0
Booked: -.
Chester: Judge, Aspin, Taylor, Ruffer, Stones, C.Williams (Beck 73), Barnes, A.Williams (Powell 85), Howard, Wilde, Simm (Booth 90). Subs not used: Wilson, Barlow.
Cammell Laird: Palethorpe, Simon, Clampitt, Edison, Riley, McGill, Stewart, Andrews, Lipson (Odukomaya 87), Hammond (Parle 62), Bowen (Evason 74). Sub not used: Speare.
Referee: G.Hilton (Lancashire).

Chester made heavy weather of wringing three points out of this fixture but they got there in the end. Just like the away fixture, Cammell Laird proved a tough nut to crack, more than their League status would suggest. It could be argued that they were inspired by this being a local derby – but it didn't have that atmosphere – there were very few away supporters.

Neil Young gave his players a new formation, playing three (Taylor, Ruffer and Stones) at the back and Aspin and Chris Williams as wing-backs. The latter didn't have to do too much defending as the visitors were reluctant to come forward. Chris Williams, especially got into some promising positions early on but had difficulty pinpointing his crosses to either Wilde or Simm. When he did find his range, Wilde headed narrowly wide.

The Blues chose to kick towards the Harry Mac in the first half in order to gain momentum quickly and they soon forced Cammell Lairds onto the back foot. Much of the pattern of the first half was about Lairds soaking up pressure and City failing to capitalise on their chances. Simm had the best couple of opportunities, heading Howard's corner profligately over the bar and then firing straight at Palethorpe after skilfully carving out a shooting chance.

Frustration continued after the break as the war of attrition continued. Lairds were content to allow Chester to lump the ball forward as, when Wilde or Simm strove to bring it under control they were usually outnumbered by defenders.

When the Blues played the ball along the ground they caused more problems. Eventually they made the breakthrough when Chris Williams crossed to the far post, Aspin nodded the ball back and Wilde latched on to it to turn and shoot into the back of the net.

Although Lairds did not seem to have a Plan B and barely threatened a goal, City fans became increasingly anxious as the game went on with just a slender lead to hold on to. Nerves were eased when Simm slalomed past a defender and pulled the ball back for Wilde to add a second with a diving header.

City relaxed and Lairds at last came forward. Judge had to be alert to knock a long-range but accurate effort from Lipson round the post. The Blues held firm and news filtered through that Skelmersdale had lost to Chorley. City go to Curzon Ashton on Monday hoping to stretch their lead further before Skem play again.

Colin Mansley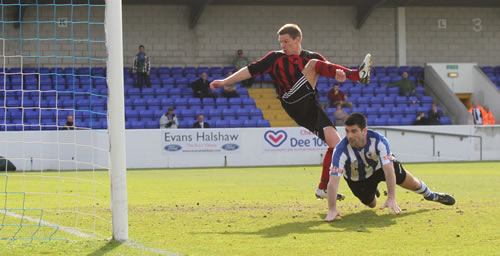 Picture © Evening Leader

• League table | More Pictures
Rate Chester's performance
---
Tuesday 5 April
Woodley Sports 1 Chester 1

Evo-Stik Division One North
Attendance: 802 Half Time 0-0
Booked: -.

Woodley Sports: Higginbotham, Russell, Band, Furnival, Richardson, Wellstead, Gee, Walker, Rothwell (Haslam 85), Neequaye, Woods (Blackshaw 60). Subs not used: Crank, Smith.
Chester: Judge, Taylor, Horan, Ruffer, Stones, Powell (Simm 71), A.Williams, Howard, Booth, Wilde, Mackreth. Subs not used: Beck, Barlow, Barnes, Aspin.
Referee: M.Walsh (Sheffield).



A strong wind and a diabolical plastic pitch meant that this was not a beautiful game. The ball must have been in the air for ninety percent of the time and when it did come down it bounced up again with a vengeance.

City, playing in all white against a gloomy background, despite the floodlights working this time, attacked with the wind behind them in the first half. They might have taken the lead very early but Powell could not get any power behind a header after Howard's shot rebounded off the keeper.

Although playing into the teeth of the wind, Woodley almost capitalised on a jittery Chester defence a couple of times, with defenders dithering and putting Judge under pressure with back passes. Only Howard and Booth looked comfortable on the ball but were both having to contend with close marking opponents who closed down City tirelessly. It made for a really scrappy game.

Chester's main line of attack was to lob in crosses from the flanks but Higginbotham caught most of them and his central defenders dealt with the rest. City came closest to scoring when Howard curled a cross in from the right which turned into a shot as the wind took it and dipped it just under the bar but Higginbotham recovered to tip it over. Then, just before the break, Ruffer ran with the ball from defence, played a one-two with Howard on the edge of the box and saw his belter of a shot just clear the bar.

The travelling fans were uneasy after the break. They could sense that the strong wind and the scrappiness of the play meant that Chester were likely to concede. Although City's defence held up pretty well, the opening goal did go against them due to the quick thinking, fleet-footed Neequaye. As he cut in from the left and Judge came out, the ball looped up over the keeper's head and Neequaye sped past to poke his shot into the far corner of the goal.

City were not playing badly but it was difficult to see where a clear-cut chance was going to come from. This changed however when Simm was introduced to replace Powell after seventy minutes. His movement and control began to open up more opportunities. He combined well with the hard-working Wilde to lash in an equaliser from the edge of the area – the ball sitting up nicely to invite the shot. A few minutes later Simm should have had another when Wilde held off a challenge to surge into the penalty area and squared the ball only for Simm to contrive to put it over the bar. To be fair to him it came in a flash to him and at an awkward height.

Chester deserved at least a point for their endeavour, but their opponents and the conditions made it tricky for them. Skelmersdale closed the gap further this evening but there are still plenty of points to play for, fortunately not any more on another synthetic surface.
Colin Mansley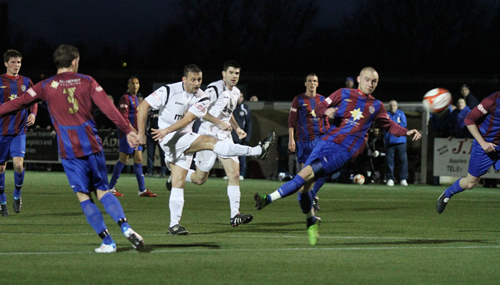 Picture © Evening Leader

• League table | More Pictures
Rate Chester's performance
---
Saturday 2 April
Mossley 0 Chester 1

Evo-Stik Division One North
Attendance: 874 Half Time 0-0
Sent-off: Howard.

Mossley: Collinge, Weston, G Kay, Watson, Warner (Hall 81), Rowney, McGonigle (Coo 70), M Kay, Oates (Rick 63), Fish, Dennis. Subs not used: Flint, Constantine.

Chester: Judge, Aspin, Horan, Ruffer, Stones, Booth, Powell, A.Williams (Beck 90), Howard, Wilde (Barnes 69), Simm (Mackreth 88). Subs: Taylor, Wilson.

Referee: K.Haydock (West Yorkshire).

Another crucial goal from George Horan ensured Chester kept their championship race on track with three well deserved and hard-earned points at Mossley. It was the captain's tenth goal of the season and was enough, just, to keep the Blues five points clear of their nearest promotion rivals Skelmersdale United.

The home side, who had lost eight of their previous nine matches, had Andy Watson and Graham Kay returning to the line-up and they saw plenty of possession in the opening period without unduly troubling the Chester defence.

In the picturesque setting of Seel Park and once again backed by another large following the Blues were rocked in the 19th minute by the sending-off of Iain Howard. The striker's robust tackle on Matt Kay was deemed by match referee Ken Haydock to have been a two-footed one and administered a straight red card.

Chester went close on several occasions, mostly from set pieces, as the half wore on. Leading scorer Michael Wilde and Horan both headed over from corners while recent signing Michael Powell had a great chance to open his Chester account five minutes before the break but could only lob into the arms of home 'keeper Peter Collinge after being sent through on goal one-on-one.
The deadlock was broken eight minutes after the restart. Michael Aspin sent in a far post free-kick, the ball was headed down to Powell whose angled shot was well saved by Collinge but the ball broke to Horan eight yards out who drove it home.

Manager Neil Young introduced Bradley Barnes as the expense of Wilde, who was suffering from a dead leg, as Chester looked to score a second and Barnes had a great opportunity following good work from Chris Simm but was unable to beat Collinge.
The defence had coped well all day but there was a scare late on substitute Chris Hall's goalbound header had beaten Adam Judge and was cleared off the line by Aspin.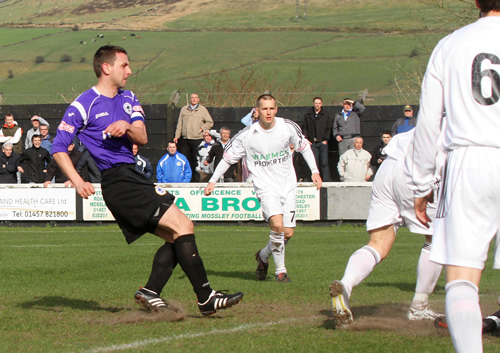 Picture © Evening Leader

• League table | More Pictures
Rate Chester's performance
---