---
Saturday 22 January
Chester 6 Ossett Albion 0

Evo-Stik Division One North
Attendance: 2,084 Half Time 3-0
Booked: -.

Chester: Whiteside, Aspin, Taylor, Horan, C.Williams (Stones 52), Booth (Wilson 65), Barnes (Beck 61), A.Williams, Howard, Simm, Wilde. Subs not used: Field, Metcalfe.
Ossett Albion: Connor, Parker, Hague (William 68), Johnson, Ball, Senior, White (Brown 65), Bennett, Cook, Moore, Kelsey (Kelly 63). Subs not used: Ryan, Allison.
Referee: R.Bartlett (Cheshire).



Ossett Albion came to the Deva still smarting from a 6-2 home defeat to Bamber Bridge in mid-week. Outside observers may have been expecting a similar scoreline today as they visited the League leaders. But having great expectations is one thing, living up to them is another.

On this occasion City lived up to the hype that their position in the League has generated. They played with energy, commitment and no little skill and kept going for the full ninety minutes.

To begin with Albion were in Chester's face and gave little time to dwell on the ball but then City got into a groove and the speed with which they moved the ball around began to undo the visitors. The opening goal was going to be crucial. When it came it was a scrappy affair. Howard's cross from the left eluded Wilde but rebounded off the shin of a defender. Wilde was first to react and stretched to knock it past a wrong-footed keeper.

Wilde almost added a spectacular second moments later – crashing a shot against the bar. A second was not far away however and was almost as soft as the first. A defender needlessly handled a cross from the right wing and the referee blew for a spot kick. Connor, diving at full stretch, did well to touch Wilde's firmly struck penalty but only managed to help it on to the post whence it flew into the goal.

Debutant Chris Simm had succeeded in making a good impression on the game by his willing runs and ability to hold on to the ball. His partnership with Wilde shows lots of promise on this display. Wilde it was who teed Simm up for his first goal and Chester's third following a header into the box by Taylor.

Any semblance of an Ossett fight back after half time was snuffed out almost immediately as Wilde chased a through ball from Simm and rounded a slightly hesitant 'keeper before finding the top corner of the net to complete his hat trick.

From then it became a question of how many City would add to their tally. Howard it was who chipped in with a brace. The first was a drilled free kick from the edge of the box after Simm had been tripped by Johnson. The second was the culmination of a sweet move as he swept home substitute Stones' pull-back from the left. Howard nearly bagged a hat trick himself showing great touch in the box to bring the ball under control but his venomous shot was parried by Connor. It could have been many more – Simm had a further chance and Wilson, on for Booth, just failed to connect with another Howard cross.

"When was the last time we scored seven?" we began to ask ourselves and memories of that night in 1989 when Carl Dale, Milton Graham et al. put Fulham to the sword came back. Still City had to be content with six this time. Just as pleasing as the result was that there was a good shape to City's play and a desire to keep going right through the game. Many other teams would have found City hard to live with this afternoon.





• League table | More pictures


Rate Chester's performance
---
Saturday 15 January
Chester 3 Wakefield 1

Evo-Stik Division One North
Attendance: 2,280 Half Time 1-0
Booked: Horan.

Chester: Whiteside, Aspin, Ruffer, Horan, C.Williams, Barnes, A.Williams (Beck 80), Howard, McCarthy (Booth 64), Wilde (Metcalfe 83), Wilson. Subs: Taylor, Stones.
Wakefield: Zolna, Nicholson, Milnes, Stansfield, Tonks, Jones (Woodhead 83), McGuire, Roberts, Hunter (Brooke 65), South (Kane 59), Denton. Subs: Glavin.
Referee: P.Marsden (Lancashire).



Wakefield a.k.a. The Bears arrived at the Exacta Stadium with a few grizzlies in their line-up judging by the size of some of their players. They looked like a team of giants in comparison with the mere six-footers in Chester's team. Top scorer Tom Denton was like a bear with a sore head as he grappled with George Horan in the penalty area as Wakefield lined up a free-kick in a dangerous position. A bit of argy-bargy ended up with him throwing a punch at City's captain and the referee, after calming down the ensuing scrimmage, held a pitch conference with his assistants. They awarded a red card to the Wakefield number ten and a yellow to Horan.

In Nigel Edwards and Ian Moir's heyday such a clash would have been regarded as handbags at ten paces and the two offenders given a flea in their ear and told to get on with it – but football takes itself more seriously these days. Edwards and Moir entertained the Harry McNally Terrace with an impromptu penalty shoot out at half time. Moir's flying leap just failing to keep out Edwards' thunderous kick.

By the time they watched this the home crowd were in a more relaxed mood, Chester having taken the lead in first half stoppage time. Wilson worked a short corner with Howard and crossed for Barnes to glance a header into the far corner. Prior to this City had been largely frustrated by a resolute Wakefield, determined to prevent Chester scoring but limited in attacking ambition after Denton's dismissal.

Having said that, Wilde, of all people, helped clear their most dangerous effort off the line. At the other end he fashioned Chester's best chance when he crossed for McCarthy to score but the linesman ruled that it had crossed the goal line in the build up and the goal did not stand.

After the break City grew in dominance with new boy Ashley Williams standing out in a central midfield role, putting himself about with great effect and using the ball well. Chester increased their lead from another corner. Wilson's right wing kick seemed to hold up in the gusting wind and Wilde leaped majestically to head over the gargantuan Slovakian 'keeper and also over the Bears' most diminutive full-back on the goal line.

City's scoring was complete when Howard, released from the shackles of his central position, broke on the left to cross superbly to the far post where Booth, on as a sub for McCarthy, headed the ball like an exocet into the back of the net.

A patient and eventually fruitful display by Chester was flawed slightly when Chris William's failed to bring Whiteside's throw under control and Blake nipped in to score a consolation goal for the visitors. It was City's first home win for four matches and, incredibly, their first at home of any description in January for nine years. In all of those nine years (including promotion back into the Football League) Chester have never made as much progress as a club as they have in the last twelve months.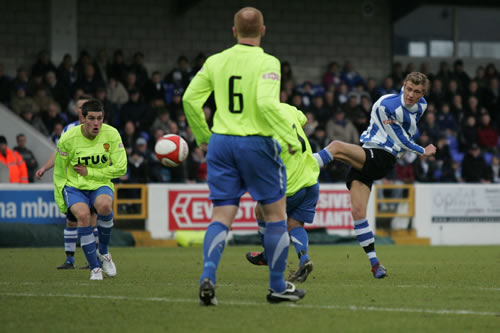 • League table | More pictures


Rate Chester's performance
---
Wednesday 12 January
Chester 2 AFC Fylde 2

Evo-Stik Division One North
Attendance: 1,740 Half Time 2-2
Booked: McCarthy.

Chester: Whiteside, Aspin, C.Williams, Horan, Ruffer, Field (A.Williams 76), Barnes, McCarthy, Booth (Wilson 86), Wilde, Howard. Subs not used: Taylor, Beck, Graves.
AFC Fylde: Edge, Lawlor, Hills (Elderton 74), Mercer, Doughty, Kay, Booth, Mahoney, Cahill (Bell 79), Townson (Walwyn 81), Barnes. Subs not used: Stevenson, Strigfellow.
Referee: J.Parry.



All this season the Cestrian, Chester's programme, has carried an advert for an architects' firm with some pictures of their grand designs. They range from Peterborough to Farnborough and from Fleetwood to Fylde. The latter, Chester's opponents on this occasion clearly have great ambitions for a new stadium and are on a mission for promotion too.

In Kevin Townson, Mike Barnes and John Hills, Fylde fielded several players with Football League experience others had been part of Fleetwood's Conference North winning side and, prior to this game, they had won five matches in succession. They started as though they meant business and took an early lead when Barnes beat Aspin and put in a low cross from the left for Townson to convert.

Chester hit back with character and equalised after 17 minutes following a corner. Field's kick was cleared to the edge of the area where Howard deftly chested the ball down and swept it back out to Field on the left. His cross was then met bravely by Horan and the ball went in the direction of Wilde who lashed home a spectacular scissors kick.

Ten minutes later the Blues were ahead when McCarthy's long throw was dummied by Horan which allowed Bradley Barnes space to strike in a delightful curling shot just inside the 'keeper's left hand post.

After this City pressed Fylde back trying to extend their lead but without much luck. McCarthy was booked after injuring the 'keeper going for a fifty/fifty ball. At first Edge made a meal of the injury but as a posse gathered round the referee he sportingly made it clear to the official that he didn't want any recriminations. The players shook hands but Mr Parry still got his yellow card out.

As City continued to press, a promising position broke down as Field misplaced a pass and the Blues were on the back foot. They seemed to lose shape and defend too deep, inviting Hills to make a run with the ball from left back. His pass was deflected into the path of the unmarked Townson who had room to pick his spot for the equaliser.

After a breathless first half the second period did not quite match up. To begin with AFC Fylde threatened to overrun the Blues and twice outnumbered City in their own penalty area only for the moves to break down by a combination of desperate defending and forwards picking the wrong option. But City dug in and held firm and towards the end had a couple of chances to snatch victory. Ruffer was immense at the back and was justifiably picked by the sponsors as man of the match. Once again shortcomings in midfield were exposed by a slick and talented opposition. Too often Wilde was isolated up front as Booth on the left and McCarthy on the right were unable to get alongside and support him.

Time will tell whether this will be a valuable point gained or two dropped. I tend to think it was probably the former, although they struggled at times to stay in the game, City battled to the end with good character. Intriguingly Chester are due to visit AFC Fylde for the last League game of the season – we'll all have a better measure of City's and AFC Fylde's standing by then.


•
League table
| More pictures
Rate Chester's performance
---
Saturday 8 January
Trafford 0 Chester 2

Evo-Stik Division One North
Attendance: 724 Half Time 0-2
Booked: -.

Trafford: Tyrer, Wedge, Bayunu, Thompson, Ashton, Shaw (Shannon 69), J.Baguley, Moses, Collier, Lundy (Turner 69), C.Baguley (Barlow 69). Subs not used: Harrop, White.

Chester: Whiteside, Aspin, Ruffer, Horan, Williams, Barnes, Field, Howard, McCarthy (Wilson 58), Wilde, Booth (Graves 87). Subs not used: Beck, Taylor, Clarke.
Referee: G.Chapman (Keighley).

Two goals in the opening 20 minutes were enough to see Chester complete the double over Trafford following the six goal win over their Lancashire opponents in the opening home match of the season.

With goalkeeper Chris Sanna on his way back to Colwyn Bay there was a return to the side for Richard Whiteside. There were six other changes as well to the starting line-up from the side that surrendered a two-goal lead against Warrington Town last week.

Within five points dropped in their last two home fixtures Chester will have been keen to extend their domination of away matches and it took them less than a minute to establish the lead at Shawe View as Iain Howard met a long-throw from Jimmy McCarthy to head past Aaron Tyrer in the home goal to the delight of the 600+ traveling supporters.

Chester dominated the opening staged and former Trafford player Bradley Barnes had a great chance to double the lead only to shoot over after being set up by Chris Williams.

It wasn't long though before Chester doubled their advantage on 20 minutes as captain George Horan rose highest to head home a Tom Field corner for his fifth league goal of the campaign.


The Blues continued to press and were almost gifted a third as Keith Wedge's attempted headed clearance struck his own bar following good approach play by Robbie Booth. The best other chance of the half also came from a set piece and fell to top scorer Michael Wilde who headed just over from an inswinging Ton Field corner.

Whiteside was called into action for the first time five minutes after the restart saving a shot from Warren Collier in a rare home attack as Chester's defence held firm throughout the second period.

Wilde almost got on the scoresheet after being set-up with a through ball rom substitute Kyle Wilson but the leading scorer shot wide from the edge of the box. The only real other effort of note saw Barnes force Tyrer into a superb save pushing his 20-yarder round the post for a corner.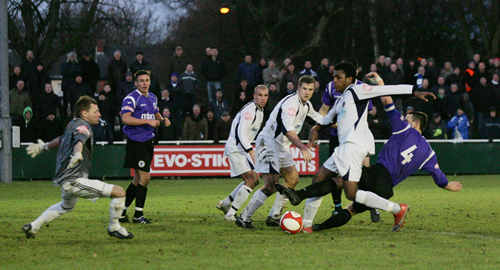 • League table | More pictures


Rate Chester's performance
---
Monday 3 January
Chester 2 Warrington Town 2

Evo-Stik Division One North
Attendance: 2,609 Half Time 1-0
Booked: Jones.

Chester: Sanna, Jones, Horan, Taylor, Williams, Stones (Barnes 59), Field, Beck, Metcalfe (Howard 46), Wilson (McCarthy 89), Wilde. Subs not used: Ruffer, Aspin.
Warrington Town: Pritchard, Duffy, T.Hardwick, Tomlinson, Corrigan, Hickey, Wade (R.Hardwick 80), Finley, Gahgan, Collins (Rutter 89), Salmon (Millington 80). Subs not used: Jukes, Ness.
Referee: J.Hull (Stockport).



Although, after leading 2-0 this looks very much like two points dropped to have drawn 2-2 with Warrington, most City fans leaving the ground felt City were lucky not to lose in the end.

The team had an unfamiliar look with Taylor making his home debut at centre half, Beck in place of Barnes in midfield with Stones on the right and Metcalfe starting the game on the left. It was Beck who gave City a dream start after five minutes as Wilson did very well to turn and shoot on the right and his shot cannoned off the far post, leaving the midfielder with the task of scoring his opening goal for the Blues.

But Chester failed to capitalise on this beginning as they struggled to find shape or pattern to their play and Warrington were the more lively team on the ball. City survived by the skin of their teeth when Duffy took advantage of some confused defending down the right and crossed for Sanna to just pip Collins to the ball – actually punching it between the forward's legs.

Metcalfe had struggled to make any impression and was replaced after half time by Howard. City looked to have wrapped the game up when they were awarded a free kick on the right after Corrigan was booked for bringing down Wilson as he broke on the right. Wilde's header from the free kick was deflected and looped to the far post where Horan prodded it home.

The Wire continued to take the fight to City, however, and pulled a goal back on 75 minutes. A poor clearance found a Warrington player who clipped a cross to the far post. It wasn't clear whether Gaghan or Jones got the final touch but the ball flew past Sanna into the back of the net. City really struggled to match Warrington for energy as they strove for an equaliser.

Too often the home side were caught in possession or gave the ball away cheaply. Wilson and Wilde were increasingly isolated up front as City sat back and invited the visitors forward. They had a lucky break when Taylor deflected the ball narrowly wide of his own goal but conceded an almost inevitable equaliser as Hardwick stabbed the ball home with City all over the place.

It might have been even worse had not Gaghan steered the ball narrowly wide in the dying moments.

Warrington looked a good side and well worthy of their point. Neil Young will be concerned at another disjointed and incohesive display by City.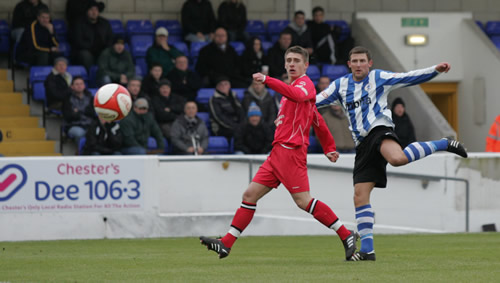 • League table | More pictures


Rate Chester's performance
---
Saturday 1 January
Prescot Cables 0 Chester 1

Evo-Stik Division One North
Attendance: 1,020 Half Time 0-0
Booked: Clarke, Jones.


Prescot Cables: Langley, Hollett, Spearitt, Liptrott, Rendell, Smith, Wright, Couch (Parsonage 79), Calland, Gibiliru, Madin. Subs not used: Flynn, Jarrett, Bell, Foy.

Chester: Sanna, Jones, Horan, Ruffer, Graves, Stones, Barnes, Field, Howard (Metcalfe 53), Wilde, Clarke (Wilson 53). Subs not used: Beck, McCarthy, Taylor.

Referee: S.Durbin (Cheadle Hulme).

A goal four minutes into stoppage time by Stuart Jones ensured Chester got 2011 off to a winning start and remain six points clear at the top of the Evo-Stik Division One North table.

The game was heading for a goalless stalemate as Greg Stones pushed forward down the right and delivered a far post cross that Jones smashed home past Cables 'keeper Mike Langley on the volley to grab all three points, to the delight of another large traveling support of 800+.

With the Blues hoping to stop a run of back-to-back defeats just before the Christmas period, manager Neil Young gave a debut to Michael Clarke up front with another new (loan) signing Scott Metcalfe starting on the bench.

On a heavy pitch is was Chester who had the better of the opening exchanges though chances were at a premium. Carl Ruffer should perhaps have done better with a header midway through the opening period that drifted wide following a Tom Field corner. Clarke also wasted an opportunity shooting straight at Langley when well placed twelve yards from goal.

Young made a double substitution eight minutes after the restart bringing on Metcalfe and Kyle Wilson, for Iain Howard and Clarke as the Blues looked to step up a gear after a dour first half. Wilson made an immediate impact seeing a close range effort cleared off the line by Krystian Liptrott.

Jones went close to opening the scoring as he sent a glancing header onto the bar after meeting a Field free-kick. At the other end Chris Sanna had very little to do though he was called into action to save smartly from Dale Wright.

Wilson was presented with a great scoring opportunity on 75 minutes as skipper George Horan sent the forward clear with a header but he could only blast just over from 12 yards out. Jones forced Langley into another good save before the defender earned his hero status with that last gasp volley.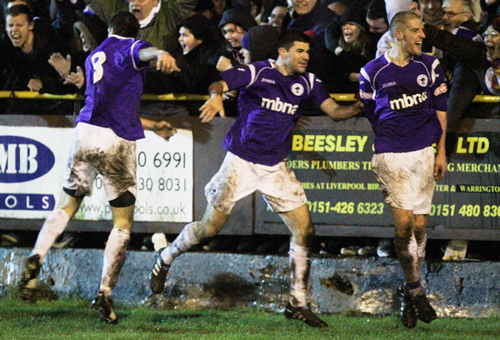 Picture © Evening Leader

• League table | More pictures
Rate Chester's performance
---

LATEST NEWS

TWO NEW SIGNINGS
Chester have added a defender and a midfielder to their squad today.
more »
LAST MATCH

LATE GOAL SINKS BLUES
A long-range goal three minutes from time by Luke Haines sees The Bulls take all three points from Deva Stadium.
more »
CLUB HISTORY

Everything you need to know about the club's history, honours, records and kits. Complete list of fixtures from 1885 and much more.
more »
SUPPORTERS

EXILES BLOG
The Exiles have set up a blog to provide away match information and articles for Blues fans living away from Chester. You can read it here
Exiles » | ISA »