---
Saturday 30 October
Cammell Laird 1 Chester 2

Evo-Stik Division One North
Attendance: 1,128 Half Time 0-1
Booked: Horan, Field.

Cammell Laird: Palethorpe, Brizell, Crosbie, Gardiner, Adamson (Hay 36), Corrigan (Cooke 59), Atherton, Clampitt (Sullivan 46), Andrews, Richardson, McGill. Subs not used: Edison, Irons.
Chester: Whiteside (Titchener 88), Jones, Horan, Ruffer, Williams, Sarcevic, Barnes, Stones (Field 59), Howard (Graves 90), Wilson, Wilde. Subs not used: Beck, Booth.
Referee: Richard Bartlett (Cheshire).



It was time for another Chester takeover as around 1,000 Blues fans poured into the Kirklands Stadium to make it almost a home match for the travelling team.

The Lairds' fans almost didn't seem to know what had hit them, and that seemed to apply to the team as well. For the opening half hour the pressure was all from Chester, and it only seemed a matter of time before a goal came.

Lairds' goalkeeper Phil Palethorpe, who spent his earlier career as Chester City's reserve during John Danby's solid reign, made a couple of good saves from Iain Howard, Bradley Barnes and George Horan.

But it was Michael Wilde who put Chester ahead on the 25th minute when he headed in a Greg Stones' cross. There were no shortage of outstretched Chester hands for him to mark his celebration as he ran along the touchline.

Wilde could have scored again before half-time, being denied this time by Palethorpe. When the break came, Chester fans were worried that Halloween might be coming a day too soon and there was a nervous sense of expectation as people queued for their half-time pasties.

And their concern was right, as it was 1-1 soon after the re-start, with Lairds' player manager Alex Hay slotting it home after a defensive blunder. Chester goalkeeper Richard Whiteside seemed to shout for the ball, then didn't come to meet it. The ex-Tranmere player pounced to make the scores level.

The match continued at a gallop, with referee Richard Bartlett booking five players along the way, and Chester having several more goal attempts denied them.

Referee Bartlett showed red on the 73rd minute when Lairds' Anthony Gardiner threw his arm up to handball the ball away. If his arm hadn't got in the way, Chester would have been through on goal.

Chester now had chance to pounce and just five minutes later, it was Wilde who struck again, with a great volley from a cross by Antoni Sercevic.

But the excitement was far from over and – with a Lairds' player having lengthy treatment for a head cut – we knew there was going to be a lot of injury time. The tension became almost unbearable when it was Whiteside's turn for the physio's attention.

Knowing there's no reserve 'keeper at the club, he tried to stuggle on, but it was painful to watch and it was no surprise when he came off on the 88th minute.

So goal hero Wilde now had a chance to prove himself at the other end, and donned Whiteside's gloves and orange top. He did have to make one solid save, and it was a nervy seven minutes of injury time before the referee finally blew up for full-time.

It's a long time since I've heard any Chester fans chant: "We are top of the League", but that day has come and it roundly completed an action-packed away day.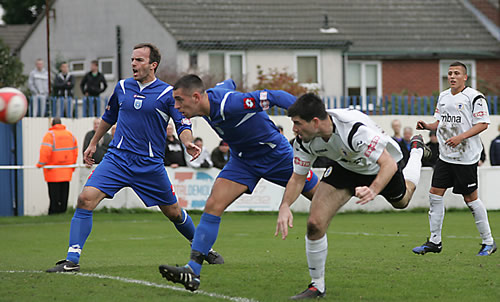 • League table | More pictures


Rate Chester's performance
---
Wednesday 27 October
Chester 3 Witton Albion 1

President's Cup Round 1
Attendance: 1,209 Half Time 0-0
Booked: None.

Chester: Whiteside, Aspin, Graves, Horan, Jones, Sarcevic (Williams 83), Field, Foulkes (Beck 72), Wilson, Titchener (Howard 78), Booth. Subs not used: Ruffer, Barnes.

Witton Albion:
Cooper, Moffatt, Woods, Pritchard, Kearney (Smith 78), Maguire, Bryan, MacPherson, Harrison, Taylor (Kinsey 59), Pugh (Holt 66). Subs not used: Hamlett, Ennion.

Referee: R.Pollock (Liverpool).

Chester progressed impressively into the second round of the President's Cup after beating Cheshire neighbours Witton last night.

Manager Young rested several players from last Saturday but those who came in did a collectively good job as they attacked the visitors from the off.

Though it was still goalless at half time, City had by far the greater amount of the play. The industrious Wilson had the ball in the net but was given offside; Booth had a shot which nearly crept in at the near post and then he crafted an opening for Foulkes whose shot was blocked for a corner. Albion didn't manage a shot on target. The only criticism of City's play was that they resorted too often to hopeful balls forward rather than playing it through the middle. The veteran Pritchard at the back of the Witton defence marshalled his colleagues well.

After the break Witton put City under a bit of pressure and for a while it seemed that Chester's dominance would come to nothing. But then Sarcevic was sandwiched on the right side and from the resultant free-kick Horan powered a header home. The confidence of the goal led to Chester really turning the screw on Witton, who at times struggled to get out of their half. Aspin and Sarcevic linked up well down the right and Field became ever more commanding in the middle.

Twice Titchener ran on to through balls to have shots saved by the keeper as City began to carve more openings. Eventually Sarcevic ended a flowing move by a clever turn to make space and then lashing the ball past Cooper in the Albion goal.

Alarm bells began to ring when MacPherson swept a goal back as Chester failed to clear decisively. Only three weeks ago Witton had poached a brace of goals in stoppage time. But Howard, on as a substitute, made the tie safe when he cut in from the right. Despite having his shirt pulled and avoiding an attempted trip, Howard got his shot in and a wicked deflection sent Cooper the wrong way.

Half time scores from the League Cup at Villa Park and an interview with Derek Draper brought back memories of City's vintage cup run in 74-5. A very healthy crowd of 1,209 went home well contented and dreaming of further glory to come no doubt.

Colin Mansley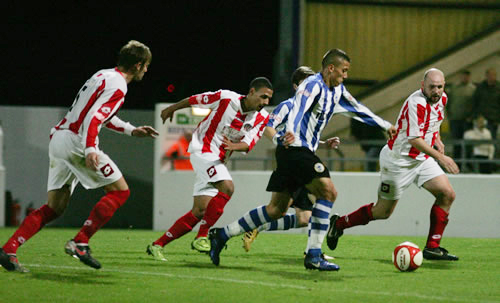 Picture © Evening Leader

• More pictures
Rate Chester's performance
---
Saturday 23 October
Chester 3 Lancaster City 0

Evo-Stik Division One North
Attendance: 2,429 Half Time 2-0
Booked: Sarcevic. Sent-off (second yellow): Sarcevic.

Chester: Whiteside, Jones, Williams, Horan, Ruffer, Sarcevic, Barnes (Aspin 82), Stones (Graves 87), Wilson (Titchiner 74), Wilde, Howard. Subs not used: Booth, Field, Graves.

Lancaster City: Fearon, Henry, Marshall, Teaghe, Kilbane, Wilson, Rushton (McKenna 70), Farrell, Kenworthy (Johnson 34), Rothwell, Jarvis (Hattersley 45).
Subs not used: Nightingale, Watt.
Referee: G.Johnson (Ormskirk)
.

Chester were definitely in the pink as they took this game by the scruff of the neck from the beginning and imposed themselves on the Lancaster, the Dolly Blues and last season's runners up. Antoni Sarcevic, on loan from Crewe Alex, made his debut and added much needed pace and steel to Chester's midfield.

But it was Howard, man of the match for the second week running, whose pace and panache put Chester in control. Wilde chested a forward pass into the area and, with his back to goal, lifted the ball out to the left. There Howard also used his chest to control it and lashed in a stunning drive from the corner of the penalty area into the opposite corner of the goal. The second goal was even better – a sweeping move from left to right and back again ended when Wilde's first time flick found Howard and he lifted the ball over the onrushing keeper and into the net.

Lancaster came closest to scoring when Jarvis' shot went just wide of the post following a corner but Chester were generally comfortable – their pace and work rate in midfield notably higher than the previous week against Leigh.

The club had designated today "Think Pink Day" as funds were raised for the breast cancer unit at the local hospital. Pink tee shirts were on sale to raise money for the cause and those worn by the players auctioned after the game in the Blues Bar (Pink Bar for the day). Michael Wilde's shirt raised £100 – a token of the esteem he is currently held in. He it was who assisted Wilson to score his first league goal for the club by racing down the right wing and crossing first time. Wilson's cool finish was harder than it looked.

Chester might well have added more to the tally, Wilde and Barnes went close with headers and Howard had half a chance for his hat trick when Wilson's shot was parried by Fearon. Sarcevic, who might have had a penalty when he appeared to be nudged over in full flight, then had the edge taken off a very impressive performance when he picked up a second booking for a mistimed jump for a header.

This was a business-like and confident performance by City, much needed after a couple of stumbles at home. Manager Neil Young dressed appropriately with matching shirt and tie mixed with the fans in the Pink Bar later, able to bask in the rosy glow of a job well done.

Colin Mansley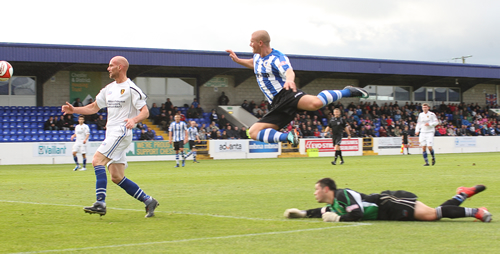 Picture © Evening Leader

• League table | More pictures
Rate Chester's performance
---
Saturday 16 October
Chester 1 Leigh Genesis 1

Evo-Stik Division One North
Attendance: 2,114 Half Time 0-0
Booked: None.

Chester: Whiteside, Aspin, Williams, Horan, Ruffer, Field (Foulkes 66), Barnes (Burgess 74), Booth (Peers 50), Hopley, Wilde, Howard. Subs not used: Jones, Graves.
Leigh Genesis: Judge, Scott, Farley, Rendall, Heald, Hopkins, Olsen, Garnett (Eastham 74), Strode (Gleaves 63), Lawless, McKane (Kearns 86). Subs not used: Brockley, Maddox.
Referee: Mr P.Dunn, (St Helens).



It was hard to pinpoint the reason why Chester didn't win this match by a country mile against a very unambitious Leigh outfit.

But for all their possession, City failed to create many clear cut chances, they lacked the cutting edge to really keep the visitors under pressure.
Howard, easily man of the match, was indefatigable in his efforts to break the deadlock. We thought he had done it when he skipped past the full back and his cross caused confusion in the goalmouth. Unfortunately Hopley had strayed offside before he put the ball in the net.

Then Peers on the right wing crossed perfectly for Horan but the skipper's header was directed straight at Judge. It was fellow defender Carl Ruffer who got the breakthrough City craved a few minutes after this. His glancing header was directed downwards and deceived the excellent keeper. Hopley might have made it two when Judge made a rare mistake and missed a cross. And again Hopley won a race with the 'keeper to a bouncing through ball but his lob went just wide of the post.

Such near misses seem all the more agonising given Leigh's last gasp equaliser. A long punt sliced off a City defender to give Gleaves an open goal. It was a sickening blow to Chester's hopes of catching leaders Chorley and a harsh lesson in working harder at finishing teams off.

Colin Mansley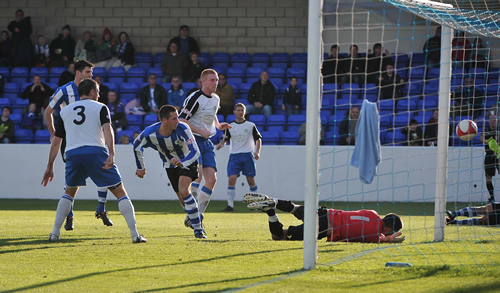 Picture © Evening Leader

• League table | More pictures
Rate Chester's performance
---
Wednesday 13 October
Chester 3 Rushall Olympic 1
— after extra time
Evo-Stik League Challenge Cup Round 1
Attendance: 966 Half Time 0-0
Booked: Graves, Aspin, Peers.

Chester: Oldfield, Stones, Hopley, Evans (Aspin 46), Graves (Barnes 66), Peers, Foulkes (Wilde 56), Burgess, Field, Williams, Wilson. Subs not used: Howard, Jones.
Rushall Olympic: Cunningham, Tolley, Spittle, Gomez, Littler (Ashton 46), Obeng, O'Kelly, McNaught, Brady (Maguire 16), Fitzpatrick, Hepburn (Morris 59). Subs not used: Dacres, Melbourne.
Referee: Mr J.Brooks.



Chester booked their place into the second round of the League Challenge Cup after coming from behind to beat their Division One South opponents in extra-time.
Several changes were made the starting line-up with Richard Foulkes making a debut in midfield, whilst striker Rob Hopley appeared at the centre of the defence!
It was Foulkes who had the first meaningful effort on goal seeing a shot drift wide on 20 minutes, Wilson should have done better minutes later but shot straight at the 'keeper when well placed. Gareth Evans, making his home debut, headed just wide of Luke Cunningham and the post as Chester started to get their game together.
The Pics has a golden opportunity to open the scoring in the 31st minute as Stuart Graves felled Ahmed Obeng in the box, referee Brooks had no hesitation in pointing to the spot. However Mitchell Tolley crashed the penalty against the crossbar and the chance was missed.
Chris Oldfield saved well low down to deny Anthony Maguire and send the teams in level at half-time.
Five minutes after the break Tolley atoned for his first-half miss as he was left unmarked to smash home a loose ball following a Anthony Maguire corner.
The visitors were reduced to ten men as Decio Gomez picked up two yellow cards in quick succession.
Manager Neil Young introduced in-form striker's Michael Wilde and Bradley Barnes and the former went close with a header on 77 minutes before the equaliser eventually came eight minutes from time. Oldfield's long goal kick was flicked on by Wilde to Kyle Wilson who raced through one-on-one and slotted the ball under Cunningham to mark his home debut with a goal.
Chester pushed for the winner and thought they'd got it when Williams found the net but he was adjudged to be offside and in the dying seconds Cunningham pulled off a great save from a Barnes header to send the game in to extra-time.
Cunningham again produced a fine save to deny Wilde's header following a Barnes free-kick, but he was given no chance as Tom Filed rifled home into the top corner from 20 yards to give Chester a 98th minute lead.
Lucan Spittle saw red for the visitors who were reduced to nine men following his high tackle on Wilson before Wilde wrapped the game up scoring from ten yards with virtually the last kick of the match.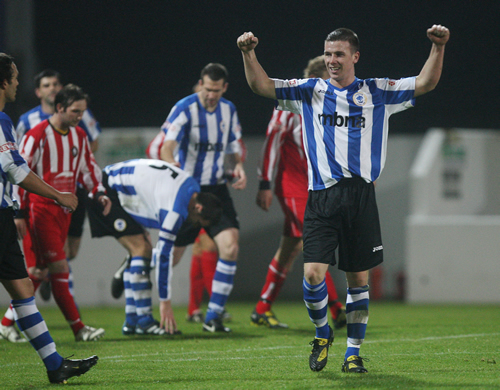 Picture © Evening Leader

• More pictures
Rate Chester's performance
---
Saturday 9 October
Harrogate Railway Athletic 1 Chester 4

Evo-Stik Division One North
Attendance: 703 Half Time 0-0
Booked: None.

Harrogate Railway Athletic: Elliott, Thirkell, Radcliffe, Harratt, McLean (Husband 71), Durham (Bainbridge 88), Gray, Parkes, Hunter, Maloney, Ryan (Palfrey 71). Subs not used: Davey, Osbourne.
Chester: Whiteside, Jones (Evans 76), Horan, Ruffer, Williams, Booth (Stones 59), Field, McCready (Wilson 18), Barnes, Howard, Wilde. Subs not used: Burgess, Hopley.
Referee: Mr I.Turner.



A second half hat-trick from Michael Wilde, his second treble of the season, ensured Chester continued their impressive away form and closed the gap on leaders Chorley, who drew at Cammell Laird, to three points.
Manager Neil Young gave a debut to new signing Tom McCready whilst another new signing, defender Gareth Evans, made an appearance from the bench in the second half.
Young had warned pre-match that that the Locomotives would start well and get at Chester from the off, which they did. Robbie Booth and Wilde both had efforts on goal before Young was forced into a substitution as McCreedy came out worst in a strong challenge, picking up a knee ligament injury, and had to be replaced by Kyle Wilson.
Chances were few and far between in the opening period though Bradley Barnes his the post and Iain Howard failed to really test Chris Elliott in the home goal when he was given a free header.
Six minutes after the break Chester took the lead as Dan Thirkell diverted a cross from Tom Field past Elliott and into his own net. They doubled their advantage 14 minutes later when Wilde met an accurate cross from George Horan to steer a header home in front of the away fans behind the goal.
Wilde added the third minutes later as he robbed Thirkell before curling a shot past Elliott. The home side soon reduced the arrears as Horan was penalised for a foul in the box on Jon Maloney and Thirkell gave Richard Whiteside no chance from the spot-kick.
Any fears of a Witton-style colapse at the back were soon eased as Wilde completed his hat-trick six minutes from time scoring with ease from close range following a Wilson delivery.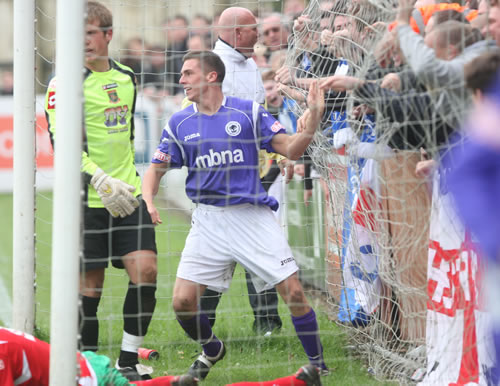 Picture © Evening Leader

• League table | More pictures
Rate Chester's performance
---
Wednesday 6 October
Witton Albion 2 Chester 3

Evo-Stik Division One North
Attendance: 1,560 Half Time 0-1
Booked: None.

Witton Albion: Cooper, Holt (Pritchard 65), Harrison, Kearney, Wood, Griggs (Frost 55), Maguire, MacPherson, Botham, Stott, Kinsey (Pugh 73). Subs not used: Jones, Moffatt.
Chester: Whiteside, Jones, Horan, Ruffer, Williams, Booth (Wilson 86), Field (Hopley 90), Connolly (Burgess 10), Barnes, Howard, Wilde. Subs not used: Peers, Graves.
Referee: Mr G.Hilton.



Chester dominated this match with high-flying Witton for ninety minutes. They harried, moved the ball about crisply and neatly and forged ahead with two goals either side of half time and might have added to this tally but for some fine saves and a goal line clearance.

Then came stoppage time. Botham cut in from Witton's left and curled a speculative punt into the penalty box. Whiteside punched the ball but only on to another player and it squirted to the ground to give Dave MacPherson the easy task of scoring a hardly merited consolation goal. Worse was to follow when a cross was whipped in from the left and Ashley Stott deflected it just inside the far post. Cue wild celebrations as he ran round the back of the goal to celebrate with the home faithful. They had had so little to cheer about during the match and now they were level, got out of jail, absolutely unbelievable.

Chester's massive following had already begun to thin out thinking that three points were in the bag and wanting to escape the gridlock of the car park and nearby narrow streets. Those who departed would never believe that City had thrown two points away.

An article in the entertaining match day programme described Chester's first promotion in 1974-5 when they pipped Lincoln by 0.038 of a goal after the Imps had lost their last remaining fixture at Southport. "Never give up hope!" the article concluded. It looked like the Albion players had taken this message to heart and robbed City of the points they needed to keep pace with the leaders.

As it turned out it was City who showed tremendous character to come back from this blow and snatch a dramatic victory. They swept forward one more time as the four minutes of stoppage time ticked away. Substitute Kyle Wilson collected the ball on the right, cut in and threaded a ball through to Wilde whose shot was brilliantly saved by Cooper and parried just beyond another City player and out for a corner on the left wing. Booth had been taking them all evening from that side but had been replaced by Wilson. The tireless Howard stepped up and whipped in the perfect delivery. Captain Horan rose head and shoulders above all the rest in the crowded penalty area and headed firmly into the back of the net.

Don't ask me to describe what happened next as I was too busy – along with all of the Chester contingent – going absolutely delirious with joy. Relief all round when the final whistle was blown.

Had Chester dropped points tonight it would have tarnished a very hard-working and dominant performance – they really stepped up for this one. Wilde's goal came as the culmination of the pressure of a string of corners. Barnes' shot from outside the box was deflected and Wilde was on hand to knock it over the line. Barnes himself scored a beauty in the second half, latching on to Wilde's header, gliding past a defender and striking sweetly, low past Cooper's right hand. That goal gave City breathing space needed given the fragility of a 1-0 lead.

Then came that sensational stoppage time and a finish that will last long into the collective memory of the Chester supporters who were there – and those who will hear their stories about it over and over again. What a game. What a team. What a club!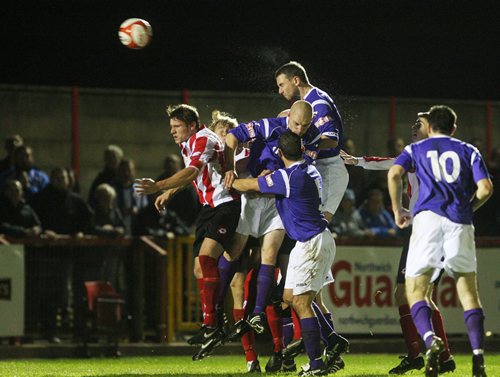 Picture © Evening Leader

• League table | More pictures
Rate Chester's performance
---
Saturday 2 October
Chester 1 Prescot Cables 1

Evo-Stik Division One North
Attendance: 2,419 (83 Prescot) Half Time 0-0
Booked: Booth, Peers, Wilde.

Chester: Whiteside, Connolly, Horan, Ruffer, Williams (Graves 16), Burgess (Peers 55), Stones, Barnes, Booth (Howard 63), Wilde, Hopley. Subs not used: Field, Wilson.
Prescot Cables: Jackson, Hollett, Calland, Spearitt, Foy, Wright, Gibiliru, Holme, Thomas (Brown 57), Madin (Rey 57), Cass (McGann 87). Subs not used: Jarret, Ojapah.
Referee: Mr. A.Ackerman.



Chester lost ground on leaders Chorley after they were held at home 1-1 by Prescot Cables. The visitors had recorded their first win of the season during the week and were determined to build on that as they worked hard for their point in front of another good crowd.
Manager Neil Young brought in Robbie Booth and Andy Burgess in place of Iain Howard and Stuart Jones, while new signing Kyle Wilson took a place on the bench. The Blues had the better of the play in the opening period but found it difficult to break down a resolute Prescot defence.
Chester created half-chances from the start, George Horan saw a header drift wide and Burgess sent a long range effort in that was comfortable saved by Farai Jackson, who had a good game all afternoon, in the visitors' goal.
Cables also had their moments in the opening stages, Chris Williams headed a dangerous cross out for a corner and Richard Whiteside saw a long range effort from Dale Wright drift harmlessly wide.
Young was forced to replace Williams with Stuart Graves and Chester continued to press. Jackson was in action again as he turned a Rob Hopley header wide and soon later finger tipped over a Robbie Booth 25-yarder. A last ditch tackle by Tom Spearitt denied Michael Wilde a goalscoring opportunity following a good through ball from Booth.
On the stroke of half-time Greg Stones went close with a lob over the stranded Jackson that just drifted wide of the far post.
The visitors took the lead on 65 minutes with a well taken goal. Dale Wright worked an opening on the right and his far post cross sailed over the Chester rearguard to the unmarked Aaron Rey whose controlled volley gave Whiteside no chance from ten yards.
Chester gave an instant response with Wilde seeing a point-blank header tipped over following good work from substitute Mark Peers and there were loud appeals for a penalty, refused be referee Ackerman, after Stones appeared to be fouled in the area.
Whiteside made a crucial saved to deny Rey a second goal before Chester restored parity with ten minutes remaining as Bradley Barnes headed home a near post Peers corner to the relief of the City faithful massed behind the goal.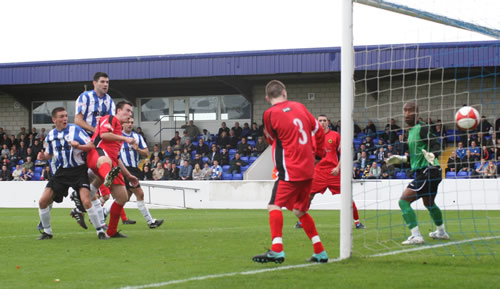 Picture © Evening Leader

• League table | More pictures
Rate Chester's performance
---