---
Saturday 20 November
Chester 4 Skelmersdale United 0

Evo-Stik Division One North
Attendance: 2,714 Half Time 1-0
Booked: Barnes, Sarcevic, Howard.


Chester: Sanna, Jones, Horan, Ruffer, Williams, Sarcevic (Titchener 83), Barnes (Stones 77), Field, Howard, Wilde (McCarthy 72), Wilson. Subs not used: Connolly, Graves.

Skelmersdale United: Paxton, McIntosh, Burke, Akrigg, Byrne, Woolcott, Turner, Armstrong, Latham (Parle 64), O'Donnell (Wade 64), Almond. Subs not used: Strickland, Towey, Mawdsley.
Referee: C.Kavanagh (Lancashire).

An enthralling game saw Chester crush title rivals Skelmersdale, to extend their advantage at the top.

The visitors came with a great record over the past three seasons in this league, and started the better of the two teams. A cross from the left was clipped across, flicked on and Akrigg came within a whisker of scoring as his lunge for the ball just took it the wrong side of the post. Skem were fast and positive in midfield and caused City problems to begin with. Their offside trap frustrated Chester's forwards and the linesman's flag frustrated the fans.

But the Blue-boys forged ahead when Field's perfectly delivered corner met Wilde's dashing run and City's top scorer found the back of the net with a bullet header. Within minutes Wilde was racing on to a ball over the top from Ruffer and Akrigg's sliding tackle from behind saw him penalised with a red card. It took an age for the spot kick to follow as the referee dealt with protests from the Skelmersdale players. In the meantime, 'keeper Paxton tried to psyche Wilde out on the penalty spot. What he said must have worked as the striker's pen was weak and Paxton managed to beat it away.

The sending-off affected Skelmersdale though as City dominated – moving the ball out wide and pinning the visitors back. One exception was when tricky forward Almond ran the length of the left wing and crossed, only for Ruffer to get in an excellent blocking tackle.

Even with Skem reduced to ten men you had the feeling City needed another goal to feel comfortable. It duly arrived a few minutes after the break when Sarcevic nipped past the full back into the box and then was tripped from behind. The referee dispatched Paxton to his goaline before he could indulge in more mind games and Field lashed home an unstoppable penalty kick.

City really began to press home their advantage now and threatened to submerge Skelmersdale in wave after wave of attacks. Some of the Skelmersdale defending was robust, to say the least, and they were clearly rattled by the penalties. Howard could and should have earned a third one when he was sat upon by a defender as he ran in to meet a cross from the right. One can only assume the referee, having awarded two already, gave the defender the benefit of the doubt – not that there was much.

An inevitable third goal came when Wilde flicked a shot from a corner which rebounded to Horan. His shot was parried by Paxton's ample frame but Jones was on hand to stab the ball past a couple of defenders and into the net.

Wilde went off to one of the biggest standing ovations the Exacta has seen this sensational season. McCarthy, his replacement, then scored a sublime goal to add the gloss to City's victory. He controlled a through ball deftly and then played cat-and-mouse with Paxton feinting one way and stepping over the ball a couple of times before flicking it nonchalantly past him.

Howard then blazed over the bar when he seemed certain to add a fifth – but it would have been harsh on a game and decent Skelmersdale outfit. The crowd, prompted by Cleggy, sang "Happy Birthday" to Neil Young and all went home whistling a happy tune (You are my sunshine, actually).

Colin Mansley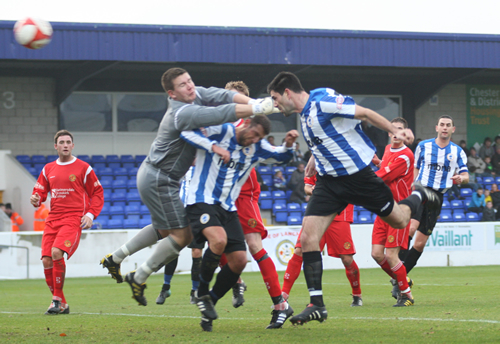 Picture © Evening Leader

• League table | More pictures
Rate Chester's performance
---
Wednesday 17 November
Chester 3 Sutton Coldfield Town 0

President's Cup Round 2
Attendance: 511 Half Time 2-0
Booked: None.

Chester: Sanna, Stones, Jones, Ruffer, Williams, Sarcevic, Field, Barnes, Wilson (Titchener 78), Wilde (Howard 58), McCarthy (Connolly 68). Subs not used: Aspin, Booth.
Sutton Coldfield Town: Lewis, Quiggin, Booth (N.Dodd 46), Kelly, Jackson, M Dodd, Wills (Owen 46), Murrall, Milligan (Stamps 46), Marshall, Harris. Subs not used: Ling, Tooth.

Referee: M.Salisbury (Preston).

Chester progressed to the quarter-final stage of the President's Cup after what turned out to be a comfortable home win against their First Division South opponents.

Manager Neil Young opted to play a strong line-up that contained nine of the team that won at Ossett Albion over the weekend. New signing Jimmy McCarthy made his debut in the forward line after Rob Hopley picked up a hamstring strain the the pre-match warm-up.
It was the ever-impressive on-loan midfielder Antoni Sarcevic that who started the scoring on 24 minutes with a fine solo effort. After picking up a pass over on the right he cut inside leaving three defenders in his wake before coolly slotting the ball past Karl Lewis in the visitors' goal from just inside the box.
The woodwork came to the rescue for the Royals soon after with both Greg Stones and Bradley Barnes denied.
McCarthy opened his Chester account on 34 minutes when he met a perfect Kyle Wilson cross from the right wing to send a bullet header past Lewis.
Top scorer Michael Wilde went close twice before the break with Lewis saving well on both occasions.
The Blues continued to dominate after the break and wrapped up the scoring through an own goal on 57 minutes as the luckless Nick Dodd turned a Sarcevic cross into his own net.

With the tie effectively won, and a big match to come on Saturday, Young made a series of substitutions to replace his forward line with Wilson, Wilde and McCarthy making way for Alex Titchener, Iain Howard and Mark Connolly.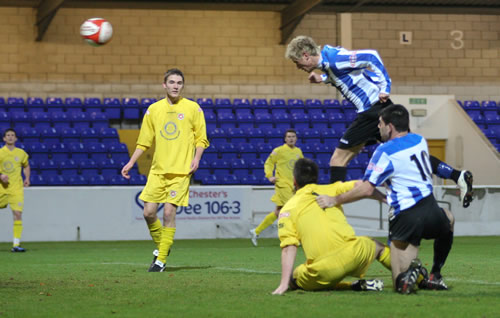 Picture © Evening Leader

• More pictures
Rate Chester's performance
---
Saturday 13 November
Ossett Albion 0 Chester 3

Evo-Stik Division One North
Attendance: 557 Half Time 0-1
Booked: Horan.

Ossett Albion:
Herriott, Hague, Ryan, Cook, Ball, Senior, White, Bennett, Biscombe (Parker 51), Tracey (Hamlet 78), Kelsey. Subs not used: Kendall, Poole, Brown.

Chester: Sanna, Jones (Stones 89), Horan, Ruffer, Williams, Sarcevic (Connolly 90), Field, Barnes, Hopley, Wilde, Wilson (Titchener 82). Subs not used: Beck, Booth.
Referee: A.Tankard (Ecclesfield).

Chester extended their lead at the top of the table following their seventh away league victory on the spin for Neil Young's team who proved too much for an Ossett team reduced to ten men after the break.

There were wholesale changes from the side that competed in the Cheshire Cup in midweek with no fewer that seven players recalled by Young as Chester supporters once again traveled in numbers to cheer on their side.

The Blues created early chances with top striker Michael Wilde sending a header flashing just wide after connecting with a Tom Field corner. Chris Sanna was also in the action though at the other end gathering an effort from Shane Kelsey after the Chester rearguard failed to clear their lines.
Some smart approach play by Antoni Sarcevic and Wilde presented Kyle Wilson with a header but the strikers effort fell straight to Luke Herriott in the home goal. Moments later Herriott saved well again this time from the head of Sarcevic.

Chester finally broke the deadlock in the 33rd minute as Rob Hopley headed powerfully home from a Chris Williams far post corner. Three minutes later Hopley almost added a second following a Field free-kick.
Before the break, Williams sent a 25-yarder just wide and captain George Horan saw a header fly over the bar.
Chester continued to press after the break and doubled their advantage with a great goal in the 56th minute. Wilde picked out Wilson on the left wing and his cross was met on the volley by Bradley Barnes who sent an unstoppable shot past Herriott.
Minutes later the home side were reduced to ten men after striker Kelsey was given a red card after he kicked out at Horan off-the-ball. The Chester skipper retaliated and was perhaps fortunate to only receive a yellow card, his fifth of the season which will now bring a one match ban.

With their numerical advantage Chester continued to dominate for the remainder of the match. Wilde saw an effort cleared off the line by Mark Ryan and Stuart Jones and Hopley went close.

The game was wrapped up in the final minute with goal-machine Wilde scoring his 16th goal of the season converting a Hopley pass to score past Herriott from close range.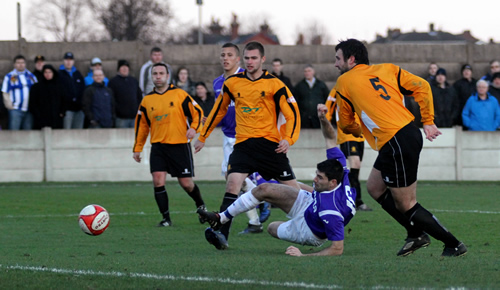 Picture © Evening Leader

• League table| More pictures
Rate Chester's performance
---
Wednesday 10 November
Chester 2 Congleton Town 3

Cheshire Senior Cup Round 2
Attendance: 605 Half Time 1-2
Booked: None.

Chester: Oldfield, Aspin, Graves, (Booth 59), Meadowcroft (Jones 88), Stones, Field, Sarcevic, Beck, Hopley, Titchiner (Wilson 56), Williams. Subs not used: Gargan, Connolly
.
Congleton Town: Conkie, Vickers, Edwards, Johnson, Fitton, Nesbitt, Robinson (Biggus 85), Beeston, Hurst, Reaney (McKay 46), Hancock. Subs not used: Twigg, Buckle, Prince.

Referee: J.Stokes (Wirral)
.



Chester were knocked out of the Cheshire Senior Cup last night beaten 3-2 at home by Congleton Town of the Vodkat League. Manager Neil Young rested no fewer than nine of the players that played against Mossley on Saturday. This gave several of the fringe players a run-out including Danny Meadowcroft who has been recalled from his loan spell at Bamber Bridge.

There was another good turnout on a bitterly cold night and it was the Blues that saw most of the early action. Antoni Sarcevic, back from suspension, saw a header saved by former Blue Matt Conkie in the visitors goal. Conkie was soon in the action again saving a Tom Field effort low down as Chester pressed.


Meadowcroft and Alex Titchener both missed chnces before the Blues fell behind on 26 minutes through Mark Beeston was scord from close range after an Andrew Hurst shot had come back off the bar.
Chester equalised through Field with a fine strike nine minutes later following good work from Stuart Graves. The game looked to be heading for parity at half-time but just before the break a great finish from Joshua Hancock restored the lead for the Bears.

Chester created chances to equalise again after the break but had to wait until the 62nd minute before Kyle Wilson leveled matters scoring past Conkie. Parity only lasted a couple of minutes though as a mix-up in the home defence saw Chris Oldfield drop a cross allowing Beeston to score his second goal of the game and book a place in the quarter-final at Warrington Town for the visitors.

• More pictures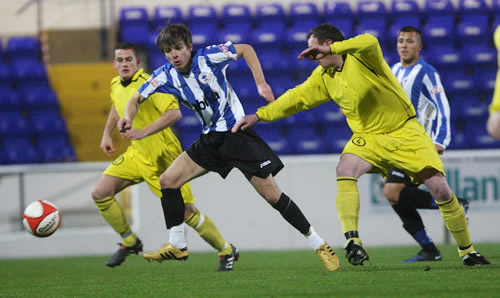 Picture © Evening Leader
Rate Chester's performance
---
Saturday 6 November
Chester 3 Mossley 0

Evo-Stik Division One North
Attendance: 2,266 Half Time 1-0
Booked: Booth, Field.

Chester: Sanna, Jones, Horan, Ruffer, Williams, Booth (Beck 64), Barnes (Stones 82), Field, Howard, Wilde, Wilson (Hopley 79). Subs not used: Graves, Titchener.
Mossley: Ollerenshaw, Richardson, G.Kay, Thomas, Warner (Coo 46), M.Kay (Murray 61), Chalmers, Hampson (Hare 78), Blackshaw, Oates, Egan. Subs not used: Barrow, Jones.
Referee: J.Johnson.



City stretched their lead at the top of the League to four points after defeating Mossley and an unlikely win for Harrogate Railway at Chorley.

Like Harrogate, Mossley are loitering near the foot of the table but prior to this match had only played seven league games. Chester were without Sarcevic who was suspended and Whiteside who was injured. Field took the Crewe loanee's place whilst Neil Young had returned to Colwyn Bay to sign their 'keeper Chris Sanna who made his first bow (Not counting a couple of guest appearances in friendly games a while back). Mossley too had suspensions to contend with and had Ollerenshaw, on loan from Oldham, making his debut in goal.

The game took a while to settle down and was peppered with stoppages but gradually City began to make headway and get behind the visitors' defence. Howard and Booth both beat their full-backs to put dangerous crosses into the goal mouth but Mossley survived for now.

The visitors, playing in a fetching tangerine strip, looked a handful coming forward and won a free kick on the edge of the box when Jones was penalised for a lunging challenge. Richardson bent the kick round the wall and Sanna passed his first test with flying colours as he grabbed the ball low down to his right.

A minute later Chester were ahead as Horan ventured forward with the ball and swept it out to Booth on the right. Horan continued his run and was there to meet Booth's delicious cross and nod a looping header into the top corner.

City continued their forward momentum after half time – though a lapse did let Oates have a glimpse at goal but he put his shot narrowly wide. Howard appeared to be impeded on the left but the referee allowed good advantage to let Williams whip in a cross. It just eluded Wilson but not Wilde who flicked the ball in delightfully with the outside of his foot.

Wilde went close with a clever header from a right wing free kick, then should have scored when Ollerenshaw's goal kick went straight to him. He tried to finish with aplomb but his cheeky chip beat the crossbar as well as the keeper. City's leading marksman made no mistake however when they were awarded their first penalty of the season. Hopley's shot from Wilde's cross was goalbound until Kay's hand got in the way.

A ripple went through the crowd that Chorley's campaign had been derailed by Harrogate and when this was confirmed as true it added gloss to City's win. There will be many more twists and turns before the season is over but Chester showed a determination in their play today to keep their noses in front.
Colin Mansley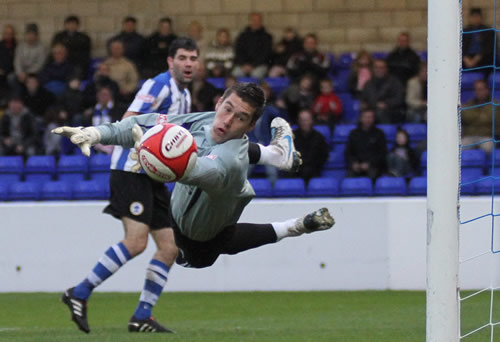 Picture © Evening Leader

• League table | More pictures
Rate Chester's performance
---