---
Saturday 26 February
Chester 3 Durham City 1

Evo-Stik Division One North
Attendance: 2,514, Half Time 1-1
Booked: -.
Chester: Judge, Aspin (Jones 86), Horan, Ruffer, Stones, Booth, Beck, A.Williams, St Juste (Field 80), Wilde, Simm (Wilson 66). Subs not used: Barnes, Taylor.
Durham City: J.Winter, Butler, Wilkinson, Arjun Purewal, Ayre (Ayers 85), Cutts (C.Winter 52), E Graham (Woods 85), English, Thompson, Amar Purewal, Pounder. Subs not used: L.Graham, Home-Jackson.
Referee: P.Dermott.



Durham were expected to be re-united with their home kit on Saturday which had been lost in transit when they visited Cammell Lairds recently and found in someone's garden. The away kit they wore at Chester made them resemble the England rugby team and, like the six nations match player later this was a tough encounter with rather too much "up and under" in the early stages.

Chester made a sleepy start and Durham, kicking into a biting wind, took the lead after nine minutes. Ruffer was penalised for a trip on the edge of the area and English took advantage of a poorly organised wall by clipping a left footed shot into the opposite corner of the goal.

The Blues struggled to get the ball down and keep possession against another game and hard-working visiting team. But as the half wore on they began to make inroads. At last, just before the break they equalised. Stones fed the ball to Booth on the edge of the area, his wind-assisted shot was parried by Winter, only for Simm to pounce and flick it into the roof of the net before anyone else had a chance to react.

Minutes after the interval the Blues were ahead. Stones free kick – awarded for a handball in the inside right area – found St Juste on the far post. His low cross was volleyed first-time by Ruffer and a cruel deflection off a defender took it past the keeper. Whether buoyed by the confidence of a couple of goals or the easier task of kicking into the wind, Chester upped their work rate and dominated the rest of the game.

Any nagging doubts of succumbing to a Durham equaliser were allayed when Wilson's cross shot found the inside of the net. He had been played in by the ever industrious Stones, who was deemed Man of the Match by the sponsors.

Ashley Williams might have capped another tigerish display with a goal when a delightful back heel from Beck put him in the clear. This time Winter tipped it over the bar.

Despite a sluggish beginning – may be due to exertions at Chorley and Lancaster in the week – Chester had too much firepower for Durham and maintained their nine point lead at the top. The nearest challenger now is Skelmersdale who, intriguingly, City visit next weekend.

Colin Mansley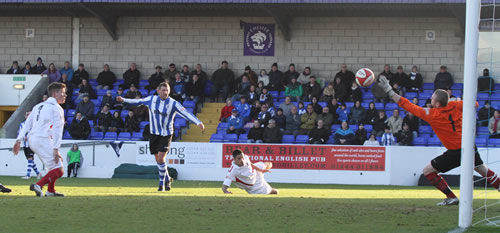 Picture © Evening Leader

• League table | More pictures
Rate Chester's performance
---
Tuesday 22 February
Lancaster City 2 Chester 1 (After extra time)

President's Cup Round 4 (S/F)
Attendance: 324, Half Time 1-0, 90 mins 1-1
Booked: Simm, A.Williams. Sent-off: Taylor.
Lancaster City: Fearon, Henry, Kenyon, Duggan, Marshall, Wynn, Hattersley (Johnson 93), Rothwell, Swarbrick, Hall (R.Wilson 72), McKenna. Subs not used: Nightingale, Rushton, S.Wilson.
Chester: Judge, Taylor, Stones, Horan, Ruffer, Booth (Wilde 52), Barnes, A.Williams, Simm, Beck, Wilson (S.Jones 21, (C.Williams 90)). Subs not used: Field, St Juste.
Referee: M.Parry.



Chester will be concentrating all their efforts on promotion now after they narrowly missed out on the chance of a league and cup double. The Blues, buoyed by their important win at Chorley over the weekend started slowly as the home side had must the better of the opening period of the game.
Max Rothwell fired a 25-yarder wide early on and the Dolly Blues took advantage of the sluggish start from their opponents. Chester's first opening came on 15 minutes when Saturday's goal hero Robbie Booth saw a shot saved at the second attempt by Martin Fearon.

Moments later the game turned as Chester fell behind. Michael Taylor was adjudged to have fouled Dave Swarbrick when through on goal and a penalty and straight red card followed. Swarbrick picked himself up to send Judge the wrong way from the penalty spot to give Lancaster the lead.

With the Blues a defender short, manager Neil Young was forced into a tactical substitution bringing on Stuart Jones for Kyle Wilson. Chances were few and far between, Bradley Barnes' effort from long range missed the target as Chester slowly made their way back into the game.
Judge saved well from the advancing Swarbrick after a mistake in the Chester defence had set up the opportunity and Judge was called into action twice again to deal with dangerous crosses into the box from Michael Hall.

On the stroke of half time Chester almost bagged the equaliser and Booth and Chris Simm combined well before the latter pulled his shot wide from the edge of the box.
Shortly after the break Young introduced Michael Wilde at the expense of Booth and moments later Chester were level. Simm did well to fire in a shot from an acute angle on the right, the effort was blocked by a defender but Steven Beck pounced to turn home the loose ball from six yards.

As in the first period chances were at a premium. Judge's hands were stung by a 25-yarder from Liam Wynn as time was running out and Wilde sent in a looping header just wide with three minutes remaining.
Neither side could find the winner in regulation time so an extra 30 minutes was needed, and it was the home side that finally edged in front in the opening minute of the second period. Mike Rushton raced through on goal and as Judge came to meet and tackle him the ball broke clear for Alex Johnson to steer the ball into the empty unguarded net to win the tie.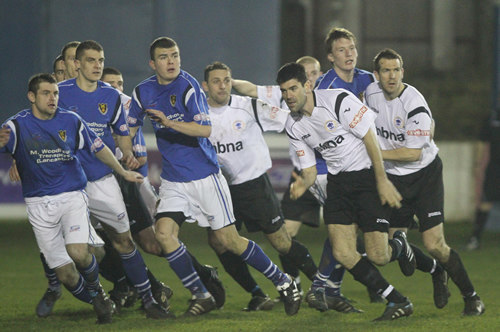 Picture © Evening Leader

• More pictures
Rate Chester's performance
---
Saturday 19 February
Chorley 0 Chester 1

Evo-Stik Division One North
Attendance: 3,223 Half Time 0-0
Booked: -.

Chorley: Rigby, Ross, Fitzgerald (Walker 76), Teague, Russell, Fairhurst (Payne 50), Whitham, Flitcroft, Roscoe (Stepien 62), Cunliffe, Ince. Subs not used: Woodyatt, Houghton.
Chester: Judge, Aspin, Stones, Horan, Ruffer, Booth, Barnes, A.Williams, Simm (Taylor 90), Wilde (Gritton 89), Howard (Wilson 67). Subs not used: Beck, Whiteside.
Referee: C.Kavanagh.



A goal five minutes after the break from Robbie Booth gave Chester a well deserved win in this top of the table clash at Victory Park, that leaves the Blues nine points clear of their nearest rivals at the top of the league.

Congestion at the turnstile(s) saw the kick-off for this eagerly anticipated clash delayed by 15 minutes as stewards, and late arriving police reinforcement's struggled to contain two groups of 'fans' intent on pulling down a segregation fence installed to keep them apart on the grass banking down one side of the ground.

With the crowd distracted by events off the pitch it was Adam Judge in the thick of the action after just two minutes saving a header from John Cunliffe as Chorley attacked from the off. It didn't take Chester long to get into the game though and top striker Michael Wilde saw an effort saved on ten minutes by Lloyd Rigby in the home goal after taking a deflection off a defender.

With Ashley Williams having a fine game Chester began to carve out more chances. Skipper George Horan sent a header over the bar following a pinpoint cross from Carl Ruffer. Ruffer himself sent a head wide following good work from Ian Howard.
Chris Simm, returning to the ground where he had a loan spell earlier in the season, almost opened the scoring as the half came to an end cutting inside from the left and unleashing a shot that Rigby palmed to safety.

Despite dominating the opening period the Blues had to be content with a share of the spoils at the break but not long after the restart their opened the scoring. With Simm chasing a long through ball Rigby rushed out to block the striker, the ball fell invitingly to Wilde who squared for an unmarked Booth to slot the ball home from eight yards out.

Horan went close when he saw a header loop off the bar, before Wilde had a better chance to double the lead racing through on a one-on-one but he could only shoot straight at the advancing Rigby.

With five minutes remaining the Blues wee almost left to rue those missed chanced when the defence failed to clear from a corner, a cross was whipped in from the left and substitute Jordan Stepien stabbed the ball over the bar with an outstretched leg from six yards out.

Five nervous minutes of added time came and went before referee Kavanagh blowed for full time to the relief of the Chester fans packed inside Victory Park.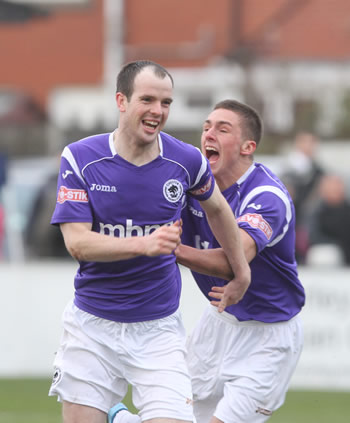 Picture © Evening Leader
• League table | More pictures
Rate Chester's performance
---
Saturday 12 February
Chester 5 Clitheroe 0

Evo-Stik Division One North
Attendance: 2,513 Half Time 0-0
Booked: Ruffer.

Chester: Judge, Taylor, Horan, Ruffer, Stones, Barnes (St Juste 69), A.Williams, Howard (Beck 74), Wilson (Simm 46), Wilde, Booth. Subs not used: Aspin, Field.
Clitheroe: Hibbert, Smalley, Hodgkiss, Higgins, O'Brien (Doherty 66), Brees (T.Williams 64), Jones, Parillon, D.Williams, Lee-Ellison, Green (Eastwood 78). Subs not used: Roberts.
Referee: Mark Astley (Denton).



A competent and well-organised Clitheroe team went into the half time break content with the first forty-five minutes. If anything they would consider themselves unfortunate not to have been a goal ahead. Their best chance came when Taylor's pass put Horan under pressure and he slipped to let their lone forward through. With only Judge to beat he shot narrowly wide.

Chances were few in this competitive midfield struggle but Chester's best one came just before half-time as the visitor's defence were too busy watching Wilde and allowed Booth to steal through. A despairing tackle from a defender knocked the ball goalwards only for it to come back to Booth. He steadied himself and shot from a narrow angle only to see the ball rebound from the far post and back to safety.

So talk amongst the crowd at half-time was of hoping that City could edge a 1-0 win if they were lucky in the second half. Simm replaced Wilson after the break and the Blues, kicking away from the Harry McNally Terrace, began to build up a head of steam. Simm's pace and ability to hold the ball began to make their attacking play gel.

The breakthrough came when Howard received the ball in a crowded area and made no mistake with his low shot just inside the post. After this the floodgates opened and Clitheroe did not know what hit them in the next quarter of an hour. The visitors were buried under a blizzard of goals as City seemed to step up several gears at once.

Wilde quickly added a second goal, volleying on the turn from Simm's headed pass. Then before Clitheroe had time to draw breath, Simm turned his marker and cut the ball across goal to create another chance – this time Wilde's shot was parried by a defender's hand leading to the award of a penalty which Wilde thumped in off the post.

New on-loan signing Jason St Juste had been limbering up down the touchline and was about to be brought on just before City's first goal. Now he made his bow and looked promising as he won a corner on the left. Clitheroe's 'keeper punched the kick away but only back out to Booth and this time his cross fell nicely for Simm to bag a goal of his own. Minutes later Wilde added the fifth glancing home another cross from the left by Booth.

All five goals had been scored in a devastating fifteen minute spell. As soon as the first went in City completely dominated when, in the first half they had been stifled by the visitor's close marking and energetic play.

The catalyst for all this was Chris Simm. His play transformed the team and the game. Why did he not start the game I wonder? Did Neil Young want to lull the opposition into a false sense of security? Simm's freshness galvanised City and was arguably more effective against tired opposition. Who knows?

By the time the final whistle went the ground had emptied considerably as people began to queue for tickets for the Chorley match next Saturday. Those who remained applauded City to the rafters as they came off the pitch. If they can play like they did in the second half more consistently they will take some beating.


•
League table
Rate Chester's performance
---
Tuesday 8 February
AFC Fylde 0 Chester 3

President's Cup Round 3 (Q/F)
Attendance: 281 (Chester 150 est) Half Time 0-2
Booked: Field.

AFC Fylde: Stevenson, Mahoney, Doughty, Lawlor (Stringfellow 56), Hills (Elderton 78), Kay, Booth, Nolan, Walwyn, Cahill, Bell (Barnes 46). Subs not used: Edge, Penswick.
Chester:
Judge, Taylor, Horan (C.Williams 86), Ruffer, Stones, Field (Beck 63), A.Williams, Howard, Wilson, Simm, Booth. Subs not used: Wilde, McCarthy, Barnes.

Referee: John Hunt (Sunderland).

Chester's push for a league and cup double continued with this hard fought third round win at AFC Fylde which send's them into the semi-final's of the President's Cup and an away tie at either Lancaster City or Curzon Ashton towards the end of the month.
Both sides rested players for the clash with Blues manager Neil Young opting to leave top scorer Michael Wilde and midfielder Bradley Barnes on the bench. Kyle Wilson and Tom Field stepped into replace the duo.
It was the home side that certainly had the better of the opening period of play. Matt Walwyn show wide from 12 yards when well placed and Blues 'keeper Adam Judge was well placed to save from Tom Cahill and John Hills.
At the other end Chris Simm had a goal disallowed before against the general run of play Chester opened the scoring on 30 minutes as in-form winger Iain Howard slipped a through ball to Kyle Wilson who supplied a smart finish to slip the ball under Dave Stevenson. Howard was again in the action as he found Greg Stones whose shot was well saved by Stevenson.
The home side carved another opening that saw Mike Nolan's well struck effort tipped round the post by Judge just before Chester doubled their lead as Howard fired home from the edge of the area following a perfect set up from Wilson.
Fylde manager Kelham O'Hanlon's made some changes at the break bringing on winger Mike Barnes, who had a great game at Chester earlier in the season. Barnes once again showed his pace as the home side looked to get back into the game but a third goal on the hour mark sealed victory for Chester as a mistake in the home defence allowed a Field cross to reach Robbie Booth who had time to spare as he scored his second goal of the campaign.
Rate Chester's performance
---
Saturday 5 February
Durham City 0 Chester 3

Evo-Stik Division One North
Attendance: 507 Half Time 0-1
Booked: None.

Durham City: J.Winter, Ayre, Ayers (Harbord 73), Wilkinson, Arjun Purewal, Cutts (C Winter 52), Stephenson, E.Graham, Amar Purewal, Dowson, Thompson (Pounder 64). Subs not used: Baitey, L.Graham.

Chester: Judge, Aspin (Taylor 82), Horan, Ruffer, Stones, Barnes (Beck 83), A.Williams, Howard, Simm (Wilson 63), Wilde, Booth. Subs not used: Field, C.Williams.

Referee: J.Buglass (Newcastle-upon-Tyne).

Three goals from Michael Wilde saw Chester on the way to another three points as the Blues put the disappointment of the midweek draw at Leigh behind them.
Wilde's hat-trick, his fourth of the season, capped a fine team performance that sees the Blues extend their lead at the top of the division to six points after Chorley were held at home by Witton Albion.
Manager Neil Young made two changes bringing in goalkeeper Alan Judge for a full debut and defender Carl Ruffer to replace Michael Taylor who took a spot on the bench.
Playing on an artificial surface, and in front of a following numbering 400+, Chester had the better of the opening period and thought they'd taken the lead after just two minutes only to see a Chris Simm effort ruled out for offside.
Home goalkeeper James Winter was forced into a good save to deny Robbie Booth early on before Judge was called into his first action saving from David Dowson.
A breakaway saw Chester open the scoring on 13 minutes as a quick break saw Greg Stones send a ball into the area, Winter cleared but only as far as in-form Iain Howard whose cross was met by Wilde who shook off a defender to convert from close range.
Bradley Barnes saw a long-range effort flash just wide as Chester continued to press. Amar Purewal was well placed to block a Wilde effort when the Chester striker looked set to score a second. However the hosts almost leveled when on a rare breakaway Purewal broke through but shot just wide with only Judge to beat.
Simm missed a great chance to double the lead when he failed to control a Howard cross from six yards out. Howard, Ruffer and Wilde all tested Winter as the Blues ended the half on top.
Five minutes after the interval the all-important second goal arrived. Simm had already headed wide before Purewal was penalised for handling a Booth cross and Wilde sent Winter the wrong way from the resulting spot-kick.
Booth saw a 25-yarder just pass the post before Wilde completed his hat-trick and wrapped up the scoring ten minutes from time with a well taken header following a cross from substitute Kyle Wilson.
In the closing minutes Judge, who was rarely tested by a youthful home side, produced a fine tip-over save to deny Jack Pounder a consolation goal.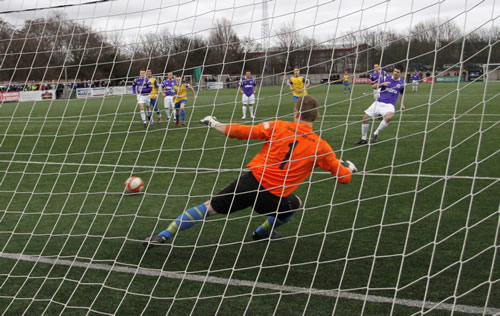 Picture © Evening Leader

• League table | More pictures
Rate Chester's performance
---
Tuesday 1 February
Leigh Genesis 1 Chester 1

Evo-Stik Division One North
Attendance: 820 Half Time 0-0
Booked: A.Williams.

Leigh Genesis: Priestley, Flint, Ferrigan, Grisedale, Heald, M.McDonald, Dempsey, Fairhurst, Carney (Sephton 90), Parkhouse, N.McDonald. Subs not used: Smith, Kelly, Carey, Webb.
Chester: Whiteside, Aspin, Taylor, Horan, Stones, Booth (Wilson 63), Barnes (Field 75), A.Williams, Howard, Simm, Wilde. Subs not used: Beck, Ruffer, Judge.

Referee: Robert Pollock (Maghull).



Manager Neil Young pulled no punches after the match when he described this as the worst performance of the season. The Blues had Chris Simm to thank for rescuing a point with a well taken goal five minutes from time, as Chester looked to be heading for their first away league defeat of the season against the side who prop up the table.
Young made one change from the side that beat Ossett Albion on Saturday, bringing in Greg Stones in place of Chris Williams who has been rested.

A minutes applause by players, official and supporters for former board member Richard Wightman who passed away at the weekend was observed prior to the kick-off.
Backed once again by a large away following, Chester found themselves kicking up the dimly-lit Crilly Park slope in the opening period and they had far the better of the opening half hour.
Bradley Barnes and Chris Simm both went close, the latter heading just wide following a one-two with Neil Aspin. Despite their early dominance the Blues found home 'keeper Phil Priestly in fine form and he gathered everything lofted into the box.

Simm had another great chance to break the deadlock but shot wide following good build up play between Aspin and Michael Wilde.

As the half wore on the home side began to get back into it. Craig Carney saw a long range effort scream just wide of Richard Whiteside's right hand post.
Leigh forced a succession of corners, Whiteside saved low down to deny Nathan McDonald and watched as a free-kick from Andy Heald from outside the box flew out of the ground!
Six minutes before the break Robbie Booth crossed for Iain Howard but he headed wide from close range. Priestley produced a save at full stretch to deny Stones before the last action of the half saw Howard shoot just over the bar.
Five minutes after the break Wilde saw a shot deflected just wide after hitting Craig Carney on the way towards goal. Young made a couple of changes introducing Kyle Wilson then Tom Field as the Blues pressed for a winner. Priestly saved a curling shot from Simm before the home side opened the scoring as Whiteside saved a Carnet shot only for the ball to break to Sam Fairhurst who forced the rebound home.
Carney almost doubled Leigh's advantage when he saw a low shot slip just wide after being put through on goal with just Whiteside to beat. With time running out Simm stepped forward to a Wilson through ball and rifled a shot home that gave Priestly no chance.



Picture © Evening Leader

• League table | More pictures
Rate Chester's performance
---