---
Tuesday 14 December
Newcastle Town 2 Chester 0

Evo-Stik League Cup Round 2
Attendance: 187 Half Time 1-0
Booked: Horan, Barnes.


Newcastle Town: Read, Espley, Donnelly, Dicker, White, Johnson, Douglas, Skelton, Sheldon (Minor 73), Teague (Thompson 64), Nagington (Budrys 87). Subs not used: Connor, James.

Chester: Sanna, Jones, Ruffer, Horan, Williams, Connolly (McCready 73), Barnes, Graves, Booth (Aspin 64), Wilson (Beck 46), Hopley. Subs not used: Wilde, Field.
Referee: A.Horton (Wolverhampton).


Following two previous postponements, the two teams finally met to decide who would travel to Premier League side Chasetown in the third round of the Challenge Cup.

Blues manager Neil Young made five changes from the side beaten at the weekend with top striker Michael Wilde, who like others in the squad has been suffering the effect of recent flu starting on the bench.
Chester had the better of what chances there were in the opening stages of the tie but once again failed to produce a killer instinct in front of goal to make their chances count. They thought they'd taken the lead midway through the first half as Rob Hopley crossed the ball in to Robbie Booth, he skipped past a defender and played the ball into Kyle Wilson who slotted the ball home from close range only to see his effort ruled out for offside.

Five minutes later the ball was in the net at the other end. Chris Sanna had no chance as Alan Nagington smashed home an unstoppable shot past him from the angle after being fed a cross from Jordan Johnson.

Chester almost snatched an equaliser as Booth lobbed goalkeeper Daniel Read only to see his effort stray just past the post. Hopley saw two efforts missed before Stuart Jones was unlucky to seen an effort cleared off the line following a Chris Williams corner.

Any thoughts of a quick reply after the break were denied as the home side doubled their advantage on 49 minutes as Wayne Teague headed over Sanna after perfecting meeting a Johnson cross.

Young made a series of substitutions with Steven Beck, on at the the break for Hopley, forcing Read into a save. But the Blues were unable to claw their way back and the scoreline could have been worse had Williams not been well placed to clear a Nagington effort off the line to deny the home side.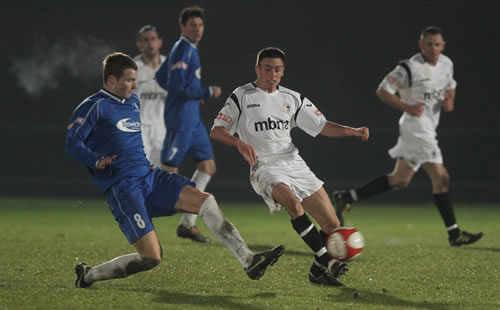 Picture © Evening Leader

• More pictures
Rate Chester's performance
---
Saturday 11 December
Chester 2 Radcliffe Borough 3

Evo-Stik Division One North
Attendance: 2,153 Half Time 1-1
Booked: Jones.


Chester: Sanna, Stones, Jones, Ruffer, Williams, McCarthy (Connolly 65), Barnes, Field, Howard (Hopley 74), Wilde, Wilson. Subs not used: Booth, Beck, Graves.

Radcliffe Borough: Culkin, Brown, Kelly, S.Connor, King (Brook 46), Sherlock, Sonko (Forrest 73), M.Jones, Manning, M.Connor (G.Jones 65), Roscoe. Subs not used: Lourenco, Brobbin.
Referee: A.Scregg (Liverpool).

Chester gave a ring rusty performance against a plucky Radcliffe side and paid the price by surrendering all three points to the visitors.

The tone was set early on when City might have scored twice in the opening couple of minutes. First Howard spun and crossed for Wilde to flick the ball goalwards. Veteran keeper Culkin made a last ditch save. The from a long throw which was flicked on, the goal beckoned for Wilson but he volleyed well over.

After this early flurry Chester struggled to control the game. Instead it was the visitors who seemed better organised. Radcliffe also showed a superior work rate and were often quicker to the second ball and swift to close down a City player in possession. Howard in particular seemed a marked man and was denied any space whatsoever. Sherlock flattened him as he barged him off the ball and was later booked for a subsequent offence.

When Borough did take the lead it was courtesy of an absolute gift from Sanna (Should that be Santa?). Having earlier fumbled a ball and got away with it, he inexplicably pushed a low, curling but otherwise innocuous cross at the feet of Kelly who couldn't fail to score. Perhaps Sanna resembles Robert Green in more than just appearance?

As half time approached Wilson beat the offside trap to find himself one on one with the keeper. Culkin saved the forward's side-footed shot. A few minutes later Wilson atoned with an exquisite cross for Wilde to plant a header into the top corner.

Britain's Got Talent hopeful Scott Davies sang Cry me a River at half time and it was City fans crying all the way home after the second half. True, City could easily have won this game had the ball fell kindly for them but their play continued to be error strewn and open to the counter attack. From one such, Radcliffe took the lead for a second time. Full marks to Alistair Brown whose rasping shot from thirty yards beat Sanna hands down but there wasn't a City player within a country mile of him to close him down.

Connolly came on to replace the weary McCarthy and from his crisply taken corner on the left, Wilde raced to the near post to flick home a perfect header. A fine goal – reminiscent of the one that Ravanelli – The White Feather – scored against us for Middlesbrough in the cup in 96/97.

Surely now Chester would go on to claim the win we thought. They tried but too often the final ball was lacking or a defender's body blocked the way. And Borough kept on searching for a winner too. They probably should have scored when substitute Brooks put the ball wide with the goal at his mercy. Deep into injury time Stuart Jones' header from City's umpteenth corner flashed just wide of the post. Then City were exposed at the back again as Roscoe chased a wide ball and cut inside to tee up Mark Jones to score from the edge of the box.

The result knocked some of the glitter off City's Christmas celebrations as they rued the absence of suspended captain Horan and Sarcevic, recently recalled by Crewe Alex.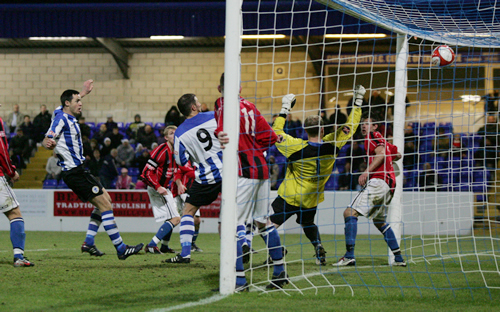 • League table | More pictures


Rate Chester's performance
---

LATEST NEWS

TWO NEW SIGNINGS
Chester have added a defender and a midfielder to their squad today.
more »
LAST MATCH

HOME WIN FOR BLUES
Early goals from Kole Hall and Kurt Willoughby set Chester up for a home win over Brackley Town.Early goals from Kole Hall and Kurt Willoughby set Chester up for a home win over Brackley Town.
more »
CLUB HISTORY

Everything you need to know about the club's history, honours, records and kits. Complete list of fixtures from 1885 and much more.
more »
SUPPORTERS

EXILES BLOG
The Exiles have set up a blog to provide away match information and articles for Blues fans living away from Chester. You can read it here
Exiles » | ISA »