---
Saturday 25 September 2010
Salford City 0 Chester 4

Evo-Stik Division One North
Attendance: 690 Half Time 0-2
Booked: Jones, Howard.

Salford City: Robertson, Kemp (Whitehead 83), Mortimer, McCartney, Hockenhull, Tulloch (Freakes 58), Thomas, Beresford, Cooper, Giggs, Foster. Subs not used: C.Baguley, Molyneux, J.Baguley.
Chester: Whiteside, Jones, Horan, Ruffer, Williams, Connolly, Barnes, Stones (Field 74), Howard (Rogan 70), Hopley (Peers 65), Wilde. Subs not used: Booth, Meadowcroft.
Referee: Mr. P.Gooch.



While eyes and ears in neighbouring Manchester were glued to the early kick-off at Eastlands and the delegates gathered at the G-Mex for the result of a closely run contest for the leadership of the Labour Party, Chester's finest were approaching Moor Lane for a first trip to Salford City.

The Ammies' vast ground fills a bowl like depression and has an expansively wide pitch. The grass looked inviting in the September sunshine, though it proved deceptively bobbly when play began.

Chester fans lined all four sides of the ground and though a raucous band of Salford die-hards began in full voice – they were soon overwhelmed by the visiting supporters, inspired perhaps by Paul Baker's Noddy Holder outfit, to come on and feel the noise.

The Blues were on the back foot to begin with but soon settled after Barnes gave them the lead with a well-struck shot from the edge of the box following a second short corner routine. Salford battled back and although they failed to stretch Whiteside, went fairly close with a couple of efforts. Chester could have doubled the lead after half an hour when Connolly's cut-back went behind the City forwards in the box. But Wilde made no mistake just before the interval when he pounced on a weak clearance. He thumped a left foot shot into the corner of the net so emphatically that it came out of the other side.

Shortly after the break, Howard was fed by Hopley and the winger held off a challenge strongly before lashing the ball into the roof of the net. The game was over as a contest and Chester came forward on numerous occasions seeking to add to their lead. They only managed one further goal when Connolly's free kick – awarded after Stones had been wrestled to the floor – dipped into the bottom corner of the goal. His celebration suggested it meant a lot to him to make his mark.

After a long contest we learned that Ed had pipped his brother David – who seemed to have been ahead for so long – to the Labour Party leadership. An inspiration to City, perhaps, to keep plugging away after that top spot in May.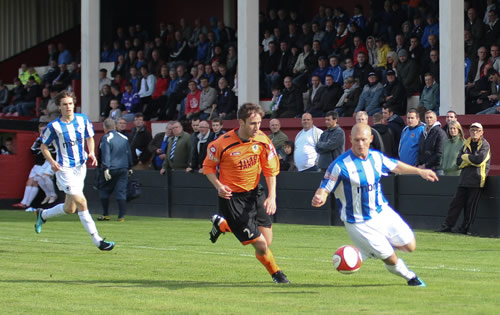 • League table | More pictures
Rate Chester's performance
---
Tuesday 21 September 2010
Leek Town 0 Chester 2

President's Cup Preliminary Round
Attendance: 273 Half Time 0-0
Booked: None.
Leek Town: Hodgson, M.Johnson, Allen, Taylor, W.Johnson (P.Johnson 73), Shenton (Corden 62), Hawthorne, Miller, France, Rutter, Day (Brough 62). Subs not used: Ashman, Cope.
Chester: Oldfield, Connolly, Ruffer, Meadowcroft, Latham, Stones, Field, Barnes (Peers 50), Sharrock (Howard 69), Hopley, Rogan (Gargan 62). Subs not used: Wilde, Whiteside.
Referee: Mr. Ryan Johnson (Manchester).
Second half goals from Rob Hopley and Greg Stones gave the Blues a comfortable win at Leek Town in the Preliminary Round of the President's Cup.
Manager Neil Young made several changes from the side that lost to Chorley at the weekend. Chris Oldfield made a full debut in goal and there was also a debut for former youth team player Ian Latham recently released by Marine. In the second period on-trial Carl Gargan, a striker playing for for Old Xaverians in the Liverpool County Premier League also made an appearance as a substitute.
Oldfield was called into action in the eleventh minute doing well to push out an Ashley Miller volley before the defence cleared the danger. Minutes later Steve Day shot over when well placed from a corner.
Midway through the half Nick Rogan saw a lobbed effort drop just over the bar. Roger Sharrock's fierce shot was well blocked by Steve Hodgson in the home goal after being set up following good work from Mark Connolly.
The chances came at both ends, Day headed wide of goal for Leek while Bradley Barnes shot over the bar. On the stroke of half-time Chester created two more great chances as Hopley linked well with Roger Sharrock before firing over and moments later Sharrock himself shot wide.
The delalock was finally broken on 56 minutes as substiture Mark Peers slipped the ball to Connolly who crossed for Greg Stones to slot home his first goal for the club at the far post.
Chester began to get on top. Sharrock hit the post before the Blues doubled their advantage on 61 minutes as Sharrock battled well to win the ball on the edge of the box before passing to ex-Leek striker Hopley who fired home past the stranded Steve Hodgson.
After replacing Rogan, trialist Gargan had a chance to add a third wth eleven minutes remaining only to see his effort loop over.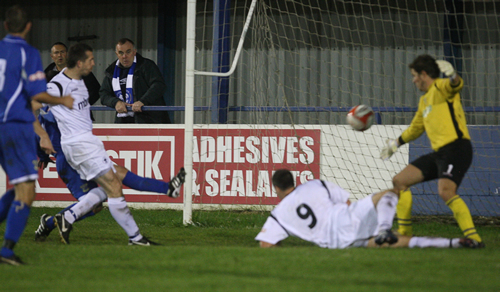 Picture © Evening Leader
Rate Chester's performance
---
Saturday 18 September 2010
Chester 1 Chorley 2

Evo-Stik Division One North
Attendance: 3,092 Half Time 1-1
Booked: Barnes, Meadowcroft, Horan.
Chester: Whiteside, Jones, Horan, Meadowcroft, Williams, Booth (Howard 45), Barnes (Rogan 69), Stones, Burgess (Graves 59), Hopley, Wilde. Subs not used: Sharrock, Connolly.
Chorley: Grundy, Woodyatt, Maden, Russell, Walker, Dorney, Whitham, Vermiglio, Ince (Payne 54), Simm, Houghton (Jansen 81). Subs not used: Smith, Ross, Fairhurst.
Referee: Mr. D.Meeson (Stoke-on-Trent).



There was an emotional build up to this top of the table clash as a guard of honour from the 1st Battalion, the Mercian Regiment heralded the two teams on to the pitch and honoured the memory of Corporal Terry Webster who died in action in Afghanistan in June. The crowd of over 3,000 welcomed his family on to the playing surface with long and prodigious applause.

The game began at a staccato pace punctuated with fouls and yellow cards as both teams tried to establish control. Wilde had a glorious chance to open the scoring but slightly mistimed his leap and headed the ball down into the ground and just wide of the post. Later Stuart Jones' glancing header was acrobatically palmed away by Grundy.

Chorley took the lead with a scrappy goal. Booth gave away a free kick on the corner of the penalty area and Simm made a hash of taking it. His miskick hit another Magpie on the shin and Russell was the first to react to the loose ball, turning to hit a low shot past a dumbfounded City defence.

Chester reacted well and forced a succession of corners. They might have scored from any one of them. Grundy was in inspired form and kept out Horan's forceful header. The Chorley keeper was wearing a Chester shirt – presumably because of a colour clash – but why the referee allowed the visitors to play in their black and white stripes is a mystery – the similarity to City's colours caused confusion.

When Williams hoisted another corner from the right even Grundy was powerless to prevent Hopley's ferocious header hitting the back of the net. It was a glorious moment and seemed to presage a City victory.

After the break however City lost their way. Their reliance on set pieces made them seem one dimensional as Chorley stifled midfield and denied City room to play. City's cause was not helped by the early withdrawal of Burgess - still harbouring an injury.

City fell behind a second time from the penalty spot after Horan "was adjudged" (journalism speak for a debatable decision) to have brought down Payne as he burst into the area. Dorney showed good composure to score already Chorley's seventh penalty of the season. But City fans did not take kindly to his and Payne's display of goading celebration.

Chorley comfortably dealt with Chester's efforts to get back at them until Rogan found Williams in open space on the left but the young full back fluffed his chance on goal. Simm – who had turned down a move to Chester a few days ago – went close to rubbing salt in City's wounds in the dying stages but Whiteside stood up well to his shot. Still there was time for Chorley to hack another Chester effort off the line before the final whistle.

Defeated, but hopefully unbowed, City must learn from this experience. The scale of support that is there for them was demonstrated this afternoon – the opportunity for glory still beckons.
Colin Mansley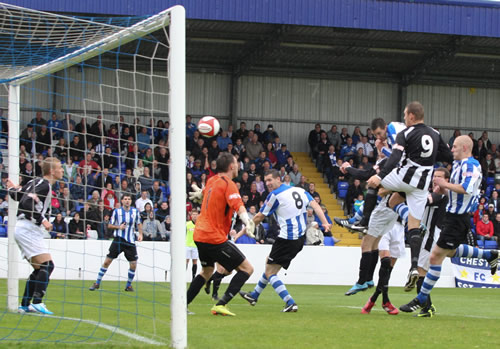 Picture © Evening Leader

• League table | More pictures
Rate Chester's performance
---
Tuesday 14 September 2010
Bamber Bridge 0 Chester 5

Evo-Stik Division One North
Attendance: 614 (Chester est 400) Half Time 0-2
Booked: None.
Bamber Bridge: Hinchcliffe, Heywood, Atherton, White, Crowder, Waddecar (Sargeson 79), Beattie, Dunn, Lloyd, Black, Towey. Subs not used: Clarkson, Reynolds, Green, Thompson.
Chester: Whiteside, Jones, Williams, Horan, Meadowcroft, Barnes (Field 77), Booth (Sharrock 65), Stones, Hopley, Wilde (Rogan 68), Howard. Subs not used: Peers, Connolly.
Referee: Mr. J.Hunt.

Chester's steady climb up the table continued following this five goal defeat of Bamber Bridge who before the match had been unbeaten this season. The Blues now lie second, three points behind leaders Chorley who are Chester's next opponents on Saturday.
This was without doubt the best all round performance of the season so far as manager Neil Young made no less than five changes to the starting line-up from the team that battled to a win over Garforth Town on Saturday. In came Robbie Booth, Rob Hopley, Iain Howard, Danny Meadowcroft, and Stuart Jones at the expense of Roger Sharrock, Stuart Graves, Carl Ruffer, Mark Peers, and Nick Rogan.
Backed by another large away following, the Blues were on the front foot as early as the first minute as Michael Wilde just failed to steer a header on target following a long clearance from Richard Whiteside in the visitor's goal.
There was a scare at the other end minutes later as Kevin Towey saw a shot deflected over by Chester gradually began to get on top. Howard forced a great save from Hinchcliffe from long range and the 'keeper was again in action pushing a Wilde shot onto the bar as Chester looked to break the deadlock.
The breakthrough eventually came just after the half hour as Stuart Jones rose to meet a Robbie Booth left wing corner to head Chester deservedly in front from close range.
With Chester now getting on top Booth saw a shot fly wide before Chester added the killer second goal just before the break as Wilde converted with ease following good work from Hopley on the right had seen another quality cross into the box.
A timely tackle from Chris Williams at the other end ensured that Chester took their two goal advantage into the break.
The Blues came out determined to add to their advantage. Jones headed just over and Howard shot just wide as Chester dominated proceedings.
The third goal soon came as Jones again was on hand to power home a header from a corner, this time supplied by Williams.
Chester added a fourth goal on 62 minutes as Chris White, who has trained with Chester pre-season, sent a looping header past his own keeper following a long ball forward from the Blues defence.
With just under 20 minutes remaining Chester completed the scoring, once again a perfect delivery from from Hopley was met this time by Howard at the far post who couldn't miss from close range.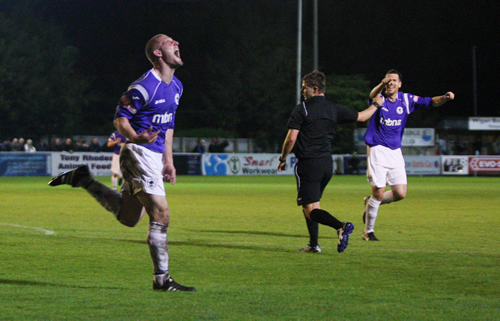 Picture © Evening Leader

• League table | More pictures
Rate Chester's performance
---
Saturday 11 September 2010
Chester 2 Garforth Town 0

Evo-Stik Division One North
Attendance: 2,033 Half Time 1-0
Booked: Barnes, Horan.

Chester: Whiteside, Stones, Ruffer, Horan (Field 71), Williams, Peers (Booth 61), Barnes, Graves (Connolly 55), Sharrock, Wilde, Rogan. Subs not used: Hopley, Meadowcroft.
Garforth Town: Kelsey, Collentine, Turner, Marron, Villerman (Collins 66), Priestley (Lynn 75), Small, Ormsby (Aujla 39), Fisher, Walker, Howarth. Subs not used: Fella, Greaves.
Referee: Mr.P. Marsden (Lancashire).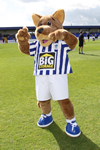 Who's afraid of the Big Bad Wolf? Not Chester fans clearly as Big Lupus the cuddly new mascot was unveiled. Whether his reddy-brown fur indicates some fox in his DNA I don't know but the predatory instincts of City strikers Wilde and Rogan proved decisive against Garforth Town.

The visitors provided stern opposition, proving that despite a wonderful opening game on Wednesday, Chester cannot expect to have things all their own way
at home. Garforth's Brazilian style kit was reflected in their play in the first half as they more than matched the hosts in balance of play. City seemed slow to get going after the highlights of midweek – though they were also missing a couple of stars in Burgess and Howard.

Several times Whiteside rescued Chester by beating away shots from Ormsby and Priestley but a brilliant piece of skill by Wilde gave Chester a narrow lead at the break.
He picked up the ball just inside the box after a couple of cries for free kicks on City players were ignored. After juggling it a couple of times with his back to goal, Wilde pivoted and volleyed the ball just inside the post.

City applied themselves better in the second half. Rogan who had gone close in the first half with an attempt similar to Gazza's spectacular finish against Scotland years ago, pounced on a cross from Stones on the left to knock it past Kelsey for City's second after seventy minutes. After this nerves were eased and substitutes Field and Booth (signed the night before) both went close to adding to the margin of victory.

Although the game was not as spectacular as Wednesday's against Trafford, (how could it be?) most Blues fans were well content with the win and at least there were no howlers – except for Big Lupus of course.

Colin Mansley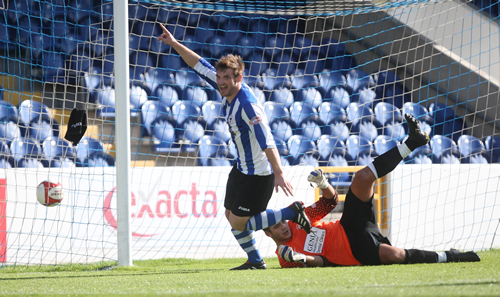 Picture © Evening Leader
• League table | More pictures
Rate Chester's performance
---
Wednesday 8 September 2010
Chester 6 Trafford 0

Evo-Stik Division One North
Attendance: 2,743 Half Time 3-0
Booked: Peers.

Chester: Whiteside, Stones, Ruffer, Horan, Williams, Howard (Connolly 75), Barnes, Graves, Burgess (Peers 50), Wilde, Hopley (Rogan 56). Subs not used: Sharrock, Field.
Trafford: Rooney, Harrop, Bayunu, Lawton, Ashton, White (Marley 52), Lawton, Shaw, Krou (Bailey 44), Turner, Barlow. Subs not used: Hargreaves, Woodford, Ratcliffe.
Referee: Mr. O.Oates (Staffordshire).

Chester got the perfect result for their historic first home league match when they hit Trafford for six at the newly-named Exacta Stadium.

It had been an exciting build-up to the match, with a commemorative programme being produced, queues forming at the turnstiles 45 minutes before kick-off, a packed club shop and a buzzing Blues Bar as fans anticipated what was to come.

And they weren't let down, with a rampant Chester scoring six amazing goals in two spells either side of the first and second half.

The game's opening spell was fairly even as Chester demonstrated they were happier with the closely-cropped home turf than recent away venues and the Trafford team settled to playing in front of 2,734 spectators.

Chester's first goal came on the 23rd minute when the corner flag miraculously kept the ball in play. Michael Wilde was first to pounce and crossed for Bradley Barnes, an ex-Trafford player, to score the first home goal for the reformed club.

Soon after they doubled their lead when an Andy Burgess free kick found the head of an unmarked Wilde and he had no trouble rising to score for home.

Just five minutes ticked by and Chester scored another – this time another Burgess free kick found captain George Horan and had no trouble scoring past Trafford 'keeper Damien Rooney.

Wilde had once more chance before the referee blew for half-time, but he shot just over the bar. However, he was on the scoresheet again in the second half. There was again a period of rather mundane play, before Chester pounced again.

Wilde's goal was a classic – he connected with an excellent pass, ran round an oncoming defender and, faced with just the 'keeper to beat, thwacked the ball home to send the home crowd behind the goal into rapture.

His man-of-the-match performance was completed a few minutes later when he shot through the Trafford defence to find the net again – completing his hat-trick.

But the game wasn't yet over and as the Chester fans chanted, "we want six", that's just what happened. The final goal was scored by Bradley Barnes – making it a perfect home start for the Blues.

Trafford didn't give up though, and in the dying minutes Chester 'keeper Richard Whiteside had to pull off a great diving save to protect his clean sheet.

After the referee blew for full-time, the Chester players went off to a deserved standing ovation. It feels so good to be enjoying the football once again – let's hope this feeling is repeated over-and-over in this debut season.

Sue Choularton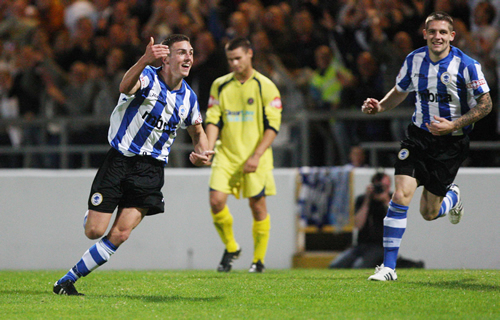 Picture © Evening Leader

• More pictures
Rate Chester's performance
---
Saturday 4 September 2010
Wakefield 1 Chester 2

Evo-Stik Division One North
Attendance: 517 (400 Chester estimated) Half Time 0-1
Booked: Field, Graves.

Wakefield: Herring, Nicholson, Morris, Roberts, Milnes, Laight, Firth, Jones, Robinson, Denton, Ferguson (Glavin 81). Subs not used: Kane, Burgin, Shooter.
Chester: Whiteside, Jones, Horan, Ruffer (Williams 79), Stones, Barnes, Field (Graves 61) Burgess, Hopley, Wilde, Rogan (Howard 61). Subs not used: Sharrock, Connolly.
Referee: Mr. D.Benton (Sheffield).



Manager Neil Young made four changes to the starting line-up from the team that opened the season at Warrington, in came Stuart Jones and Carl Ruffer and Nick Rogan and Bradley Barnes made their first starts in a Chester shirt.
Around 400 supporters made the trip across the Pennines and they saw Chester, playing in a change all-white kit, enjoy the majority of the play in the opening period on a bumpy College Grove pitch.
Andy Burgess was first to test home 'keeper Herring as he lashed in a shot from the edge of the box after the home defence had failed to clear a Horan effort in the opening minutes. Herring was again in the right place to prevent Rogan opening the scoring on 12 minutes after the striker had latched onto a Barnes pass but could only shoot straight at the Bears shotstopper.

Richard Whiteside was called to make his first save on 15 minutes as he was quick off his line to punch clear from the head of the onrushing Tom Denton.
However, midway through the half Herring could do nothing to prevent Chester from taking a deserved lead as Horan rose to head a long Greg Stones throw-in into the corner of the net.

Chester continued to create chances and Michael Wilde went close seven minutes before the break only to see his effort blocked by defender Roberts.
Despite their dominance Chester had Whiteside to thank for preserving their interval lead as he saved well in the dying seconds to deny Delroy Ferguson after a fine run by Ian Robinson had gone unchallenged by the Blues rearguard.

Whiteside again came to the rescue moments after the restart saving from Denton but was given no chace minutes later as Elliott Firth leveled for the home side after he slipped unchallenged through the Chester defence to equalise with ease.
Manager Young made a decisive substitution just after the hour mark as he replaced Tom Field and Rogan with Iain Howard and Stuart Graves.

Both players combined for the winner 15 minutes from time s Howard steered a Stones pass into the path of Graves who scored with a great shot from 20 yards.
Barnes almost extended the lead with an injury time volley but Herring denied him with a superb save to push the ball to safety.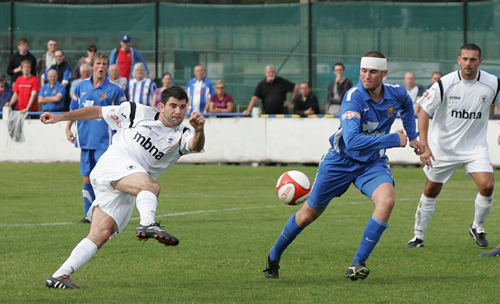 Picture © Evening Leader

• More pictures
Rate Chester's performance
---